FUGAZ; Nigerian banks considered too big to fail
Why the biggest banks in Nigeria are too big to fail.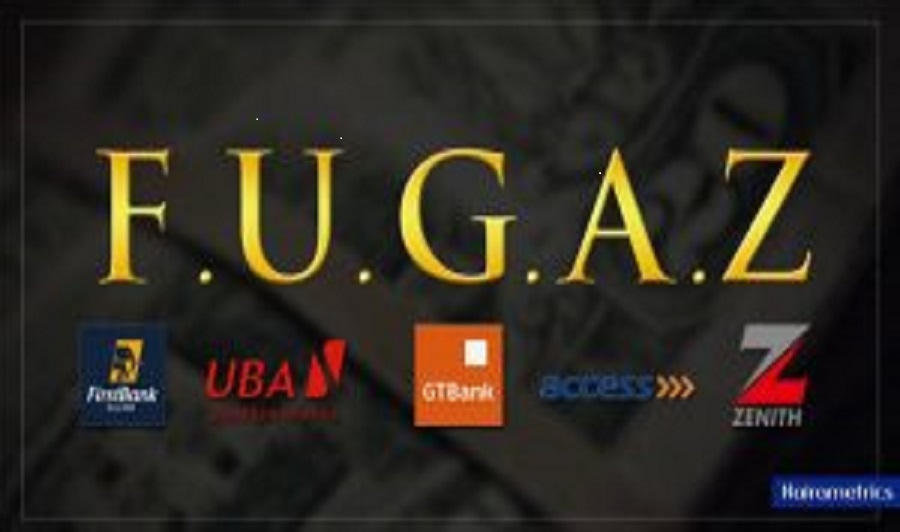 FUGAZ!
As much as you would like to make sense of what you just pronounced, it is not a word. Rather, it is an acronym that is ubiquitous in its use in Nigeria's financial world to represent her tier 1 banks. Each letter of the acronym representing the first letter of each of the banks, purposefully arranged to be pronounceable- First Bank, UBA, GTB, Access, and Zenith Banks.
FUGAZ, since their classification, have become the benchmark for quantifying the impact of fiscal and economic policies on the banking industry. One would be forgiven for thinking that only these banks make up the industry after a cursory look at the headlines of financial publications in Nigeria. FUGAZ has become the sample size for financial experts in making comments on the banking industry, usually excluding the over 100 other commercial and microfinance Banks in the country. FUGAZ are basically too big to fail.
On what basis do these experts classify their sample and how accurate are they?
READ: CBN removes "third parties" from buying forex routed through Form M
The profitability
FUGAZ accounts for a major chunk of the profits declared in the sector; over 60% to be precise. A little context: Zenith declared N50.5 billion for Q1 2020 profit after tax, GTB N50.1 billion, Access N40.9 billion, UBA N30.1 billion, and FBN Holdings N25.7 billion
Hot on their heels were Ecobank Transnational Inc, Stanbic IBTC Holdings, and Fidelity Bank with N24.3 billion, N20.6 billion, and N5.8 billion.
READ: Devaluation hurts Airtel Nigeria's revenue as data revenues grow by 40%
Share price and investor preference
Investors' preference for FUGAZ is evident in the volume of daily deals done on their stock on the floors of the Nigerian Stock Exchange daily. A typical day (21st August 2020) on the NSE saw FUGAZ account for 40% of the 158 million volume in the banking sector, taking up 4 of 5 top spots on the share price, and recording the most volatility in share price in the sector- GTBank with -0.15 and Zenith with -0.1.
This is the norm and not an exception.
READ: USA will continue to partner with the AfDB – Steve Mnuchin
| | | | |
| --- | --- | --- | --- |
| BANK | NO OF DEALS | SHARE PRICE (N) | CHANGE |
| Access Bank Plc | 4,209,194 | 6.5 | 0 |
| Aso Savings & Loans | — | 0.5 | — |
| Ecobank Transnational Inc | 3,735,130 | 4 | 0 |
| FBN Holdings Plc | 17,890,063 | 5 | 0 |
| FCMB Group Plc | 2,077,377 | 2.03 | 0.03 |
| Fidelity Bank Plc | 1,156,799 | 1.8 | -0.02 |
| Guaranty Trust Bank | 16,147,904 | 25.1 | -0.15 |
| Jaiz Bank Plc | 1,040,925 | 0.6 | 0.01 |
| NPF Microfinance Bank | 290,000 | 1.28 | 0.02 |
| Omoluabi Mortgage Bank Plc | — | 0.6 | — |
| Stanbic IBTC Holdings | 9,820 | 34.5 | 0 |
| Sterling Bank | 2,465,602 | 1.18 | 0 |
| United Bank for Africa | 5,391,518 | 6.6 | -0.05 |
| Union Bank Nigeria | 464,497 | 5.4 | 0 |
| Union Homes Savings & Loans | — | 3.02 | — |
| Unity Bank | 433,063 | 0.52 | -0.02 |
| Wema Bank | 1,736,854 | 0.51 | 0 |
| Zenith International Bank | 19,077,759 | 16.8 | -0.1 |
Source: NSE data  on trades for 21/08/2020
FUGAZ portfolio of foreign currency-denominated debts and the listing of their members on some Exchanges outside of the country is a testament of their appeal to foreign investors.
Branch network and customer base
The fact that FUGAZ reportedly controls 70% of the market share in the industry is more likely a function of their expansive branch network than any other single factor. Zenith Bank has over 500 branches, GTB conducts its business from over 231 branch locations, UBA 428, and well, Access and FBN are seen almost on every street corner with the latter boasting in excess of 790 branches nationwide. This is apart from their subsidiary branches across Africa and in relevant trade partner countries.
Interestingly, the banks' teeming customer base are 'enjoying' a love-hate relationship with these banks, if the complaints on social media are anything to go by. Regardless, these customers remain committed to keeping FUGAZ at the summit of the industry with their contributions to the bottom-line.; N1.35 trillion growth in Q1 of 2020 alone.
READ: GTBank, Zenith Bank, Nestle emerge Renaissance Capital's top stock picks
A few other banks outside of FUGAZ such as Union Bank and Ecobank are able to compete on branch network and reach. Nonetheless the fact that FUGAZ accounted for N8.7 billion of the N13.5 billion spent on publicity and advertisements by banks listed on the NSE in Q1 of 2020 has its merits.
Do we always have to consider FUGAZ?
The statistics show that we do. They are the systemic banks of the industry, more like "senior partner Banks" of the CBN, having produced four of the last five CBN Governors and being the largest investors in CBN's bills and bonds – a direct consequence of their humongous balance sheet size.
Their expansive network and massive customer base ensure that they are preferred PFIs for government interventions. Indeed, one can safely say that nothing really works in Nigeria's banking industry without the support of FUGAZ. They have become that influential.
READ: Stanbic IBTC Holdings lists new 31.51 million ordinary shares 
And their results?
Their mobilization of customer deposit is expected to have been hindered by the economic situation and the aggressiveness of lower-tiered competitors and online savings platforms who have upped the ante on publicizing their campaign for funds with relatively mouth-watering interest rates for their customers and incentives for referrals and responsible staff. The FX forte of FUGAZ was practically nonexistent in Q2 2020 and would definitely impact their profitability as it has already hampered repayment of some of their debts.
Also, having 70% of the industry's market share means FUGAZ have a proportionate amount of loans in the industry, and Non-performing loans too. The NPL decline of H1 2019 is not likely to be reciprocated in H1 2020 because of the pandemic. But their bullish booking of new loans amidst the pandemic would be significant in covering the impairment shortfall of previous NPLs.
Never in recent history of Nigerian Banks has so much been dependent on so few. Industry watchers are once again looking out for FUGAZ to show leadership with their Q2 2020 results. Having surpassed expectations in Q1 and made lofty projections for Q2 profitability, Observers and Analysts believe FUGAZ Q2 results will definitely not be as buoyant as their Q1. They believe the objective of FUGAZ would be adapting to the new business models and priorities imposed by the pandemic, nonetheless their expected profitability will be a show of the resilience of Nigeria's top lenders.
The focus of FUGAZ Q2 has become more than a media fad but a necessity of business analysis, as their profitability in times of the current economic adversity will be the ultimate test of the Government's fiscal framework and economic response to the pandemic.
Why Microsoft shares dropped 2% amid rising earnings
Microsoft shares dropped about 2% after the tech juggernaut gave unimpressive revenue guidance.
The world's software giant, Microsoft saw its shares drop about 1.66% of its value, immediately after the tech juggernaut gave unimpressive revenue guidance. That said, Microsoft printed impressive first-quarter earnings which exceeded estimates.
READ: Software bug brings down Microsoft Teams, Azure
READ: MainOne's subsidiary set to launch local version of Microsoft Stack Cloud
What you should know
Microsoft's stock price is falling on bearish comments coming from the company after it released impressive earning results,  stating that its revenue guidance was weak and further hinted that it continued to face pressure from lower one-off sales of software due to the COVID-19 pandemic.
Microsoft also revealed that operating profit margins were more likely to be affected in H1 2020 year. It increased its investments in its present cash cow business (cloud computing) while seeing a deep drop off in high-margin sales on its Windows operating system for Personal computers.
It's also important to note that the stock bears are hitting hard on the trillion-dollar market capitalized company on the bias that Microsoft further disclosed that for the final three months of 2020, its expected revenue would range between $39.6billion to $40.4billion; or a growth of 8% at the midpoint of the range, compared to global market forecasts of $40.4billion.
READ: Software bug brings down Microsoft Teams, Azure
Here are some highlights of its most recent earnings;
Revenue was $37.2 billion and increased by 12%.
Operating income was $15.9 billion and increased by 25%.
Net income was $13.9 billion and increased by 30%.
Diluted earnings per share were $1.82 and increased by 32%.
READ: PZ incurs N1 billion in exchange rate loss 
Revenue in Productivity and Business Processes was $12.3 billion and increased 11%, with the following business highlights:
Office Commercial products and cloud services revenue increased 9%, driven by Office 365 Commercial revenue growth of 21% (up 20% in constant currency).
Office Consumer products and cloud services revenue increased by 13% and Microsoft 365 Consumer subscribers increased to 45.3 million.
LinkedIn revenue increased by 16%.
Dynamics products and cloud services revenue increased 19% (up 18% in constant currency), driven by Dynamics 365 revenue growth of 38% (up 37% in constant currency).
READ: Airtel Africa's profit up 12.9%, customer base reaches 111.5 million
What they are saying
However, in its recent earnings call, Microsoft CEO, Satya Nadella, gave valuable insights into why Microsoft is heading in the right direction, with significant investments in its cloud businesses.
"The next decade of economic performance for every business will be defined by the speed of their digital transformation.
"We are innovating across our full modern tech stack to help our customers in every industry improve time to value, increase agility, and reduce costs."
READ: Nigerian Banks expected to write off 12% of its loans in 2020 
The C.F.O of Microsoft also buttressed the leading software maker's long term investment.
"Demand for our cloud offerings drove a strong start to the fiscal year with our commercial cloud revenue-generating $15.2 billion, up 31% year over year.
"We continue to invest against the significant opportunity ahead of us to drive long-term growth," said Amy Hood, Executive Vice President and Chief Financial Officer of Microsoft.
Why U.S biggest Bank, JP Morgan Chase is bullish on Bitcoin
America's JPMorgan Chase has given valuable insights on why it believes the odds are with Bitcoin.
America's biggest bank, JP Morgan Chase, recently released a rare statement on the world's flagship crypto, where it said that Bitcoin has what it takes to challenge gold's status as the go-to alternative financial asset.
When compared to other financial assets like gold and crude oil, Bitcoin looks relatively small, considering that it has a market capitalization of $242 billion, compared to the precious metal's (Gold) $2.6 trillion market value. However, this means the crypto has more room for upside and can potentially compete with gold as the preferred alternative currency.
READ: JP Morgan responds to FG's Malabu court case
In a report credited to Business Insider, America's most valuable bank, JPMorgan Chase, gave valuable insights on why it believes the odds are with Bitcoin to keep rising in value.
"Even a modest crowding out of gold as an 'alternative' currency over the longer term would imply doubling or tripling of the bitcoin price," JPMorgan Chase said.
READ: Large entity moves Bitcoins valued $244 million
And over time, Bitcoin could be held for other reasons such as for making payments, not just for being a store of wealth as gold is, according to JPMorgan Chase.
"Cryptocurrencies derive value not only because they serve as stores of wealth but also due to their utility as a means of payment. The more economic agents accept cryptocurrencies as a means of payment in the future, the higher their utility and value," JPMorgan Chase explained.
READ: Gold prices settle lower, amid President Trump's COVID-19 infection
What you should know
It's important to note that such a bullish call by an American elite bank is coming on macros that BTC has a circulating supply of 19 million coins and a max supply of 21 million coins, meaning there are about 2 million left to be mined.
READ: JPM coin: What it is and what it means for Cryptocurrency
Taking into account that about 4 million Bitcoins have been lost forever as a result of BTCs' owners dying, and their next of kin not having access to such cryptos, it is fair to say there are only about 15 million BTC presently in circulation to cater for over 7 billion people fighting to have a stake in Bitcoins. This means that as BTC becomes scarce and more popular, it is only a matter of time before crypto asset valuation will hit the roof.
As the general economic law states, when demand is high and supply is limited, prices of such products usually go up.
Another strong fundamental increasing the odds on the world's most popular crypto is that it's almost impossible to forge, and has strong durability characteristics.
Thanks to its complexly designed decentralized blockchain network, it will take you more than a supercomputer to make such an attempt. Also, you have to confuse all players in the blockchain network, in accepting such forged digital coin.
Biggest IPO: World's biggest Fintech plans to raise $34 billion 
Ant Group has begun the process of a concurrent initial public offering in what could mark one of the biggest IPOs of 2020.
The world's payment juggernaut, Ant Group, is hoping to raise $34.5 billion in its dual initial public offering (IPO) after setting the price for its shares today, making it the biggest listing of all in modern history, in a report credited to CNBC news.
The Chinese financial powerhouse had earlier disclosed previously that it would divide its stock issuance equally across Chinese major stock exchanges, which include Shanghai and Hong Kong, issuing 1.67 billion new shares at each of those exchanges.
READ: Square buys $50 million worth of Bitcoins
READ: Airtel announces share price today as pre-IPO interest hits $200 million
READ: This report explains why Nigerians are bent on leaving the country
Ant Group's Shanghai-listed shares will be quoted at 68.8 yuan each. The issuing of 1.67 billion shares would raise 114.94 billion yuan or $17.23 billion.
The Hong Kong-listed shares have been priced at 80 Hong Kong dollars each, raising 133.65 billion Hong Kong dollars or $17.24 billion.
The listing would produce a return of at least $34.5 billion, as the figure could go higher if the so-called over-allotment option is exercised, depending on demand.
It would make it the largest initial public offer of recent memory, putting it ahead of previous record-holder Saudi Aramco, which raised about $29 billion.
READ: MTN may rake in $600 million from Jumia's planned listing
READ: Jack Ma's fintech firm is set for IPO, signalling prospects for Nigerian fintechs
READ: Gold futures drops to $1727.80 as America, China tension deepens
What you should know
Ant Group, formerly known as Ant Financial and Alipay, is an affiliate company of the popularly known e-commerce company Alibaba.
Ant Group remains the world's most valuable FinTech company, and most valuable unicorn company, with a target valuation of over US$280 billion.
The group owns China's largest digital payment platform, Alipay, which serves over one billion users and 80 million merchants, with total payment volume (TPV) transaction reaching RMB118 trillion in June 2020.
Explore Data on the Nairametrics Research Website