GTBank, Zenith Bank, Nestle emerge Renaissance Capital's top stock picks
Renaissance Capital Analyst, Soji Solanke, holds that some of the most compelling stock picks lie in the banking sector.
Even with many Nigerian institutions already grappling with a difficult regulatory environment prior to the Covid-19 pandemic, Renaissance Capital Analyst, Soji Solanke, holds that some of the most compelling stock picks lie in the banking sector. These stocks include:
Guaranty Trust Bank (GTB)
The analyst believes the bank is a quality name that has sold off more than warranted. Some of the reasons he cited include the fact that the bank has the highest RoE in the Nigerian banking landscape, the highest breakeven cost of risk buffer, as well as the largest net long FX position, placing the bank in a good position to benefit from a naira devaluation. Also, the company's diversification into the fast-growing payments space makes it a good opportunity to leverage for growth.
Zenith Bank  
A formidable name in the banking sector, Zenith Bank is expected to perform well in a quick recovery scenario as a result of its highly liquid balance sheet, the fact that it pays dividends consistently, as well as its high stock liquidity in the markets.
Stanbic IBTC  
Another bank expected to be able to withstand a protracted slowdown is Stanbic IBTC and this is as a result of its diversified business model largely due to its large asset management business – the largest in Nigeria. According to the analyst, it makes the company's earnings somewhat more defensive compared to its peers.
(READ MORE: Zenith Bank: No major threat to earnings in the near term; Buy recommendation maintained)
In FMCG, Nestle emerged tops as well:
Nestle Nigeria 
The company's SSA consumer analyst, Dayo Ayeni, believes Nestle Nigeria is compelling, also as a result of its strong balance sheet, its resilience, quality management; and its three strong brands, Maggi, Milo and Golden Morn.
Get the Nairametrics News App
As at 28th May 2020, before markets opened, the share prices of GTB, Zenith Bank, Stanbic IBTC, and Nestle Nigeria are N24.85, N17.90, N35.80, and N995, respectively.
OPEC+ forced to delay talks as disagreement in the cartel deepens
OPEC+ was forced to reschedule its meeting as it could not reach a unanimous decision on key policies.
The OPEC+ talks have been delayed for 2 days after the meeting ended on Monday without an agreement among its members with respect to the production cuts next year.
The meeting however, ended with 3 of the group's heavyweights; Russia, Saudi Arabia, and the United Arab Emirates (UAE) holding different opinions as to how to handle things going forward. This outcome shows the deep division that exists within the cartel after several hours of talk did not achieve any result.
The meeting with OPEC+ was scheduled for resumption for tomorrow, but a rather surprising announcement came later in the day saying that the meetings had been moved forward to December 3 as more talks are needed.
According to a report by Oilprice.com, Saudi Arabia, regarded as the predominant and perhaps only swing producer in the group is said to favour an extension of the current level of oil production cuts, while Russia, the country that went against the deal in March over a similar issue, is said to favour a gradual increase in production starting in January.
On its own, the UAE, OPEC's third-most prolific oil producer, is in support of extending the production cuts as-is into January and beyond only after all other OPEC members comply with their cuts. This was earlier alluded to by the UAE Energy Minister a couple of weeks ago.
The run-up to the meeting saw new cracks emerge in the relationship between UAE and other members of the cartel. Some informal discussions are expected to continue amongst members before the OPEC+ meeting on Thursday.
Ministers of the cartel are discussing whether to increase output in January as planned or maintain the current level of production levels for another 3 months. Some members of the group think the market is still too fragile to accept an increase in production, while others want to take advantage of the current rise in crude oil prices to increase production and boost their revenue.
The UAE's Energy Ministry later issued a statement stressing the fact that it had always been a committed member of OPEC.
According to OPEC's Monthly Oil Market Report, the UAE either met or exceeded its 2.59 million BPD quota in September and October, but fell short of its goal in August.
What you should know
OPEC+ which is no stranger to disagreements had planned to ease some of its output cuts at the beginning of 2021 in anticipation of the recovery of the global economy after it had made huge production cuts in the wake of the coronavirus pandemic which had badly hit global oil demand.
Although a breakthrough in Covid-19 vaccine development had seen oil prices hit an 8-month high, the second wave of infections particularly in Europe and the Americas has led to new lockdown measures that are affecting fuel consumption.
The pros and cons of Pension Fund Administrator transfer
Here, we highlight some of the advantages and disadvantages of transferring from one Pension Fund Administrator to another.
After my first article on the best pension fund managers in Nigeria, a few people have commented differently on the article.
In response to the comments, I have decided to do another article on the pros and cons of Pension Fund Administrator (PFA) transfer. Here are some of the advantages
Better Performance
The major reason for any investment is to make gains. Most investment gains are measured with investment performance. When a fund manager performs poorly relative to his or her peers and relative to the benchmark, he is due for a change. Therefore, an advantage of transferring from one PFA to another is that if the fund manager you transfer to has a history of consistently outperforming the peers and benchmark, you will benefit from the new fund manager's higher performance.
Alignment with Risk Appetite
Each investor or RSA holder has his or her risk appetite and risk tolerance and different asset types or classes are suitable for different risk appetite. By looking through the portfolio structure of different PFAs, it is possible to know which PFA's asset allocation best aligns with your risk appetite. Therefore, you get the advantage of aligning the PFA's asset allocation to your risk appetite by transferring to the PFA whose asset allocation is in agreement to your risk make up.
Fund Manager Fee Management
Although the National Pension Commission, PenCom, has guidelines about the type of fees that fund managers should charge, there are slight disparities in fees charged by different PFAs. By reviewing the fee charts of different PFAs, you may be able to transfer to a PFA in such a way that you save on fees without sacrificing other beneficial services.
Experienced fund manager
It has been said that in fund management, asset allocation is everything. A fund's performance depends so much on the asset allocation of the fund manager. Experience plays a big role in asset allocation. So, by transferring to a more experienced PFA, you stand the chance of benefiting from the experience of a fund manager through his asset allocation prowess.
There are also disadvantages from transferring from one PFA to another, below are some of them:
Loss of Relationship: A disadvantage to switching from one PFA to another is that you may lose the relationship you have created or built with your old PFA and need some time to create that same relationship with the new PFA.
Loss of market rally: When you switch PFAs, your old PFA has to transfer your account balance to the new PFA. Transferring from one PFA to another creates a gap in investment and you may miss any market rally that may occur during that gap. There is usually a cut off date for such transfers. So, if there is a market rally, by way of price increases within the gap period, you will miss out on that rally.
Conclusion
It is not mandatory that you transfer your RSA during a given transfer window, if you are happy with your current PFA's performance, fees, etc, then stick with them, after all, past performance is not a guarantee for future performance and the devil you know, may be better than the angel you do not know.
U.S biggest listed companies post best monthly gains since January 1987
The Dow jumped 11.8% in November, posting its best one-month gain since January 1987. The S&P 500 and Nasdaq Composite surged by 10.8% and 11.8%, respectively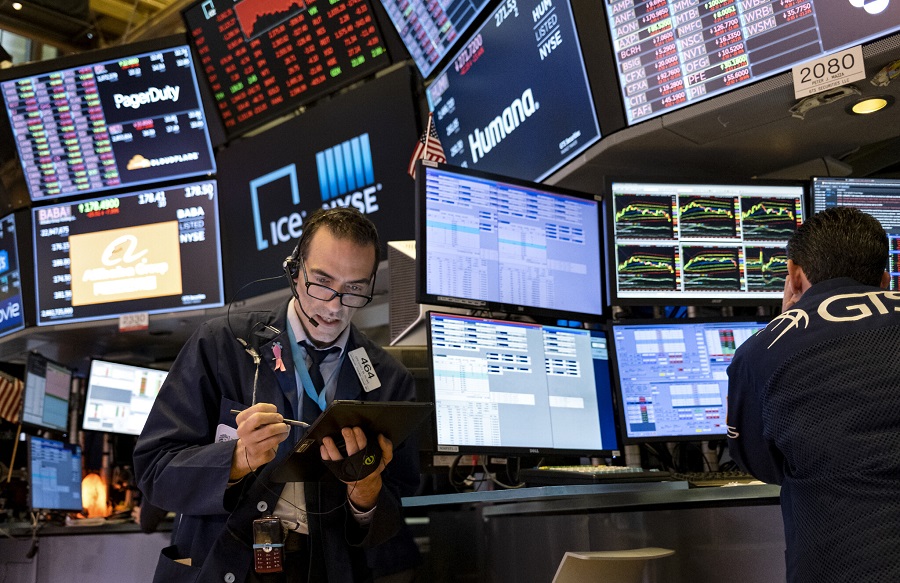 U.S biggest listed companies were all fired up in the month of November, as they posted incredible gains, amid three promising Covid-19 vaccines presently in play.
This triggered investors buying pressure in the world's largest and most liquid equity market.
The Dow jumped 11.8% in November, posting its best one-month gain since January 1987.
The S&P 500 and Nasdaq Composite surged by 10.8% and 11.8% respectively, for their strongest monthly advances since April.
What this means
November gains are coming amid a slew of positive COVID-19 vaccine news, which lifted the broader market sentiments up and sparked a surge of blue-chip brands that include Apple, Amazon, Coca-Cola, Salesforce, Intel, IBM, Google, Chevron, IBM, JP Morgan Chase, Goldman Sachs, Amgen, Boeing, Visa, Walmart, and Walt Disney.
The iShares Russell 1000 Value ETF (IWD) rallied 13.4% for the month and outpaced its growth counterpart, the iShares Russell 1000 Growth ETF (IWF), by 3 more percentage points.
What they are saying
Stephen Innes, Chief Global Market Strategist at Axi, in a note to Nairametrics, advised stock traders to be wary of recent data showing a plunge seen in Dallas Fed November Manufacturing activity data, following the Chicago PMI miss earlier on Monday.
"The Dallas Fed miss was consistent through most of the sub-indices, with new orders falling to 7.2 from 19.9, though the number of employees increased to 11.7 from 8.7. Prices paid rose to 35.0 from 29.4, while prices received fell to 4.7 from 6.8, indicating potential margin pressure.
"However, even worse for these firms are the year-on-year comparisons, it seems. It is usually in these last couple of months where many retailers make their annual profit.
"The weakness of data outside of Asia highlights lockdowns (forced or self-imposed) have begun to affect. Simultaneously, early reports suggest Black Friday may have been underwhelming — even taking into account online activity, one of the new 'norms' of 2020."
What you should know
The Dow Jones or Dow Jones Industrial Average (DJIA) is a popularly known stock market index that measures the stock performance of the 30 biggest companies listed on stock exchanges in the United States.
What to expect
In the coming days, global investors are anticipating an even stronger 2021 profit outlook possibly coupled with a quick inoculation-driven economic recovery at least for the mid-term.