Forex turnover at NAFEX hit $1.6 billion since June 2020
Forex turnover at the FMDQOTC has averaged $47 million dollars over the last 32 days.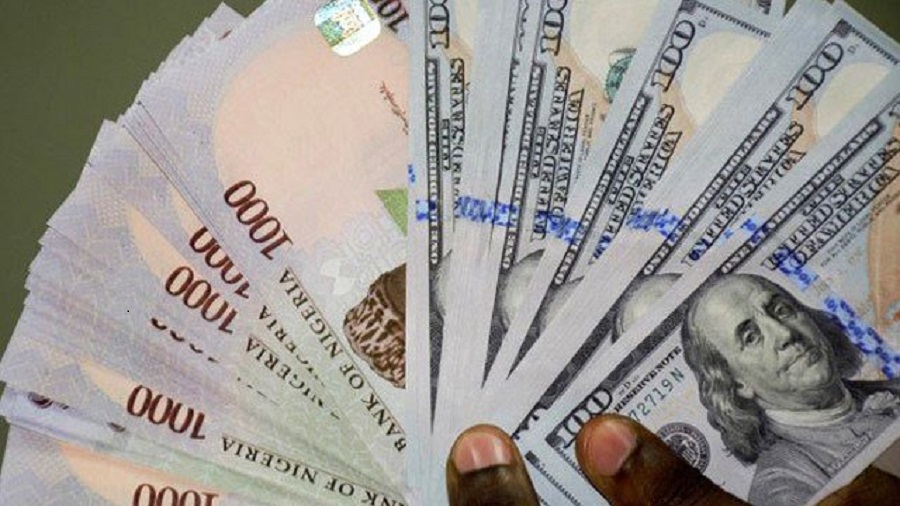 Forex turnover at the NAFEX window where investors and exporters trade forex was about $1.57 billion between June 2020 and July 17th, 2020. This is according to the daily market turnover data tracked from the website of the FMDQOTC over the last few weeks.
Forex turnover at the FMDQOTC has averaged $47 million dollars over the last 32 days as investors and exporters jostle for dollar supplies. According to our data, the highest single-day forex sales were $204 million which occurred on the 2nd of July 2020. Since then, daily sales have been below $50 million except for July 7th and 16th where turnover crossed $100 million.
READ MORE: Chainlink breaks into top 10 most valuable cryptocurrency in the world
Several reports suggest pent up demand could be anywhere between $1.5 billion to $2 billion which includes outstanding dividends to be repatriated, forex outflow from foreign portfolio investors among others. Based on the suggested demand, critics of the CBN's forex policy believe the forex turnover at the I&E window is not enough to support demand piling pressure on the parallel market.
READ MORE: 2020 revised budget, spending inefficiencies, and a looming debt hole  
The exchange rate at the NAFEX window oscillated between N387 -N389/$1 and closed at N388.5/$1 on Friday. Forex liquidity is critical to price discovery for any forex market but as economic activities run its course in line with the COVID-19 pandemic prevention initiatives, there is no publicly available data that shows what the actual demand and supply are. There is also no data on-demand snd supply from the parallel or black market where forex is sold unofficially.
At the black market where forex is sold unofficially, the exchange rate closed at N470/$1 last week and as high as N490/$1 for online transfers. The disparity between the NAFEX and parallel market rate has widened since March when oil prices began its steep fall and the COVID-19 pandemic hit Nigeria's shores. This triggered an initial devaluation by the CBN from N307/$1 to N360/$1 in the official window for converting the country's forex proceeds. In early July, the CBN devalued the exchange rate at the SMIS window where forex is sold to importers from the N360 floor to N380/$1.
READ ALSO: Nigeria's worsening current account deficit piles pressure on exchange rate
Nigeria currently maintains a multiple exchange rate window where forex is sold at different prices in line with the central bank's forex policies. The apex bank governor Godwin Emefiele has revealed plans to unify the exchange rate around the NAFEX market rate but has not committed to any timeline. The world bank reportedly included unification of the exchange rate as a 'pre-condition' for the $3.5 billion loans earmarked for Nigeria.
Why this matters: The forex turnover in the NAFEX is considered an important factor in determining the official exchange rate. The supply of forex in this market is thought to be limited as traders looking to sell forex prefer the black market route where the exchange rate is higher at N470/$1. A forex turnover $1.6 billion n the last 32 days provides insight into what one might expect when the CBN eventually unifies the exchange rate.
CBN to prevent exporters with unrepatriated export proceeds from banking services
From January 31, 2021, the CBN will bar exporters who fail to repatriate export proceeds from accessing banking services.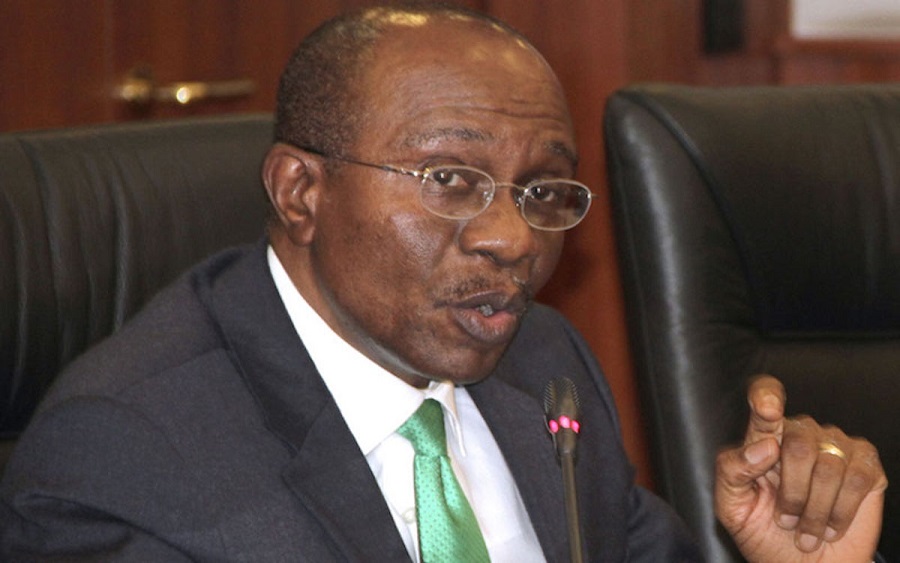 The Central Bank of Nigeria (CBN) has announced the prohibition of all Nigerian exporters who are yet to repatriate their export proceeds, from banking services effective from January 31, 2021.
The apex bank has a standing policy that instructs exporters to repatriate exports within 90 days for oil and gas and 180 days for non-oil exports constitute a breach of the extant regulation.
In a letter issued by one of the commercial banks to its exporters, and seen by Nairametrics, it cited the CBN's new circular stating that it will bar exporters who do not repatriate from accessing banking services.
See excerpt of the CBN circular barring exporters from accessing banking services.
"Please be informed that the Central Bank of Nigeria (CBN) through its circular referenced TED/EXP/CON?NEX/01/001 dated 13th January 2021 has instructed that all exporters with unrepatriated export proceeds before 31st January 2021 should be barred from accessing all banking services."
In lieu of this, all concerned exporters are urged to comply with the directive before the specified date.
Why this circular?
Analysts believe that the directive is part of a monetary control mechanism by policymakers to maintain relative stability in the exchange rate, especially after the pandemic created a wide disparity between the official exchange and the parallel market rates, eliminating incidences of over-invoicing, transfer pricing, double handling charges, etc.
By repatriating export proceeds via the NAFEX (Investor and Exporter window) the central bank believes this will improve liquidity in the official market and perhaps strengthen the naira at the black market where wired transfers often cost a premium of N5-N10 over the street exchange rate of N475/$1.
Most export proceeds find their way to the parallel market where exporters can exchange for higher naira value-boosting their gains on foreign currency conversions.
It is to be seen if exporters will comply with this directive or seek other means of avoiding the hammer of the exporters. Most exporters already find a way to avoid these hammers by opening foreign bank accounts where most of the export proceeds are warehoused and then sold at the black market.
Some rely on complex intercompany transactions to avoid repatriating the forex through the NAFEX window
What you should know
According to Bloomberg sources, the new directive applies to exports up until June last year.
In a bid to ensure prudent use of foreign exchange resources, the Central Bank of Nigeria had earlier instructed authorised dealers and exporters to only open forms M for letters of credit, bills for collection, and other forms of payment
CBN issues modalities for payout of diaspora remittances in dollars
The new circular explains who diaspora remittances are to be paid to beneficiaries in Nigeria only in foreign currency and not naira.
The Central Bank of Nigeria (CBN) has issued a circular setting out the Modalities for Payout of Diaspora Remittances.
The apex bank has frowned at activities of some International Money Transfer Operators (IMTOs) and unlicensed companies who continue to facilitate diaspora remittances into the country in Naira instead of dollars.
The apex bank's reaction follows the contravention of its earlier directive that all diaspora remittances must be paid to the beneficiaries in dollars.
This disclosure was contained in a circular titled, 'Modalities for Payout of Diaspora Remittances', issued by the CBN on Friday, January 22, 2021, and signed by its Director Trade and Exchange Department, Dr O.S. Nnaji.
READ: CBN revokes licenses of 7 Payment Service Providers
What the CBN is saying
The CBN in its circular said, ''Further to our circular titled 'Receipt of Diaspora Remittances: Additional Operational Guidelines', it has come to our notice that some IMTOs and unlicensed companies continue to facilitate diaspora remittances into the country in Naira, "in clear contravention of the Central Bank of Nigeria directive that all remittances be paid to beneficiaries in dollars.''
READ: More pressure on the naira as Diaspora remittances to drop by 20%
For the avoidance of doubt, the Central Bank of Nigeria further clarifies as follows;
Only licensed IMTOs are permitted to carry on the business of facilitating diaspora remittances into Nigeria;
All diaspora remittances must be received by beneficiaries in foreign currency only (cash and /or transfers to domiciliary accounts or recipients);
IMTOs are not permitted, under any circumstances, to disburse diaspora remittances in Naira (either in cash or by electronic transfers), be it through remittance settlement accounts (which had been earlier directed to be closed), third party accounts or via any other payment platforms within and/or around the Nigerian financial system.''
READ: Nigeria's forex devaluation timeline – 2020
The apex bank in the circular said that the measures were intended to promote transparency, grow diaspora remittances and significantly improve foreign exchange inflows into Nigeria.
The CBN warned that strict sanctions, including withdrawal of operating licenses, shall be imposed on any individuals and/or institutions found to be aiding, abetting or directly contravening these guidelines.
It went further to say that it shall not hesitate to authorize the closure of the accounts of unlicensed operators in Nigerian banks, including being barred from accessing banking services in Nigeria.
It promised continued monitoring of developments in this regard, adding that it would also issue further guidance as appropriate.
READ: Continuous increase in inflation rate may weaken economy – CBN report
What this means
With the insistence of the apex bank on its earlier directive, it means that Nigerians living in the diaspora can transfer foreign currency to their relatives and loved ones in the country, who in turn will withdraw the money in dollar cash and sell it anywhere they so desire in exchange for naira.
It means they can for instance receive foreign transfers such as Western Union or Moneygram, withdraw it in dollars and then sell at the black market rate or anywhere else they want to. This they believe will help to stabilize the exchange rate and discourage hoarding.
READ: UBS warns Bitcoins could disappear like Myspace
What you should know
It can be recalled that the CBN, had in November 2020, amended the procedure for the receipt of diaspora remittances and insisted that it must be paid in dollars to the beneficiaries, in an apparent and frantic attempt to improve liquidity in the forex market and reduce the disparity between the black market and the official window.
Also in an additional guideline for diaspora remittances, the CBN barred IMTOs from sending money to Mobile Money Operators and also stopped the integration of payment services providers to IMTO accounts. It also stopped switches and processors from getting involved in foreign remittances.
Naira gains marginally at NAFEX window, exchange rate to remain stable
The exchange rate between the naira and the dollar appreciated closing at N394/$1 at the NAFEX window.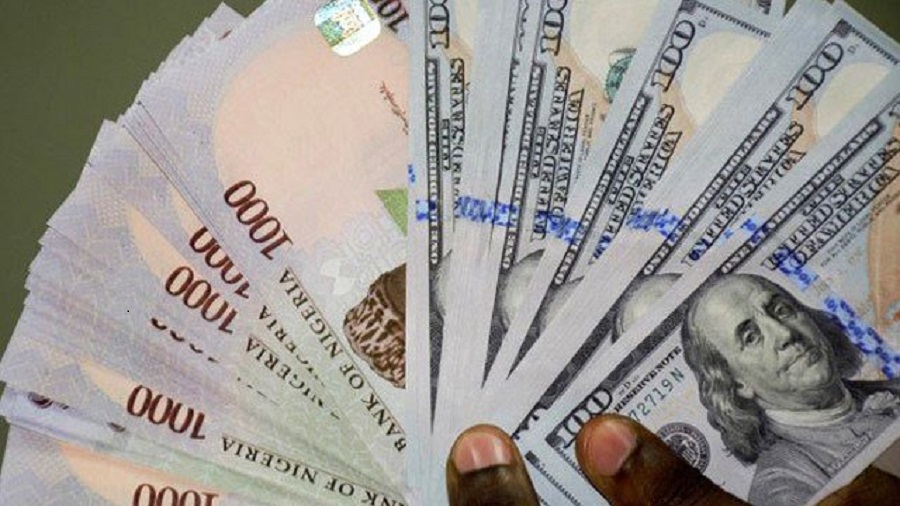 On January 21, 2021, the exchange rate between the naira and the dollar appreciated closing at N394/$1 at the NAFEX (I&E Window) where forex is traded officially.
However, during intraday trading, the exchange rate traded for as high as N415.76/$1, sustaining yesterday's figure which is the highest intraday trading tracked by Nairametrics. Forex turnover, however, dropped by about 14% as pressure on the foreign exchange market continues.
READ: Naira stabilizes at black market as external reserve rises by $515 million in 12 days
According to a report from Reuters, the naira is expected to remain stable in the coming week as currency traders watch for policy details at CBN's first MPC meeting in 2021.
Also, the exchange rate at the black market where forex traded unofficially still remained flat at N475/$1. The exchange rate at the parallel market closed at N475/$1 on the previous trading day of January 20, 2021.
The exchange rate disparity between the parallel market and the official market is about N81, representing a 17% devaluation differential.
READ: Naira strengthens at NAFEX window despite 38% drop in dollar supply
The Naira appreciated against the dollar at the Investors and Exporters (I&E) window on Thursday, closing at N394/$1. This represents a 17 kobo gain when compared to the N394.17/$1 that it closed on the previous trading day.
The opening indicative rate was N394.16 to a dollar on Thursday, the same rate that was recorded on Tuesday, January 20, 2021.
The N415.76 to a dollar was the highest rate during intra-day trading before it closed at N394 to a dollar. It also sold for as low as N390/$1 during intra-day trading.
Forex turnover at the Investor and Exporters (I&E) window dropped by 13.9% on Thursday, January 21, 2021.
According to the data tracked by Nairametrics from FMDQ, forex turnover declined from $89.50 million on Wednesday, January 20, 2021, to $77.04 million on Thursday, January 21, 2021.
The exchange rate is still being affected by low oil prices, dollar scarcity, a backlog of forex demand, and a shaky economy that has been hit by the coronavirus pandemic.
There are fears that the exchange rate at the black market might be under pressure in the coming weeks as importers scramble for dollars to meet their demands.
READ: The dangling fate of indigenous oil upstream operators
Oil price steady rise
Brent crude oil price is at about $56 per barrel on Wednesday, as it moves towards the $60 mark, a strong sign that global demand could sustain price increases in 2021.
This appears as a boost to Nigeria as the country's crude oil price benchmark for 2020 was $40 while it projected an oil production output of 1.8 million barrels per day.
Nigeria has a production capacity of 2.5 million barrels per day but is subject to OPEC's crude oil production cuts, which are expected to help sustain higher oil prices.
The higher oil prices and steady production output have positively impacted Nigeria's external reserves, rising sharply to $36.304 million according to central bank data dated January 14, 2020.
This is the highest level since July 2020 and a sign that higher oil prices and steady output levels may be contributing significantly to Nigeria's foreign exchange position.
READ: Nigeria faces prolonged exchange rate crisis as oil prices remain stuck at $40
Nigeria rising external reserves
The external reserve has risen to $36.464 billion as of January 19, 2021.
Nairametrics reported on Wednesday that the government may have taken receipt of the $1-1.5 billion World Bank Loan.
The external reserves have increased by $1.09 billion since December 31, 2020, when it closed the year at $35.3 billion.
Nigeria also needs the external reserves to hit $40 billion if it is to adequately meet some of the pent up demand that has piled up since 2020 when oil prices crashed and the pandemic caused major economic lockdowns.