Okonjo-Iweala shares her vision with WTO members, as she pitches for DG post
Okonjo-Iweala said she has all it takes to become the first African DG of the global trade force.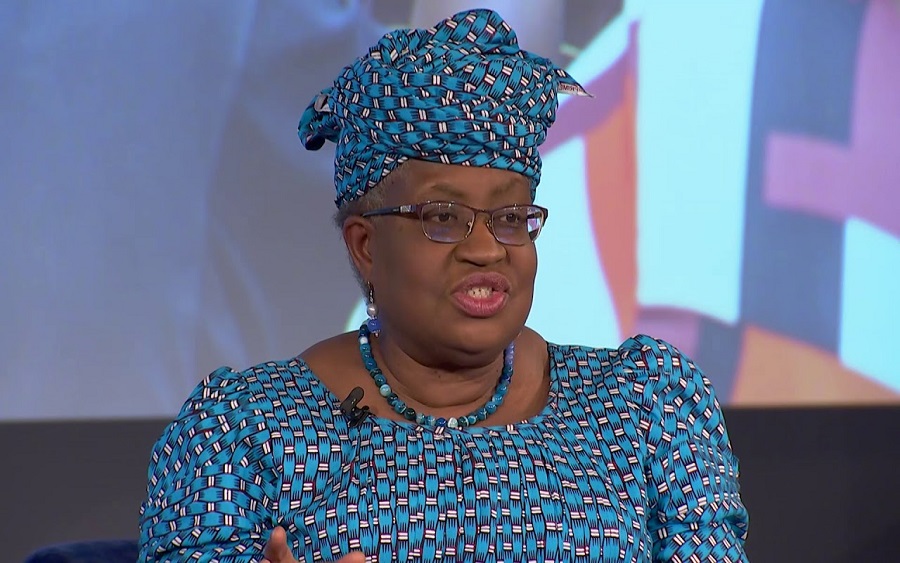 Nigeria's former Coordinating Minister for the Economy under President Goodluck Jonathan, Ngozi Okonjo-Iweala is optimistic about being appointed as the next Director-General of the World Trade Organisation (WTO). Her optimism is not limited to the endorsements she got from President Muhammadu Buhari , National Assembly (Senate and House of Representatives) and Economic Community for the West African States but the confidence that she has what it takes to become the first African and female WTO DG since the global trade force was established in 1995.
While pitching for the post in Geneva, Switzerland on Wednesday, two-time Nigeria's Finance Minister shared her vision with the WTO's 164 member states. Along with Okonjo-Iweala, seven other candidates also pitched for the job. as they presented themselves to the members of the global trade body. The other candidates are Abdel-Hamid Mamdouh (Egypt), Amina Mohamed (Kenya), Jesús Kuri (Mexico), Tudor Ulianovschi (Moldova), Yoo Myung-hee (Korea), Mohammad Al-Tuwaijri (Saudi Arabia), and Liam Fox (UK).
Speaking at the meeting in Geneva, Switzerland, on Wednesday, the former World Bank director said she has all it takes to become the first African and first female DG of the global trade force established in 1995.
'I am a bundle of talents'
Contrary to the allegation that she is more of a public sector, she said, "WTO needs leadership and it needs someone able to bring a bundle of qualities – political ability and ability to reach decision-makers. International contacts, I have that. Managerial capability from my long years in a multilateral organisation like the World Bank. The ability to forge consensus, to negotiate, a reformer. I have an established reputation as a strong reformer both at the World Bank and also in my country. I've even written a book about it.
"So, I think together I bring a bundle of qualities – public sector, private sector – because you need to know how do businesses see the WTO and what needs to be done. What about micro-medium and small enterprises? Just to find out what it means to be a small-medium enterprise owner, I started one myself in Nigeria to see what are the obstacles in the way that you need to clear out.
"So, I'm a doer. I'm solution-oriented and pragmatic. I bring together the bundle of qualities and the leadership acumen that you need to lead this. So, I would hope that if selected from the African continent, it should be me."
READ MORE: World Bank appoints 2 Vice Presidents for newly created divisions in Sub-Saharan Africa
To critics that alleged that Okonjo-Iweala is more of a financial sector expert and inexperienced in Trade, she described such as a 'wrong notion.' She said:
"I am a strong believer in the role of trade and of the MTS to lift millions out of poverty and bring shared prosperity. Throughout my career as a development economist at the World Bank, I worked on tough economic policy reforms including trade policy in middle and low-income countries. As a two time and longest-serving Finance Minister in my country, I had the Customs Service reporting to me, so issues of trade facilitation and trade policy were squarely part of my remit. Together with the Trade Minister, I also worked on regional trade issues including the ECOWAS Common External Tariffs.
"I can bring a fresh pair of eyes to the WTO's challenges. Enhancing and renewing the organization will require recalling the core objectives and principles on which the MTS was built – the value of open trade, competition and non-discrimination, security and predictability of market access, fair trade and transparency. These principles contribute to economic growth and development. I have seen how essential and powerful trade can be in promoting not only economic growth and development but also, with the right incentives and policies, fostering inclusiveness of women and youth involved in entrepreneurial activities through micro, small and middle-sized enterprises."
READ MORE: World Bank's IFC partners Nigerian bank to boost trade with $40 million
On how she intends to address challenges that have eaten deep into the fabrics of the global trade body, she explained that the first hurdle to tackle would be to build trust among the membership. She said,
"Current problems are not solely of a technical nature, some require political solutions. Throughout my career, I have been involved in difficult negotiations with high political stakes including debt relief negotiations with both the Paris and London clubs. I have brokered numerous agreements that have produced win-win outcomes.
"A good example is during the 2008–2009 food crisis when large wheat exporting countries imposed export restrictions- driving up the price of bread and other wheat-based products in a large number of developing countries. As Managing Director of the World Bank, I flew to one leading exporter, met with the leadership and over several meetings and negotiations, I persuaded them to remove the export restrictions. The affected developing countries benefited by having access to wheat and wheat products thereby ensuring their food security, while the country imposing the restrictions also benefited from increased export prices."
READ ALSO: 5 things Buhari's new Finance Minister must do within 100 days
Her vision for WTO
With the support from Aid for Trade initiative, her vision is to negotiate outcomes that would help developing countries, particularly the least developed countries, to increase their participation in the trading system, improve their policy environments, and ensure that trade makes a strong contribution to their sustainable development and inclusion in the MTS.
"I want to conclude by reiterating the importance of the WTO at this critical, uncertain and challenging time in the world. The WTO is needed to ensure trade and global markets remain open. Its convening power and ability to provide a unique forum where countries can come together around shared interests is still vital," she added.
READ ALSO: Finance Minister gives reason FG approached China for $17 billion loan
DG's Selection process
General Council Chair, David Walker of New Zealand had informed WTO members of nominations as soon as they were received. After 8 July, Walker issued to members a consolidated list of all candidates, which led to the on-going pitch process with the members at a special General Council meeting.
In all, only time will tell if history will be made after the selection process. History can be made if Okonjo-Iweala is selected as the first female or African DG or if any of the other three African candidates are selcted.
US House passes reform bill to decriminalize marijuana
US Congress has passed a sweeping legislation that would decriminalize marijuana at the federal level.
The 116th US Congress passed a reform legislation to decriminalize marijuana and expunge non-violent marijuana-related convictions and prosecution.
The bill, however, moves to legislate H.R. 3884, the Marijuana Opportunity Reinvestment and Expungement (MORE) Act of 2019, under a closed rule.
According to a statement made by the House Judiciary Committee Chairman, Jerry Nadler, the MORE Act is a commonsense bill that will make a tangible difference in the lives of millions of Americans, as it is tied around ideals of racial, economic, and moral justice.
However, the bill still has to pass through the US Senate, but it is likely that the Senate would pass it, given the uncertainties around it and owing to the non-inclusion of a cost estimate in the committee report, according to Clause 3(d) of rule XIII.
However, US representative for the eastern part of Bronx in New York, Alexandria Ocasio Cortez, tweeted that 68% of Americans support marijuana legalization.
This year, South Dakota, Arizona, Montana, and New Jersey joined 11 other states in legalizing it. Yet, the federal government still classifies pot as a dangerous drug. The Senate must listen to the American people and vote on this bill.
Why this matters
The bill, if finally passed by the senate would decriminalize cannabis, and also provide for reinvestment in certain persons adversely impacted by the war on drugs, through the expungement of certain cannabis offenses and for other purposes.
Thus, leading to the delisting of marijuana from the federal list of controlled substances and expunge some marijuana convictions for nonviolent criminals.
The bill would also ban the denial of federal public benefits to a person on the basis of certain cannabis-related conduct or convictions.
What they are saying
The House Judiciary Committee Chairman, Jerry Nadler, representing parts of Manhattan and Brooklyn said:
"There is no reason for cannabis to be classified as a federally scheduled substance under the Controlled Substances Act. The MORE Act deschedules cannabis, allowing states to establish their own marijuana regulations and providing medical marijuana access to veterans in need."
"The MORE Act is a common-sense bill that will make a tangible, real difference in the lives of millions of Americans. I'm proud of this bill centered around ideals of racial, economic, and moral justice."
"I'm so proud that the MORE Act passed the House by a bipartisan vote of 228 to 164. I introduced this bill to provide restorative justice, modernize America's cannabis laws, and deliver meaningful investments to America's communities & small businesses."
Co-chair of the Congressional Cannabis Caucus, Earl Blumenauer, representing Oregon's 3rd Congressional District, while speaking at Capitol Hill during the House session on Friday said:
"We are here because we have failed three generations of Black and Brown young people, whose lives can be ruined or lost, by selective enforcement of these laws.
This Legislation will end that disaster. It's time for the Congress to step up and do its part"
What you should know
Recreational marijuana is currently legal in 15 states and Washington DC, while Medical marijuana is legal in 34 states of the 50 States of the USA.
The MORE Act has seen a lot of criticisms by people who believe the bill is an unserious bill, as there is zero interest in moving this bill in the Senate and zero interest in supporting it in either the current administration or the incoming one.
Earlier this week, Republican Senate Majority Leader, Mitch McConnell, criticized the House for passing the cannabis bill, instead of focusing on a COVID-19 stimulus bill that both parties reportedly have agreed upon.
Biden to appoint Nigerian-born attorney as Deputy Treasury Secretary
Nigerian-born attorney, Adewale Adeyemo has been selected by US President-elect, Joe Biden as Deputy Treasury Secretary.
United States President-elect, Joe Biden, has selected a Nigerian-born attorney, Adewale Adeyemo, as the Deputy Treasury Secretary.
This was disclosed by Biden on Sunday, according to Wall Street Journal.
Adeyemo, who is a former senior international economic adviser during the Obama administration, will serve under former Federal Reserve Chair Janet Yellen, who Biden plans to appoint to lead the US Treasury Department.
Adeyemo's appointment is one of many key cabinet positions Biden is expected to announce in the coming days.
What you need to know
Born in Nigeria, Adeyemo was raised in California where he obtained a bachelor's degree before proceeding to Yale Law School for his legal education.
Before his appointment into the Obama administration, Adeyemo worked as an editor at the Hamilton Project, then served as senior advisor and deputy chief of staff to Jack Lew in the United States Department of Treasury.
He later worked as the chief negotiator for the Trans-Pacific Partnership and also served as the first chief of staff of the Consumer Financial Protection Bureau under Elizabeth Warren.
In 2015, he was appointed to concurrently serve as Deputy National Security Advisor for International Economics and deputy director of the National Economic Council.
He went on to become the first president of the Obama Foundation.
Canada extends travelers' restrictions to January 2021
The Canadian Government has extended a temporary travel restrictions for all travelers seeking entry into the country.
The Canadian Government has extended the mandatory isolation order and temporary travel restrictions for all travelers seeking entry into the country, except the United States, to January 2021.
This was disclosed by the Minister of Public Safety & Emergency Preparedness, Bill Blair, on Sunday.
In a statement seen by Nairametrics, he explained that the travel restrictions for US citizens and foreign nationals arriving from the US would remain in place until December 21, 2020 and might be extended at that time.
READ: Apple, Google launch COVID-19 exposure notifications in phones for contact tracing
The decision was taken to protect Canadians from COVID-19 and reduce the spread of the disease in Canada. Blair said: 
"Protecting the health and safety of Canadians is my most important responsibility. We have introduced a number of policies to keep Canadians safe but must remain flexible and adapt to the evolving COVID-19 situation, while keeping your health as our top priority.
READ: Four ways Nigerian government can minimize impact of COVID-19
"The ability to align US and international travel extension dates, as well as the Mandatory Isolation Order, beginning on January 21, 2021 will enable the Government to communicate any travel extensions or changes as quickly as possible and provide certainty for Canadians, US and international travelers.
"In addition, the Government is amending its order and creating a framework for considering applications from high-performance amateur sport organizations seeking to hold International Single Sport Events."
To be considered, applicants are expected to include written commitments of ongoing support from provincial/territorial and local public health authorities and provincial/territorial governments, as well as a robust plan to protect public health and the health of participants.
READ: Football: Lyon lost €36.5 million in the 2019/20 financial year
The authorization would be issued by the Department of Canadian Heritage (Sport Canada) in consultation with the Public Health Agency of Canada (PHAC).
"Anyone experiencing symptoms of COVID-19, or who has recently come into close contact with someone infected with COVID-19, should continue to quarantine or isolate for 14 days. At all Canadian ports of entry, the final determination on a traveler's admissibility is made by border services officers who base their decision on the information presented and available to them at the time of entry," he added.
READ: Over 600 masts at the risk of being demolished by NCC.
Quick Facts
The Department of Canadian Heritage will determine which foreign nationals can receive accreditation to enter 

Canada

 to participate in an International Single Sport Event.
An International Single Sport Event includes World Championships, Olympic or Paralympic Qualifications, as well as World Cups.
A high-performance amateur athlete is defined as an athlete competing at the international level and affiliated with his or her country's national sport federation.
READ: COVID-19: NAFDAC to grant emergency approval for necessary products
What you need to know
In March, 2020, the Government introduced several measures, including prohibitions and restrictions on discretionary and optional travel from the United States (US) and all other countries, to minimize the introduction and spread of COVID-19 and protect the health and safety of Canadians.
The measures included the requirement for all travelers entering Canada to quarantine or isolate for 14 days.
Explore Data on the Nairametrics Research Website