Covid-19: British High Commission to resume visa application in Nigeria
Nigerians who want to visit the UK can do so as soon as international flight operations resume.
The British High Commission in Nigeria has announced plans to resume visa processing in the country. It revealed that it will soon begin receiving visa applications from Nigerians who want to travel to the United Kingdom (UK).
This was disclosed in a public statement by the British High Commission in Abuja on Thursday, July 9, 2020.
It said that Nigerians who want to visit the United Kingdom can do so as soon as the international flight operations resume in the country. The statement said:
"We know there are many Nigerian nationals hoping to be able to travel to the UK when flights resume, both for employment and to see family members.
"UKVI are working closely with TSL contact, our commercial partner, to reopen visa application centres that were suspended due to COVID-19. UK visa application centres are reopening in phased manner globally when it is safe to do so and when we can operate an effective service.
"TSL contact are putting appropriate measures in place and working hard to reopen in Nigeria. We will share details of when VACs will reopen soon,"
READ MORE: US to stop issuing visa for Birth Tourism 
It can be recalled that the Federal Government had shut down the airports to both domestic and international flight operations in March as part of measures to contain the spread of the coronavirus disease.
Following the gradual resumption of domestic flight operations, Nigerians are expecting that international flight operations might be resuming soon.
Buhari discloses what it will take to reverse US visa ban
President Buhari has fully addressed 2 out of the 6 areas of concern raised by the United States.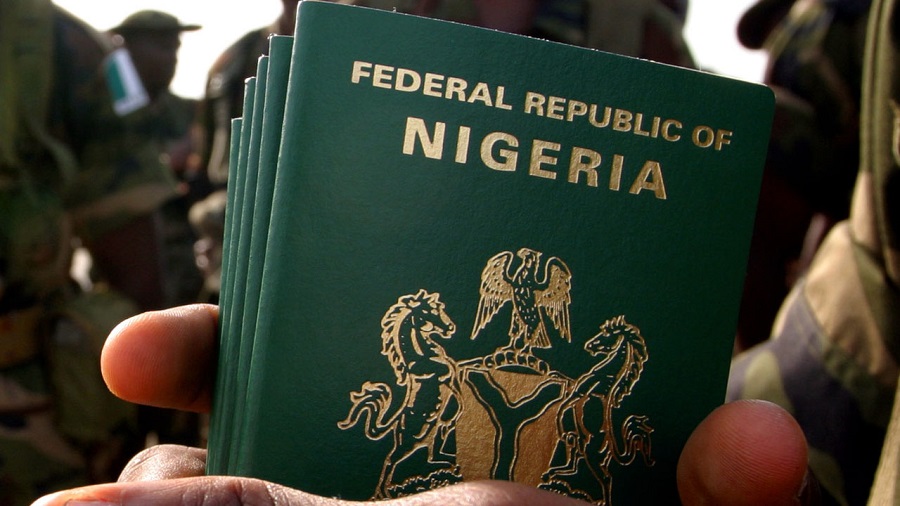 President Muhammadu Buhari has disclosed that it will take enormous resources to reverse the ban on immigrant visas for Nigerians by the United States Government. He also noted that the country is making some progress in this regard.
The president disclosed this on Thursday, August 14, 2020, when he received the report of the committee on citizen data management and harmonization in Abuja. He pointed out that 2 out of the 6 areas of concern raised by the United States had been fully addressed.
The committee was set up in February this year to address areas of concern that led to the temporary suspension of issuing immigrant visas to Nigerians.
READ ALSO: How the United States plans to control the African Development Bank
It can be recalled that the Trump administration, in January announced the placing of new visa restrictions on 6 countries namely Eritrea, Nigeria, Sudan, Tanzania, Myanmar, and Kyrgyzstan, in an expansion of its controversial travel ban policy.
The ban on those 6 countries, which took effect in February, prevents their citizens from obtaining U.S. visas that can lead to permanent residency.
U.S. officials cited issues such as sub-par passport technology and failure to sufficiently exchange information on terrorism suspects and criminals as reasons for the ban.
The Minister for Interior, Ogbeni Rauf Aregbesola, who had asked the U.S. ambassador in Abuja to drop the ban, also chaired a committee to address U.S. concerns.
READ MORE: Twitter shows interest in buying TikTok
In his statement on Thursday, Buhari said that after suggestions from a report by the committee, they had fully resolved two out of six U.S. concerns, substantially satisfied two others, and had made some progress on the last two.
But he said they were still drafting a workable plan for the report's full suggestions, which require enormous resources.
"I am delighted that this progress, especially the uploading of Lost and Stolen Passport and Travel Documents, has been acknowledged by the United States Government," he said.
READ ALSO: Over 5 million Nigerians apply for N-Power Batch C
Buhari explained that Nigeria would harmonize citizen identification data held by different parts of government, create a national criminal management system modelled on INTERPOL, and start a national criminal DNA laboratory, although his statement did not specify what the country had already done.
It should be noted that Nigerians can still obtain visas for study, work, and travel in the United States.
Air Peace to recall some sacked pilots after Minister's intervention
Air Peace had trained over 80 pilots, giving its staff the best remuneration package.
Air Peace would soon recall some of the pilots that were sacked recently. This coming after the Minister of Aviation, Hadi Sirika had intervened.
This was disclosed by the Ministry of Aviation via its Twitter handle on Tuesday.
The recall was the fall-out of an intervention meeting called by the Minister between the airline management and the leadership of the National Association of Airline Pilots and Engineers (NAAPE) held in his office on Tuesday.
Back story: Nairametrics reported as Nigerians woke up to the news that Air Peace had sacked about 70 pilots under its employment across its fleet and also reduced staff salaries by 40%. The airline said the exercise was due to the devastating impact of the Coronavirus pandemic on its business.
It added that the move was made to protect the majority of the existing jobs and the possibility of creating new ones in the future, as well as ensuring the survival of the airline.
In the verbal agreement, Chairman, Air Peace, Chief Allen Onyema acceded to the Minister's appeal for the recall of the maximum number of pilots that the airline can accommodate without going under.
Chairman, NAAPE, Galadima Abednego explained that as a union it was a painful thing to see a large number of their members thrown into the labour market, and further appealed to employers of labour to see the union members as partners, and not adversaries.
On his own, Onyema expressed his sadness and disappointment over what he called the ingratitude of some of the airline's pilots after everything is done to make them comfortable on their jobs.
He recalled how Air Peace had trained over 80 pilots and an equal number of aircraft engineers, giving its staff the best remuneration package within the sector only for them to disappoint at a time their understanding was needed.
He however commended Senator Hadi Sirika for providing the required leadership to the industry and promised his full cooperation in ensuring the growth of the aviation sector in Nigeria.
The Aviation Minister called for the understanding of everyone, especially the Labour unions, of the prevailing situation in the aviation industry, saying it was not the time for unnecessary upheavals.
AIR PEACE TO RECALL SOME SACKED PILOTS, AS SIRIKA INTERVENES

Respite has come the way of some of the pilots recently sacked by the management of Air Peace, as many of them would soon be recalled to their jobs.

— Federal Ministry of Aviation, Nigeria (@fmaviationng) August 11, 2020
He commended Chief Onyema for his enormous contributions in developing the industry, but appealed to him to recall the maximum number of the sacked pilots that the airline can comfortably accommodate in the prevailing circumstances to which airline operator agreed.
US gives reasons it warned citizens against travelling to Nigeria, lists 12 high risk states
The US government has issued a level 3 Travel Health Notice for Nigeria due to COVID-19.
The United State Government has advised its citizens against travelling to Nigeria due to the Coronavirus pandemic, terrorism, civil unrest, kidnapping, widespread inter-communal violence, and others.
This warning is contained in a travel advisory statement that was obtained from the United State Department of State website.
The statement also disclosed that the Centre for Disease Control and Prevention (CDC) had issued a level 3 Travel Health Notice for Nigeria due to the Coronavirus pandemic. Also, some parts of the country have increased risk.
"Reconsider travel to Nigeria due to Covid-19. Reconsider travel to Nigeria due to crime, terrorism, civil unrest, kidnapping and maritime crime. Some areas have increased risk.'
READ MORE: Chevron considers divesting from Nigeria, to focus on U.S Shale Oil
''Do not travel to; Borno and Yobe States and Northern Adamawa State due to terrorism; Adamawa, Bauchi, Borno, Gombe, Kaduna, Kano and Yobe States due to kidnapping; Coastal areas of Akwa Ibom, Bayelsa, Cross Rivers, Delta and Rivers States (with the exception of Port Harcourt) due to crime, civil unrest, kidnapping and maritime crime,'' the statement said.
It stated that violent crimes such as armed robbery, assault, carjacking, kidnapping, and rape, have become common throughout the country. As such, US citizens were advised to exercise extreme caution throughout the country due to the threat of indiscriminate violence.
"Terrorists continue plotting and carrying out attacks in Nigeria, especially in the Northeast. Terrorists may attack with little or no warning, targeting shopping centres, malls, markets, hotels, places of worship, restaurants, bars, schools, government installations, transportation hubs, and other places where crowds gather.
READ ALSO: Forex turnover at NAFEX hit $1.6 billion since June 2020
"Sporadic violence occurs between communities of farmers and herders in rural areas.''
The US government acknowledged the fact that it has limited ability to provide emergency services to US citizens in many parts of Nigeria due to the security conditions.
Going further it stated, "Do not travel to Borno and Yobe States and Nothern Adamawa. Terrorist groups based in the Northeast target churches, schools, mosques, government installations, educational institutions and entertainment venues. Approximately two million Nigerians have been displaced as a result of the violence in Northeast Nigeria.
"Do not travel to Adamawa, Bauchi, Borno, Gombe, Kaduna, Kano and Yobe States. The security situation in Northwest and Northeast Nigeria is fluid and unpredictable, particularly in the states listed above due to widespread inter-communal violence and kidnapping.
"Do not travel to the coastal areas of Akwa Ibom, Bayelsa, Cross Rivers, Delta and Rivers States (with the exception of Port Harcourt). Crime is rampant throughout Southern Nigeria, and there is a heightened risk of kidnapping and maritime crime, along with violent civil unrest and attacks against expatriate oil workers and facilities.''