Cowrie Integrated Systems and COINQVEST announce payment processor partnership
Allowing Nigerian online merchants to accept BTC, ETH, XLM, or other cryptocurrencies and settle directly in naira.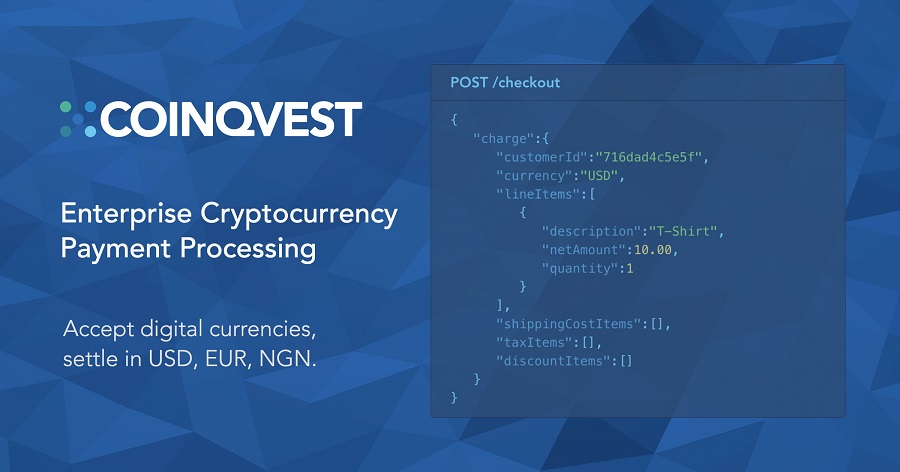 July 9th, 2020, COINQVEST and Cowrie Integrated Systems today announced a partnership to allow Nigerian merchants to add major cryptocurrencies such as Bitcoin and Ethereum to online payment options in online shops and e-commerce businesses. The cooperation between Cowrie and COINQVEST enables these funds to be settled to Nigerian Naira (NGN) bank accounts, in minutes.
Nigerian online merchants can now process payments using any of the major cryptocurrencies their customers use. This financial flexibility and speed can be a game-changer for large and small merchants alike.
The Cowrie and COINQVEST partnership promises a range of positive impacts for enterprises wanting to update their payment processing infrastructure. The COINQVEST platform provides all of the user experience merchants seek and require.
COINQVEST's software development kits make integration easy for developers. Merchants unfamiliar with coding can opt for COINQVEST's turnkey checkout solutions for WordPress, Shopify and Magento. Once set up, merchants have a valuable financial toolbox.
They're able to accept cryptocurrencies (or any supported currency), convert it to their national currency, and withdraw funds to their bank accounts. Merchants have access to customer transaction analytics to tailor their businesses as needed. Also included are compliant and accountant-friendly tax records, useful during tax season.
"Bitcoin is exchanged, and NGN immediately transferred to a bank account, offering a modern and internet-based payment option for customers", says COINQVEST co-founder Marcin Olszowy. He continues, "We eliminate credit card processor fees, payment delays, chargebacks. Immediate transaction settlement also improves financial monitoring and business turnover."
Cowrie co-founder Gbubemi Agbeyegbe explains, "Bitcoin is extremely popular in Nigeria, with the highest adoption rate in Africa. This solution lets online merchants embrace digital payments and gives customers an option to use their Bitcoin in everyday lives."
COINQVEST co-founder Stefan Schneider adds, "COINQVEST offers the most efficient way to accept Bitcoin compliantly. This is why Nigerian businesses, such as leading online fashion store PayPorte and others, already embrace digital currency payment processing via COINQVEST."
About COINQVEST
COINQVEST is a safe and seamless enterprise payment gateway and API between fiat and digital currencies. Processing is secure and automatic, with beautifully designed back-end analytics like invoicing and transaction history to serve enterprise business needs. COINQVEST's developer-centric API can assist merchants or B2B candidates to accept a variety of digital payment options alongside their current methods. Website: www.coinqvest.com
About Cowrie Integrated Systems
Incorporated in the UK and Nigeria, Cowrie Integrated Systems is a fin-tech company that provides value-added services over electronic payment networks. Cowrie Integrated Systems is a well-established Nigerian payment processor and fiat to crypto payment platform and exchange. Website: www.cowrie.exchange
JustLiquidity; The best place for easy and decentralized Crypto
JustLiquidity aims to be the leading top decentralized exchange on the Binance SmartChain, with revolutionary developments and product's
Introduction of Julwallet feature (NFTs minting and NFTs shop)
NFTs and NFT artists have been trending a lot in the African art space
NFTs or NonFungibleTokens as it stands, are redefining the very outlook of various forms of creative work like art, video, music, characters in a game etc. NFTs by their very definition represents unique data on the digital ledger or blockchain. Unlike Fungible tokens on the blockchain, these tokens are not interchangeable as they represent something unique in themselves.
Justliquidity has introduced a few products to the general public that makes creating, storing, selling and sending NFTs all on the Binance SmartChain as BEP1155 token, the Julwallet is one of its revolutionary products that has all these features in it and more in development currently.
Our Telegram group and Twitter handles are:
Mastercard New Payments Index: Consumer appetite for digital payments takes off in Nigeria
78% of consumers in Nigeria say digital payments methods help them save money.
96% of consumers in Nigeria are considering emerging payments such as wearables, biometrics, digital wallets and currencies, and QR code, in addition to Contactless, according to the Mastercard New Payments Index
86% of Nigerian consumers have access to more ways to pay compared to this time last year
78% of consumers in Nigeria say digital payments methods help them save money
81% say they are more loyal to retailers who offer multiple payment options and would shop at small businesses if offered more diverse ways to pay
As the world went into pandemic lockdown in 2020, consumers shifted their spending habits to embrace contactless tap-and-go payments and online shopping. As stores closed and social distancing took hold, retailers worldwide moved their businesses online, embraced e-commerce and explored the potential of new ways to pay. More than a year later, research from Mastercard shows that the adoption of new payment technologies is rising, and consumer appetite for new, fast and flexible digital experiences continues to grow.
The Mastercard New Payments Index shows 96% of Nigerian consumers will consider using at least one emerging payment method, such as cryptocurrency, biometrics, contactless, or QR code, in the next year.
Over two-thirds of respondents (66%) agree they have tried a new payment method they would not have tried under normal circumstances, but the pandemic has galvanized people to try flexible new payment options to get what they want, when they want it. With this interest and consumer demand also comes a greater expectation for businesses to provide multiple ways to shop and pay. In fact, 81% of Nigerian consumers say they are more excited about shopping at retailers who offer the latest payment methods.  Additionally, (78%) Nigerian consumers say that digital payment methods help them save money.
"The pandemic made us think differently, partly out of necessity," said Craig Vosburg, Chief Product Officer at Mastercard. "To deliver the choice and flexibility that consumers need – and increasingly expect –retailers worldwide need to offer a range of payment solutions that are easy to access and always on.  As we look ahead, we need to continue to enable all choices, both in-store and online, to shape the fabric of commerce and make the digital economy work for everyone."
Contactless technology was the digital catalyst to explore new payment options because of its fast, secure, and touch-free experience. Between the first quarter of 2020 and the same period in 2021, more than 100 markets saw contactless as a share of total in-person transactions grow by at least 50 percent.  A year into the COVID-19 pandemic, contactless is showing its staying power and dynamism – in the first quarter of 2021 alone, Mastercard saw 1 billion more contactless transactions worldwide as compared to the same period of 2020. All signs point to a continued growth path for contactless, with nearly 7 in 10 consumers globally anticipating using a contactless card this year.
"The world as we now know it has changed dramatically since the outbreak of the pandemic, accelerating long-term shifts in consumer transaction and payment methods. We continue to work with our merchants, fintechs and banking partners to rapidly innovate payment options that meet consumer needs while ensuring we drive financial and digital inclusion," said Raghav Prasad, Division President, Mastercard, Sub-Saharan Africa.
Looking to the future, digital currencies and wallets, wearables, biometrics, contactless and QR codes are trending as emerging payments technologies as people's comfort with them and understanding of them increases and the use of cash decreases. In fact, 86% of consumers in Nigeria have more ways to pay compared to this time last year. The exploding interest in new payment technologies may encourage businesses to expand their options at checkout. The Mastercard New Payment Index found:
Cryptocurrency1 Gains Ground – Today consumers can buy, sell, and trade cryptocurrency as a commodity or investment. Consumers are also increasingly showing interest in being able to spend crypto assets for everyday purchases. As global interest in digital currencies continues to accelerate, 6 in 10 people (65%) in Nigeria say they plan to use cryptocurrency in the next year, with 76% noting they are more open to using it than they were a year ago. While consumer interest in cryptocurrency – especially floating digital currencies such as Bitcoin – is high, work is still required to ensure consumer choice, protection, and their regulatory compliance. Earlier this year, Mastercard announced that it will start supporting select cryptocurrencies directly on its network.
Biometric Payments are More Trustworthy – Perceptions of safety and convenience have been front and center for people over the past year. 49% of Nigerian consumers say they plan to use biometric verification methods like gait or walk assessments and fingerprint authorization. In fact, over 6 out of 10 people (66%) feel safer using biometrics to verify a purchase than entering a pin.
QR Codes are Cleaner and More Convenient – Growing markets are leveraging QR-based options as a clean and convenient way to interact with merchants. Consumer desire for clean and convenient ways to pay will remain post-pandemic. 54% of people in Nigeria expect to use more payment technologies like QR codes in the next year. Consumers also find that that QR codes are cleaner (75%) and more convenient (77%) for in-person payments and have a significant potential to reduce cost of payment acceptance and increase financial
Digital Wallets Surge in Popularity – Nigeria is seeing a surge in the popularity of digital wallets. 73% of Nigerian consumers said they were likely to use digital wallets next year. 66% of shoppers even say that they feel safer storing their card information in one place such as a digital wallet.
To Meet People's Demands, Businesses Forced to Jump into Emerging Payment Trends
With consumer interest around new payment technologies, the expectation for businesses to adapt for the long-term is here to stay. Over three in four Nigerian consumers (84%) say that they would shop at small businesses, if they offered more payment options, and 81% noted being more excited to shop at retailers that can offer the latest payment methods, and an equal proportion (81%) said they would be more loyal to retailers who offered multiple payment options.
This behaviour shift is reinforced by the desire for consumer choice – with 89% saying that they expect to make purchases when they want and how they want. The businesses that can provide multiple ways to shop and pay are best positioned to meet these expectations. As the demand for emerging payments and choice continues, it requires a wider range of payment solutions, insights, and products to meet the accelerating enthusiasm for the future state of pay.
Nairametrics | Company Earnings
Access our Live Feed portal for the latest company earnings as they drop.