Tax debt payments extended to August 31- FIRS
Tax debtors are to liquidate their outstanding tax liabilities on or before August 31.
The Federal Inland Revenue Service (FIRS) announced it on Wednesday that it has extended the waiver of penalty and interest window on tax debts owned by businesses and individuals from June 30 to August 31, 2020.
In a statement by the Director Communications and Liaison Department, Mr Abdullahi Ahmad. The Executive Chairman of FIRS, Mr Muhammad Nami said the extension is a sequel to palliative measures set up by the FIRS to help businesses and individuals deal with the effects of the Covid-19 pandemic on the economy.
READ MORE: FIRS to deploy new technology in tax collection, as MDAs refuse to pay 7.5% tax
"The latest extension applies to tax audit, tax investigation and desk review assessments, approved installment payment plans under Voluntary Assets and Income Declaration Scheme yet to be fully liquidated," he said.
He added that there would not be any extension after the August 31 due date.
READ MORE: Nigeria Joins Canada, Thailand and others in taxing digital companies
He urged tax debtors to liquidate their outstanding tax liabilities on or before August 31 in order to partake in the waiver of accumulated interests and penalties.
Nami also advised all businesses and individuals who fall under the waivers to contact their nearest FIRS Regional Debt Management Office and tax controllers for further enquiries.
FG completes 11 projects to drive Digital Economy
The government has been pushing the Digital Economy in a bid to diversify economic productivity.
The Federal Ministry of Communications and Digital Economy announced that it has completed 11 projects to drive its Digital Economy programme.
This was announced by the Minister of Communications and Digital Economy, Dr. Isa Pantami, during the phase 2 commissioning of Nigeria's Digital Economy drive.
The Nigerian Government has been pushing the Digital Economy in a bid to create growth and diversify economic productivity in the nation, starting with the Digital Economy drive which was added to the portfolio of the Ministry of Communications.
READ MORE: Nigeria's broadband penetration rises, yet internet remains slowest in the world
Nairametrics reported last month that the Nigerian Communications Commission (NCC) also approved the creation of a Digital Economy Department, which will be responsible for promoting the digital economic agenda of the federal government. The department will renew the commission's strategy for delivering its programmes and policies, and give the necessary push to promote the national digital economy.
The projects were launched with the supervision of the Ministry of Communications and Digital Economy and would be operated by the Nigerian Communications Commission (NCC), National Information Technology Development Agency, (NITDA) Nigerian Postal Services (NIPOST ) and The Universal Service Provision Fund (USPF) and would be located nationwide.
READ ALSO: NCC issues 10 new VAS licences in 2019, projects market to hit $500 million 
The 11 projects are:
Emergency Communications Centre (ECC) llorin, Kwara State.
Emergency Communications Centre (ECC) Calabar, Cross River State.
School Knowledge Centre (SKC), Gombe State.
Information Technology Innovation Centre, Kogi State.
Tertiary Institution Knowledge Centre (TIKC), Delta State.
New Neighborhood Post Office, Delta State.
Remodelled National Mail Exchange Centre, Bayelsa State.
e-Health/Data Sharing Centre, Bauchi State.
Virtual Examination Centre, Borno State.
Information Technology Capacity Building Centre, Jigawa State.
Information Technology Capacity Building Centre, Imo State.
Over 5 million Nigerians apply for N-Power Batch C
The Minister assured Nigerians that transparency would be applied during the selection process.
Nigeria's Ministry of Humanitarian Affairs Disaster Management and Social Development said a total of  5,042,001 Nigerians applied for the Batch C of N-Power. Applications commenced on the 26th of June and closed on the 9th of August.
This was announced by Halima Oyelade, a Special Assitant on Strategic Communication, in a statement released Tuesday night. The Ministry said that the application date was meant to close on the 26th of July, but was extended by two weeks to enable those who were unable to apply to do so.
READ ALSO: FG grants tax incentives to Honeywell, 7 others, rejects applications from WAMCO, Flour Mills
The Backstory: Nairametrics reported in June that the Federal Government announced the reopening of the application portal of the social investment scheme for fresh registration of the June 2020 Batch C intakes.
We also reported that as at last month, the Federal Government said that it had received 4.48 million applications from beneficiaries for the Batch C of the programme within the first 2 weeks.
The Minister, Sadiya Umar Farouq, assured Nigerians in the statement that transparency and due diligence would be applied during the selection process to ensure that the qualified applicants are selected.
READ MORE: Minister denies approving NIPOST license fee increment 
"The Honorable Minister further added that the N-Power program is aimed to provide the Nigerian youths with opportunities to gain skills for employability and entrepreneurship which will also go along way in assisting the country towards the post-Covid 19 economic recovery," she said.
She added that the Ministry would comply with the administration's promise of lifting 100 million Nigerians out of poverty in ten years and the N-Power scheme would be one of the means to do so as women and persons with disabilities would be prioritized in the selection.
WTO Job: Okonjo-Iweala reveals how to resolve the rift between US and China
Mrs Iweala revealed how she hopes to resolve the rift between the United States of America and China.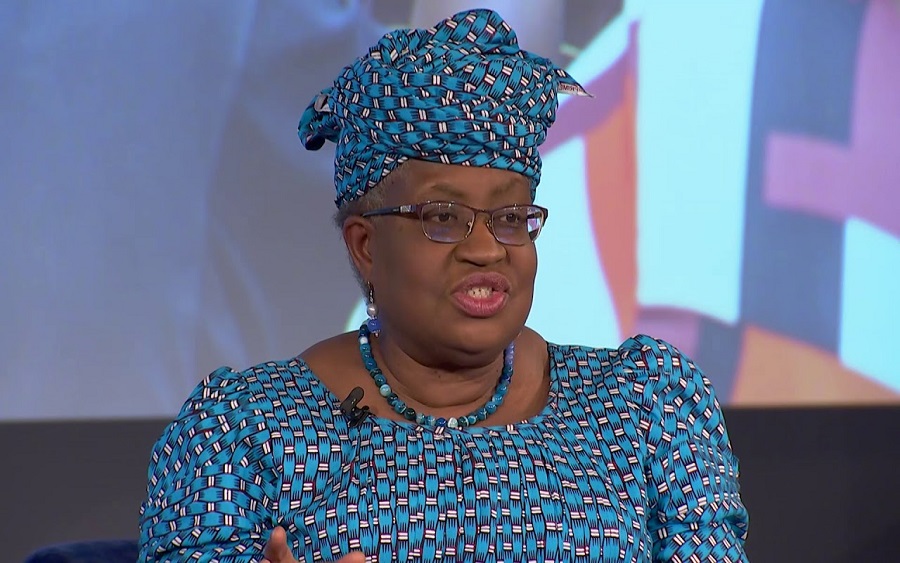 As the jostle for the top job at the World Trade Organization (WTO) becomes more intense, the Nigerian candidate, Ngozi Okonjo-Iweala, has disclosed some of her plans for the institution. The former Nigerian Finance Minister recently had an exclusive interview with CNBC Africa.
Speaking during the interview, Mrs Iweala revealed how she hopes to resolve the rift between the United States of America and China, the 2 biggest economies in the world, especially as regards trade issues. She also noted that part of her vision is to build a trade institution where there is greater trust among its members. She also stressed that the WTO, at this critical time, is needed to ensure that trade and global markets remain open.
READ MORE: Gold price up as COVID-19 cases rise, U.S-China tensions heighten 
On healing the rift between the US and China, Okonjo-Iweala admitted that it is going to be challenging and not be easy. She said:
"Well this is not going to be easy, if it was easy, it could have been done a long time since. So it would be very challenging but it is not an impossible job. It is very clear that both the US and China have been helped and benefitted from the multilateral trading system in the past. Hundreds of millions have been lifted out of poverty. They have experienced shared prosperity in the economies and their countries.''
The Nigerian candidate pointed out that it is important to remind the US and China of this shared prosperity. She then disclosed that she would listen to both countries to find out what really are the issues causing distrust among them. She said that she will not want to be involved in the larger political problems, but will rather separate the trade issues and focus on them and build this trust.
READ MORE: Dangote fertilizer plant to begin production this year
Going further on how to settle their rift, Okonjo-Iweala said, "You need to begin to find areas where there can be confidence-building and trade. Building trust is not talking about it, you have to have areas where both can work together and agree and we have a golden opportunity in the fisheries subsidies negotiations that are going on now because the US is a party to it, China is a party, the EU, all other members.''
"It is a multilateral negotiation, so if they can sit around the table with others to negotiate this and have a successful outcome, that is one thing that will be shared in common between the 2. So that will begin to build confidence. Then reaching out both in the US and in China to talk to the policymakers, go where the decisions are made, talk to congress also in the US and begin to show the benefits of the system again.''
READ ALSO: FG inks $3.9 billion deal with Chinese firm for construction projects 
She also said they will look at reasons why they need to work together because their rift may be causing negative externalities for other members. She is of the opinion that exposing all of these, working with them, and listening carefully will begin to build confidence.
She believes that while achieving this will be difficult, focusing seriously on trade issues can create room for a breakthrough.
Download Nairametrics News App