Gold Prices cross $1800, first time since 2011
This is against the backdrop of rising cases of the coronavirus disease.
The attraction for Gold is getting stronger in 2020 as Gold futures on Tuesday, finished at their highest since September 2011, with the metal climbing back to above the $1,800 an ounce mark. This is as the year to date inflows into bullion-backed exchange-traded funds (ETF) have topped the record full-year total, which was set in 2009.  
This is against the backdrop of rising cases of the coronavirus disease and doubts about the state of global economy. 
Investors have favored safe havens like gold and silver this year as the coronavirus pandemic has seriously undermined global economic growth, encouraging sustained inflows into gold-backed ETFs as central banks and governments unleash vast stimulus programs. 
READ ALSO: BTC outperforms precious metals in H1 2020
The Chief Precious Metals analyst at HSBC Securities, James Steel said, ''A massive investor response to Covid-19 has pushed ETF holdings to record levels, the impact of which has outweighed the decline in jewelry demand and absorbed increases in recycling. Further inflows are expected as investors respond to elevated risks and low yields." 
Some experts have said that the current crisis has seen interest rates get low and increasing the appetite for investments in metals like gold and silver. 
According to an initial data compiled by Bloomberg, Holdings in gold-backed ETFs rose to 3,234.6 tons on Tuesday. That's up 655.5 tons so far in 2020, exceeding the rise that was recorded in 2009. 
READ MORE: This is why retirement pension savers should be worried in 2020
Gold spot was up 0.2% at $1,798.55 an ounce at 9:36 a.m. in London, after climbing above $1,800 to reach the highest since November 2011. In other precious metals, silver and platinum were higher while palladium recorded little change. 
Goldman Sachs predicts that the metal could reach a record $2,000 in the next 12 months as bullion prices and holdings are widely expected to extend gains. 
READ ALSO: Capital flows to Nigeria down for the second consecutive quarter by 7.8% q/q 
According to HSBC's Steel, ''The near unprecedented fiscal and monetary peacetime response to Covid-19 supplies gold with two substantial bullish inputs: liquidity and debt. Low interest rates, monetary accommodation including balance-sheet expansion and heavy fiscal spending globally for the foreseeable future will cement and extend gold's rally." 
It should be noted that the last time that gold traded above $1,800 an ounce was in September 2011, but it ended that year at $1,565 an ounce. 
Gold prices drop below $1,900 after U.S dollar strengthens
The plunge came as appetite for risk assets recovered thanks to a stronger greenback and real rates.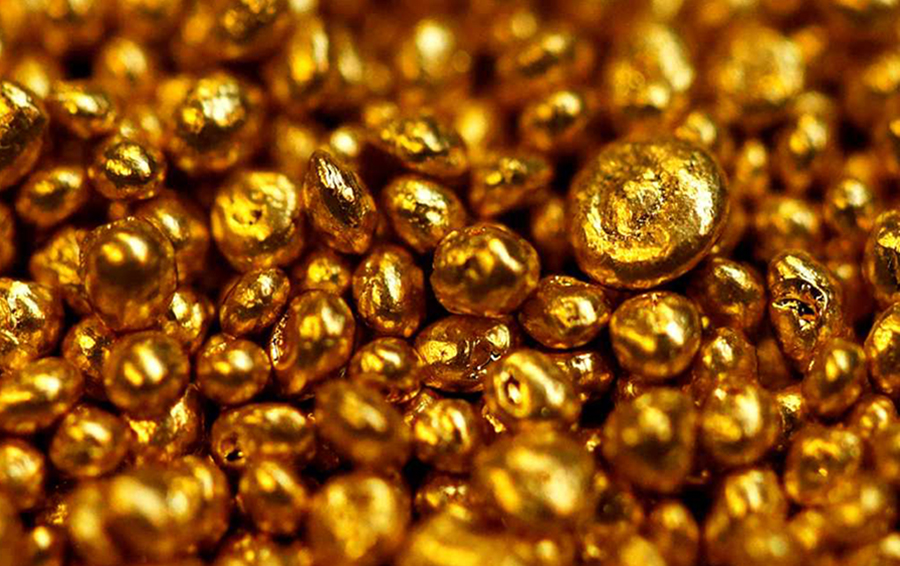 Gold prices dropped sharply on Wednesday at London's trading session. Gold futures were down 2.69% to trade at about $1,893.20 as at the time this report was drafted.
The plunge came as appetite for risk assets recovered, thanks to a stronger greenback and real rates. The U.S dollar is up on Wednesday, continuing to rise from its two-year lows.
The present huge sell-offs recorded in the precious metal market astonished many gold traders after the per-ounce price of the yellow metal plunged below $1,900.
READ MORE: Silver surpasses three-week high, joins Bullish momentum
Here's an Insight: Stephen Innes, Chief Global Market Strategist at AxiCorp, in a note to Nairametrics, explained the macros, giving Gold bears such strength, as the precious metal continues its sudden downward trend. He said;
"The real pain trade gold as swollen positions got hit with the truncheon, and gold plunged the most in seven years as the bottom fell out of the markets with US Treasuries and bunds bear-steepening and real yields higher.
"Gold markets sold off picking speed exponentially as freshly minted gold longs ran for the exit.
"And in typical low liquidity August fashion, market makers were merciless pounding gold to within a hair's breadth of $1900 as the steam roller got heading downhill when the afternoon Shanghai session saw waves of Asia banks selling en masse."
READ ALSO: LINK, most profitable crypto-asset in 6 months, gains 451%
Whether or not gold can regain its previous highs will depend on whether there is more room for downside in real yields or more dovish policies by the US Federal Reserve. Still, the possibility of squeezy price action remains in play after the US Bond market sent out the most explicit warning last week.
Gold price loses $80 following Russia's COVID-19 vaccine approval
This marks gold's steepest daily decline in nearly five months.
Gold futures have lost about  5% or $80 in less than four hours, at the London trading session this afternoon.
Gold futures fell as low as $1,950 per ounce, $80 differential from its opening price of $2,030
This marks gold's steepest daily decline in nearly five months, even as global stocks went bullish following news that Russia's COVID-19 vaccine has obtained regulatory approval.
READ MORE: Cocoa prices melt lower as COVID-19 weakens demand 
The COVID-19 vaccine approval by Russia was met with some skepticism by experts.
Russian President Vladimir Putin announced on Tuesday that a locally developed vaccine for COVID-19, Sputnik-V, has been given regulatory approval and is ready for use.
Russian Health Minister Mikhail Murashko said that the vaccine had "proven to be highly effective and safe", with mass vaccination planned to start in October.
But health regulators elsewhere have cast doubts on the vaccine, as it has not yet gone through safety trials and Russia did not offer any scientific evidence of the vaccine's effectiveness and safety.
Where is oil headed in the short term?
Oil prices may fall again if there is another surge in Coronavirus cases.
Oil prices have risen by 128% from it's April low as it has steadied above $40 a barrel since mid- June. At the same time, fluctuating demand and rising supply present a bottleneck for those who are expecting oil prices to keep climbing. Reduction of the size of output cuts to 7.7million barrels a day from August, by the group of 23 oil-producing countries which is led by Saudi Arabia and Russia would add about 2 million barrels to the daily oil production levels. Most of the extra OPEC+ crude would not reach the global market. These extra cuts would be used to service internal demand for electricity to run air conditioners as a result of the scorching temperatures across the Arabian Peninsula. Fewer citizens have been travelling to Europe to avoid the scorching temperatures.
Rising supply is not the only thing that will put pressure on crude prices. The anticipation for recovery in demand for oil is also running into problems. At a period when crude prices were at the lowest point in April, China made a record purchasing splurge and subsequently, China's oil buying decreased. The amount of oil kept in Shandong province haulers and refineries has risen by 28% since mid-May and close to hitting a five-month high. However, there is still an enormous pile-up of vessels that are waiting off the seashores to offload their freights. Some of them have been there for two months.
READ ALSO: What banks might do to avoid getting crushed by Oil & Gas Loans
Temporarily, China's independent refineries started to decrease their processing rate from record levels in mid-June and massive glut across the country may reduce its demand for gasoline and oil by almost 5%, whilst the decline should be temporary.
Vacation States, like Florida and California, are seeing a rise in COVID-19 cases, with a record number of daily infections and increased death tolls. This has caused travel restrictions and also, ruining demand for both gasoline and jet fuel. The recovery in US gasoline demand stalled shortly after the driving summer season got underway. Crude is being squeezed between rising supply and a stagnating demand recovery, which is going to make the oil bulls uncomfortable. It is plausible supply could overload storage facilities, pipelines and refineries, creating little room for domestic production of oil.
READ ALSO: Gold loses $70 dollars in an hour after reaching $2,000
In the past few months, Saudi Arabia, Russia and most OPEC members complied to slashing production. On the other hand, American oil companies are decommissioning rigs and shutting Wells. These developments helped push oil prices remarkably. Oil prices may fall again if there is another surge in Coronavirus cases and death as governments begin allowing businesses to reopen and people might see that as carte blanche to move about more freely.
The US oil companies have started producing oil from the wells they abandoned when the prices sank, after the restoration of wells that were shut earlier this year. There are chances that prices could also fall when haulers filled with more than 50million barrels of crude oil from Saudi Arabia, reach the US in July ending. US oil companies have increased production by 1.2million barrels a day in the past six weeks. Output went as low as 9.7million barrels a day in the second week of June but has risen to 10.9million barrels a day as activity begin to recuperate in the big shale fields on Texas. US production will now balance at about 11million barrels a day through to the end of 2020 which is well below the 13million barrels a day in March before the Saudi-Russian price war and Coronavirus pandemic devastated the US oil prices.