Global stocks records astronomical gains in Q2 2020
Emerged and emerging market stock prices overall also gained about 17% in the second quarter.
Global stocks had outstanding returns in major markets in Q2 2020, triggered by America's biggest economy, as major Wall Street stocks recorded their best quarter in more than 20 years boosted by monetary policyholders' stimulus packages at enormous levels.
The S&P 500 index gained more than 20% in Q2 2020, printing the largest gain since the final quarter of 1998. Emerged and emerging market stock prices overall also gained about 17% in the second quarter, according to MSCI's All-Country World index.
Europe's Stoxx 600 also printed an upside of 13%, with MSCI's Asia-Pacific index up 15%.
"Stimulus measures announced by central banks around the world, including a series of interventions by the US Federal Reserve to soothe unsteady markets, helped to lift stocks in April," Max Kettner, strategist at HSBC told FT. Rising hopes for a rapid recovery in major economies helped to keep the momentum going later in the quarter. 
"Equities rebounded significantly in the second quarter with more than three-quarters of the losses in Q1 2020 already recovered," Max Kettner added.
READ MORE:Investors gain N15.58 billion amidst sell-offs in Nigerian bank stocks
However, present macros, shows that the recent resurgence on COVID-19 cases could limit the bullish trend in Q3 2020
"The resurgence in the virus is not a surprise," said Ethan Harris, an economist at Bank of America. "However, downside risks are growing."
Mr. Harris said he expected, "some reversal in economic activity in the hotspots as rules are reluctantly reversed and people become more cautious". Goldman Sachs research indicates lockdowns are tightening or the easing of restrictions has been put on hold for 40% of the US population.
Biden reverses US immigration ban on Nigeria, others
US President, Joe Biden has signed an executive order to repeal the immigrant visa ban on Nigeria and others.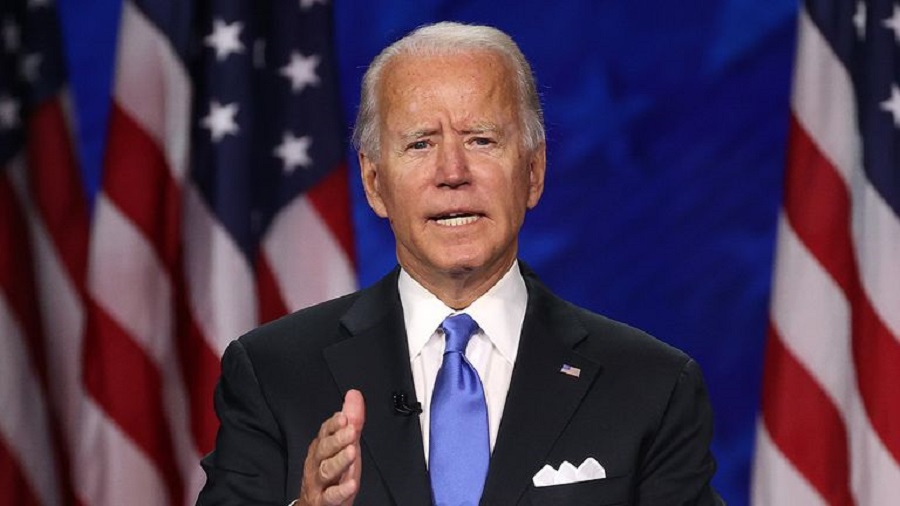 Newly-elected President, Joe Biden has signed his first executive orders as US President including reversing a Donald Trump-administration travel ban on 13 countries which were mainly Muslim and African nations.
Biden's executive orders, amongst other acts, also returns the US back to the Paris Climate agreement and stopping the construction of the border wall with Mexico.
This was disclosed in a report by Reuters after Biden signed 15 executive actions immediately after his inauguration.
"In the coming days and weeks, we will be announcing additional executive actions that confront these challenges and deliver on the president-elect's promises to the American people," Jen Psaki, Biden's press secretary said.
Other actions by Biden include reversing the Presidential permit for the controversial Keystone XL oil pipeline.
What you should know
Donald's Trump administration introduced a ban on citizens from countries which was upheld at the US Supreme Court, barring citizens of seven countries — Iran, Libya, Somalia, Syria, Yemen, Venezuela, and North Korea — from obtaining any kind of visas, and largely preventing them from entering the US.
Nairametrics reported that the US subsequently added six more countries to its travel ban list. They were Nigeria, Eritrea, Sudan, Tanzania, Kyrgyzstan and Myanmar. The extra ban meant citizens were allowed to visit but were banned from settling permanently in the United States.
US government gave conditions to get it to review Nigeria's status on the ban list, including getting Nigeria to improve on its data intelligence such that it would be easy to investigate any immigrant wishing to visit the United States and meet information-sharing systems.
In August 2020, President Muhammadu Buhari disclosed that it will take enormous resources to reverse the ban on immigrant visas for Nigerians by the United States Government. He also noted that the country was making some progress in that regard.
Biden's reversal of Trump's policies is part of an aggressive push to roll back some of his predecessor's strict and controversial immigration policies which have been condemned by world leaders and civil groups in the past.
African tech startups raise over $700 million in 2020 despite pandemic
African tech startups raised more funding from more investors than ever before in 2020 despite the Covid-19 pandemic.
Despite the Covid-19 outbreak, African tech startups raised a record high of $701.5 million from investors in 2020. This is according to the African Tech Startups Funding 2020 report released by Disrupt Africa.
According to the report, 2020 was a record year for investment into the African tech startup ecosystem, with more startups raising more money, from more investors than ever before.
Specifically, 397 startups raised $701.5 million in total funding in 2020, indicating a 27.7% and 42.7% increase compared to 311 startups that raised $491.6 million in the previous year.
Highlights of the report
The number of startups that received investments in 2020 grew by 217.6% compared to 125 tech startups in 2015, when the first edition of the report was published.
Kenya, Nigeria, South Africa, and Egypt remain emphatically Africa's "big four" from a funding perspective, accounting for 77% of funded startups and 89.2% of total investment.
Nigeria (85), Egypt (82) and South Africa (81) lead the way from the perspective of the number of ventures.
However, when it comes to total combined raised capital, it is Kenya that is Africa's leader, with startups from the East African country raising over US$190 million in funding in 2020.
The financial technology sector was the most attractive to investors in 2020, with more startups securing funding than any other sector and a combined total that dwarfed all others
Though these markets remain clear leaders, there are signs of growing activity elsewhere on the continent, with startups backed in 24 African countries, up from 19 in 2019, 20 in 2018, and 18 in 2017 respectively.
Meanwhile, a recent report by Nairametrics revealed that African startups raised over $1 billion in funding in 2020, with Nigerian startups raising 17% of the total amount. The report showed a list of notable startups that raised funds in the year, some of which include; Flutterwave, 54gene, Aella Credit, Helium Health, Kuda Bank amongst others.
Why this matters
Nigeria recorded significant growth in the number of startups securing funding in 2020, as the country saw a 77% increase compared to 2019. This is a welcomed development, as it indicates that the Nigerian tech space is on an upward trajectory.
More businesses will look to explore the tech industry considering the growing attention received by investors in recent times.
AMSP, AVATT to facilitate COVID-19 vaccines pre-orders for AU member states
The African Union has secured a provisional 270 million COVID-19 vaccine doses for African union members.
African Vaccine Acquisition Task Team (AVATT), the Africa Medical Supplies Platform (AMSP) have commenced the COVID-19 vaccines pre-order programme for all African Union Member States.
It would be recalled that the chairperson of the African Union, President Cyril Ramaphosa, had secured a provisional 270 million COVID-19 vaccine doses for Africa through AVATT, AMSP, on behalf of the Africa Centres for Disease Control and Prevention (Africa CDC).
It is expected that Afreximbank will facilitate payments by providing advance procurement commitment guarantees of up to US$2 billion to the manufacturers on behalf of the member states.
What they are saying
According to African Union Special Envoy, Strive Masiyiwa:
"These are historical times. For the first time in history, Africa has secured access to millions of vaccine doses in the middle of a pandemic as most of Western countries.
"There is still a huge shortage of vaccine doses and that is why this continental collaboration has designed a fair allocation coupled with timely and equitable access of COVID-19 vaccines across the continent."
According to Prof. Benedict Oramah, President and Chairman of the Board of Directors of the African Export-Import Bank (Afreximbank):
"Afreximbank is proud to expand its support to African economies in their bid to contain the pandemic.
" Our vaccine financing facility builds on the success of our Pandemic Trade Impact Mitigation Facility (PATIMFA) to open access to COVID 19 vaccines to African states based on a whole-of-Africa approach favoured by the African Union.
"By providing advance procurement commitment guarantees of up to US$2 billion to candidate vaccine manufacturers, Afreximbank will ensure that African States are able to rapidly access COVID-19 vaccines, at competitive prices and in a timely manner thereby contributing to saving lives and livelihoods."
According to Dr John Nkengasong, Director of Africa Centres for Disease Control and Prevention (Africa CDC):
"The biggest challenges to COVID-19 vaccine access in Africa have been financing of the vaccines and the logistics of vaccinating at scale, but we are glad that this gap is being filled by the Afreximbank financing facility.
"The critical decision now is how to get started so that once we start there will be no disruptions and this is where AMSP will play a very big role"
According to Fatoumata Bâ, Founder & Executive Chair of Janngo and Managing Partner of Janngo Capital:
"From today onwards African Union Member States will be able to start placing online pre-orders for their vaccines allocation through the Africa Medical Supplies Platform.
"We are proud to participate in giving direct access to cutting edge COVID-19 vaccines through Africa; This is essential to protect our people and reopen our economies"
What you should know
AVATT has secured a provisional 270 million COVID-19 vaccines doses from Pfizer, Johnson & Johnson and AstraZeneca,
AMSP – the single-source platform enabling faster, more transparent and cost-effective access to COVID-19 supplies – has opened today pre-orders, offering equitable access of COVID-19 vaccines doses for 55 African Union member states.
The Africa Medical Supplies Platform (AMSP) is supporting the vaccination operations by launching a new category on vaccine accessories that will help the member states to procure products such as ultra-low temperature freezers, personal protection equipment, cotton wool rolls, syringes and needles.
The Africa Medical Supplies Platform (AMSP) is a non-profit initiative launched by the African Union as an immediate, integrated and practical response to the Covid-19 pandemic.
African Vaccine Acquisition Task Team (AVATT) was established by the African Union chairperson, President Cyril Ramaphosa as a component in support of the Africa Vaccine Strategy and was endorsed by the AU Bureau of Heads of State and Government on 20th of August, 2020.