Okonjo-Iweala shares her plans for WTO, if appointed
It is important to listen to the concerns of America, China, Europe, Africa, Asia.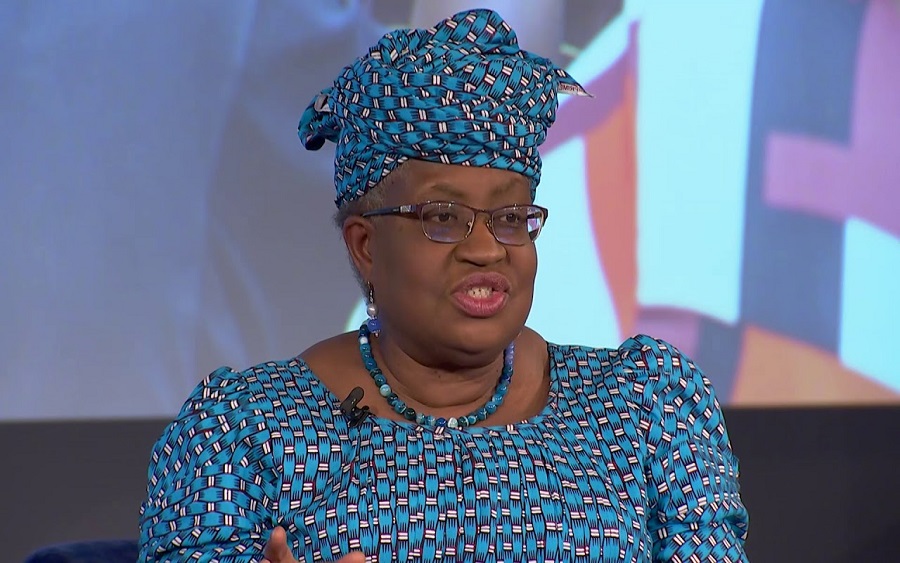 A lot of people (Africans and non-Africans) were not surprised when President Muhammadu Buhari nominated a two-time Minister of Finance, Dr Ngozi Okonjo-Iweala as the next Director-General of the World Trade Organisation. The reason is quite simple, her negotiating skill is immeasurable and her records speak.
If given an opportunity to serve, Okonjo-Iweala said she is ready to contribute her quota to the world economy. In her interview with Manuela Saragosa on Business Daily on BBC, she reeled her plans and what makes her the right candidate for the job.
On the reason she wants to lead WTO, the former Managing Director, Operations, World Bank said she believe it is an opportunity to serve all the countries in the world. Her words, "I believe WTO is one of the most important multi-lateral bodies in the world despite the challenges it faces and the reforms that need to be done. I believe it is very relevant for the economic development, growth and sharing of prosperity in the world.
"I want the job because I think I have the skills for it. I think the organization needs some reforms to make it relevant for times we are in and I have a reputation as a strong reformer. I have actually written a book titled 'Reforming the Reformable,' where we undertook certain reforms with a team in Nigeria. I am also a person with strong negotiation skills. I have a career of over 30 years for constantly been involved in negotiating an important agreement between countries."
READ MORE: Develop Homegrown Solutions, Human Capacity and Invest in Agriculture to Rebuild Africa; Experts say at UBA Africa Day Conversations
US and China war
On how she intends mending the fence between the US and China, she did not hesitate to outline what she thought was the problem and how to tackle them. She admitted that the task would be challenging but insisted it is what she relishes.
She said, "I relish the challenge of being able to build trust and I do hope that be an objective arbiter between US and China and as well as other member countries, I can help to find what the common interests are.
"I believe the Americans know that they have benefitted over time from the WTO and the World Trading System and other countries have also benefitted. I think what is involved is being a good listener. It is important to listen to the concerns of the Americans, China, Europe, Africa, Asia and try to bring them to the table around a common interest. I strongly believe that this world we face today, we need a forum where one can bring common interest together. In spite of all the words we hear, there is a need to bring people together and bring trust around a shared interest."
What the job means for Africa
She explained that the job is extremely important for Africa because the continent has never held the position and African countries feel they can benefit better from the World Trading System. She added that the continent has negotiated a monumental agreement, which is the African Continental Free Trade Agreement, to strengthen the economies of the continent and enable them to trade with each other better and enable them to face the trading system of the world together.
"Africa's trade is about 3% of the world trade and that needs to increase. Having an African at the WTO is something that will benefit Africa but the intention I have is to make sure that all parts of the world benefits," she added.
READ ALSO: African Development Bank joins Nasdaq sustainable bond network
Impacts of COVID-19 on African economies
Okonjo-Iweala pointed out that the virus has really illustrated and exhibited some of the trends that are on-going in the world. According to her, the WTO can make contributions, as African nations look at the supply chain and wonder what they will do about the health equipment, medical supplies and others.
She said, "I am quite worried and the reason is that African countries felt the economic impact of the pandemic first before they felt the health impact. The prices of commodities like Oil fell by 60% between December 2019 and March 2020. At that same time, there was a capital flight out of the continent, remittances fell, tourism fell. For the first time in 25 years, the continent's economies were supposed to contrast by about 2%, so it is a heavy impact.
"The second thing is that the lockdowns and social distances took a tow on the economies. It also has an impact on informal sector workers, who have not been able to earn on a daily basis. It has impacted the lives of household and ordinary people."
Debt relief for Africa
Though the former Finance Minister appreciated the G-20 for the Debt standstill given to Africa, she explained that the debt standstill, which was shifted to the end of 2020, would not be sufficient. As far as she is concerned, China should be able to extend the standstill for a couple of years to enable the continent to look at the Debt sustainability issues.
DG's Selection process
General Council Chair, David Walker of New Zealand informed members on 20 May 2020  that the appointment process for the next Director-General would formally commence on 8 June with nominations accepted from that date until 8 July.
The Chair will inform WTO members of nominations as soon as they are received. After 8 July, Chair Walker will issue to members a consolidated list of all candidates. Shortly after the nomination period has closed, candidates will be invited to meet with members at a special General Council meeting, present their views and take questions from the membership.
Godwin Obaseki wins Edo State governorship election
Incumbent governor, Godwin Obaseki emerged winner in the Edo State gubernatorial election.
Independent National Electoral Commission(INEC) has declared Godwin Obaseki the winner of the Edo State gubernatorial election today.
Mr. Obaseki will return as the Governor of the state for a second term.
The results were declared by INEC on Sunday afternoon after the results were counted from all LGA's on Saturday.
Obaseki had 307,955 votes, which was enough to be declared a clear winner over Ize-Iyamu's 223,619 votes.
Obaseki took to his Twitter handle to thank the people of Edo State for their votes. He stated,
"Words fail me in saluting our teeming supporters who displayed immense courage in the face of threats, intimidation and brutalization. The collective will of Edo people made it possible for us to triumph over godfatherism. Congratulations to all Edo people. This is our victory!"
Words fail me in saluting our teeming supporters who displayed immense courage in the face of threats, intimidation and brutalization. The collective will of Edo people made it possible for us to triumph over godfatherism. Congratulations to all Edo people. This is our victory! pic.twitter.com/4X4Lfk3wMb

— Godwin Obaseki (GGO) (@GovernorObaseki) September 20, 2020
WTO: Okonjo-Iweala still in contention as 3 candidates depart race for DG
Okonjo-Iweala and the remaining 4 other candidates hope to succeed the current DG, Mr Roberto Azevêdo.
Three candidates running for the post of the Director-General of the World Trade Organisation have fallen out of the race after failing to secure enough votes in the first rounds of voting, leaving only 5 candidates left, including Nigeria's Ngozi Okonjo-Iweala.
This was disclosed by Bloomberg on Thursday, before the meeting on Friday. The Candidates that are out of the race are Jesus Seade (Mexico), Tudor Ulianovschi (Moldova), and Hamid Mamdouh (Egypt). The candidates were not able to secure the support needed for the first round of 3 rounds of voting.
READ: China's Covid-19 vaccine may be ready for general public in November 2020
Dr. Ngozi Okonjo Iweal joins 4 other candidates for the next round of voting. The candidates are; Liam Fox (UK), Amina Chawahir Mohamed Jibril (Kenya), Yoo Myung-hee ( South Korea), and Mohammad Maziad Al-Tuwaijri ( Saudi Arabia).
Ngozi Okonjo-Iweala disclosed last month some of her plans for the Organization if made President. Nairametrics reported she noted that part of her vision is to build a trade institution where there is greater trust among its members. She also stressed that the WTO, at this critical time, is needed to ensure that trade and global markets remain open.
READ: Soybean Futures reach 2-year high, following U.S sales to China 
On healing the rift between the US and China, Okonjo-Iweala admitted that it is going to be challenging and not be easy. She said:
"Well, this is not going to be easy, if it was easy, it could have been done a long time since. So it would be very challenging but it is not an impossible job. It is very clear that both the US and China have been helped and benefitted from the multilateral trading system in the past. Hundreds of millions have been lifted out of poverty. They have experienced shared prosperity in the economies and their countries.''
She added she would listen to both countries to find out what really are the issues causing distrust among them. She said that she will not want to be involved in the larger political problems, but will rather separate the trade issues and focus on them and build this trust.
READ: Amaechi pleads with NASS to halt questioning of loan agreement with China
"You need to begin to find areas where there can be confidence-building and trade. Building trust is not talking about it, you have to have areas where both can work together and agree and we have a golden opportunity in the fisheries subsidies negotiations that are going on now because the US is a party to it, China is a party, the EU, all other members,'' she said.
Okonjo-Iweala and the 4 other candidates will present themselves to the members of the global trade body for the later stages of voting in the hopes of securing the highest number of votes to succeed the current DG, Mr. Roberto Azevêdo.
FG to establish a new anti-corruption agency
Malami disclosed that the new anti-corruption agency would be called Proceeds of Crime Recovery and Management Agency.
The Federal Government has approved the establishment of a new anti-corruption agency that will have the responsibility of properly managing and coordinating all assets seized domestically or returned from abroad, following anti-corruption probes.
The disclosure was made by the Attorney General and Minister for Justice, Abubakar Malami, while briefing state house correspondents after the Federal Executive Council (FEC) meeting on Wednesday, September 16, 2020.
Malami explained that the recovered assets had been scattered across several agencies and that better coordination would encourage international/overall coordination in recovering more looted assets.
Nigeria has repatriated well over $300 million of looted funds this year alone and seized about $40 million worth of jewellery belonging to the former Minister for Petroleum, Diezani Allison-Madueke. This is in addition to the seized ill-gotten properties and real estate.
(READ MORE: Nigeria Customs Service to distribute N3.2 billion worth of food items)
The Attorney General said that this new initiative would create a one-stop-shop for managing seized assets in an open and accountable way. He called the plan the next level of transparency and said the agency could also give the Ministry of Finance, Budget, and National Planning a budget for recovered assets.
He disclosed that the new anti-corruption agency, which would be called Proceeds of Crime Recovery and Management Agency, is to be saddled with the responsibility of managing the assets that constitute the proceeds of crime in the country. He said that the FEC had approved the transmission of a bill, 'Proceeds of Crime Recovery and Management Agency Bill,' to the National Assembly.
READ: OmiseGO, fastest growing altcoin, up 49% in past 24 hours
Malami noted that setting up an agency like this had become quite imperative in a bid to consolidate on the gains achieved so far in the government's war against corruption.
The fight against corruption in the country has not been an easy one, as even a US senator, Chuck Grassley, earlier this year, raised concerns about the return of money due to worries over whether there were proper safeguards to prevent further misappropriation or relooting of those recovered funds.
READ: Exclusive: Best bank in Nigeria judging by the numbers 
The Economic and Financial Crime Commission (EFCC), which currently has the responsibility of managing its recovered or seized assets, has been bedevilled by a lot of controversies recently, following the accusation and subsequent suspension of its Ag. Chairman, Ibrahim Magu.
This follows the Minister of Justice's accusation of the agency for diversion of funds that had been recovered during corruption investigations.