Ethereum, second most valuable cryptocurrency, surges over 88% since March
Ethereum, the second-most valuable cryptocurrency has done far better than almost any other financial asset over the past weeks.
Like Bitcoin, Ethereum has done far better than almost any other financial asset over the past weeks. Since the March 13, 2020 price level of $106, Ethereum now costs $200, a gain of over 88%.
According to data from Coinmarketcap, Ethereum, the second-most valuable cryptocurrency by market capitalization, had a value of $22.4 billion and a daily trading volume that stood at about $14.4 billion, at the time of drafting this report.
Meanwhile, the much-awaited Ethereum upgrade, known as Ehereum 2.0, could potentially boost its present bullish trend.
Ethereum 2.0 stands for a fundamental shift in its original designed structure, from the proof-of-work model to an upgrade known as a proof-of-stake model.
Lately, Ethereum Foundation researcher, Justin Drake, wrote on Twitter about Ethereum being long overdue for an upgrade. He said, "Ethereum 2.0 could have been launched a year or two sooner had the team decided to make things easier for themselves, e.g. by going through fewer design iterations."
(READ MORE: Bitcoin halving: Here is what experts think comes next)
We made Eth2 hard for ourselves:

* many design iterations
* many community clients vs one EF-led client
* libp2p vs devp2p; BLS12-381 vs BN254

We could have launched a year or two earlier the easy way. It was painful but it was right. Our investments will pay off for decades 🙂

— Justin Ðrake (@drakefjustin) May 15, 2020
READ ALSO: NNPC to replace all JV projects with IJV model
When asked about the improvement on Ethereum he continued by tweeting:
Three big compounding improvements:

* (robustness) unifying PoS and sharding
* (scalability) committees and signature aggregation
* (usability) fewer shards with faster crosslinks

None of these were obvious at the time. Every time we simplified the design.

— Justin Ðrake (@drakefjustin) May 15, 2020
READ ALSO: Agusto & Co Upgrades Axxela Limited's corporate credit rating
Ethereum is a cryptocurrency designed for decentralized applications and deployment of smart contracts, which are created and operated without any fraud, interruption, control, or interference from a third party.
Ethereum is a decentralized system, fully independent, and is not under anybody's authority. It has no pivotal point, and its platform is connected to thousands of its users through their computing system around the world, which means it's almost impossible for Ethereum to go offline.
Why Bitcoin could be worth $1,000,000
Leader of Europe's biggest crypto exchange revealed the price of the flagship crypto could hit the $1,000,000 million mark.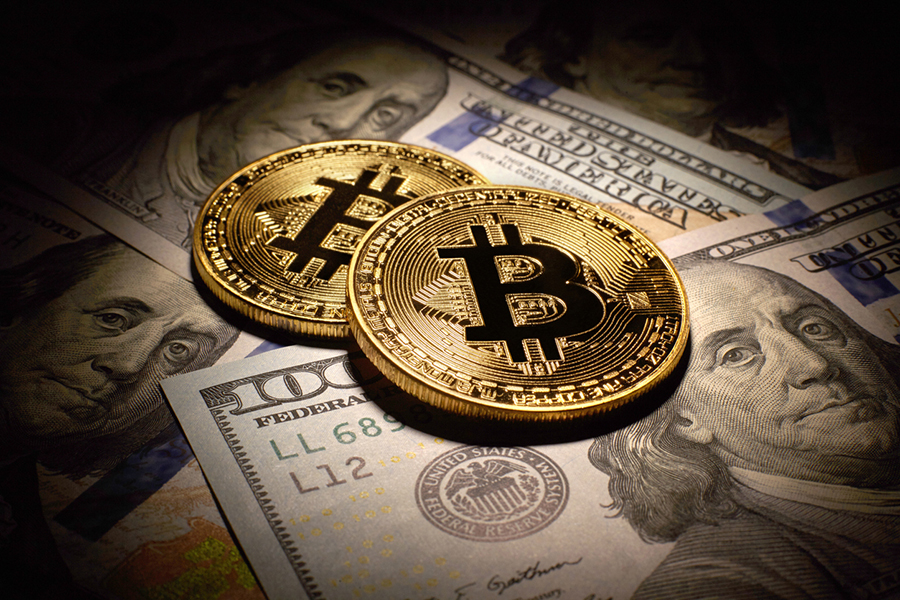 Jesse Powell, the leader of Kraken, Europe's biggest crypto exchange said Bitcoin could be priceless and the world will soon give up pricing the world's most popular crypto asset in U.S dollar terms.
Speaking to Bloomberg, he revealed the price of the flagship crypto could hit the $1,000,000 million mark within a decade.
"Bitcoin is going to infinity, the moon, Mars and eventually it'll be the world's currency," says Kraken CEO Jesse Powell to @emilychangtv https://t.co/bSwBDeYbgM pic.twitter.com/Slpl82l3Lf

— Bloomberg TV (@BloombergTV) March 4, 2021
He said, "The people that are believers in Bitcoin see… it's going to replace all of the world's currency so that basically means whatever the market cap of the dollar is, the euro — all of that combined is what Bitcoin could be worth," Powell continued.
"I think in the near term, people see it surpassing gold as a store of value, so I think $1 million as a price target within the next ten years is pretty reasonable."
The top European crypto leader was obviously bullish on the flagship crypto-asset;
"Of course, you know, we can only speculate, but when we measure it in terms of dollars, you have to think it's going to infinity," he told Bloomberg TV about future price trajectory.
"This national currency's only fifty years old, it's already showing extreme signs of weakness, and pretty soon I think people are going to start measuring the price of things in Bitcoin," he noted.
In addition, a top crypto strategist, William Clemente said, "Looking at Reserve Risk, this Bitcoin Bullish Run is still in its Early-Mid stages."
Looking at Reserve Risk, this #Bitcoin Bull Run is still in its Early-Mid stages pic.twitter.com/uzazOta5Sl

— William Clemente III (@WClementeIII) March 3, 2021
Recall some months back, Raoul Pal, the founding partner and CEO of Global Macro Investor who has more than 50% of his capital in the flagship crypto, predicted a wave of institutional funds that could likely push Bitcoin to $1,000,000 in the next 5 years.
In an interview with Stansberry Research, as seen on Youtube, the former hedge fund manager revealed the global economy was moving from the "hope phase" to the "insolvency phase" as global investors realize that the economy is going to take much longer recovering from COVID-19 pandemic than anticipated.
He said, "There's no stimulus around, and we've got more problems to come to Europe, the US, and elsewhere, and businesses don't have enough cash flow. They're closing in droves and that's what I call the 'Insolvency Phase'…
"Yeah, I think [$1 million is] about right. Just from what I know from all of the institutions and all of the people I speak to, there is an enormous wall of money coming into this. It's an enormous wall of money. Just the pipes aren't there to allow people to do it yet, and that's coming, but it's on everybody's radar screen and there's a lot of smart people working on it."
Why buying Bitcoin in Nigeria is not cheap
It appears to have become much difficult for Africa's most important crypto market to get Bitcoin at a fair value.
It's no longer news that the recent CBN reminder restricting Nigerian financial institutions from Bitcoin and other Crypto assets have started to spur negative effect in the crypto industry when considering the cost of buying the world's most popular cryptocurrency at Africa's largest crypto market.
A recent study by Nairametrics revealed the flagship crypto asset, Bitcoin traded as high as 46% premium on some P2P exchanges and untraditional channels when compared to the use of Nigerian bank debit cards before the Crypto ban took effect, meaning the price of a bitcoin on such platforms was much expensive than its average price on other Crypto exchanges of around $49,000 at the time.
Crypto experts are of the bias that although the Central Bank's recent directive does not criminalize ownership of Bitcoin, the circular will however make it difficult for them to process debit, credit card, and bank transfer transactions.
READ: Bitcoin joins the trillion-dollar club with Apple, Saudi Aramco and Google
This is already increasing the complexity of a significant number of Nigerians that often use their local currencies in buying crypto assets. Many Crypto exchanges interviewed by Nairametrics spoke on the challenges many of its Nigerian users face buying Bitcoin at a fair value on the account that Nigerian leading financial payment providers such as Paystack, Flutterwave have arbitrarily cut ties with Crypto exchanges.
Adding more woes to young Nigerians adamant about buying the flagship crypto asset is the prevailing dollar scarcity in Africa's leading economy which had often led many to buy the dollar at the black market rate of as high as N500, knowing fully well that all Crypto assets value are denominated in U.S dollar.
Adding credence to this, Rume Ophi a.k.a. Cryptopreacher, and Nigerian Crypto Educationist said;
"Nigeria's bitcoin price isn't consistent because it is pegged to the dollar (Usdt), which is a bit different from the parallel market, the one we call the black market or abokifx."
READ: Nigeria's cryptocurrency ban: A legal analysis
He added weight to the exchange rate disparity on some Crypto exchanges and other channels Nigerians have been left with
"At the time of writing, Paxful an online peer 2 peer platform pegged 1 USDT to 475. This means you need 475 naira to get 0.0000004sat (the smallest unit of bitcoin is called sat). Whereas a black market vendor is also known as OTC will sell for 480/$," Ophi said.
The effect of the CBN crypto ban is already breeding bad actors that are currently taking advantage of the high thirst for Bitcoin as Luno a leading African-based Crypto exchange in an email sent to Nairametrics sheds more light on the cost bitcoin buyers in Nigeria must bear;
"Pushing people underground also makes it easier for scammers to exploit Nigerians, and we are already seeing Bitcoin trade at huge premiums in the country as a result of the ban.
"Other companies have made the choice to find workarounds that are less visible for regulators – for example, Peer-2-Peer (P2P) trading. Our view is that P2P trading would go against the spirit of the CBN's directive.
"We believe that the focus should instead be on demonstrating to the CBN that exchanges such as Luno have the necessary controls in place to address the concerns it has in relation to cryptocurrencies."
READ: Most powerful financial leader takes side with CBN, says Bitcoin is untrustworthy
What you should know
Recall, the Central Bank of Nigeria had recently notified Deposit Money Banks, Non-Financial Institutions, other financial institutions against doing business in Crypto and other digital assets.
In a circular dated 5th February 2021 and distributed to regulated financial firms, the apex bank of Africa's largest economy warned and reminded local financial institutions against having any transactions in crypto or facilitating payments for crypto exchanges.
Nigerian Apex bank further warned Nigerian financial stakeholders that any breach of this directive will attract serious regulatory sanctions.
READ: Why Crypto black market is thriving in Nigeria
Luno also spoke on the effect the CBN crypto ban will have on Nigerians in the long term, stating,
"Any attempt to restrict access to cryptocurrency does not protect Nigerians. It holds them back and leaves them vulnerable. It prevents honest Nigerians from taking advantage of all that cryptocurrency has to offer them."
Bottom line: The rate of purchasing the most widely used Crypto asset in Nigeria is currently trading at a premium amid the Central Bank's directive, suggesting it is getting much harder for Africa's most important crypto market in getting Bitcoin at a fair value.
Nairametrics | Company Earnings