FCMB connects entrepreneurs to experts with "Top-5-In-5" initiative
FCMB indicated that the "Top 5-in-5" initiative was one more way it aimed to add value to Nigerian SMEs and ensure they could truly #ThriveWithFCMB.
Leading financial services provider, First City Monument Bank (FCMB), has continued to blaze the trail with innovative and value-added offerings to boost the productivity and overall performance of businesses.
The latest is an initiative tagged, "Top-5-In-5," a digital video knowledge sharing and capacity building series designed to give Small and Medium Scale Enterprises (SMEs) practical insights into different areas of their businesses to inspire them to operate optimally and successfully.
FCMB indicated that the "Top 5-in-5" initiative was one more way it aimed to add value to Nigerian SMEs and ensure they could truly #ThriveWithFCMB. In a statement, the Bank explained that the series would run for an initial period of 7 weeks, with a new episode released every week. Each episode would feature accomplished thought leaders and experts across diverse areas of business who would deliver 5 quality tips in 5 minutes, to help SMEs explore solutions to specific challenges or pain-points.
The impressive line-up of experts showcased in the series includes Bisi Adeyemi, Managing Director of DCSL Corporate Services Limited; Kelvin Balogun, Senior Partner at Verraki Partners; Aramide Abe, CEO/Founder Naija Startups and Bukola Smith, Executive Director, Business Development, FCMB. Other thought leaders are Yomi Badejo-Okusanya, Managing Director, CMC Connect; Omotolani Tayo-Oshikoya, Chief Operating Officer, TISV Digital; and James Ilori, Managing Director, FCMB Asset Management.
Some of the topics are: Building A Sustainable Business that Outlives You; Differentiating Your Business Through Innovation; and Raising Funds For Your Business. Other topics include Making Your Network Work For Your Business; Growing A Thriving Side Hustle; and Diversifying Your Investment Income.
The videos and other information on the series, including a section that offers viewers the opportunity to download useful resources, can be accessed on https://top5.fcmb.com/.
Despite the challenges of the environment, particularly the COVID-19 pandemic, FCMB has remained resilient and has sustained the tempo of its support to businesses. As the number one Bank for SMEs in Nigeria, the financial institution has championed and executed several initiatives in this regard, thereby enhancing customer experience.
Among these are series of free online training, and capacity building and empowerment programmes. For instance, in April, FCMB organised the BEST Masterclass Webinar on "Turning Challenges Posed By COVID-19 Into Opportunities." In addition, the bank has organised various webinars in partnership with the International Finance Corporation (IFC), the most recent of which held on Tuesday, May 12 with the theme, "Adjusting Your Business Plan During Crisis".
FCMB has also gone further to support borrowing business customers by providing payment moratoria (loan repayment holiday) during this period to ensure that they can survive, pay their workers and remain in business.
These bespoke offerings and solutions from FCMB are geared towards ensuring that businesses are well equipped to overcome challenges and thrive in a sustainable manner.
JustLiquidity; The best place for easy and decentralized Crypto
JustLiquidity aims to be the leading top decentralized exchange on the Binance SmartChain, with revolutionary developments and product's
Introduction of Julwallet feature (NFTs minting and NFTs shop)
NFTs and NFT artists have been trending a lot in the African art space
NFTs or NonFungibleTokens as it stands, are redefining the very outlook of various forms of creative work like art, video, music, characters in a game etc. NFTs by their very definition represents unique data on the digital ledger or blockchain. Unlike Fungible tokens on the blockchain, these tokens are not interchangeable as they represent something unique in themselves.
Justliquidity has introduced a few products to the general public that makes creating, storing, selling and sending NFTs all on the Binance SmartChain as BEP1155 token, the Julwallet is one of its revolutionary products that has all these features in it and more in development currently.
Our Telegram group and Twitter handles are:
CHI Limited celebrates its maiden Hollandia Dairy Day
The Hollandia Dairy Day Conference is a public interest initiative created to highlight the importance of dairy in everyday nutrition and healthy living in Nigeria.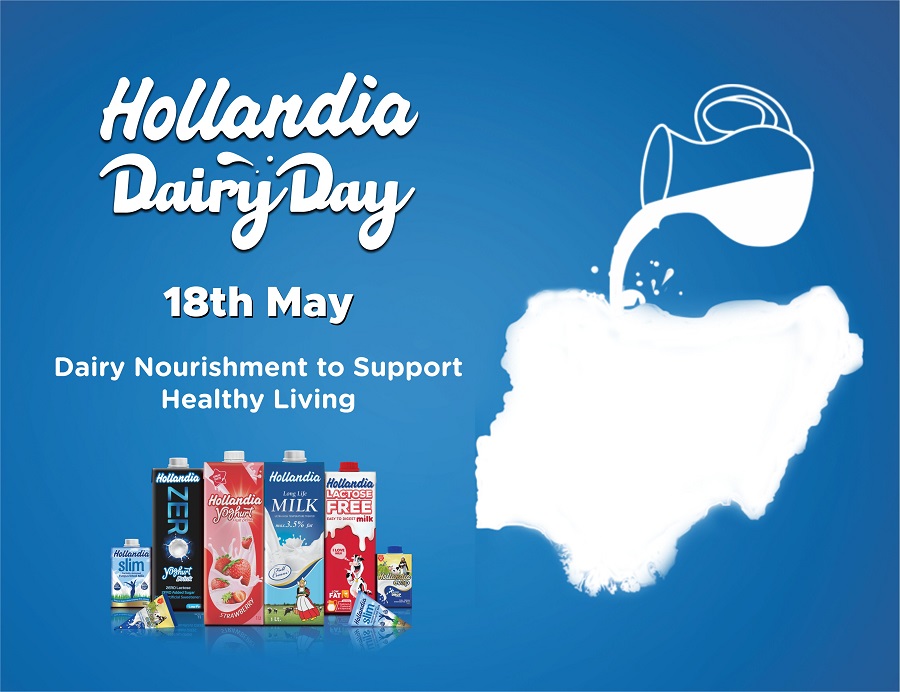 Nigeria's leading dairy brand, Hollandia, is set to hold the maiden edition of its Hollandia Dairy Day. The event which will be celebrated on the 18th of May 2021 will provide a veritable platform to drive national discourse on the unrivaled health and nutrition benefits of dairy consumption to people of all ages.
Set to be hosted as a conference, the theme of this year's event is "Dairy Nourishment to Support Healthy Living", and it focuses on the vital role dairy consumption plays in our everyday nourishment, its benefit to our overall health, and why dairy products should be included in our diets every day.
This conference, which is designed as a hybrid of physical and virtual event, will feature presentations, interviews and panel discussions from health experts and nutritionists as they provide insights and share perspectives to guide informed decisions about dairy consumption as part of a daily balanced diet. The event is opened to the public through the brand's multiple social media platforms.
According to a report by the Food and Agriculture Organization of the United Nations, 2019, Nigeria has low dairy consumption levels per head – 15 to 20 liters' per capita consumption. This is partly attributable to low purchasing power of the average Nigerian household, who rank milk and dairy products as non-essential luxuries and prioritize other staple foods such as rice, beans, and yam.
By provoking the conversations and stimulating public action/intervention, Hollandia aims to drive consciousness for dairy consumption and its importance to achieving optimum health, and to get many more Nigerians drinking, using, and consuming dairy products.
The past year has presented unprecedented shocks and disruptions, including a global COVID-19 pandemic. As communities throughout the world look for ways to minimize the risk of COVID-19, maintaining and boosting good health is top of mind for many. Dairy foods such as milk and yogurt contain essential nutrients, including Vitamins A and D, Zinc and Protein, which support immune function.
The Hollandia Dairy Day Conference is a public interest initiative created to highlight the importance of dairy in everyday nutrition and healthy living in Nigeria.
Nairametrics | Company Earnings
Access our Live Feed portal for the latest company earnings as they drop.