Why Forex trading is becoming popular in Nigeria 
Nigeria's forex traders trade currency positions worth as much as $1.25 million. We decided to find out why some investors love this trade.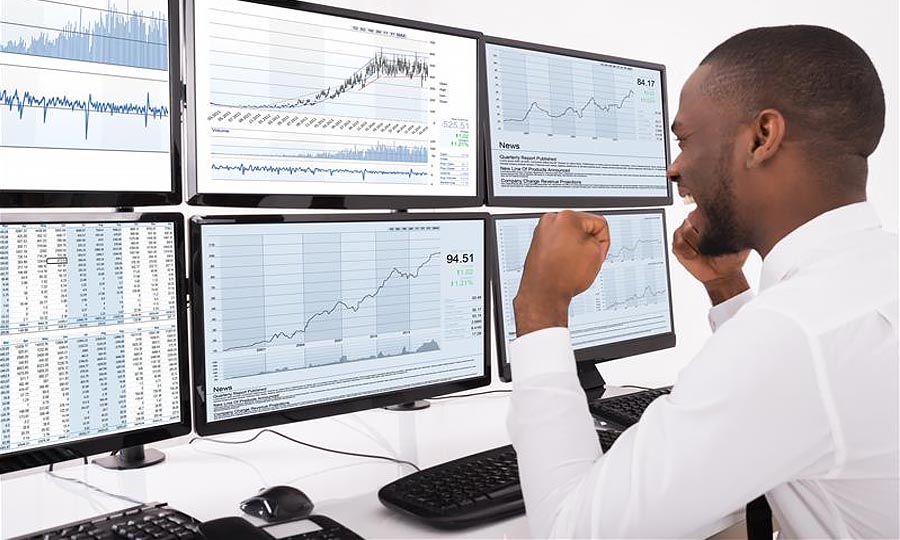 A recent report released by Dailyfx (a forex research firm) in 2020, stated that Nigeria's forex traders trade currency positions worth as much as $1.25 million on average, daily.
Forex trading happens around the globe and is open 24 hours a day for 5 1/2 days a week. It means you can trade forex whenever you want, which offers you time flexibility. You do not have to wait for an opening bell or struggle to run your order before a market daily close. So, you have the option of either being aggressive or passive, as you choose to trade at your desired schedule.
Some experts interviewed by Nairametrics broke down the reasons why forex trading is becoming popular in Nigeria.
Mr Abdul-Rasheed Oshoma Momoh, Head, Capital Market in TRW Stockbrokers Ltd, a veteran in forex trading spoke with Nairametrics on the need for every discerning  investor to diversify by asset classes and sectors According to him, Forex trading is a reliable  option. He said:
"Forex trading is among the most rewarding asset classes for traders and investors. Although Forex has a reputation of being for short-term high-risk speculators, there are trading styles suitable for both short-term and long-term traders.
"Forex trading allows you to earn a steady income from various kinds of currency trades or from investing in bonds, dividend stocks, and other income vehicles."
(READ MORE: Naira drops to N387.25 at Investor and Exporters window)
Leverage Choice
Forex trading offers one of the highest amounts of leverage when compared to other financial markets. Small trading accounts offer higher leverage because of small deposit requirements,
Adegbotolu Kehinde Erastus, a professional currency trader with over a decade's experience of trading currencies buttressed the advantage that leverage brings in the forex market. He said:
"Forex trading gives you access to currencies and commodities which you can trade with high leverage, unlike the stock market.  
"This means that you can actually trade with bigger sums of money than the capital invested. Note that this varies across various brokers.  
"Over leveraging increases your profit; however, any move against you will result in bigger losses. With proper risk management, the Forex market is very lucrative."
(READ MORE: U.S dollar ignores red flags, surge against major currencies)
Nairametrics research dug deep to find out why those who embark on forex trading do so and we came up with the following;
Liquidity
The most liquid financial market has always been the forex market. With trillions of dollars exchanged daily, you do not have to worry if your trade will be processed when trading any of the major currencies which include the American dollar, Euro or British pound sterling.
In recent years, the forex trading market has surged to one of its highest-ever levels, with $6.6 trillion transactions a day averagely in 2019, according to the Bank for International Settlements.
Ayodeji Edordu a Global Market Analyst at Alphagold Capital told Nairametrics how forex trading builds an individual's personal character. He said:
"As a forex trader, you are in control of your finances. It is also an avenue to earn extra income. With a 'small' amount invested, a trader can earn some good income while trading. Trading also exposes one to the financial markets and current events.  
"It also teaches a trader to be disciplined. A lot of opportunities abound as the market is very liquid with a lot of volumes. 
"With a click you can buy and sell as you please since there will usually be someone on the other end willing to trade back."
(READ MORE: Global trade to record worst decline in 2020 since global financial crisis of 2008)
Ability to buy or sell anytime
In forex trading, you trade currencies in pairs; when you are bearish (short) on one currency, you are bullish (long) on the other. For example, if you are bearish on USD/NGN, you go short by buying naira and selling dollars at the same time.
If you are bullish (long), you can go long by selling the naira and buying American dollars. This is different from equities markets where you are only allowed to short-sell during an uptick. This is a great advantage for forex, trading as you can profit from both bullish (upward) and bearish (downward) trends anytime.
Funmilola Olajide, a professional forex trader and tutor, spoke to Nairametrics in a phone chat interview and explained the flexibility that forex trading brings. According to her;
"Even if the market is rising or falling, you can trade, and some forex trading strategies even depend on the latter.
"You can find opportunities in any market condition and you can trade when you believe the price of a currency pair is going up or when you anticipate it going down. Some traders even thrive on high volatility periods.
"Although carrying more risk, these sudden price changes can be helpful if timed right. Whether you are following longer market trends or trading day to day movements, there is plenty of trading opportunity to be found."
(READ MORE: Naira hits N388 to $1 at I&E as IMF dollars boost currency markets )
Low transaction costs
Currency transactions are completed using the over the counter method, with currency traders directly dealing with market makers and market participants like banks.
As such, there are no exchanged fees or clearing charges that you experience when trading stocks, ETFs, or bonds. With forex trading, such charges do not exist. Typically, forex market makers will not charge commissions on currency trades you process through their currency trading platforms.
No Regulators
Forex trading in Nigeria is still not regulated, even though the current market is one of the most active across Nigeria.
Trading the forex market, unlike stock trading, does not attract any charge. Nobody has regulatory oversight on it, and the current pricing is carried out based on the supply and demand of currency traders. This is unlike Nigeria's stock market, where local stocks can't go up or down beyond 10% of its present value for that day.
Personal Finance Culture: The 4 Cs of Financial Success 
To achieve financial success, the 4Cs will be of great help.
Many Nigerians who had a pseudo-confidence in their financial stability, were rocked by the storms of the economic hardship that followed the COVID-19 pandemic. Some did not survive it, while those who did, now seek ways to be better financially equipped for future eventualities. 
It's six (6) months since the COVID-19 outbreak was officially declared a global pandemic by the World Health  Organization (WHO) on March 11th, 2020. With the full enormity of the pandemic in mind, we cannot come out of this without noting its attendant life lessons. Interestingly, some of those lessons correlate with principles that can enhance your personal finance, on your journey to financial freedom.  
READ: Emirates Airlines banned from operating in Nigeria
Financial freedom does not happen overnight, as it results from self-discipline and good money habits practised consistently over time. 
To help you on your journey, I have come up with the 4C's. To achieve financial success, you must be; 
Creative – Find creative ways to earn more money. Having more than one source of income is a good way to increase your financial security. I'm sure the people who lost their jobs or took a pay cut during t

he pandemic will agree with me.

Conservative – Be conservative with your expenses

,

and make sure to spend less than you earn. You can actually save more if you stick to a budget. It is okay to occasionally

 reward

 

yourself

, 

and enjoy the finer things

 of life

.

 

B

ut tha

t should also be 

on 

a 

budget.

 

Consistent – 

Form 

the

 habit of s

av

ing

 and invest

ing

 

a 

part of your income

. As far as savings go, you need to have at least 3

 

months' worth

 of living expenses

,

 stashed away in liquid assets 

– 

Emergency

 

fundin

g

,

to cushion the impact of job loss, unplanned medical expenses, and other emergencies. It also applies to small businesses – many SMEs without any financial buffer

 felt the impact of the lockdown from Day

1.

Investing, on the other hand, is the only way you can grow your money. You should take it seriously; develop the right mindset,

become 

financially intelligent, and s

eek expert advice 

before taking a step

.

 

Careful – Be careful who you listen to. Not every investment advice is good for you

,

 and you should do your due diligen

ce before releasing your money.

 
READ: Effective financial planning after taking a pay cut in Nigeria
So, will you be making any changes to your money management style? What did you wish you learnt about money pre-COVID-19? 
Importantly, we are not out of the woods yet. The virus is still out there, and you should stay safe, as Health is Wealth. 
---
 Temitope Busari, CFA 
Temitope is an Investment Professional, with over 11 years of cognate experience spanning regional financial markets across Sub-Saharan Africa. Her technical skills cut across Treasury, Risk management, Fintech solutions, and Strategy. With a passion for positive social impact, she leverages multiple media platforms to advance financial literacy efforts, helping individuals and small businesses make better money decisions. 
Budgeting apps that help you manage your personal finance
In today's world, these apps make it easy to effortlessly manage your finances.
In our fast-paced lives and rapidly evolving world, technology makes it possible to get things done in a more convenient manner, saving time, energy, and other resources. Personal budgeting should be a daily routine and somewhat a habit in our lives, unfortunately, not many people pay attention to this.
The tech world has taken notice and provided us with ways to manage our finances with convenience and ease through mobile apps development.
Life is good when you are on top of your money and ahead of your expenses; these apps make it easy to effortlessly manage your finances.
READ: How hackers break into your WhatsApp account, and how to avoid them
1. GoodBudget: This budgeting app uses the shared envelope-budgeting principle. With its virtual tracking program, it makes it possible to not only, keep up with friends and family by syncing shares and budget, but also lets you save for big expenses and pay off debt. With a friendly user interface, the app makes it easy to categorically differentiate your regular monthly expenses from annual savings goals and irregular expenses. It is important to note that this particular app doesn't sync transactions with your financial institutions, so for every amount that comes in or goes out, you'd have to manually enter the transactions. Another incentive this app offers is that it provides customisable reports for you to keep track of budget trends, offers helpful tips on how to create a budget and get ahead of your expenses. Works on android and iOS devices.
2. Piggyvest uses the traditional, simple saving idea of a piggybank, also locally known as 'kolo '. It presents you with the opportunity to use the 'piggybank' feature to reach personal savings goals more quickly. There are several other features for various purposes such as 'Target Savings' which helps you save for multiple goals like holidays, fees, and special events, 'SafeLock' which secures your funds by locking it until your pre-selected, this helps avoid impulsive spending. There is also the opportunity to partake in investments by investing in little bits that one can afford whilst still enjoying the same rate of return as a well co-investment option. Every option is vetted and secured by Piggyvest and you can easily monitor the progress of your investments. This is a Nigerian based app and accepts all Nigerian debit cards.
READ: What Nigerian banks consider before granting personal loans
3. YNAB short for, You Need a Budget, is a personal finance help app that teaches you how to manage your money. The general principle is to 'give every dollar a job'. For a dollar saved, it is saved for a particular purpose which could be long term or short term. It strives to eliminate the common trap of living paycheck-to-paycheck. One of the pros of this software is that it displays the user's financial reports and syncs transactions so that users can seamlessly categorise their finances at a glance. It has a more proactive rather than reactive approach to budgeting. For every dollar you're expected to earn, work is assigned to it, that is, to either spend or save. With over a million downloads, it's gained popularity with its educational and philosophical approach to financial management.
Works for both android and iOS devices.
4. Carbon: If you have ever been caught in a predicament where you needed just a small amount of cash to solve an emergency, but you probably thought it was not possible to access loans in such a short period of time, you'll really love this bit of good news. There's a mobile app that you can use to get that 'small cash' without stress and have the money deposited directly to your account in 24hours or less. That app is called Carbon. Formerly known as Paylater, this is a personal finance and loan service app that helps you make all sorts of bill payments and money transfer with ease. It is built to help users understand their spending habits and learn how to categorise income and expenses to have full control over their finances. With this app, you can get a short-term loan amount as low as #10,000 and as high as #500,000. In addition to making it easy to recharge your phone, transfer money and have access to short-term loans, it also provides users with the option to invest using Payvest and earn up to 16% per annum. Available on Google Playstore.
READ: Zoom reports a surge in profit of 3,300%
5. Expensify: This mobile and web-based application is developed from the world-leading expense management company of the same name. It was originally developed to make it bearable for anyone to analyse expense reports. It is a software that allows individuals and businesses to track and file expenses such as fuel, travels, etc. Just by snapping receipts of transactions, the software uses artificial intelligence to identify the details of the transaction and automatically categorise and save the expense. It also allows users to download these reports based on user transactions. The product offers two payment options for individuals and organisations; for either annual subscriptions or pay per use charge. One of the pros of this particular app is that you can easily convert currencies for international travel. It is compatible with android and iOS devices.
6. PocketGuard: This is a personal finance help tool that makes for a more simplified budgeting snapshot. It helps you manage your disposable income, bills, and subscriptions. While some other personal finance apps try to provide you with tools to discipline your saving and spending habit, PocketGuard simply shows you what you have available for daily spending. The software is built to help you manage your everyday spending after your regular bills and subscriptions have been paid. Upon sign up, the app syncs with your financial accounts and helps you keep track of your account portfolio. Using it to pay for services helps you stay ahead and negotiate better rates. With AutoSave you can automatically grow your savings to the desired amount.
7. Financial Calculator: This app is handy for calculating the future value and present value of your financial assets. Some of its features help you to; perform financial calculations with ease and on the go, compare interest rates, compare lease and auto loans, determine how much time is needed for you to pay off debts, and to calculate the exact tip you should give for services rendered.
8. Unsplurge: We've all been there at one point or another, where we felt the need to splurge sometimes on impulse and give in to personal cravings. But then when the utility has declined you start regretting your impulsive spending and berate yourself for not being disciplined enough. Well, with Unsplurge, you have an opportunity to discipline yourself. It is built to encourage you to save money by working on your goals. There is no limit to the number of goals you can decide to save money for. You just log savings and monitor your progress. You can also get inspiration and encouragement from family and friends as they cheer you on and share their success stories as well. This app is built only for iPhones.
Explore the Nairametrics Research Website for Economic and Financial Data
9. Personal capital: This self-help tool basically offers two primary functionalities; a free personal money manager and a paid investment management service. The free function allows you to monitor your income, assets, expenses, and investments from a single portal, get investment advice on how to optimise and make more money, whereas the paid version which is also known as the Wealth Management program offers a more personalised portfolio management.
10. Mint: This is one of the most popular personal finance apps of all time. This app has been hailed for its easy-to-use programs and friendly user interface. With a sort of colour-coded system, it gives a more graphical display which helps users navigate the app seamlessly.
Explore the Nairametrics Research Website for Economic and Financial Data
Also known as intuit mint and formerly mint.com. This personal finance management app allows users to track bank, credit card, investment, loan balances, and a number of other transactions through a single user interface. One of the pros of this app is that it automatically syncs with your financial institutions to track user bills and gives constant alerts to ensure you keep up with payments. Based on financial data and transactions, its features allow users to create categories, track budgets, and set financial goals. It promotes savings by recommending credit card deals and insurance. The software is said to be securely protected, using a number of financial institution level security and high-level encryption. It was originally designed for iOS but an android version has been made available in recent years.
FG to provide financial support for 1.7 million businesses, individuals in next 3 months
FG had announced specific programmes aimed at cushioning the impact of COVID-19 on MSME businesses.
The Federal Government has announced plans to provide financial support for 1.7 million businesses and individuals across the country within the next 3 months.
This disclosure was made by the Minister of State for industry, Trade and Investment, Ambassador Mariam Katagum, at the virtual commissioning of the Fashion Cluster Shared Facility for Micro, Small, and Medium Enterprises (MSMEs) tagged, Eko Fashion Hub, in Lagos.
Katagum disclosed that the initiative is borne out of the Federal Government's continued commitment to helping cushion the devastating impact of the coronavirus pandemic on the economy by saving existing jobs and creating new job opportunities.
READ: FG releases new details on MSMEs support scheme, budgets N200 billion for loans
The minister said that President Muhammadu Buhari's administration, through the Economic Sustainability Committee, had announced specific programmes aimed at cushioning the impact of COVID-19 on MSME businesses.
She said, "The Federal Government is fully committed to empowering Nigerians; more so in the face of the COVID-19 Pandemic. In this regard, the government, through the Economic Sustainability Committee had announced specific programmes aimed at cushioning the impact of COVID-19 on MSME businesses.
"These programmes include among others, the N75 billion MSME Survival Fund and Guaranteed Off-take Schemes of which I have the honour to chair the Steering Committee for the effective implementation of the projects.
READ: NNPC reveals survival strategies to cope with the oil sector downturn and new normal
"The project, which will run for an initial period of three months, is targeting 1.7million entities and individuals and has provisions for 45 per cent female-owned businesses and five per cent for those with special needs. The registration portal for the schemes is set to open on Monday 21st September 2020 and I urge you all to take full advantage of the schemes.''
The Nigerian Economic Sustainability Plan which was produced by a committee headed by the Vice President, Yemi Osinbajo, is a response to the health and economic challenges which foisted on the country by the outbreak of the novel coronavirus pandemic.
READ: FG to save N1 trillion annually from petrol subsidy removal
Aside from developing robust monetary policies and fiscal measures to enhance oil and non-oil government revenues and reduce non-essential spending, the plan also includes a N2.3 trillion stimulus package for the economy.
Katagum said that the schemes were at the core of the N2.3 trillion stimulus package being implemented by the Federal Government. She said that the commissioning of shared facilities was also expected to provide succour and relief to the teeming micro-businesses in need of space and infrastructural support