Naira drops to N387.25 at Investor and Exporters window
The exchange at the start of the week was N385.33.
The exchange rate between the naira and dollar depreciated to N387.25 at the Investor and Exporters (I&E) window closing the week lower as investors scrambled for forex supplies.
The exchange rate at the I&E window differs from the CBN's published exchange rate which is currently stated at N360/$1.It is also different from the exchange rate at the black market which is closed at N445/$1 according to information on AbokiFX as of Friday, May 8th, 2020.
Available information from the FMDQ (where FX is traded by investors) shows that the naira depreciated against the dollar by N0.89, closing at N387.25 to a dollar, as against the N386.36 to a dollar that it opened with on Friday, May 8th, 2020. The exchange at the start of the week was N385.33.
A cursory view of the data from the FMDQ shows that the turnover was $102.28 million—an improvement from previous weeks. The CBN had announced it will start selling forex this week after weeks of zero sales due to the lockdown. Despite this, it is still a far cry from the $300 million – $400 million per day that it traded in February.
The depreciation of the naira can be attributed to the increased demand by importers and foreign portfolio investors, who want to repatriate the proceeds of their funds, in the debt market. Analysts who spoke to Nairametrics indicate the situation has been like this for weeks and may have culminated in the repricing witnessed in the futures market on Thursday.
On Thursday, Nigeria's 5 years onshore Non-Deliverable forward contract posted its biggest drop by plunging 27% from N413.36 to close at N569.69 a price differential of N156.  The 1-year Non-Deliverable forward contract was down 5% from N394.29 to close at N421.22 a price differential of N26.93.
One month NDF is now N395/$1 suggesting an imminent devaluation in the I&E window which could also impact the current official exchange rate of N360/$1 as well as the BDC rate which was devalued to N370/$1 some weeks back.
The global economy has been struggling to contain the economic effect of the Covid-19 Pandemic and Nigeria is not excluded. As an oil-dependent economy, Nigeria needs dollar inflows to maintain a stable exchange rate. However, with oil prices down and supply cuts in place following a landmark OPEC deal, the outlook for the exchange rate is bleak.
U.S dollar under pressure amid rising inflation
At press time, the U.S. dollar index, which tracks the U.S dollar strength against major currencies dropped by 0.12% to trade at 90.945 points.
The greenback dropped significantly against its rivals on Tuesday as currency analysts anticipated more selling pressure on the U.S dollar despite concerns that the U.S Federal Reserve might raise rates sooner than expected.
At the time of writing this report, the U.S. dollar index, which tracks the U.S dollar strength against major currencies dropped by 0.12% to trade at 90.945 points.
Currency traders and analyst anticipate the second coming of dollar strength, might not last long with inflation picking up at record levels coupled with an unlikely aggressive approach towards tightening monetary liquidity from the U.S Apex Bank.
READ: Crypto Armageddon: Over $200 billion wiped off in the Crypto market 
The U.S. Dollar Index tracks the American dollar against a basket of other major currencies (like the Japanese yen, British pound sterling, Swedish Krona, and Euro). Individuals hoping to meet foreign exchange payment obligations via dollar transactions to countries like Europe, and Japan, would need to pay more dollars in meeting such obligations.
Stephen Innes, Chief Global Market Strategist at Axi in a note to Nairametrics gave valuable insights on the macros weighing on the dollar in the near term.
"It looks very much like a textbook case of US dollar weakness as the pieces are slowly falling into place for a dollar selling trend to resume.
"A deteriorating US trade deficit, a retracement in Fed. pricing, a significant upturn in European vaccination rates and upcoming growth acceleration support the view."
What to expect
The currency market is now turning more consensus by the day that the next recovery spurt should be relatively short-lived and are now deferring to the Fed's "broad-based and inclusive" labour market progress to satisfy its maximum employment objective.
Naira gains at NAFEX window as oil prices make rebound
Naira gained against the US dollar on Monday 19th April 2021 to close at N410.33/$1 as crude oil prices gained.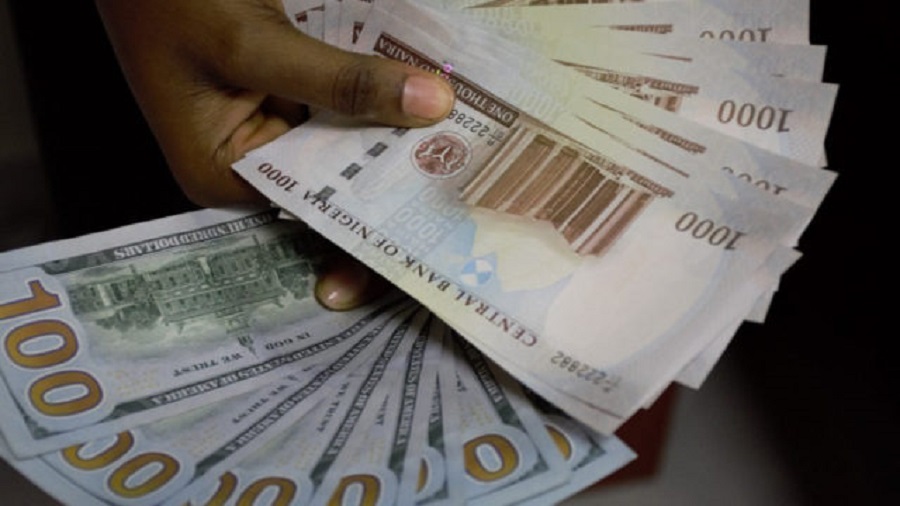 Monday, 19th April 2021: The exchange rate between the naira and the US dollar closed at N410.33 to a dollar at the Importers and Exporters window.
Naira gained against the US dollar on Monday, 19th April 2021 to close at N410.33 to a dollar. This represents a 0.16% appreciation compared to N411/$1 recorded on Friday, 16th April 2021.
On the other hand, the naira remained stable at the parallel market, as it closed at N482/$1 on Monday, 19th April 2021. Dollar supply at the NAFEX window increased from $61.52 million to stand at $69.71 million, representing an increase of 13.3%.
Notably, crude oil posted positive growth on Monday as Brent crude grew by 0.54%, and Bonny Light gained 0.37%.
Trading at the official NAFEX window
The naira gained against the US Dollar at the Investors and Exporters window on Monday to close at N410.33/$1. This represents a 67 kobo gain when compared to N411/$1 recorded on Friday, 16th April 2021.
The opening indicative rate closed at N409 to a dollar on Monday. This represents a N1.13 kobo gain, compared to N410.13/$1 recorded the previous day.
Also, an exchange rate of N437.41 to a dollar was the highest rate recorded during intra-day trading before it closed at N410.33/$1. It also sold for as low as N399/$1 during intra-day trading.
Forex turnover at the Investor and Exporters (I&E) window improved by 13.3% on Monday, 19th April 2021.
A cursory look at the data tracked by Nairametrics from FMDQ showed that forex turnover increased from $61.52 million recorded on Friday, April 16th, 2021, to $69.71 million on Monday.
Cryptocurrency watch
Bitcoin continues to record a significant downturn after hitting a record high last week. The world's most popular and sought-after digital asset, declined by 2.77% in the early hours of Tuesday to trade at $53,301.12.
Recall that the asset had dropped by 15% on Saturday and 6.1% in the hours of Monday, 19th April 2021.
As of 4:03 am on Tuesday, Bitcoin was trading at $53,301.12, representing $1,359 lesser than the close of trade on Sunday.
The entire crypto market capitalisation also slumped to $1.9 trillion, from over $2 trillion market capitalisation recorded a day before.
Crude oil gains on the back of a weak dollar
Oil prices gained marginally on, 19th April 2021 to close at $67.13 per barrel, indicating a 0.54% growth when compared to $66.77 recorded on Sunday.
The increase was attributed to a weaker US Dollar on Monday, as prices of major crude oil products recorded marginal growth across board.
The weaker U.S. dollar supported oil prices on Monday as it makes oil cheaper to buy for holders of other currencies. The gains were however limited due to the third wave of the covid-19 pandemic in India.
Brent Crude closed at $67.13 (+0.54%), WTI Crude closed at $63.48 indicating 0.54% gain, Bonny Light, $65.25 (+0.24%), OPEC Basket (+0.73%) to close at $65.21 while Natural gas also grew by 2.16% to close at $2.738.
External reserve
Nigeria's external reserve increased by 0.08% on Friday, 16th April 2021 to stand at $35.25 billion.
This represents the 19th consecutive increase in Nigeria's external reserve position, which has gained about $838.3 million since 18th March 2021, about a month ago.
Nigeria's external reserve has received a consistent boost in recent times on the back of the increase in the price of crude oil and the CBN's policy to pay Nigerians for any unit of dollar received from the diaspora.
Nigeria will hope for this increase to continue, as it will help the country to meet its accumulated obligations that have been hampered by the advent of the pandemic in the country.
Nairametrics | Company Earnings
Access our Live Feed portal for the latest company earnings as they drop.