Nestle hits N1,000 for first time since March Covid-19 lock-down
Trading at Nigeria's stock market closed in positive territory for the fourth consecutive trading session this week. The All Share Index appreciated by 0.87% to close at 24,354.25 points, and investors gained N109.90 billion, as market capitalization closed at N12.692 trillion, thus reducing YTD loss to 9.27%.
The activity level mirrored the overall index, as total volume and value of shares exchanged increased by 1.16% and 28.23% respectively, to 431.58 million units and N5.26 billion.
FBNH was the most active in today's trading. It boosted market turnover by 115.56 million units of shares, while GUARANTY was the most traded stock by value at N1.22 billion.
Market sentiment, as measured by market breadth, was positive with 21 gainers, led by CONOIL (+9.77%), as against 20 losers topped by REDSTAR (-5.00%).
Sector performance was mainly positive  with four of the five indices recording gains. NSE Consumer Goods (+2.37%) led gainers among the sectors, along with Industrial (+1.96%), Insurance (+0.93%) and Oil & Gas Index (+0.57%), while Banking Index (-1.98%) lagged. NB (+5.76%) and NESTLE (+2.56%) recorded gains to lift the Consumer Goods Index.
Sustained buy interest in DANGCEM (+4.31%) drove the Industrial index, while CHIPLC (+9.09%) propped the Insurance Index. CONOIL and ARDOVA both gained +19.58% & to buoy the Energy index, while STERLNBK, FBNH and ZENITHBANK's price depreciation impacted the Lenders' Index.
READ ALSO: PZ Cussons Plc appoints new CEO
Top gainers
CONOIL up 9.77% to close at N19.1; ARDOVA up 9.68% to close at N15.3; DANGCEM up 4.31% to close at N150; NB up 5.76% to close at N34.9; and NESTLE up 2.56% to close at N1000.
Top losers
FBNH down 4.08% to close at N4.7; ZENITHBANK down 3.80% to close at N15.2; GUINNESS down 3.43% to close at N18.3; WAPCO down 2.24% to close at N10.9; GUARANTY down 1.96% to close at N22.5.
Outlook
Barring any late reversals in DANGCEM and NESTLE, Nigeria's stock market is expected to continue on a positive note. It's expected that local demand for stocks will remain firm.
Crypto robber steals $15 million
Eminence, an upcoming project being built by Yearn's Andre Cronje has been drained of $15 million.
The DeFi crypto community's strong appetite for unverified code has once again ended in pains for investors, with the losses amounting to millions of dollars.
Eminence, an upcoming project being built by Yearn's Andre Cronje, has been drained of $15 million.
Eminence is an unfinished "economy for a gaming multiverse." In a series of tweets, Cronje gave a detailed analysis of the cyber robbery.
"Yesterday we finished the concept behind our new economy for a gaming multiverse. Eminence. As per my usual methodology, I deployed our staging contracts on ETH so we can continue developing on it."
1/x First, the data;

1. Yesterday we finished the concept behind our new economy for a gaming multiverse. Eminence. As per my usual methodology, I deployed our staging contracts on ETH so we can continue developing on it.

2. Eminence is at least ~3+ weeks still away

— Andre Cronje (@AndreCronjeTech) September 29, 2020
He spoke on the operational details of the project:
"These contracts, not the ecosystem are final, yesterday alone you will notice I deployed 2 separate batches of the contracts, this is my usual "test in prod" process.
"We started releasing some of the art teasers to showcase all the different clans in the game on Twitter. We posted the first clan "Spartans". And I went to bed.
"Around ~3 AM I was messaged awake to find out a) almost 15m was deposited into the contracts b) the contracts were exploited for the full 15m and c) 8m was sent to my yearn: deployer account."
However, Cronje later announced that the Yearn treasury would help in refunding users back the $8 million he received from the hacker according to a snapshot of EMN balances prior to the hack.
What you must know: There are multiple protocols providing yield (returns) on the capital that you lend.
These yields vary from one protocol to the next. YFI automates & optimizes lending such that you can earn maximum value on your capital without researching each protocol.
It has two major uses:
Lend your digital assets: Earn maximum interest among a pool of lending protocols such as Compound, Aave, et. al.
Vaults: Lend your digital assets to yield farming strategists (think hedge fund managers) who deploy advanced strategies leveraging liquidity mining tokens to maximize returns.
Gold prices up, traders focus on President Trump's debate
Gold futures were up 0.22% at $1,886.50/ounce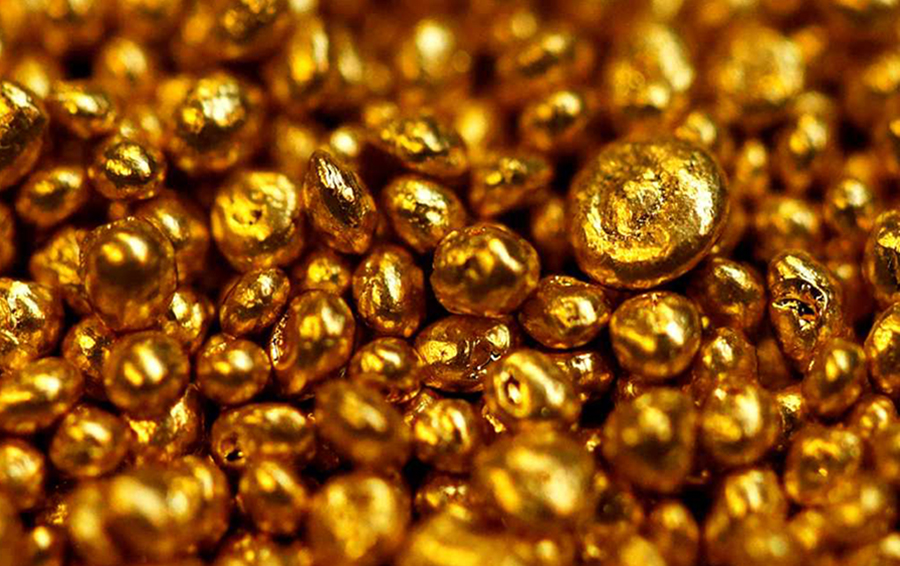 Gold futures prices were up at the reopening of London's trading session. This was boosted by a weaker dollar, though its upside was capped as traders' focus is now on the U.S. presidential debate scheduled to hold today.
What we know: At the time this report was drafted, Gold futures were up 0.22% at $1,886.50/ounce. Holdings in SPDR Gold Trust (P: GLD), the largest gold-backed exchange-traded fund worldwide, gained 0.16% to settle at 1,268.89 tonnes yesterday.
President Trump and Democrat's Presidential candidate, Joe Biden, will take part in the debate, ahead of the Nov. 3 presidential elections.
Joe Biden is hoping to convince people with strong connections to working-class Americans, who had voted for President Barack Obama but switched to President Donald Trump in 2016.
In an Economist/YouGov poll, 39% of Americans predict that Trump will win the debates, while 34% predict that Biden will win.
On the COVID-19 front, the number of new COVID-19 cases in the world's largest economy gained for the second week in a row in 27 out of the 50 states, adding to concerns over the health of the U.S. economy.
Globally, deaths from the virus topped one million, with over 33.2 million cases as of Sep. 29, according to Johns Hopkins University data.
In a note to Nairametrics, Stephen Innes, Chief Global Market Strategist at AxiCorp, spoke on the prevailing macros happening in the precious metal market. He said:
"Gold appeared to put in a good base around $1850 after a reasonably negative September, with the metal averaging a 1-2% move lower during the month in the past five years.
"It is now down almost 5% on the month, and at slightly more compelling levels to enter into longs given positions are much cleaner than ever after last month sell-off.
"Gold is up on a weaker US dollar and more gains could be in the offing as focus shifts to US elections, political uncertainty, and geopolitical risks.
"After being mercilessly hammered lower last week, gold found some decent traction, buoyed by the USD's retreat."
Investor moves $133 million worth of Bitcoins, suspected from Coinbase
An unknown individual(s) moved 12,565 BTC in block 650,441worth about $133million.
Large entities are fast increasing their transaction sizes in the world's most important crypto market at a spontaneous rate.
Data obtained from Bitcoin Block Bot, a crypto analytic tracker, revealed that someone (probably from Coinbase) moved 12,565 BTC in block  650,441, estimated to be worth about $133million, some hours ago.
Whale alert! 🐋 Someone (possibly https://t.co/jIWhXDP3O5) moved 12,565 BTC ($134M) in block 650,441 https://t.co/y0ut480wyw

— Bitcoin Block Bot (@BtcBlockBot) September 29, 2020
Why it's happening; It should also be noted that the amount of BTCS on major crypto exchanges has hit its lowest levels in about two years meaning a new generation of investors, crypto traders are putting its money in it for the long term.
While it is difficult to predict market movements, BTC whales have shown historically that they often determine the BTC trend.
There's no reason to sell now when you have large institutional investors like MicroStrategy, Grayscale Investments buying the world's flagship crypto
Quick fact:
At the BTC market, investors or traders who own large amounts of bitcoins are typically known as Bitcoin whales.
This means that a BTC whale would be an individual or business entity (with a single Bitcoin address) owning around 1000 Bitcoins or more.
As BTC whales accumulate BTCs, Bitcoin's circulating supply reduces, and this can weaken any bearish trend bitcoin finds itself in.
Meaning that over time, it's possible that as BTC approaches its fixed supply of 21 million, the price of BTC will go up, with BTC's present demand factored in.