COMMENTARY: Moody's changes outlook on Nigerian banking sector to negative
The outbreak of COVID-19 and the sharp downturn in crude oil prices have continued to stoke fears of a further devaluation in the Naira.
According to news reports, Moody's Investors Service had earlier this week changed its outlook for Nigeria's banking system from stable to negative. Moody's rating agency highlighted that the change reflects its view that banks will face weakening loan quality and foreign-currency liquidity challenges as depressed oil prices and the global pandemic weigh on Nigeria's economy.
The outbreak of COVID-19 and the sharp downturn in crude oil prices, which have accelerated capital flow reversals, continue to stoke fears of a further devaluation in the Naira. We say further devaluation because the CBN had in March moved the official exchange rate from N307/US$1 to N360/US$1. At the Investors and Exporters Window (I & E), the CBN also adjusted the NGN peg upwards by 5.7%, as it raised its intervention rate to N380 from N366. Depressed oil prices and subsequent devaluation affect banks in a number of ways.
First is asset quality: A few sectors show more vulnerability to depressed oil prices and devaluation in the local currency and as such bank lending to these sectors will most likely show signs of strain. One of such sectors is the oil and gas upstream/midstream sector. In conversations with banks over the past few weeks, we understand that some banks like Guaranty Trust Bank have hedged their oil and gas exposure over several months while many others believe that it will be possible to restructure these loans – apparently with little effect on asset quality in the short term.
Second is capital erosion: Devaluation, in theory, challenges capital adequacy ratios (CAR) because the Naira-equivalent value of risk-weighted assets (RWA) rises as this includes foreign currency loans. However, the weight of foreign currency loans in RWAs is for the most part moderate (35%-45%), and some banks like FBNH and Guaranty Trust Bank will likely make windfall gains from net long FX positions which in turn boost capital. Some banks also have some of their Tier-2 capital in foreign currencies and will, therefore, see an increase in Tier-2 capital if a devaluation occurs.
(READ MORE: Nigerian banking stocks ignore red flags, boost Nigeria Stock Market)
However, the CBN rule which restricts Tier-2 capital to only 33.3% of Tier-1 capital implies that not all the increase would qualify for the total capital adequacy (Tier-1 plus Tier-2) computation. Overall, we see moderate erosion in CAR for our coverage banks.
Finally, foreign currency liquidity: Borrowings made by banks in US dollars are problematic under a devaluation scenario. As such, banks need to have to perform US dollar assets in order to receive dollars with which to service their own US dollar borrowings. The greater the under performance of US dollar assets in cash terms (for example, re-scheduled US dollar loans to the oil & gas sector, with grace periods during which banks do not receive cash) the higher the likelihood that banks will have to find other sources of US dollars to service their own USD denominated borrowings. An extreme case is when a bank decides to purchase US dollars with Naira at unfavorable rates in order to service a US dollar obligation. We assume however that many banks have access to the supranational lenders, and to development banks for refinancing, which should limit the possibility of occurrence of the extreme scenario.
---
CSL Stockbrokers Limited, Lagos (CSLS) is a wholly-owned subsidiary of FCMB Group Plc and is regulated by the Securities and Exchange Commission.
BREAKING: Nigeria unemployment rate jumps to 27.1%
Nigeria's unemployment rate as at the second quarter of 2020 is 27.1% indicating that about  21,764,614 (21.7 million) Nigerians remain unemployed.
This is contained in a recently released unemployment data report published by the National Bureau of Statistics. Nigeria's unemployment rate was 23.1% in Q3 2018 confirming it increased by 4% points between then and the second quarter of 2020.
Key highlights
The number of persons in the economically active or working age population (15 – 64 years of age) during the reference period of the survey, Q2, 2020 was 116,871,186.
The number of persons in the labour force (i.e. people within ages 15 -64, who are able and willing to work) was estimated to be 80,291,894. This was 11.3% less than the number persons in Q3, 2018. Of this number, those within the age bracket of 25-34 were highest, with 23,328,460 or 29.1% of the labour force.
The total number of people in employment (i.e. people with jobs) during the reference period was dwellers, it rose to 31.5% from 22.8%, while the rate among urban dwellers rose to 23.2% from 58,527,276.
Of this number, 35,585,274 were full-time employed (i.e. worked 40+ hours per week), while 22,942,003 were under-employed (i.e. working between 20-29 hours per week). This figure is 15.8% less than the people in employment in Q3, 2020
The unemployment rate during the reference period, Q2, 2020 was 27.1%, up from the 23.1% recorded in Q3, 2018. The underemployment rate increased from 20.1% in Q3, 2018 to 28.6%.
For the period under review, Q2, 2020, the unemployment rate among young people (15-34years) was 34.9%, up from 29.7%, while the rate of underemployment for the same age group rose to 28.2% from 25.7% in Q3, 2018. These rates were the highest when compared to other age groupings.
Details shortly…….
COVID-19: Nigeria, 6 other African countries to start antibodies tests next week
These countries are the first set of countries to commit to the testing.
Nigeria and 6 other African countries will start conducting coronavirus antibodies tests as early as next week, as part of efforts to understand the extent of the outbreak on the continent.
Apart from Nigeria, the other African countries that will benefit from this include Sierra Leone, Zambia, Zimbabwe, Cameroon, and Morocco.
While making the disclosure in Addis Ababa, the head of the African Centres for Disease Control and Prevention, John Nkengasong, said that these countries are the first set of countries to commit to it.
Western countries have been using antibody tests to discover how many of their citizens have been infected by the coronavirus disease, with the expectation that will help them reopen their economies.
This new development is coming some days after the Nigerian Government started negotiations with prospective COVID-19 vaccine distributors to the country ahead of their availability.
The Vice President, Yemi Osinbajo, who kick-started the negotiation on behalf of the Federal Government, in a virtual meeting with representatives of the vaccine candidate, told the co-discussants that Nigeria must be given priority when COVID-19 vaccine is ready for distribution.
Nkengasong said that Africa has so far conducted 9.4 million coronavirus tests, a 10% increase over last week. These tests show whether people currently have the coronavirus disease.
Experts said that the low levels of testing in many countries mean that Africa's infection rates could be higher than being reported.
He said that 25 African countries still have full border closures, with 23 imposing tests at entry points. He also stressed on the need to harmonize border testing and recognize certificates in order to facilitate travel.
Buhari discloses what it will take to reverse US visa ban
President Buhari has fully addressed 2 out of the 6 areas of concern raised by the United States.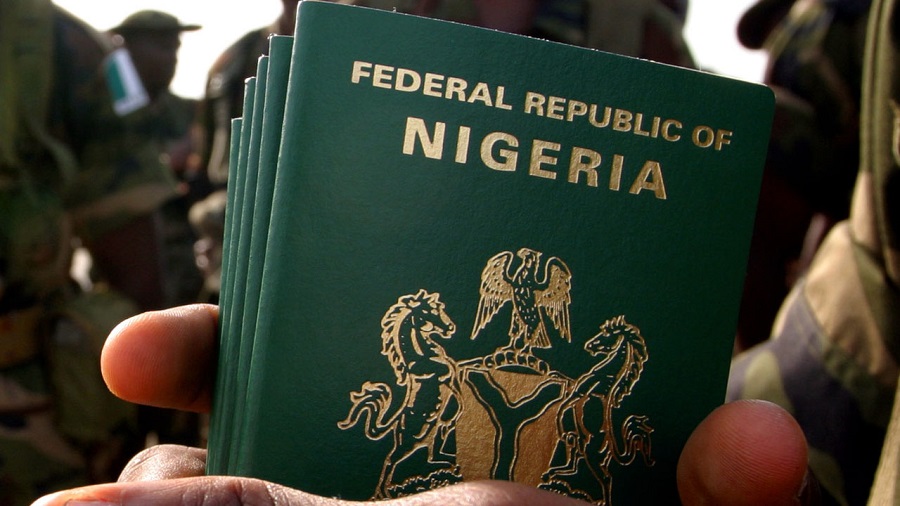 President Muhammadu Buhari has disclosed that it will take enormous resources to reverse the ban on immigrant visas for Nigerians by the United States Government. He also noted that the country is making some progress in this regard.
The president disclosed this on Thursday, August 14, 2020, when he received the report of the committee on citizen data management and harmonization in Abuja. He pointed out that 2 out of the 6 areas of concern raised by the United States had been fully addressed.
The committee was set up in February this year to address areas of concern that led to the temporary suspension of issuing immigrant visas to Nigerians.
It can be recalled that the Trump administration, in January announced the placing of new visa restrictions on 6 countries namely Eritrea, Nigeria, Sudan, Tanzania, Myanmar, and Kyrgyzstan, in an expansion of its controversial travel ban policy.
The ban on those 6 countries, which took effect in February, prevents their citizens from obtaining U.S. visas that can lead to permanent residency.
U.S. officials cited issues such as sub-par passport technology and failure to sufficiently exchange information on terrorism suspects and criminals as reasons for the ban.
The Minister for Interior, Ogbeni Rauf Aregbesola, who had asked the U.S. ambassador in Abuja to drop the ban, also chaired a committee to address U.S. concerns.
In his statement on Thursday, Buhari said that after suggestions from a report by the committee, they had fully resolved two out of six U.S. concerns, substantially satisfied two others, and had made some progress on the last two.
But he said they were still drafting a workable plan for the report's full suggestions, which require enormous resources.
"I am delighted that this progress, especially the uploading of Lost and Stolen Passport and Travel Documents, has been acknowledged by the United States Government," he said.
Buhari explained that Nigeria would harmonize citizen identification data held by different parts of government, create a national criminal management system modelled on INTERPOL, and start a national criminal DNA laboratory, although his statement did not specify what the country had already done.
It should be noted that Nigerians can still obtain visas for study, work, and travel in the United States.