GTBank Releases Q1 2020 Unaudited Results, Reports Profit Before Tax of ₦58.2 Billion
GTB has released its unaudited financial results for the period ended March 31, 2020, to the Nigerian and London Stock Exchanges.
Guaranty Trust Bank plc has released its unaudited financial results for the period ended March 31, 2020, to the Nigerian and London Stock Exchanges.
A review of the results shows positive performance across all financial indices, reaffirming the Bank's position as one of the most profitable and well managed financial institutions in Nigeria. Profit before tax stood at ₦58.2billion, representing a growth of 2.1% over ₦57.0billion recorded in the corresponding period of March 2019. The Bank's Loan Book grew by 8.0% from ₦1.502trillion as at December 2019 to ₦1.622trillion in March 2020, while customers' deposit increased by 9.3% to ₦2.768trillion from ₦2.533trillion in the same period.
The Bank maintained a well-structured and diversified balance sheet with Total assets and Shareholders' Funds closing at ₦4.057trillion and ₦661.1Billion respectively. Full Impact Capital Adequacy Ratio (CAR) remained very strong, closing at 23.5%. In terms of Asset quality, NPL ratio and Cost of Risk (COR) improved to 6.0% and 0.1% in March 2020 from 6.5% and 0.3% in December 2019 respectively. Loan Loss coverage also improved to 130.5% for Lifetime Credit Impaired Loans (NPLs) compared to 126.6% in December 2019.
Commenting on the financial results, the Managing Director/CEO of Guaranty Trust Bank plc, Mr. Segun Agbaje, said; "These are very difficult and uncertain times, not just for the financial services sector and the economy as a whole, but also for hundreds of millions of people around the world whose lives and livelihoods have been put at risk by the COVID-19 pandemic. At GTBank, we know that the impact of this pandemic may sustain for months to come, but we remain positive that, by staying nimble and continuing to build on the strength of our businesses, we are appropriately positioned to cope with emerging economic realities, as reflected in our first quarter result."
(READ MORE: Zenith, GTBank pull the brakes on momentum at Nigerian stock market)
He further stated that "As a platform for enriching lives, our focus is on safeguarding lives and livelihoods. That is why we are working round the clock to keep all our members of staff and customers safe, supporting the government in combatting the pandemic and being there for our customers in every way that they may need our support at this time."
Overall, Guaranty Trust Bank plc continues to be best-in-class in the Nigerian banking industry in terms of financial ratios i.e. Post-Tax Return on Equity (ROAE) of 29.7%, Post-Tax Return on Assets (ROAA) of 5.1%, and Cost to Income ratio of 40.6%. These ratios reflect the Management stability and well-structured Balance sheet coupled with operational efficiency.
In recognition of the Bank's bias for world-class corporate governance standards, excellent service delivery, and innovation, GTBank has been a recipient of numerous awards over the years. Some of the awards include Best Bank in Africa and Best Bank in Nigeria, by the Euromoney Magazine (2019), Best Banking Group and Best Retail Bank Nigeria from World Finance Magazine (2019), Bank of the Year – Nigeria from the Banker Magazine (2018), Most Innovative Bank from the African Investor (2018), and Best Digital Banking Brand in Nigeria from the Global Brands Magazine (2018).
BREAKING: Nigeria unemployment rate jumps to 27.1%
Nigeria's unemployment rate as at the second quarter of 2020 is 27.1% meaning about 21.7 million Nigerians remain unemployed.
Nigeria's unemployment rate as at the second quarter of 2020 is 27.1% indicating that about  21,764,614 (21.7 million) Nigerians remain unemployed.
This is contained in a recently released unemployment data report published by the National Bureau of Statistics. Nigeria's unemployment rate was 23.1% in Q3 2018 confirming it increased by 4% points between then and the second quarter of 2020.
Key highlights
The number of persons in the economically active or working age population (15 – 64 years of age) during the reference period of the survey, Q2, 2020 was 116,871,186.
The number of persons in the labour force (i.e. people within ages 15 -64, who are able and willing to work) was estimated to be 80,291,894. This was 11.3% less than the number persons in Q3, 2018. Of this number, those within the age bracket of 25-34 were highest, with 23,328,460 or 29.1% of the labour force.
The total number of people in employment (i.e. people with jobs) during the reference period was dwellers, it rose to 31.5% from 22.8%, while the rate among urban dwellers rose to 23.2% from 58,527,276.
Of this number, 35,585,274 were full-time employed (i.e. worked 40+ hours per week), while 22,942,003 were under-employed (i.e. working between 20-29 hours per week). This figure is 15.8% less than the people in employment in Q3, 2020
The unemployment rate during the reference period, Q2, 2020 was 27.1%, up from the 23.1% recorded in Q3, 2018. The underemployment rate increased from 20.1% in Q3, 2018 to 28.6%.
For the period under review, Q2, 2020, the unemployment rate among young people (15-34years) was 34.9%, up from 29.7%, while the rate of underemployment for the same age group rose to 28.2% from 25.7% in Q3, 2018. These rates were the highest when compared to other age groupings.
Details shortly…….
COVID-19: Nigeria, 6 other African countries to start antibodies tests next week
These countries are the first set of countries to commit to the testing.
Nigeria and 6 other African countries will start conducting coronavirus antibodies tests as early as next week, as part of efforts to understand the extent of the outbreak on the continent.
Apart from Nigeria, the other African countries that will benefit from this include Sierra Leone, Zambia, Zimbabwe, Cameroon, and Morocco.
While making the disclosure in Addis Ababa, the head of the African Centres for Disease Control and Prevention, John Nkengasong, said that these countries are the first set of countries to commit to it.
Western countries have been using antibody tests to discover how many of their citizens have been infected by the coronavirus disease, with the expectation that will help them reopen their economies.
This new development is coming some days after the Nigerian Government started negotiations with prospective COVID-19 vaccine distributors to the country ahead of their availability.
The Vice President, Yemi Osinbajo, who kick-started the negotiation on behalf of the Federal Government, in a virtual meeting with representatives of the vaccine candidate, told the co-discussants that Nigeria must be given priority when COVID-19 vaccine is ready for distribution.
Nkengasong said that Africa has so far conducted 9.4 million coronavirus tests, a 10% increase over last week. These tests show whether people currently have the coronavirus disease.
Experts said that the low levels of testing in many countries mean that Africa's infection rates could be higher than being reported.
He said that 25 African countries still have full border closures, with 23 imposing tests at entry points. He also stressed on the need to harmonize border testing and recognize certificates in order to facilitate travel.
Buhari discloses what it will take to reverse US visa ban
President Buhari has fully addressed 2 out of the 6 areas of concern raised by the United States.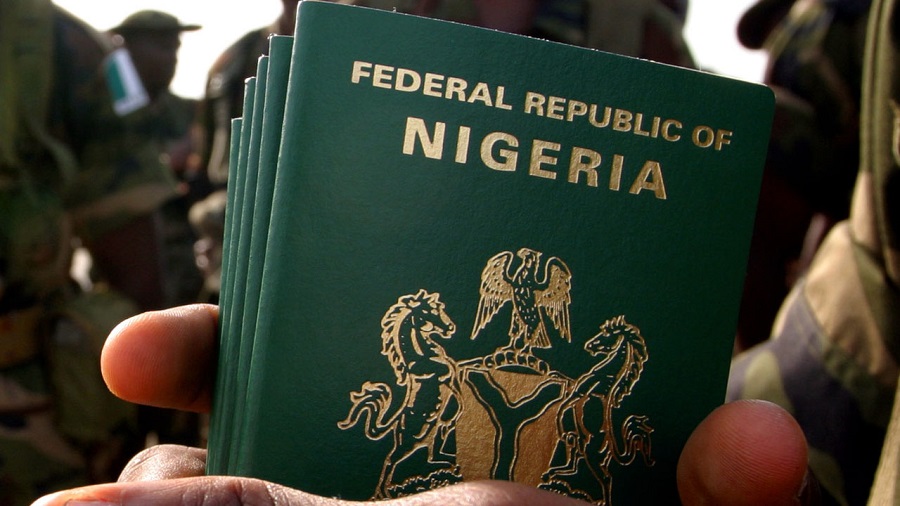 President Muhammadu Buhari has disclosed that it will take enormous resources to reverse the ban on immigrant visas for Nigerians by the United States Government. He also noted that the country is making some progress in this regard.
The president disclosed this on Thursday, August 14, 2020, when he received the report of the committee on citizen data management and harmonization in Abuja. He pointed out that 2 out of the 6 areas of concern raised by the United States had been fully addressed.
The committee was set up in February this year to address areas of concern that led to the temporary suspension of issuing immigrant visas to Nigerians.
It can be recalled that the Trump administration, in January announced the placing of new visa restrictions on 6 countries namely Eritrea, Nigeria, Sudan, Tanzania, Myanmar, and Kyrgyzstan, in an expansion of its controversial travel ban policy.
The ban on those 6 countries, which took effect in February, prevents their citizens from obtaining U.S. visas that can lead to permanent residency.
U.S. officials cited issues such as sub-par passport technology and failure to sufficiently exchange information on terrorism suspects and criminals as reasons for the ban.
The Minister for Interior, Ogbeni Rauf Aregbesola, who had asked the U.S. ambassador in Abuja to drop the ban, also chaired a committee to address U.S. concerns.
In his statement on Thursday, Buhari said that after suggestions from a report by the committee, they had fully resolved two out of six U.S. concerns, substantially satisfied two others, and had made some progress on the last two.
But he said they were still drafting a workable plan for the report's full suggestions, which require enormous resources.
"I am delighted that this progress, especially the uploading of Lost and Stolen Passport and Travel Documents, has been acknowledged by the United States Government," he said.
Buhari explained that Nigeria would harmonize citizen identification data held by different parts of government, create a national criminal management system modelled on INTERPOL, and start a national criminal DNA laboratory, although his statement did not specify what the country had already done.
It should be noted that Nigerians can still obtain visas for study, work, and travel in the United States.