Questioning Nigeria's fiscal federalism and resource sharing models
All states, except just a few, cannot meet their obligations from Internally Generated Revenues (IGR). These include states governed by the APC, APGA, and PDP political parties.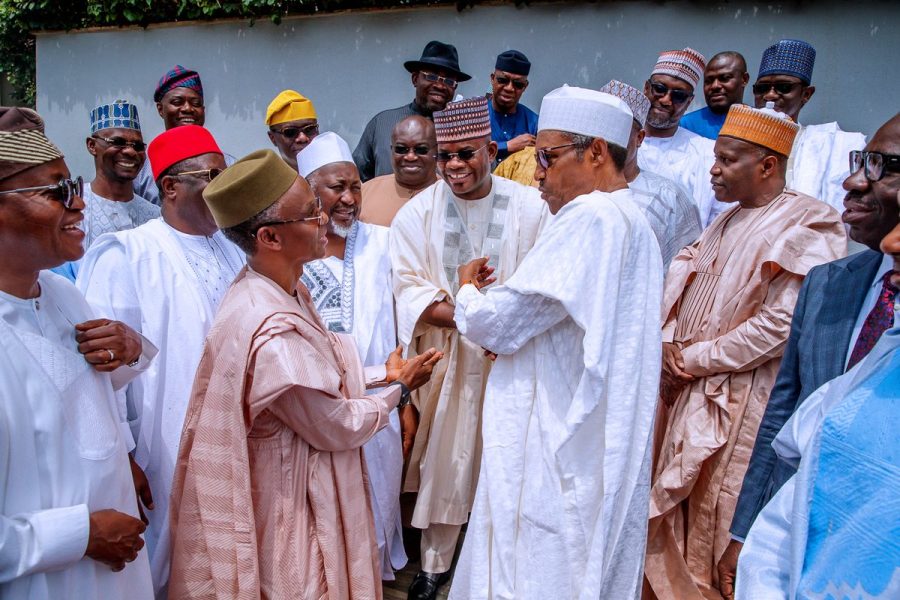 Why are states in Nigeria not paid their share of the oil and gas earnings in the currency it was earned in, i.e., the United States Dollars (USD)?
The crude oil in Nigeria is owned by the Federation — the Federal, State, and Local Governments. It's shared as follows: First, 13% is deducted and paid to the oil and gas producing States under the principle of derivation; next, the Federal Government (FGN) gets 52.68%; the States get 26.72%, and the Local Governments get 20.60%.
When Nigerian crude oil is sold, the proceeds of that sale are in USD and get paid to the NNPC/CBN/JPMorgan Account in the United States. The Oil and Gas taxes, e.g., Petroleum Profit taxes, are also charged in USD and are collected by the Federal Inland Revenue Service (FIRS) and paid to the Central Bank of Nigeria (CBN). The same thing applies for the royalty bonus collected by the Department of Petroleum Resources (DPR) and paid to the CBN. The CBN then converts the USD sales proceeds to Naira.
The CBN and Ministry of Finance then fund Federal agencies like NEMA and the Consolidated Revenue Fund in Naira, even the 13% derivation is paid in Naira. In other words, while the CBN retains the USD, the Federal, States, and LGAs get Naira. The CBN thus becomes the biggest player in the Foreign Exchange (Forex) markets, with Forex "earned" from the Federation. Why is this the case? Is it their money?
(READ MORE: COVID-19: Nigeria risks supply chain bottleneck, loss of N2.27 trillion in trade)
Why not simply give Abia State its share of oil sales earned in USD? Abia State could sell or save its USD in her State Sovereign Wealth Fund (amen). The state can decide to sell or save her Forex as she desires on the Interbank Foreign exchange market, or sell to the CBN. Why is the CBN deciding what exchange rate to use in remitting to states and LGAs their share of Forex earned from exports? Is Nigeria not a Federation? Ultimately, the states, as part of the federation, should get to choose what to do with their Forex earnings.  If the CBN wants Forex, let it also bid for it from the states.
The reality is that Nigeria is a Federation on paper, but a Unitary state in practice. The Federal Government may receive 56% of the share of fiscal revenues, but it collects above 95% of the major fiscal taxes on behalf of the states, including the Value Added Tax, and then redistributes according to the revenue distribution template. This leaves the states as mere appendages of the Federal Government, running back and forth for bailouts, unable to build railroads to export, unable to build power plants and sell power, unable to mine solid minerals in their states or even issue company business licenses without the consent of the Federal Government.
Nigeria has no business with 35 states if those states become mere spenders of FAAC allocations, unable to generate their own wealth.
READ ALSO: 5 agritech investments to consider, as COVID-19 causes uncertainty in stock market
Perhaps the states should consider holding a nonpolitical summit and confronting the Federal Government, as well as passing a constitutional amendment to force fiscal devolution of powers. There are gold and iron ore sprinkled across Nigeria, yet states cannot touch them. Why? Well, the reason is that those are Federal property. If states owned those assets, it would be reasonable to assume they would protect them, but gold mining goes on illegally across the nation because the Federal Government owns the assets on the land but the states own the land without the assets—a mismatch of revenues and responsibilities.
All states, except just a few, cannot meet their obligations from Internally Generated Revenues (IGR). These include states governed by the APC, APGA, and PDP political parties. The states should be allowed devolved power; for instance, allow states to own mineral deposits on their land, thus retaining income of 65% via derivation on Company Income Tax and Mineral Tax generated. States must stop begging for bailouts.
[READ ALSO: Nigeria's foreign debt has breached a 15-year trigger)
A quick win will be to allow states register companies via their State Corporate Affairs Commission. This will spur competition via efficiency where states compete to attract companies to list in their states.
In summary, Nigeria needs a devolution of fiscal powers to empower the states fiscally, then hold them accountable. As Nigeria seeks to diversify the FX earning sources of the federation, it's also important that the political economy is considered.
Nigerian women need over 50% representation in government by 2023
In Nigeria, there is still a need for Nigerian women to have up to 50% representation in government.
Women are taking part in the governance and nation-building of their countries. In October 2019, the global participation rate of women at the national level was 24.5% compared to 8% in 2013 which is quite reassuring. However, in Nigeria, there is still a need for Nigerian women to have up to 50% representation in government.
The reason more women are needed in governance is that they have the expertise to aid in achieving a stronger and vibrant democracy. According to Mr Ban Ki-moon, the former Secretary-General of the United Nation, "When we empower women, we empower communities and nations and the entire human communities."
A good number of women in Nigeria have made a significant impact on governance and nation-building. Historically, once women come together, they can make things happen because they understand their issues and can articulate them from a point of succinct comprehension.
Mrs. Fumilayo Ramson-Kuti was an activist and a political campaigner – 30 years ago, when there was a tax levy on women in Egba land, she coordinated a women's union group after a long tussle with the colonial administration and traditional rulers.
Dr. Ngozi Okonjo-Iweala is another prominent woman in the global space. She served as Nigeria's Finance Minister and also as Nigeria's Foreign Affairs Minister. Currently, she is on the verge of becoming the first female and the first African Director-General of the World Trade Organization (WTO).
Asides from these two, a lot of women are making waves in society – not only in politics but also in managerial positions and businesses.
Factors that hinder women's participation in politics
 In 2016, there was a study by McKinsey that revealed that only 5% of women are CEOs of companies, 22% cabinet members, while 24% are elected to official positions in Africa.
More so, in the last election 2019 in Nigeria, there were up to 3000 women candidates across all the parties. However, only 64 women were elected and appointed into political offices. Looking at the figures, there is a clear indication that it is very low and needs to be addressed as the 2023 election approaches.
Here are the major challenges affecting women's involvement in politics in Nigeria.
Godfathers: In politics, godfatherism is a very big role. For women who are not able to build that network, it becomes a very big issue for them. To avert that, women are advised to create their own network in politics – support one another and assist each other in climbing the ladder, especially for those who are already in government.
Raising funds: Election campaigns are very expensive to participate in.
Religious factor/Traditional factors: A lot of people still feel women should be seen and not heard, because they are under a man and should be submissive. Cultural & religious barriers still exists, and it prohibits women from fully contributing to governance. The emergence of women as leaders does not need to subjugate their cultural and religious identities. Men & Women need to understand that it is only through joint decision-making and cooperation, that the society can thrive.
Here are what women can do to thrive in politics
For women to have 50% representation in government, here are what is needed.
Those already elected must see themselves as a springboard and position themselves strategically, so they can increase the number of women in political offices. It is also important for women to leverage technology and use social media to enable them to build a community of women leaders/activists.
Having already announced the date for 2023 election, it is imperative that women start preparing themselves ahead of the election and strategize on how to get more women elected to the government.
Finally, having a skill is very crucial for women who want to be community leaders.
Trump or Biden? How the US Presidential election will impact the stock market
A Trump victory will see a stock market bump, as traders buy shares to cover their Put options.
US stocks are falling and volatility is going to increase as the US election head to a close on November 3rd. However, this is a systematic fall, meaning every stock in every sector is falling. Every sector save for a few healthcare stocks is down – irrespective of earnings. Why would Amazon stocks fall, even as demand is up?  This is a big market "tell" that the market sell-off has nothing to do with fundamentals.
Image 1 shows the Standard & Poor 500 index stocks categorized by sectors and industries.
Another key indicator that shows the market's hand is the "VIX" – the trading symbol for the CBOE Volatility Index – that measures the implied volatility of the S&P 500 index. The VIX is muted, it's up slightly – but nowhere near the levels seen in March and July of this year. What this tells us is that the market is less fearful. In other words, this is a planned sale by institutional investors not driven really by COVID-19 or stimulus fears.
Image 2
Why are all sectors in the market falling? The answer is simple; Investors are hedging against a Joe Biden victory in November.
Joe Biden's tax plan calls for an across the board tax hike on income, including Capital Gains taxes. This means if you filed as a single, bought the US Stocks in 2016 by buying the Vanguard Total Stock Market Index Investor (VTSMX), your return in 2019 would have been 52.2%. This return would have triggered a capital gains tax of 20%, if your income exceeded $441.451 as a single filer.
Image 3
Donald Trump on the other hand will tax long-term capital gain at 39.6$% on income above $1m. The maths is simple, investors that have made money in the stock market under the Trump tax cuts have an incentive to sell their stocks today or buy a Put option – to take in cash today and wait.
If Biden wins, they pay Capital gains taxes at the lower 20%; if Trump wins, they already have banked on their cash.
Can you see the opportunity?
If Trump wins, these investors have to buy back those shares. Thus, a Trump victory and the Republican Party retaining the Senate will see a stock market bump, as traders buy shares to cover their Put options.
This is a simple play – if you think Trump will win, buy the market and go bullish.
October PMI reveals rebound in economic activities
Manufacturing PMI has remained below 50 index points for the past six consecutive months.
According to the Purchasing Managers Index (PMI) data released by the Central Bank of Nigeria (CBN) for the month of October, activity levels in the manufacturing and nonmanufacturing sectors strengthened even as readings remained below 50 index points. Specifically, the manufacturing PMI expanded to 49.4 in October from 46.9 in September, indicating slower contraction compared to the prior five months. Similarly, the nonmanufacturing PMI strengthened to 46.8 in October from 41.9 in September, halting two months of consecutive contraction in the index. That said, we note that Manufacturing PMI has remained below 50 index points for the past six consecutive months while NonManfacturing PMI has been below 50 index points for the past seven consecutive months.
Across the key indices in the manufacturing PMI, save for Supplier delivery time (-1.7) which recorded some deterioration, the remaining four indices in the manufacturing sector improved in October; Raw materials/WIP Inventory (+3.2), New orders (+4.8), Production level (+2.7) and Employment level (+1.9). We think the deterioration in Supplier delivery time reflects the impact of the nationwide unrest and peaceful protests on logistics and distribution channels of manufacturing firms. Furthermore, we note that while Employment
level and Raw material inventories improved in October, they remain below the 50-point mark which reflects weak labour employment and FX illiquidity challenges impacting ability to import critical raw materials. The data further revealed that, of the 14 surveyed subsectors in the manufacturing sector, six (compared to four in September) reported growth while 8 (compared to ten in September) contracted.
For non-manufacturing PMI, all four of the key metrics recorded improvement albeit they all remained below the 50-point mark. Across all the indices; Business Activity (+5.0), Level of new orders (+8.3), Employment level (+2.6) and Inventory level (+3.2) showed decent improvements. We think the decent recovery in Non-manufacturing PMI was driven by sustained recovery in activities of service-based organisations in the face of reduced covid19 restrictions.
---
CSL Stockbrokers Limited, Lagos (CSLS) is a wholly owned subsidiary of FCMB Group Plc and is regulated by the Securities and Exchange Commission, Nigeria. CSLS is a member of the Nigerian Stock Exchange.