Why the strong dollar is giving Nigeria headache
Investors are fleeing emerging markets in record numbers and piling into the safe-haven greenback with two emergency interest-rate cuts this month.
Investors are fleeing emerging markets in record numbers and piling into the safe-haven greenback, with two emergency interest-rate cuts this month by the Federal Reserve doing nothing to diminish the dollar's appeal.
With the American dollar more integrated into the world economy than ever before, its gains are an added stress for businesses and governments as they brace for soaring costs on their dollar debt.
The dilemma for emerging market central banks is that as they slash interest rates to support growth, they risk destabilizing their currencies as well if they cut too much.
Victor Silas, an investment analyst spoke to Nairametrics on the phone that, "It is no news that there is a school of thought arguing about a possible devaluation given the oil prices hovering around $30 per barrel in recent weeks as a round of the low demand side and a price war between Russia and Saudi and most importantly the continued depletion in our FX reserves since H2 2019 currently at 36bn dollars." 
However, he added that, "The CBN press release on 12 March stated that he size of Nigeria's foreign exchange reserve remains robust and comfortable, given the current realities of Nigeria's genuine and legitimate FX demand."
(READ MORE: OFFICIAL: Bank charge N368 per dollar for debit card transactions)
Nigeria has reacted to the crisis triggered by Coronavirus and oil's collapse in the same way that it did when crude last crashed in 2014 by trying to prevent the naira weakening and tightening capital controls.
With foreign reserves having fallen almost 20% since July, Nigeria needs a currency almost 40% weaker if Brent prices stay at $30 per barrel
What it means: This outlook will weaken investors' confidence. It will generate speculative pressures on the currency. It will result in the depreciation of the naira exchange rate. It will trigger inflationary pressures, increase production and operation costs for businesses and will weaken purchasing power and ultimately undermine the welfare of the citizens.
Tempitope Busari, CFA treasurer at a leading Lagos based consumer finance firm in an email sent to Nairametrics added that, "As far as a stronger dollar goes, my view is that the USD/NGN rate will continue the upward trend at least at the 'freer' unofficial window.
"Recall that this window caters to the noisier segment of the market and as such, sustained pressure is seemingly inevitable. I don't see the rates receding anytime soon. For the first time ever.
"Nigeria has about 50 cargoes of crude oil that have yet to find off-takers, coupled with the reality that oil price is very well below $30pb. The country's FX earnings are being threatened, and this situation is not helped by the fact that our cost of crude oil production is still triple that of Saudi's.
"It is only a matter of time before the official market follows – our imports and crude oil revenues dependent economy will force their hand if things continue this way."
The U.S. dollar index, which measures the greenback against a trade-weighted basket of six major currencies, rose by 1.77% to 99.88. as at 10.50 am Nigerian local time
FG disburses N349.5m in Conditional Cash transfer to poor households in Kaduna 
The disbursement was done under the federal government's Conditional Cash Transfer.
The Federal Government has successfully disbursed a total of N349.5 million to 34,946 poor and vulnerable households in Kaduna State, under the conditional cash transfer programme. 
According to the Head of Cash Transfer Unit in the State, Hajiya Hauwa Abdulrazaq, the disbursement lasted a period of 10 days, from July 1 to July 10.  
Speaking in an interview with the News Agency of Nigeria (NAN) on Sunday, Abdulrazaq explained that the benefiting households were drawn from 9 local government areas in the state – 4,470 from Kajuru; 8,032 in Birnin Gwari; 1,963 in Kauru; 1,406 in Sanga, 4,380 in Lere, 2,021 in Kachia; 5,478 in Ikara; 2,784 in Chikun, and 4,412 in Kubau LGAs.  
She noted that the disbursement was done under the federal government's Conditional Cash Transfer, a Households Uplifting Programme targeting poorest of the poor households in the country, and that each of the households received N10,000 each, being payment for the months of May and June at N5,000 per month. 
"The households uplifting programme is one of the national social investment programmes which implementation began in September 2016," she said. 
NAN reports that the programme began in 2017 in Kaduna state with about 10,000 beneficiaries, but expanded to 22,380 in April 2020.  
In May, a total of 12,566 new beneficiaries were added summing the figures to 34,956 beneficiaries in the state.   
The state government had also commenced the process of capturing poor and vulnerable households into the social register in the remaining 14 LGAs, from which beneficiaries of the cash transfer would be extracted in subsequent months.  
Buhari sheds light on why Magu was suspended
Shehu's statement sheds more light on Magu's suspension.
Following the suspension of the Acting Chairman of the Economic and Financial Crimes Commission (EFFC), the Presidency has revealed the grounds for his suspension through the Senior Special Assistant on Media and Publicity to the President, Garba Shehu in a statement on Saturday evening.
He revealed that a preliminary review was conducted on allegations leveled against Magu and other EFFC staff that justified reasons for an investigation on his activities, and a panel was constituted "in compliance with the extant laws governing the convening of such a body," adding that in cases of allegations against the head of the EFCC, it was proper procedure for the Chair to step down to enable a fair investigation.
"As is the proper procedure, when allegations are made against the Chief Executive of an institution, and in this case an institution that ought to be seen as beyond reproach, the Chief Executive has to step down from his post and allow for a transparent & unhindered investigation" he said.
"The EFCC does not revolve around the personality of an individual, and as such cannot be seen through the prism of any individual.
"Therefore, the suspension of Mr. Ibrahim Magu, allows the institution to continue carrying out its mandate without the cloud of investigation hanging over its head."
He added that the EFCC is committed to fighting economic and financial crimes in Nigeria, and Magu would have the opportunity to defend himself against allegations leveled against him as stipulated by the Nigerian constitution where "every citizen is presumed and remains innocent until proven guilty."
He said the war against corruption was not a static event, but a continuous process that required transparency and accountability, where people must be held to account for their activities so as to improve Nigeria's democratic institutions.
"Those who see Mr. Magu's investigation, as a signal that the fight against corruption is failing, have unfortunately, missed the boat.
"There is no better indication that the fight is real and active than the will to investigate allegations in an open and transparent manner against those who have been charged to be custodians of this very system," he said.
"Under this President and Government, this is our mantra and guiding principle. There are no sacred cows, and for those who think they have a halo over their heads, their days are also numbered," Shehu said.
He also said Magu was not immune to investigations regardless of the "obvious embarrassment that potential acts of wrongdoing by him" may have caused the Nigerian Government, however, the government maintains its fight against corruption.
Ibrahim Magu was suspended as EFCC Acting Chairman this week after facing a preliminary panel at the Aso Villa and was replaced by Mohammed Umar.
Therefore, the suspension of Mr. Ibrahim Magu, allows the institution to continue carrying out its mandate without the cloud of investigation hanging over its head.

— Garba Shehu (@GarShehu) July 11, 2020
Magu probe: New facts suggest case is about re-looting of previously stolen funds
The report exposed acts of corruption and money laundering against some EFCC officials, including Magu.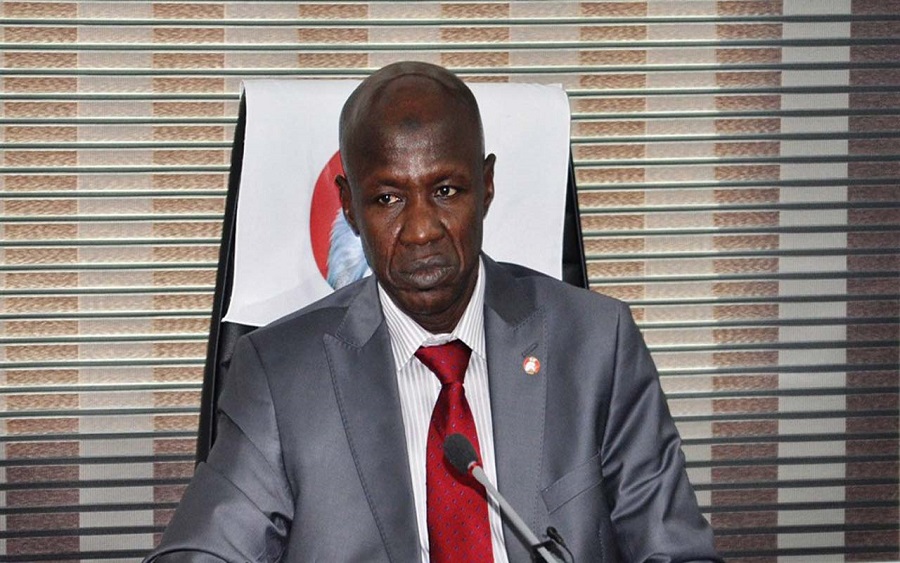 There appear to be more troubles for the suspended acting Chairman of the Economic and Financial Crimes Commission (EFCC), Ibrahim Magu, as some new cases bordering on alleged re-looting of recovered funds and bribery may be lined up against him.
Some new facts also emerged on how accumulated interest rates on the recovered N550 billion by the EFCC in the period under review were allegedly re-looted. The suspended EFCC boss is expected to disclose the whereabouts of the missing interest funds running into millions of naira.
READ MORE: Safest, regulated Cryptocurrency, Arcoin backed by U.S. Treasury securities
The final report of the Presidential Committee on Audit of Recovered Assets (PCARA) that covered the period of May 29, 2015, to November 22, 2018, had also confirmed the concerns of the public about the contradiction in the recovered funds by Magu. These contradictions include;
"For Foreign currency recoveries, EFCC reported a total naira equivalent of N46,038,882,509.87, while the naira equivalent of the foreign currency lodgments was N37,533,764,195.66, representing a shortfall of N8,505,118,314.21.''
"These inconsistencies cast serious doubt on the accuracy of figures submitted by the EFCC. It is the committee's view that the EFCC cannot be said to have fully accounted for cash recoveries made by it.''
"While EFCC reported total Naira recoveries of N504,154,184,744.04, the actual bank lodgments were N543,511,792,863.47. These discrepancies mean that EFCC's actual lodgment exceeded its reported recoveries by N39,357,608,119.43.''
READ ALSO: Gold down over increased investor confidence in economic recovery
It should be noted that the about N39 billion discrepancy excludes the missing accrued interest.
With all these, the report suggests that there is an apparent case of manipulation of data in a very brazen and unprofessional manner and has greatly eroded public confidence in the anti-corruption efforts.
The PCARA revealed how the investigative reports on EFCC's activities by the Nigeria Financial Intelligence Unit (NFIU) exposed acts of corruption and money laundering against some EFCC officials, including Magu.
The NFIU report shows that the Acting Chairman has been using different sources to siphon money from the EFCC, and in some cases collecting bribes from suspects.
According to News Agency of Nigeria, the report has shown that a particular Bureau de Change, owned by Ahmed Ibrahim Shanono linked to the Acting Chairman based in Kaduna has more than 158 accounts and has been receiving huge sums of money.
The PCARA report also claimed that Magu was linked to a N28m payment to Falana who is alleged to be his close associate and ally.
READ ALSO: Air Peace's Onyema saga: EFCC seizes passport, as Northern Youths plan rally at US embassy
Background
According to reports from the News Agency of Nigeria (NAN), the former EFCC boss is being interrogated by the Rtd, Justice Ayo Salami led Presidential Probe Panel over allegations bordering on mismanagement and lack of transparency in managing recovered assets by EFCC.
A final report of the Presidential Investigation Committee on the Federal Government Recovered Assets and Finances by EFCC from May 2015 to May 2020 had seriously indicted and implicated Magu on various allegations levelled against him.
The terms of reference for the investigative committee were
''Investigate, verify and review the recommendations of the Presidential Committee on Audit of Recovered Assets as it relates to the EFCC, with a view to ascertaining the complicity or otherwise of the Ag. Chairman, Ibrahim Magu, in the mismanagement of the assets recovered by the Commission.''
''Identify Avenues through which the recovered assets are dissipated and seized, recovered, forfeited (Interim and Final) assets are valued, managed, disposed and/or mismanaged with a view to ascertaining compliance or otherwise with extant laws, regulations, processes and procedures.''
''Review the existing procedures on the Management of the seized, recovered and Forfeited assets (interim and final) and proffer Standard Operational Procedures for the management of seized, recovered and forfeited assets.''
''Determine whether assets recovered during his tenure, whether locally in Nigeria or abroad, are being kept safely in a manner as to preserve their original value and determine: –
Whether all the assets could be properly accounted for by the Ag. Chairman.
To confirm if any of the assets have been diverted to the benefit of the Ag. Chairman, his family, relation, friends or favoured staff.
To recover any such diverted assets and return back to the EFCC or appropriate government agency.
READ MORE: Nigeria's external reserves up by 7% in 21 days, currency speculators to lose over N10 billion 
The committee was also to probe and report on corruption and money laundering allegations based on petitions and intelligence reports, involving Magu and Bureau De Change operators as well as some of his associates.
It was to audit the Assets and Finances of the EFCC as a legal entity from 2015-2020, with a view to establishing compliance or otherwise with procurement procedures of the EFCC in line with the provisions of the Procurement Act.