NSE, SEC train capital market operators on legal and regulatory requirements for the derivatives market
The NSE organised a Workshop on the legal and regulatory requirements of Derivatives trading for capital market operators on Tuesday, February 4, 2020.
The Nigerian Stock Exchange ("NSE" or "The Exchange") organised a Workshop on the legal and regulatory requirements of Derivatives trading for capital market operators on Tuesday, February 4, 2020 at the Exchange House in Lagos.
The workshop was organised in collaboration with the Securities and Exchange Commission (SEC) to guide market participants to properly interpret the approved Exchange traded derivative rules and recently released SEC's derivatives and clearing rules, as well as address concerns on the on-boarding process.
Delivering the opening remarks at the workshop, the Chief Executive Officer, NSE, Mr. Oscar N. Onyema, OON said, "The introduction of Exchange- trade derivatives on our bourse is aimed at broadening the options available to support efficient implementation of risk management and investment strategies across diverse asset classes and financial instruments. We are, therefore, delighted to host this event in recognition of the importance of capacity building and investor education to the development of this asset class.
"We are working tirelessly to ensure that our Derivatives market remains aligned with International Organization of Securities Commission (IOSCO) principles by facilitating access to recognized and licensed derivative products, world-class market surveillance technology, effective trading rules as well as appropriate risk management and clearing facilities."
Speaking on the rules guiding the derivatives market, Head of Department, Registration, Exchanges, Market Infrastructures and Innovation, Mr. Emomotimi Agama said, "The NSE and SEC have provided the platform and requisite rules to guide activities in the Derivatives market. It is, therefore, the responsibility of capital market operators to work with us to galvanise activities within this market segment. Furthermore, interested dealing members or clearinghouses must build strong capacity to deliver on investor education, proper legal frameworks, effective risk management procedures, and advanced reporting standards to engage in Derivatives Trading for the safety & security of investors."
In providing guidance on the legal framework guiding Derivatives Trading, Mr. Michael Dugeri, Senior Associate at Austen Peters emphasized the importance of market integrity, financial integrity and investors' protection.
As part of its commitment to building required infrastructures for derivatives market in Nigeria, the Exchange also announced a partnership with Central Securities Clearing System Plc (CSCS) to launch NG Clear, a world-class central clearing counterparty (CCP) entity. The establishment of this CCP entity meets EMIR standards in Nigeria and is in line with G20 program to reform global financial regulation.
NSE Set to Host Sustainable Capital Markets Forum to Promote Green Finance in West Africa
The NSE in collaboration with the Milken Institute, is set to host the inaugural edition of our Webinar Series on Sustainable Capital Markets for West Africa.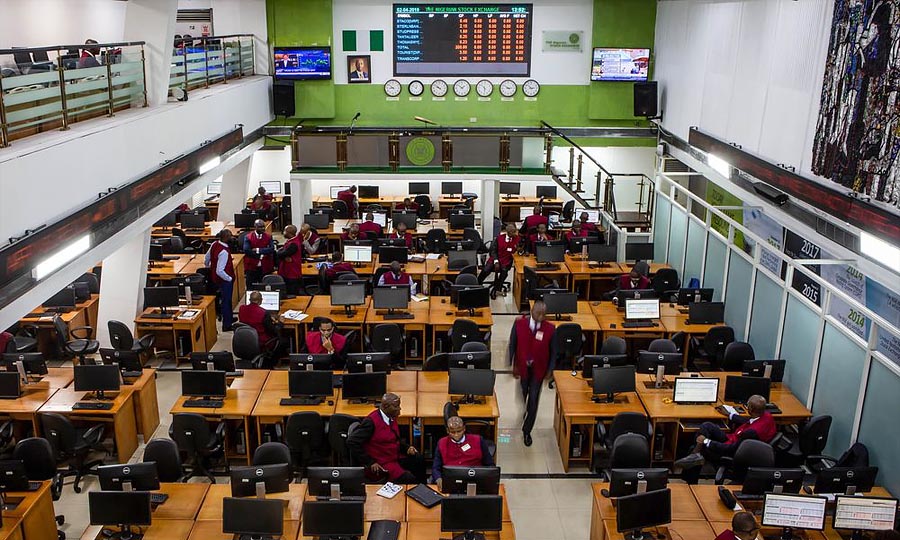 Lagos, 27 May 2020: The Nigerian Stock Exchange ("NSE" or "The Exchange") in collaboration with the Milken Institute, is set to host the inaugural edition of our Webinar Series on Sustainable Capital Markets for West Africa on Friday, 5 June 2020 by 2:30pm. The webinar themed, "Fundamentals of Developing Green Bond Markets", is supported by the Securities and Exchange Commission (SEC).
The forum will provide a platform for policy makers, Government, regulators, West African financial market participants, domestic and international thought leaders on green finance, investors and other market stakeholders to share valuable experiences and best practices on green finance, and promote the development of sustainable finance market segments within securities exchanges in the region. Interested participants should register by clicking here.
Speaking to the strategic objectives of the webinar, the Chief Executive Officer, NSE, Mr. Oscar N. Onyema, OON said:
"At the NSE, we are resolute in our commitment to promoting sustainable finance because we recognise that urgent action is required to combat climate change and its impact as enshrined in the Paris Agreement on Climate Change and Goal 13 of the Sustainable Development Goals (SDGs). We are committed to fostering the growth of sustainable financial products which integrate the financial risks and opportunities associated with climate change and other environmental challenges.
"Our collaboration with the Milken Institute to host this webinar, therefore, provides us with an opportunity to further contribute to the advancement of the green finance markets, as well to highlight our leadership role in this area. This journey began with the launch of the first fully certified Sovereign Green Bond in Africa by NSE, in partnership with the Federal Ministry of Environment, Federal Ministry of Finance and the Debt Management Office, and has since led to various strategic partnerships and landmark listings," Mr. Onyema added.
The Executive Director, Milken Institute, Ms. Staci Warden, said "we are pleased to support the Nigerian Stock Exchange in their commitment to developing green bond markets at home and in West Africa. Nigeria's experience building its local market and its recent green bond issuance can provide valuable insights for West African countries. Building these markets takes intentional and coordinated efforts to create the regulatory environment that can attract qualified issuers and investors. This virtual meeting will help countries as they design and navigate their own road maps for creating sustainable capital markets."
The NSE continues to promote the development of the Green Finance market evidenced in the signing of a Memorandum of Understanding with the Luxembourg Stock Exchange (LuxSE) in 2019 to promote the cross listing and trading of green bonds in Nigeria and Luxembourg. This partnership has already yielded its first fruit with the successful cross-listing of Access Bank's N15 Billion Green Bond on the NSE and LuxSE. Furthermore, The Exchange supports capacity development and investor awareness through the NSE X-Academy, a specialized learning centre that offers bespoke capital market and business courses including courses across the Sustainable Finance theme.
Remitano adds Nigerian Naira wallet with instant trade feature
Buy and Sell Crypto with Naira Instantly…
Remitano, one of the most popular peer-to-peer cryptocurrency marketplaces in Nigeria, has added a fiat wallet for Naira (NGN).
This brand-new Naira fiat wallet will allow users (of Level 2 and above) who require quick transfers between Naira and crypto on the platform. With the added Instant Trade feature, users can make fast, unlimited deposits from Naira into their Remitano accounts.
Unlike before, the upgrade allows traders on Remitano to pay out fiat money much quicker while receiving cryptocurrencies faster. This latest feature prevents unwanted delays that commonly occur on other similar platforms during the process of depositing, buying or selling crypto. Security measures such as scam detection and fixed rates have also been enhanced, ensuring a safe and seamless user experience.
Buy and Sell Crypto with Naira Instantly
The new NGN fiat wallet can be used to store or convert cryptocurrencies to the local currency — Naira. Previously, Nigerian users looked to buy or sell Bitcoin and popular altcoins on Remitano are limited by completing transactions via bank transfer.
By using the fiat NGN wallet instead, users can deposit or withdraw Naira directly from the platform without the additional step of making a bank transfer. This will dramatically reduce transaction delays and eliminate man-in-the-middle scams.
With the rapidly rising demand for Bitcoin and altcoin trading in Nigeria, Remitano provides a local trading platform where buyers and sellers have access to an escrow service. The added feature of Instant Trade into the NGN wallet means that users gain the following benefits:
Receive coin to the NGN wallet immediately after buying.
Have transactions completed automatically.
Deposit and withdraw in NGN securely and in a shorter amount of time.
Experience trade completions even while the user is offline.
Deposit up to N300,000.
Receive payment to the user's bank account from the fiat wallet immediately after selling.
Read this guide on how to deposit and withdraw on a fiat wallet.
Receive 50% Fee Refund on Delayed Transactions
Remitano is also offering a 50% refund guarantee on transaction fees for transfers delayed for more than 15 minutes. Starting from February 10 2020, buyers whose payments are not completed within 15 minutes will receive 50% of the transactional charge.
Read more about Remitano fast guarantee.
About Remitano
Since 2014, Remitano has been committed to improving and shaping the crypto market by developing a stage where users can safely trade, store, and retrieve their assets. Stemmed from Babylon Solutions, Remitano is one of the fastest-growing escrow companies present in many countries, including the USA, Australia, Vietnam, Nigeria, Malaysia, Cambodia, and China.
Contact Information
Email: team@remitano.com, marketing@remitano.com
Social media pages:  Facebook, Twitter, Reddit
---
EDITOR'S NOTE: This is a sponsored content.
Partnerships Beyond The Partners… Another Lesson From Interswitch
One of the most outstanding, privately-driven initiatives in the fight against COVID-19 is Interswitch Group's concerted intervention efforts to support the fight against the pandemic.
Partnerships have become an important business strategy for businesses to adopt in order to survive. As the trends in the marketplace change, increasingly, businesses have been driven to consolidate, collaborate, and build together. To this end, we have seen collaborations within industries, even between "competitors", as they begin to see themselves more as collaborators than competitors –  each partner focused on growing the overall pie, rather than just a small piece of it.
Partnerships have also flourished across verticals, where complementary service providers come together to identify common needs and behaviours of their shared customers, to enable them adequately address these needs, leveraging on partnerships. These forms of collaborations have brought about disruptions, new opportunities, increased revenue for the businesses, and enhanced customer experiences.
READ ALSO: Revenues of top African firms to drop by 10% amid COVID- PwC
The aforementioned partnerships have all been focused on increased financial returns for the businesses, leveraging their core capacities. However, in the wake of the coronavirus pandemic, we have seen an emerging trend in partnerships. Partnerships between businesses with little or no common grounds coming together to fight a common enemy – COVID-19.
In Nigeria, like in other parts of the world, businesses are partnering governments, health institutions, research institutes, and so on, to fight the pandemic. On Thursday, February 27, 2020, as the first case of the novel coronavirus was confirmed in Nigeria by the Federal Ministry of Health, a new wave of partnerships took hold in Nigeria. First, we had the CA-COVID platform initiated by the Central bank of Nigeria (CBN). Then came the Presidential Task Force constituted by the President. Afterwards, individuals and corporate organisations embarked on private initiatives to partner the government and relevant health institutions to fight the pandemic.
One of the outstanding, privately-driven initiatives, is the Interswitch Group's concerted intervention efforts to support the fight against COVID-19. The company, in an effort to lend its support, raised N305 million through combined donations from its employees, board and management.
Leveraging its partnership with some state governments across the country (about 23 of them), the company is utilizing the raised fund to support the local initiatives of its partner state governments. Part of the funds have been used to set up isolation centres, procure and donate rapid diagnostic testing kits, deploy  its COVID-19 pathway platform, pay the allowances of health workers, donate raw foodstuffs to indigent communities, provide security personnel and procure  other medical equipment and consumables.
In another strategic alliance, Interswitch, through its card payment subsidiary – Verve International – partnered with PAX technology, a leading international provider of Point-of-Sale (PoS) payment terminals, to donate facial masks and infra-red thermometers to Nigerians as part of the efforts to contain the COVID-19 pandemic. In furtherance of the partnership, Interswitch has also underscored commitment by the partners to promote the adoption of contactless point-of-sale payment solutions across Nigeria and the larger West Africa market. The partners unanimously agree that the widespread adoption of contactless payment solutions has a greater propensity to better mitigate the spread of COVID-19.
READ ALSO: IGR: States make N1.33 trillion in 2019, grows by 14.1%
Other efforts through which Verve International is leveraging its strategic alliances include: its collaboration with the Lagos State Feeding Program (Eti-Osa Local Government Area) and the Young President Organisation (YPO) to set up four Verve Food Banks. The Verve Food Banks is Verve's response to alleviating the hardship being experienced by the indigenes and security personnel within its immediate community – Eti-Osa Local Government Area of Lagos.
Interestingly, while some of these partnerships were forged purposely to fight the pandemic, others were already existing business alliances that are only now being leveraged for a common goal. A goal that is obviously beyond their core business objectives, and partnerships that offer no direct financial gains.
While these efforts by Interswitch Group, Verve International, the organized private sector and good spirited individuals, might seem to be more ethical than financial, we know that they strengthen the sustainability potentials of these businesses. These intervention efforts drive up trust and brand equity indices for these businesses. So, while these initiatives were not born with the objective of driving sales or return on investment, we know that, in the long run, it could positively impact the bottom line.
So, as we all begin to rise from the ashes strewn around by the COVID-19 pandemic, as businesses begin to re-evaluate their business models, perhaps we should also begin to rethink how we leverage anything at our disposal, be it our core competencies or our partnerships.
We should deliberately evaluate how we can leverage these beyond us because in the long run, it is still about us.
---
EDITOR'S NOTE: This is a sponsored content.