Ways you can create urgency to increase conversions & sales for your business
Urgency is one of the most powerful aspects of human psychology.
Urgency is one of the most powerful aspects of human psychology. According to behavioural psychologists, urgent situations cause us to suspend deliberate thought and act quickly. The longer someone deliberates over whether to buy your product or service, the more likely it is that they'll talk themselves out of it. So how can you get prospects to act with a sense of urgency?
There are different ways to do this, but it's important to remember that you can't approach the situation from a perspective of what's best for you. Instead, you can only approach it from the perspective of how moving forward quickly will benefit your prospect.
Offer Something People Want
Urgency only works if your product or service is something that people actively want, to begin with. If someone isn't interested in your product, all the limited-time offers in the world won't make them want it. Urgency amplifies already-present feelings of wanting something – it doesn't create them.
Use FOMO (Fear of Missing Out)
The scarcer a product or service is, the more people want it. So if you can highlight how scarce your product or service is – or at least create the illusion that it's about to run out – you can drive people to click the "Buy" button before somebody else does. For eCommerce businesses, one common way to do this is to announce that you only have a certain number of an item left in stock. If you sell a service, you can make the same principle work for you by, for example, only taking on a certain number of clients every month.
Use the Right Words
Strong ad copy and a compelling call to action can make all the difference between whether your visitors make a purchase or click away. Time-related words are especially useful if you want to create a sense of urgency.
Try incorporating some of these words into your copy:
Now
Hurry
One time only
Last chance
Before it's gone
Clearance
Today only
Instant
Don't miss out
[READ MORE: Here's why you need to know your business' competition)
Use Numbers
Numbers are a great way to get people's attention and make an offer more attractive. You can use numbers to push a sense of scarcity; for instance, "Just 3 more in stock!" Or you can boost your social proof with numbers by telling customers how many other people have bought your product or service.
Show stock levels on the product page
A great way to increase urgency on your site is by allowing customers to see stock levels if an item is close to selling out. Not only does this create a sense of urgency on your product detail pages, it's helpful information for the customer to know. This tactic can also be used to combat cart abandonment. Showing low stock levels on the cart page can increase urgency and grease the path to conversion.
Last chance emails – "Don't miss out"
Email continues to be one of the highest performing ways to get your content in front of people. Utilizing email marketing to build urgency and demand around promotions you're running is a necessary tactic to include in your eCommerce strategy. All you need is a simple subject line that highlights the promotion and builds excitement, and a clear CTA that your customers can click through to browse the sale items. If you're able to nail those two things, I can guarantee you'll see an increase in your conversion rate.
Add a Shopping Cart Timeout
Adding a countdown timer to your shopping cart can be a great motivator for customers to complete their purchases. It's very common for shoppers to add products to their carts and forget about them because either they want to browse prices elsewhere, or they get distracted and exit the site. Giving your customers a limited window of time to complete their purchase is a great tactic for adding urgency to the buying process, and also helps prevent customers using the shopping cart as a wish list.
Use Warm Colours
Colours and psychology are deeply linked. Research from HubSpot supports the idea that using warm colours – red, yellow, and orange – for your CTA buttons can create a sense of urgency that drives action.
Show the consequences
As humans, we tend to avoid negative consequences no matter what. This "loss aversion" means we'll do whatever it takes to avoid dangerous situations, losing the things we love or any other negative consequence. In fact, the desire not to lose is often greater than the desire to gain.
In sales, focusing on the consequences of not buying can have a great effect on a prospect's decision to buy. You may choose to show how much money the prospect could lose if they don't invest in your product or service, or how flawed their current processes are and how inefficient their business is. Whatever it is, focusing on the negative instead of the positive will have a psychological influence on your prospects, which will lead them to a purchase decision faster.
Refocus on the problem they're trying to solve
You're offering a solution to a problem a prospect has, whether it's a true problem or simply a need they've expressed. This is their motivation for potentially buying your product or service, so try to reinforce the reasons why they're interested. If you're solving a problem, continue to restate the problem and how great your solution will be in solving it. Instead of focusing on time or decision making, focus on the urgency of solving the problem.
Conclusion
However you choose to implement the urgency principle, you're virtually guaranteed to see some powerful results by using it. Urgency is something that people have a hard time responding to rationally, let alone cautiously. By compelling action right away, you gain an instant psychological upper hand.
CBN extends Covid-19 forbearance for intervention loans by another 12 months
CBN will continue to charge an interest rate of 5% for its intervention loans for another 1 year.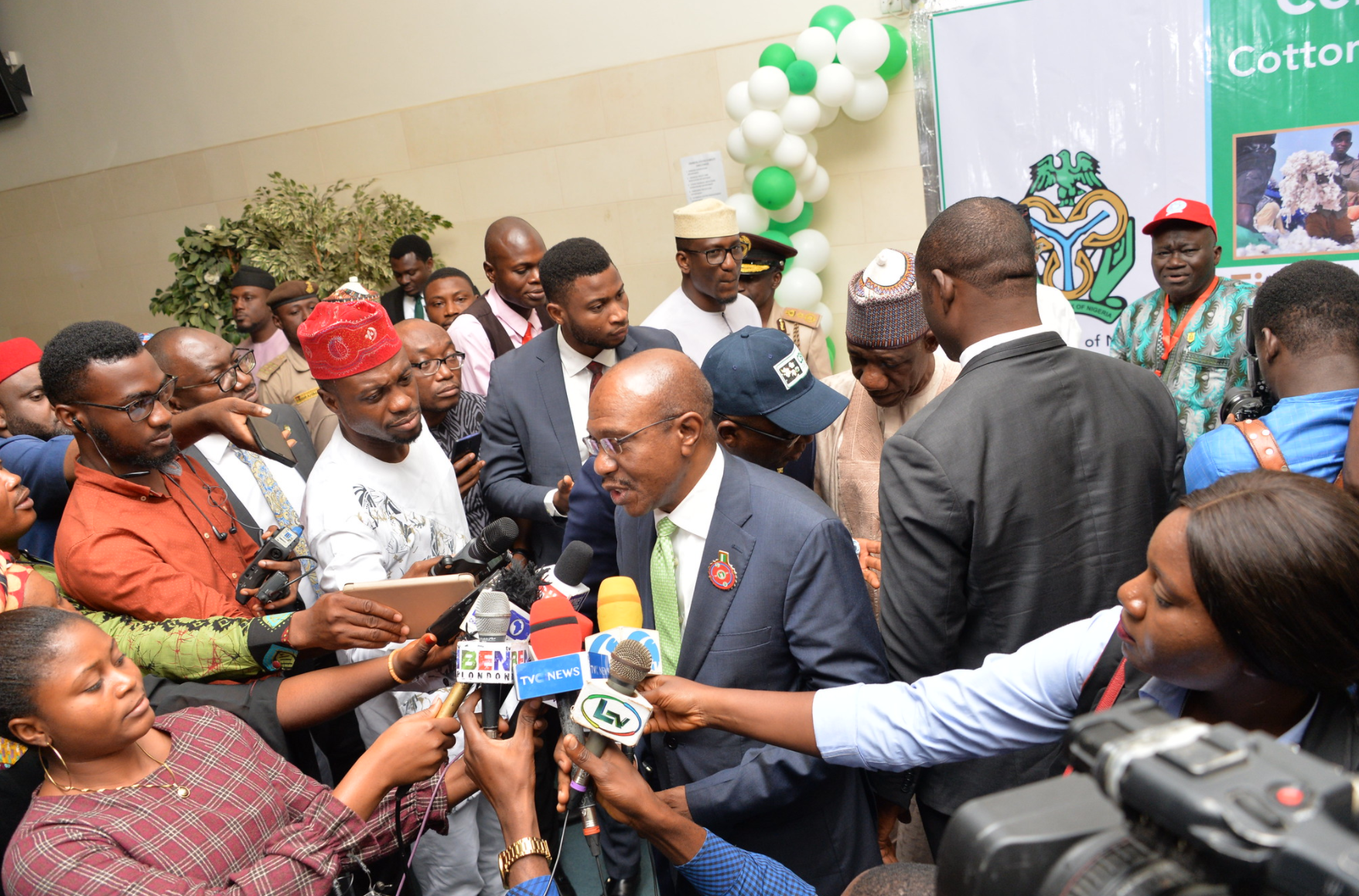 The Central Bank of Nigeria has announced an extension of its regulatory forbearance for the restructuring of its intervention facilities by another 12 months.
In a circular signed by Dr. Kevin Amugo, the Director of Financial Policy and Regulatory. the apex bank said it will continue to charge its borrowers an interest rate of 5% per annum as against the 9% originally offered. The CBN had on March 20th reduced the interest rates on its intervention loans from 9% to 5% as part of its response to the economic crunch brought on by Covid-19 induced lockdowns.
The CBN also offered to rollover moratorium granted on all principal payments on a case by case basis. All credit facilities had been granted a one-year moratorium starting from march 1, 2020 when the pandemic first gripped Nigeria.
See excerpt from Circular
"The Central Bank of Nigeria reduced the interest rates on the CBN intervention facilities from 9% to 5% per annum for one-year effective March 1, 2020, as part of measures to mitigate the negative impact of COVID-19 Pandemic on the Nigerian economy."
Credit facilities, availed through participating banks and OFIs, were also granted a one-year moratorium on all principal payments with effect from March 1, 2020.
Following the expiration of the above timelines, the CBN hereby approves as follows:
1) The extension by another twelve (12) months to February 28, 2022 of the discounted interest rate for the CBN intervention facilities;
2) The roll-over of the moratorium on the above facilities shall be considered on a case by case basis.
What this means
Companies who secured intervention funds from the CBN or through any of its on-lending banks will continue to service the loans at an interest rate of 5% per annum instead of 9%.
They can also get another year of not needing to pay back the principal sum collection. However, they will need to apply.
Whilst this move helps the small businesses continue to manage their cash flow, it means the CBN will record a reduction in its income extended under such facility.
Regulatory forbearance is a widely adopted concept during an economic crunch and it is meant to help stimulate businesses. These pronouncements if implemented will only affect those who borrow from the CBN or BOI but those who do not will miss out.
Download the circular here.
LNG boss tasks FG to begin the monetization of Nigeria's gas
Mr Attah has urged the FG to take the gas sector more seriously as the future of Nigeria's energy lies with it.
The MD and CEO of Nigeria LNG Limited Mr. Tony Attah has tasked the Federal Government to begin the revamping and monetization of the Gas sector in Nigeria.
He made this statement while making his presentation at the 2nd virtual Nigerian Gas Association (NGA) Industry Multilogues, with the theme: "Powering Forward, Enabling Nigeria's Industrialization via Gas."
Mr. Tony Attah drew the attention of the audience to the hidden treasure in the Nigerian Gas industry which he believes is not getting enough attention from the government.
On the future of gas as an alternative energy source, Mr. Attah stated that the developed world is already keying into gas as an alternative to crude oil. Gas has proven to be a cleaner and more sustainable alternative.
He exclaimed that Nigeria is very rich in gas and yet poor in energy. Nigeria is the 9th country with the largest gas reserves in the world but makes very little use of it.
Mr. Attah went further to paint a clear picture of the promise of investing in gas using the success achieved by Qatar. Qatar is currently the largest LNG exporter in the world.
"We just touched on a quick case study of Qatar. Someone mentioned Qatar already from a poor fishing country to a gas giant and it took just 10 years, which is why we, as Nigeria LNG, firmly believe in the conversation and the narrative about the declaration of the decade of gas.
"We believe it is possible. If you look at Qatar from 1995, when they really went into gas development, we were just two years behind Qatar. So, Qatar's first LNG was in 1997.
"Nigeria's first LNG was in 1999, just two years behind. But then, within 10 years, because of the deliberateness of the government and focus on gas, they have gone to 77 million tonnes and we are at best, 22 million tonnes," Attah said.
Mr. Attah stressed further the importance of the gas sector in Nigeria's future. He recalled that the Nigerian Government declared 2021-2030 as the decade of gas. He pleaded with the government to take the sector more seriously as the future of Nigeria's energy lies with it.
"Gas is the future. That future is now, and just as the Minister of State has made us to realize, gas is food in fertilizer. Gas is transport as you saw in the Auto gas project that was declared.
"Gas is life, as a matter of fact, for cooking, for heating, for existence. Gas is development in manufacturing, gas is power. Gas is everything. "We think it's time for gas. It's time for Nigeria to diversify and that is why we fully support the decade of gas," he said.
What you should know
Early last year, the director of the Department of Petroleum Resources (DPR) Mr Sarki Auwalu confirmed that Nigeria's proven gas reserve stood at 203.16 trillion cubic feet.
Nigeria has the 9th largest gas reserves in the world. It is also the 6th largest exporter of gas.
The Federal Government declared the year 2021–2030 as the "Year of the Gas". It pledged to finally kick start the development and commercialization of Nigeria's huge gas reserves.
Nairametrics | Company Earnings