Here's how your business can grow revenue in tough conditions (PART 1)
As you look to grow top-line revenues, what strategies should you be adopting in this changing world?
Uncertainty and disruption are leading to a leaner and tougher business environment. As you look to grow top-line revenues, what strategies should you be adopting in this changing world?
It is also likely that clients who previously engaged with your organization will now:
be facing increased competition.
be attempting to cope with shifting technologies, and emerging disruptive business models driven by the growing need to harness the internet to drive down costs.
be much more demanding whilst remaining highly price sensitive.
want improved services and be intolerant of poor quality in delivery.
How many of these disruptive issues apply to the changes in your customer base? As you look to grow revenues in tough times, high level, here are six potential strategies to consider for your organization:
Weather the storm
Do less, get more
Lower risk, not price
Gain a premium price
More promotions and campaigns
Cross-selling
What more can you do?
Align Sales and Marketing: The terms "sales" and "marketing" are often used interchangeably. However, these vital functions provide very different – and equally important – contributions to the company or organization. They are, in fact, the Yin-Yang that cultivates customers, generates sales and serves as the fuel for your company. Marketing is and should be, viewed as a critical investment for the financial success of the organization. Sales without an appropriate marketing function is costlier, less effective and reduces the bottom-line.
Establish a formal referral program: Data conclusively demonstrates that customer referrals are a significantly effective but extremely underutilized business strategy. According to Dale Carnegie, 91% of customers would give a referral, but only 11% are asked. Creating a formal referral program can allow your customers to help you grow by becoming brand ambassadors for your company.
[READ MORE: What business owners need to know about balance sheets]
Expand your offerings: Your customers and their needs are always evolving, and so should your product and service offerings. Being aware of your customers' long-term needs, research and development or industry trends enable you to anticipate their future needs and position your company to service them. This approach also affords your company the opportunity to be first-to-market and a disruptor.
Focus on customer relationships: Per Marketing Metrics, increasing customer retention by 5% can increase profits by between 25 and 95%. Providing exceptional customer service that creates long-term and loyal customers is a sound strategy to grow your business. Upselling or cross-selling current customers is significantly more effective and cost-efficient than securing new clients.
Develop strategic partnerships: Many small business owners can benefit from strategic partnerships that enable them to service a larger client base. While horror stories abound, careful planning and due diligence can address many issues before they occur. Engaging professional help, including legal, financial and business experts, to form the partnership is the best approach for profitability and long-term success.
[READ ALSO: Breaking down the biggest misconceptions young people have about investing]
Become a recognized thought leader/expert: Here's a surefire way to elevate your reputation, build brand equity and attract ideal customers. Based on your industry and business, creating a blog, podcast, by-lined articles or other content to share your knowledge can be an effective strategy. Even sharing your expertise through speaking engagements, industry panels or other high-profile events provides an excellent opportunity to showcase your company and expertise.
Increase your geographic reach: Focusing on a manageable territory is smart. Developing opportunities to expand your customer reach is a significant growth strategy that should be pursued in a phased approach to ensure that additional customer requirements, logistics and costs are addressed.
Develop a new client/customer base: Data suggests that selling to new customers is between 5 and 20% successful. Notwithstanding this data, a focused effort to attain customers in new sectors, geographies or segments is prudent. Knowing when to engage in new client acquisition opportunities requires a well-thought-out strategic approach and flawless implementation.
[READ MORE: What business owners need to know about balance sheets]
Learn to say no: Here's a big challenge for many small business owners. The ability to confidently and appropriately address difficult customers, to walk away from an ill-fitting business opportunity or to end a customer relationship requires self-confidence and fortitude. Learning to say "no" when it's not a good fit, or within your wheelhouse is a significant growth strategy.
Elevate your brand: When growing a small business, it is extremely important that your brand continues to evolve, as it can unlock competitive advantages for the company. Your brand is a dynamic asset that must always differentiate your company and its products and services. Oftentimes, as a company grows, its brand remains static and becomes ineffective as a new customer segment, geography or service offering is pursued. It is critical to remember that, as the company grows, you must elevate your brand and communications to address the new market requirements.
Manage your customer acquisition costs: Opportunity cost is the value of a forgone activity or alternative when another option is chosen. Opportunity cost comes into play in any decision that involves a tradeoff between two or more options. The cost associated with the customer acquisition process is an important measure for a business to evaluate in combination with how much value having each customer typically brings to the business. Your customer acquisition cost evaluation should inform your pricing strategy.
Conclusion
Whether your small business is newly launched, is ready to grow, or is in a holding pattern, the thoughtful implementation of these growth strategies can help you increase your revenue, remain in business and succeed well into the future.
[READ MORE: What business owners need to know about balance sheets]
Sanwo-Olu speaks on need to resolve community's agitations for tank farms relocation
Sanwo-Olu called stakeholders to come together in order to provide a lasting solution to the issue.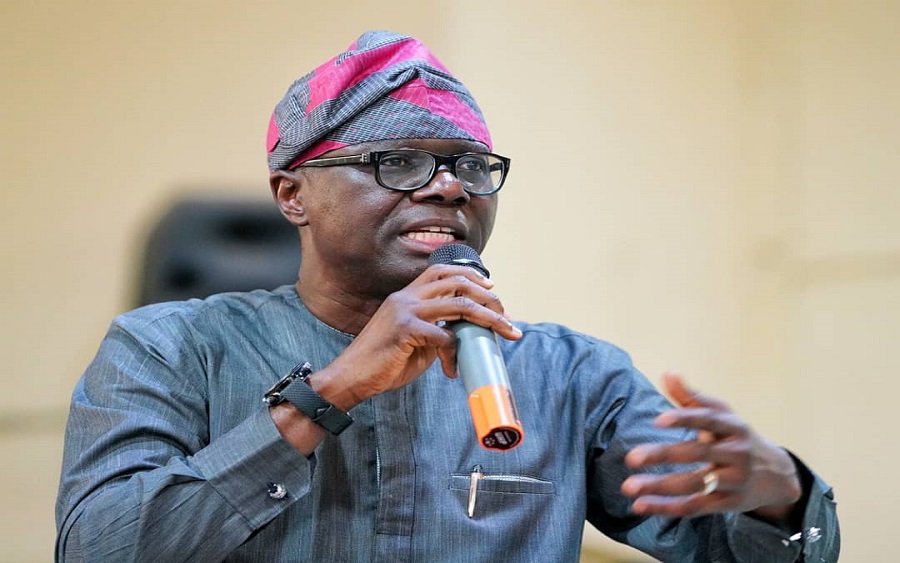 The Lagos State Governor, Babajide Sanwo-Olu, has listed conditions that must be met, in order to bring a lasting solution to the dispute between petroleum tank farm owners at Ijegun-Egba area of Amuwo Odofin and the residents of the host community.
One of these conditions is that tank farm owners and petroleum tanker drivers must subscribe to operational regulations that limit the loading of tankers beyond their weight capacities. Also, all Federal Government's regulatory agencies operating in the area must stop working at cross purposes with the state's agencies, in the bid to address the environmental degradation in the area.
The governor also stressed that both the federal and state authorities should collaborate on the regeneration efforts of road and infrastructure in the area.
This disclosure was made by the Lagos State Governor on Thursday, August 13, 2020, in Marina, while receiving members of the House of Representatives Ad-Hoc Committee on the Relocation of Tank Farms. The Committee, which was constituted by the Speaker, Femi Gbajabiamila, was also intended to investigate and make recommendations on the issue.
The Hon Sergius Ogun led Ad-Hoc Committee had initially gone on a two-day inspection to Ijegun before sharing the findings with the Governor.
During the meeting, the governor pointed out that the regeneration of Ijegun-Egba was as important to the community as smooth transportation of petroleum products was important to the tank farms' owners. He warned that the country could not afford to allow the host community's agitation to hinder the operations of the tank farms, which, he said, supply 45% of petroleum products consumed in the country. The governor said:
"The Ijegun-Egba tank farms are strategic national assets created by the private sector to serve the whole country. Between 40 to 45% of the entire petroleum products that go across the country pass through that corridor. Even if it is to cater for our own need, we must take care of those assets, because they are like a strategic reserve for us as a nation.
"The rudiment of the problem in the area is a logistic issue, which is to ensure the movement of oil tankers in and out of the area without affecting the wellbeing of the community members. We have had to contend with environmental issues and the extent of the bad road network on the corridor is glaring. We have seen how small-capacity tankers are carrying up to 70,000 litres of petroleum products when they should be taking only 30,000 litres. This has exerted great pressure on the roads and the officers that are supposed to monitor them look away.
"These are part of the issues we need to resolve with the stakeholders. If we can let these people run their businesses within the confines of regulations, part of the solutions would have been achieved in the process. Also, there is a need for total regeneration of the roads in the area. We want the environment to be conducive for business, but we must do that in line with the safety of lives and property. We have talked with tank farms' owners and we all need to come together. It is important for the Federal Government's agencies to have an agreement and we are ready to play our own part."
The committee was set up following the agitations and demands by residents of Ijegun Egba Satellite Town for the immediate relocation of the tank farms in the residential area. This, according to the residents, would help to prevent further environmental degradation and loss of lives and property in the area.
The host community accused tank farm owners of disrupting the drainage system, damaging roads within the community, and even converting roads to parking lots for their tankers.
The Governor stressed that genuine solution would be achieved if the entire network of infrastructure in the host community was cleaned up and regenerated. He, however, revealed that the new regeneration design that the state came up with could not take off because the federal authorities had not agreed with the plan.
Furthermore, Sanwo-Olu noted that it is high time for all the stakeholders to come together in order to provide a lasting solution to the issue.
"After your thorough assessment of the situation, I hope you would be able to call all relevant stakeholders and agencies of Government together on the discussion table. We are committed to any effort that'll bring a permanent solution. We know how much of investment we have in the area, but businesses have to be done under a safe and controlled environment. We want every stakeholder to play their roles," he said.
Making his own remark, the Chairman of the Ad-Hoc Committee, Hon Ogun, admitted the inability of the Federal authorities to work collaboratively with the Lagos State Government was part of the reasons the community's agitation festered. He, however, promised that the House would prevail on the federal agencies to close ranks with stakeholders and bring about lasting solutions.
Guinness warehouse in Lagos on fire
The warehouse was said to be used in storing plastic crates.
A warehouse that is reportedly owned by Guinness Nigeria Limited, along the WEMPCO Road, Ogba, has been gutted by fire.
The warehouse was said to be used in storing plastic crates.
READ MORE: Why Guinness is a stock to pick – RenCap 
Director-General, Lagos State Emergency Management Agency, Olufemi Oke-Osanyintolu, explained that emergency responders, including the LASEMA response team and official of the state fire service, were on ground to salvage the situation, adding that the immediate cause of the fire could not be ascertained.
Download the Nairametrics News App
He said, "On arrival at the scene of the incident at 0430am, it was observed that a warehouse storing plastic crates which appears to belong to the Guinness Nigeria Limited and used to store plastic crates, had been burnt.
"The immediate cause of the fire could not be determined. However, the agency's responders and LASG Fire Service officials are on ground to carry out a dampening exercise to forestall any spread or secondary incident."
READ ALSO: UPDATE: CAC headquarters in Abuja on fire
More details later…
NBC slams N5 million fine on Nigeria Info over Mailafia's inciting comments
This was contained in a press statement which was issued by NBC on Thursday.
The Nigerian Broadcasting Commission (NBC) has slammed a fine of N5m on a radio station, Nigeria Info, over the recent claim by a former Deputy Governor of the Central Bank of Nigeria, Dr Obadiah Mailafia.
Mailafia, in an interview in one of the radio station's programmes, claimed that some of the repentant Boko Haram militants confessed that one of the northern governors is the commander of Boko Haram in Nigeria.
This was contained in a press statement which was issued by NBC on Thursday, August 13, 2020, titled, ''The National Broadcasting Commission fines Nigeria Info 99.3 for Unprofessional Broadcast''.
READ ALSO: Power: Nigeria's deal with Siemens – the birth of a new era?
The NBC expressed its displeasure at the radio station for providing its platform to be used to promote unverifiable and inciting views that can lead to crime and public disorder.
The NBC's statement reads, "The National Broadcasting Commission has noted with grave concern, the unprofessional conduct of Nigeria Info 99.3FM, Lagos, in the handling of the Programme, "Morning Cross Fire", aired on August 10, 2020, between 8.30 am and 9.00 am. The station provided its platform for the guest, Dr Mailafia Obadiah, to promote unverifiable and inciting views that could encourage or incite to crime and lead to public disorder."
READ MORE: NBC Code: Why video streaming platforms say 'No'
"The Commission, again, wishes to reiterate that Broadcasters hold Licenses in trust for the people. Therefore, no Broadcast Station should be used, to promote personal or sectional interests at the expense of the people."
NBC noted that Dr Obadiah's comments on the Southern Kaduna crisis, were devoid of facts and the broadcast of such by Nigeria Info 99.3 violates some sections of the Nigeria Broadcasting Code which include;
No broadcast shall encourage or incite to crime, lead to public disorder or hate, be repugnant to public feelings or contain an offensive reference to any person or organisation, alive or dead or generally be disrespectful to human dignity;
Broadcasting shall promote human dignity, therefore, hate speech is prohibited;
The broadcaster shall ensure that any information given in a programme, in whatever form, is accurate;
The Broadcaster shall ensure that all sides to any issue of public interest are equitably presented for fairness and balance;
The broadcaster shall ensure that language or scene likely to encourage or incite to crime, or lead to disorder, is not broadcast;
No programme contains anything which amounts to subversion of constituted authority or compromises the unity or corporate existence of Nigeria as a sovereign state;
The Broadcaster shall not transmit divisive materials that may threaten or compromise the indivisibility and indissolubility of Nigeria as a sovereign state.
The NBC further states, "Consequent on these provisions and in line with the amendment of the 6th edition of the Nigeria Broadcasting Code, Nigeria Info 99.3FM Lagos, has been fined the sum of N5,000,000.00 (Five Million Naira), only. This is expected to serve as a deterrent to all other broadcast stations in Nigeria who are quick to provide a platform for subversive rhetorics and the expositions of spurious and unverifiable claims, to desist from such."
The NBC also stated that it will not hesitate to suspend the license of broadcast stations that continue to breach to breach the broadcast code.