Nigerian Millennials have figured where to invest their money
This why Nigerian Millennials will rather invest in cryptocurrency and ponzi scheme.
James, a Nigerian millennial, who had not been too happy with the snail-like growth of his bank account, chuckled yet again as he took one hard glance at his bank statement. For someone who had about N2 million in his bank account, you'd expect him to be wearing a wide smile. In Nigeria, being financially independent is a luxury for a lot of millennials, especially when you consider the purchasing power of earning in Naira.
But for James, it wasn't the account balance that was his source of humour, it was the amount of credit interests he earned regularly. By keeping the money in the bank for 3 months, he had earned just N15,650 in interest income. This fell below his expectation. Being a cautious saver, he had avoided the trappings of giving his money to several people promising great returns. He liked risk and if he were to invest in money, he had an array of choices.
Investment opportunities in Nigeria
Traditional investment options: In Nigeria, several traditional investment options are available for millennials to invest in. Risk-free government securities like Treasury Bills and FGN Savings Bonds offer between 10% to 14% per annum in returns. Corporate Bonds offer similar returns but require a larger capital outlay which keeps it out of reach for many.
Real estate and Mutual Funds: Investors can also place their money in real estate, hoping that it will appreciate in a not too distant future. Mutual Funds are increasingly gaining wide adoption among some working-class millennials sipped in herd mentality. For most of them, it is at least better than keeping the money in the bank. However, the returns provided by these investment options are not great enough.
The Nigerian Stock Market: One investment that is often overlooked by this generation is the Nigerian Stock Market. Ironically, this is a market that could deliver the sort of mouth-watering returns they all seek. Unfortunately, it is a much-maligned market ladened with a severe trust deficit. Retail investors believe the market is often rigged in favour of select few.
For a lot of millennials like James, saving or investing in Nigeria Stocks is anything but rewarding going by the returns available. Since Bull Ride experienced in 2017, Nigerian Stocks have posted negative returns quarter after quarter and remained one of the worst-performing exchanges in the world.
While stocks remain on the bottom of the ladder, fixed income securities just don't offer the excitement of investment. Most millennials will rather place their money on riskier investments like Cryptocurrencies, Forex Trading, High-risk deposit accounts and Ponzi schemes than waste their time on traditional investments.
[READ ALSO: Foreign investors are dumping more Nigerian stocks]
NASD OTC: Apart from the Stock Market, Nigeria also has the NASD, an Over-the-Counter market for trading shares in unquoted companies. Unfortunately, this market has failed to live up to its expectations. Retail investors hardly know about its existence and even when they do, they realise the market is shallow and bereft of excitement. Just like the Stock Market, younger Nigerians place little regard to NASD OTC.
Millennials' stories on their preferred investments
Cryptocurrencies: Ifeanyi, a marketing executive in a leading consumer goods firm said he loved investing in cryptocurrencies and had made "serious money" from it. He declined to mention how much he had made, claiming he did not want to be kidnapped. Cryptocurrencies have posted the best returns in the market for the last two years and it's not difficult to see why young Nigerians love it. The risk is high, returns are mouth-watering and the feeling you get for placing is "lit", as Ifeanyi remarked.
Microfinance bank: An employee of a microfinance bank, also a millennial, informed Nairametrics that some of her clients are younger than 30 years old and that the number is growing fast. Her bank receives deposits of N1 million and above and can pay as high as 14% per annum in interest payments. She claims interests can go as high as 18% per annum if the deposits are significantly higher and have a long retention rate. Nairametrics also received significantly higher questions from millennials, requesting to know how to invest in microfinance banks, compared to the Stock Market.
FinTech Products: The allure for FinTech is also of financial interest to young Nigerians. In Nigeria, most FinTech related products are sold to millennials as AgriTech funds or pure peer to peer lending. The more esoteric AfriTech funds involve playing in a market that allows you to lend money to farmers in parts of the country you may never visit. They promise significantly higher returns than traditional investments and offer low rates of loss of investments. At least that is what they make them believe.
Ponzi schemes: For the less savvy, risk-loving millennials, ponzi schemes are the preferred form of investing. For Kola, it's not just about the risk, it's the price point. With just N50,000 invested in a Ponzi scheme, he can make three times that amount in three months. He claims he knows the risk and that the schemes are not based on any underlying business, however, everyone who participates in it understands it's just for a short period. Some Ponzi schemes, hardly last over 2 years, thus the earlier you place your bet, the less the risk.
[READ ALSO: T-Bill Yields Trade Flat as Market Players Shun Lower Rates]
Immigration: If Ponzi schemes are a race to the bottom, immigration is a race for survival. For most young Nigerians under 30, checking out of the country is a new form of investment, the only difference is that it is in their careers. Just like regular investors, they take on jobs that provide regular income, while acquiring experiences required to score immigration points. They then save a huge chunk of their salaries, for tickets, visa applications and living expenses. The upsides here are clear – a chance to get a better life in a foreign country.
Reactions to millennials' choices of investment
Most fund managers we spoke to placed the blame squarely on the regulators and government. A senior investment officer in a leading mutual fund opined that the lack of exotic investment schemes like financial derivatives makes investments in Nigeria very boring. Doing this will require a significant change in regulations guiding the financial sector as well as lifting the lid on capital flows in and outside the country. According to him, the current government is not ready for this and even if they have a change of mind, it can take 3 – 5 years for markets like this to go mainstream.
Reasons for the hatred
So why the hatred for stocks and traditional investments?  For a lot of them, the answer is embedded in a bout of history. Their parents had lost a lot of wealth to the Stock Market crash of 2011. The bitter taste of that experience lives on in the hearts of their children. Unfortunately, this is very bad for the market.
Going by this dangerous trend, the Nigerian Stock Market, as we know it, will only continue to fall out of relevance and in a decade might just become extinct. Other traditional investments like Treasury Bills and FGN Bonds all sound esoteric and enticing until they figure out how "small" the returns are.
Based on the foregoing, it has become imperative for traditional investments opportunities to be made more attractive for young investors. One of the ways this could be achieved is to probably increase the interests accruable to investments. This is the only way to encourage millennials to consider buying shares or treasury bills.
More so, the authorities must work towards ensuring that investor confidence is guaranteed. Young investors who have once seen their parents incur loses and continue to do so may never invest their money in the same loss-making ventures.
[READ ALSO: Financial Expert explains why you should really consider mutual funds now]
Implications of CBN's latest devaluation and FX unification
This move portends significant implications for Nigeria's public and private sector.
The CBN devalued the naira by 5% at the end of last week, adjusting the official exchange rate to N380/$1  in a major move aimed at unifying the multiple exchange rate windows.
Whilst no official confirmation was issued by the apex bank, its website displayed the buying rate of N379/$1 and selling rate of N380/$1. Nigeria is clearly in a new exchange rate territory.
This move portends significant implications for Nigeria's public and private sectors. Since March when the CBN last depreciated from N307/$1 to N360/$1, there have been calls for further depreciation to at least close the gap between the official CBN rate and the more market-friendly NAFEX exchange rate. The NAFEX rate has traded between N385-390 in recent weeks.
READ MORE: Manufacturing sector in Nigeria and the reality of a "new normal"
Government Finances
For the federal government, devaluing the naira solves two major issues:
Firstly, it increases the amount available to share from the Federal Allocation (FAAC) between the FG and States.
Oil proceeds, which is a major source of revenue sharing for the government is deposited at the CBN and then converted to naira using the official exchange rate of N360/$1. The CBN's latest devaluation suggests more money for the government as the conversion rate is now N379/$1.
Government taxes that are priced in forex but converted to naira also stand to gain a major earnings boost.
Custom duties, petroleum profit taxes, and other charges will now be converted at an exchange rate of N379/$1 or whatever new rate the CBN chooses, assuming it will work within the NAFEX band.
A second issue the solves is the condition precedent towards obtaining a $3 billion world bank loan. The government applied for a world bank loan as part of its N2.3 trillion stimulus expected to be injected into the economy.
It is understood that a unification of the exchange rate is critical to the disbursement of the loan.
Whilst these are positives, the government will record cost escalations for some if not all of its capital projects and expenditure. From vehicle purchases to furniture and fittings we should expect a spike except the contracts are fixed-priced.
READ ALSO: Explained: CBN's powers to seize bank account of criminals
Private Sector
The impact of the latest devaluation will also be significant for the private sector.
While the private sector has recorded its own devaluation via the NAFEX and more recently the SMIS window, the impact of the CBN's latest move will still be felt.
Most private pubic partnership projects, contracts are priced using the CBN official exchange rate. The price will now change to N379/$1 at the least.
The latest move could also lead to a reopening of forex sale to BDC's which the CBN suspended in March as the Covid-19 pandemic ensued.
Sectors such as Power, Downstream Oil and Gas where the government has control over pricing will be significantly affected by the new price.
An example if fuel prices. With the exchange rate devalued again, fuel prices might increase if the impact of the exchange rate is reflected in the pricing template.
READ MORE: Expert simplifies FIRS' newly-introduced stamp duty
NAFEX versus Official Rate
It is not clear how the latest round of devaluation affects the NAFEX rate and other separate rates currently in use by the CBN. Whilst the disparity has been closed somewhat, we still do not know if these windows will be retained or if we will just have two major exchange rate windows, the BDC and the NAFEX.
Most critics of the CBN's forex policy prefer a uniform exchange rate that is floating or under a managed float system. The difference is that the CBN intervenes occasionally to ensure the exchange rate trades within its preferred band. It does this even if it means burning through its thin reserves.
We expect a string of circulars in the coming days which will perhaps douse some of the confusion providing needed clarity to the exchange rate situation.
Why Shoprite is "exiting" Nigeria
Shoprite's intention to divest from its Nigerian operations appears to be anchored on these factors.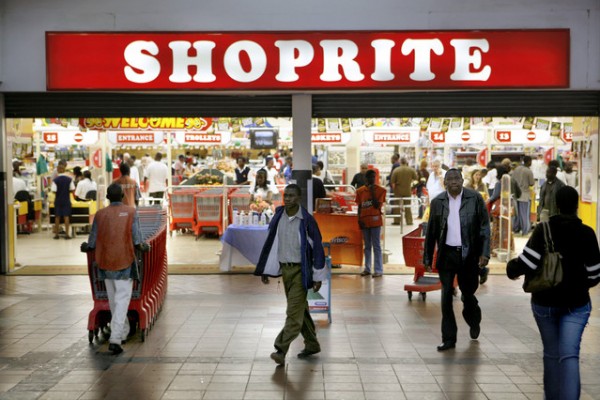 Africa's largest retail chain, Shoprite, announced on Monday that it is considering divesting from its Nigerian retail entity, Retail Supermarkets Nigeria, the owners of Shoprite Supermarket Nigeria.
Shoprite Nigeria operates about 26 outlets across the country and employs about 2000 employees who are 99% Nigerians. A divestment means it will sell its holdings to another investor who will continue to run the business.
According to the company, it has taken a decision to leave "following approaches from various potential investors" looking to invest in the Nigerian entity.  The group also said the decision is in line with its "re-evaluation of the Group's operating model in Nigeria" one of the 15 countries where it currently operates.
Shoprite also confirmed it has initiated a formal process to sell its entire stake in the Nigerian entity or a majority stake.
READ ALSO: Nigeria's retail outlets risk CBN sanction, debit N50 PoS fee from customers 
Why the exit?
Shoprite's explanation of its intention to divest from its Nigerian operations appears to be anchored on its investment expectation and operating environment. However, there could be more to it.
Firstly, Nigeria is a highly competitive space, where retail is the survival of the fittest. Following Shoprite's foray into Nigeria in 2002, the retail chain disrupted Nigeria's retail space giving ordinary Nigerians a taste of what it feels to shop with family and friends. But the fairy tale was not going to last forever. Previous retail outlets like Park n Shop rebranded and injected significant funds in their operations and business expansion. Park n Shop rebranded to Spar and has 14 outlets across the country. It only makes sense for them to divest having held on to the Nigerian operations for almost two decades.
Shoprite also competes with homegrown retail outlets especially in Nigeria's commercial city, Lagos State. Retail outlets like Ebeano, Citydia, and Adiba are now household names that are expanding rapidly across the state. There are also several neighbourhood supermarkets in the nooks and cranny of Nigeria's commercial capital piling pressure on Shoprite's market share. Shoprite does not disclose revenues from its Nigerian operations.
Shopping is also going online as evidenced by the growth in online shopping since COVID-19 hit Nigeria. Jumia, one of Nigeria's largest online retail outlets, revealed lower earnings in the first quarter of 2020. However, the company is optimistic of higher revenue growth in Q2, on the back of the COVID-19 lockdowns. Jumia had earlier noted that "we are seeing unprecedented demand to join the Jumia platform, especially for named brands. We believe those dynamics will help accelerate the shift toward online."
READ MORE: The deal that helped Lafarge stock gain 18% in less than a week
Local competitors like Spar and Ebeano already offer online shopping experiences and deliver goods to your doorstep. Shoprite's business model relies heavily on physical store visits.
As internet services become faster and cheaper, more Nigerians will rely on e-commerce to meet their shopping needs. Jumia has often struggled in this space and remains unprofitable. However, gravitation towards online shopping is inevitable and only those who have the capital and know-how will come out winners.
Jumia's competitor in this space, Konga, was also recently acquired by Zinnox. Konga was then merged with another Nigerian retail giant Yudula. Interestingly, Konga's model includes a combination of online and brick and mortar. The company has since been acquiring warehouses across the country as delivery points for its retail expansion drive.
Nigeria's harsh operating environment is also another major challenge Shoprite faces. The Muhammadu Buhari-led administration, through the CBN, has focused on supporting locally made goods by banning forex availability for the importation of local substitutes. This has negatively impacted the number of products Shoprite can sell and how many new shelves it can create per floor space. It also creates supply chain challenges, especially with locally produced goods.
Note that supermarkets sell on very thin margins. Therefore, the more products they can sell the higher the operating profits. Taxes are also higher and Nigeria's susceptibility to exchange rate devaluation is also a major challenge. The company makes money in Naira and must convert to dollars before converting back to Rands.
READ MORE: Exploring branchless, other digital forms of banking in a crisis
In 2017, when Nigeria last faced a currency crisis, Shoprite explained that it has about Rand 2.3 billion in cash locked up in Angola and Nigeria due to currency restrictions (inability to repatriate their money on time). Information reaching Nairametrics from traders suggest most foreign-owned investments in Nigeria are also facing "restrictions" due to limited liquidity in the NAFEX window.
Shoprite's less talked challenge is its Legal Issues. In 2011, Nigerian company A.I.C Limited (the Claimant), which is owned by Chief Henry Akande, issued a summons against Shoprite South Africa and its Nigerian subsidiary for an alleged breach of a joint venture agreement (the JV Agreement) allegedly concluded in 1998. The company took Shoprite to court claiming it breached on an agreement to set up the Nigerian arm of the business.
The Federal High Court then ruled in favour of AIC and awarded damages of $10 million against Shoprite in 2017. Shoprite appealed the judgment in the appeal court and lost again earlier in 2020. It is unclear if Shoprite has any plans to take the matter up to the Supreme Court. Could this be another reason why the owners are deciding to divest?
Whatever the reason is, officially, it perhaps makes sense for the company to exit its Nigerian operations in the light of the points mentioned above. Its Nigerian entity is worth 1.1 billion Rands (N24 billion) per its financial statements and could be worth more when the sale is eventually consummated.
Okomu Oil: Home is where the heart is
Okomu Oil has its tires on the track and is not slowing down.
Despite the teeming opportunities in the Nigerian agriculture industry, very few companies in the agro-space have been able to put in place the right processes and systems to create huge corporations out of farm produce. But there is one that is doing just okay. With a market capitalization of N71.5 billion, Okomu Oil Plc sits at the top of the industry.
While many companies, big and small, are losing their grip to the volatile global economic landscape of 2020 birthed largely by the COVID-19 pandemic, Okomu Oil has its tires on the track and is not slowing down. More so, it is not only proving COVID-19 wrong. Just a little over a year ago, Nairametrics had downgraded the company to a "Sell" owing to its faltering revenues. Today, with huge increases in revenue in 2 out of 2 completed quarters, Okomu Oil plc is laughing last.
READ ALSO: Okomu Oil half year profit drops by 57%
Winning by the Numbers
The company's Q1 financials had revealed a 65.2% growth in revenue as the company recorded a turnover of ₦6.9 billion in comparison to the ₦4.2 billion it made in Q1 2019. It had also recorded a profit after tax of over ₦2 billion in comparison to the ₦1 billion recorded in Q1 2019 resulting to a 101.4% jump in profits. In the second quarter of the year, its unaudited results reveal that the company has also increased its revenue. Turnover jumped by 50.6% from N4.3 billion in Q2 2019 to N6.5 billion in Q2 2020. This jump was not totally reflected in its profits after tax, however, owing to a significant increase in income tax from nothing in Q2 2019 to N462 million in Q2 2020. PAT was still able to increase by 30% to 1.9 billion in 2020. While there could be a myriad of reasons for the tax burden, the company's foreign operations are starting to rain on its parade.
Why it has to watch its foreign operations
Okomu Oil's wins can be directly attributable to its domestic activities, bolstered by devaluation impact and a larger market share as a result of border closures. A closer look at both its Q1 and Q2 financials reveal that a majority of its earnings have been from improved domestic operations. In Q1, the company witnessed a decline of ₦89.8 million in Q1 2020 from its 2019 figures, representing a drop of 12.5% in the comparative quarter. In Q2, its export revenue took an even greater plunge. Export sales experienced a 35.3% drop from N730.6 million in Q2 2019 to N473 million in Q2 2020. Domestic sales had increased by 67.9%.
READ MORE: GTBank declares closed period as directors meet July 22nd to consider H1 result
While this is reflective of the current economic activities, there are rising fears that it will keep relapsing. Failure to contain its activities will, sooner than later, have it in the same position as some of the equally large companies that had to eventually spin off ailing foreign activities. Reduced turnover is not the only diaspora-induced challenge being faced by the company. Its Q2 financials also reveal exchange losses of over N17 million for the quarter. Compared to the exchange losses incurred in Q2 2019 which stood at 1.2 million, it recorded a 1284% increase in foreign exchange losses.
In today's world, it is becoming increasingly tough for businesses to ward off the allure of foreign opportunities in trade as well as in the area of raising finance. While these, no doubt, have immense benefits to businesses, there's a long list of reasons why staying home and penetrating local markets has been underrated. Being able to source inputs locally, produce locally, and even finance locally is becoming even more of a luxury to Nigerian companies especially given the challenges around the relatively weak currency to stronger currencies.
Okomu Oil plc is creating a sustainable market in Nigeria and its efforts are paying off. Until order is restored, an increasing focus on its domestic market will do the company more good. That said, the company is a great stock to have in your investment portfolio to serve as a hedge against companies that have been negatively impacted by the pandemic. Its current share price is N74.95. While its price to book ratio is high at 2.2857 hinting that it could be overvalued, its EPS is stable at 7.33.