IMF warns against uncertainty surrounding global economy weakness
The International Monetary Fund (IMF) cut its global growth forecast in its October 2019 World Economic Outlook (WEO).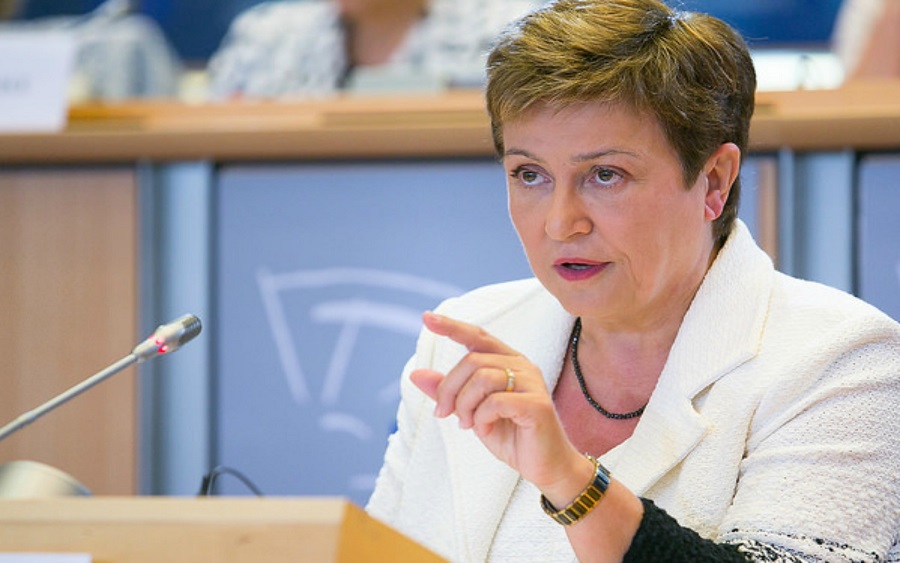 The International Monetary Fund (IMF) cut its global growth forecast in its October 2019 World Economic Outlook (WEO).  
The report revealed that the global growth estimate for 2019 was as high as 3.9% in mid-2018. However, economic momentum and weaker investment led to the slashing of the estimated growth as it reached a near standstill pace of 1.1% from 3.6% last year, though it also sees a pickup to 3.2% in 2020. 
This downward revision can be attributed to a number of factors such as continuing trade conflicts that have undercut business confidence and investment.  
READ MORE: IMF wants Nigeria to cut tax exemptions and incentives
The IMF made it known that the trade policies of the United States President, Donald Trump is currently one of the biggest global threats as investors await clarity on the possibility that the U.S.-China talks will ease global uncertainties. 
According to the IMF Chief Economist Gita Gopinath, the global economy is experiencing "a synchronized slowdown and uncertain recovery, "There is no room for policy mistakes and an urgent need for policymakers to cooperatively de-escalate trade and geopolitical tensions." Gopinath said. 
Prior to now, Nairametrics reported when the new Managing Director of the IMF, Kristalina Georgieva expressed her worries and issued a warning during her inaugural speech stating that the global economy would witness a synchronized slowdown in growth if they fail to resolve trade conflicts and work together.
READ ALSO: IMF warns about China's loan terms, as Nigeria's 'romance' with Asian country deepens
Georgieva had also hinted that the cumulative effect of trade conflicts would result in a $700 billion reduction in global Gross Domestic Product (GDP) output by 2020, or around 0.8%. 
What this means: If trade tensions continue in the path of increasing escalations, the Nigerian economy will suffer from it as the current tensed global trade environment will keep foreign investors on the sidelines. 
The continuing trade conflicts in the longer term could also hurt global demand in oil, thus pushing the benchmark price lower which in effect would cause a contraction in Nigeria's economic growth as the country is heavily dependent on oil exports. 
DPR says it has accurate data of country's crude production volume
Head, Public Affairs of DPR, Mr Paul Osu, said every litre of crude produced in the country was adequately captured during the process of extraction.
The Department of Petroleum Resources (DPR) has said that the agency has an accurate record of the crude oil produced in the country.
This is in reaction to claims that the exact volume of crude oil produced in the country has remained unknown.
While making this disclosure in a statement in Lagos, the Head, Public Affairs of DPR, Mr Paul Osu, said every litre of crude produced in the country was adequately captured during the process of extraction.
What the Head, Public Affairs of DPR is saying
Osu said DPR has the responsibility of monitoring and accounting for crude oil production which is the basis for determining the government's revenue through royalty payments by operators for sustainable development.
He said: "As a further step to boosting crude accounting process from production to export, DPR recently launched the National Production Monitoring System (NPMS).
NPMS is an online platform for direct and independent acquisition of production data from oil and gas facilities in Nigeria.
NPMS as an electronic data transmission tool at production and export terminals is designed to better predict the performance of oil and gas reservoirs and better production forecasting."
Osu noted that the NPMS tool enables DPR to exercise surveillance, perform production monitoring and data analysis for utilisation and forecasting.
He said DPR as a business enabler and opportunity house would continue to develop robust and strategic initiatives to ensure timely and accurate payment of rents, royalties and other revenues due to the government.
In case you missed it
It can be recalled that the Executive Secretary of the Nigeria Extractive Industries Transparency Initiative (NEITI), Orji Ogbonnaya-Orji, on Thursday said the exact volume of crude oil produced in Nigeria, especially at the deep offshore fields, is not known by anyone.
He said the exact volume of crude oil produced in Nigeria had remained unknown because of the absence of meters at wellheads and the lack of capacity to monitor deep offshore fields.
Sanwo-Olu flags off Red line rail project as Lagos compensates property owners
The 37-km Rail Mass Transit Red Line will traverse from Agbado to Marina, moving over 1 million commuters daily.
The Lagos State Governor, Babajide Sanwo-Olu, has flagged off the construction of the 37-km Rail Mass Transit Red Line, which will traverse from Agbado to Marina, moving over 1 million commuters daily.
This is as the state started the compensation of identified project-affected persons of the Lagos Rail Mass Transit Red Line project with the Governor handing over cheques to displaced property owners who were affected by the right-of-way.
The groundbreaking ceremony which took place at the Ikeja Train Station on Thursday was witnessed by the Minister of Transportation, Rotimi Amaechi, who was represented by the Director-General of the Nigerian Maritime and Safety Agency (NIMASA), Dr Bashir Jamoh, and the Deputy Governor of Lagos State, Dr Obafemi Hamzat.
What the Lagos State Governor is saying
Sanwo-Olu said the Red Line project which is to be fully operational in the last quarter of 2022 with 8 train stations from Agbado to Oyingbo, is another initiative of his administration to deliver enduring infrastructure for the transport system and make Lagos a competitive megacity.
The Governor said: "Today's flag-off of the construction of infrastructure for the standard gauge Red Line is another promise kept and it demonstrates, in practical terms, our commitment to achieve the objectives of traffic management and transportation pillar in our development agenda. This is because we recognise the role which an efficient transportation system plays in enhancing people's quality of life and as a major driver of socio-economic development.
The State's Strategic Transport Master Plan, which encompasses a number of projects that are germane to achieving our vision for a Greater Lagos, is founded on imperatives that seek to increase transport choices for all users and make the transit system integrated, attractive, convenient, affordable and accessible.
Since efficient transportation is the backbone of any economy, we are happy to be committing this investment in our transport infrastructure, so that our people can meet their daily targets and aspirations. This all-important transport project we are all gathered to witness today represents a major step in this direction."
Sanwo-Olu said that in order to facilitate smooth operations of the Red Line, the State Government would be constructing ancillary infrastructure, including 6 overpasses at strategic level crossing points along the rail corridor to eliminate interactions between the rail system, vehicular and pedestrian traffic.
The overpasses will provide grade-separated crossings that will enhance safety for the rail system and road users.
He said: "The unique characteristics of the Red Line is its integration with the Ikeja Bus Terminal, Oshodi–Abule Egba Bus Rapid Transit (BRT) lane, the future Orange Line, which goes from Ikeja to Agbowa, and the General Aviation Terminal One of the Murtala Muhammed International Airport through a skywalk.
Another unique feature of the Red Line is that all the stations have elevated concourses with either at grade island or side platforms for easy boarding and alighting of passengers. The Red Line also integrates with our Bus Terminals at Oyingbo, Yaba, Oshodi, Ikeja and Iju, giving modal options to our people in their daily commute, either for business or leisure."
The Governor presented cheques of different amounts as compensation to 25 residents whose properties, businesses and accommodation will be affected by the project. Over 263 properties are affected with many of the property owners and tenants smiling as they got their cheques.
What you should know
The Red Line is part of the state government's vision of an integrated multimodal transportation system contained in the State's Strategic Transport Master Plan (STMP), developed by LAMATA, which aims ultimately to birth a world-class transportation network that will support the state's profile, as the economic capital of Nigeria and Africa.
It is to raise mass transportation capacity in the State, complementing the Blue Line that traverses from Okokomaiko to Marina.
The rail corridor will be constructed in three phases. The first phase (Agbado-Iddo), which will be completed in 24 months, will be sharing the track with the Federal Government's Lagos-Ibadan Railway Modernisation Project up to Ebute – Metta and will have its dedicated track from Ebute – Metta to Oyingbo and reduce travel time from about two and a half hours to just 35 minutes.
Nairametrics | Company Earnings
Access our Live Feed portal for the latest company earnings as they drop.