This is when CBN will cut Monetary Policy Rate – Emefiele 
CBN Governor, Godwin Emefiele, has disclosed that the apex bank would move to further cut the MPR if inflation drops to a single digit.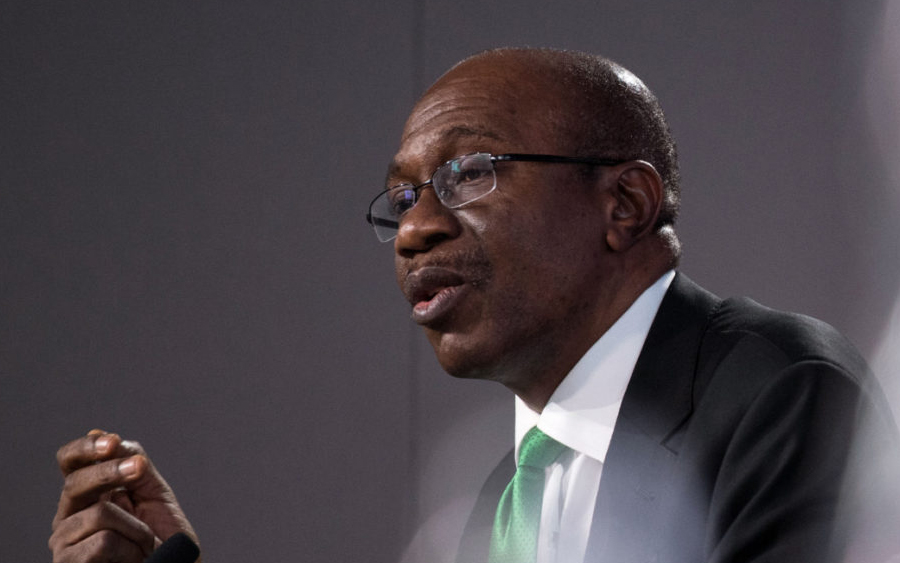 The Governor of the Central Bank of Nigeria (CBN), Godwin Emefiele, has disclosed that the apex bank would move to further cut the Monetary Policy Rate (MPR) if inflation drops to a single digit.
The CBN Governor disclosed this while speaking on Bloomberg TV in London on Tuesday.
Recall that Emefiele joined the Attorney General of the Federation, Mr Abubakar Malami and other top government officials as part of the delegation to the U.K over the court hearing of the on-going legal battle between the Federal Government of Nigeria and Process and Industrial Developments Ltd (P&ID).
[READ MORE: Facts behind CBN's retained MPR]
Reducing MPR: While speaking on Bloomberg, Emefiele stated that the CBN was anticipating single-digit inflation of 9% or below before considering cutting the MPR, and according to the Governor, this would happen in the year 2020.
Emefiele's statement reads: "How soon do I see interest rates coming down? I'm not seeing that coming this year. During the course of 2020, we may be able to see that but I can't see that until we begin to see the numbers showing inflation is trending downward.
"Unfortunately it's been sticky coming downwards as soon as it hit about 11%. The Monetary Policy Committee would love to see it at about 9% before beginning to aggressively think about easing."
The Current Rates: At the last Monetary Policy Committee (MPC) meeting held on the 20th and 21st September, the CBN Committee decided by a unanimous vote to retain the Monetary Policy Rate (MPR) at 13.5% and to hold all other policy parameters constant.
According to the MPC, the positive moderation in inflation, though slowly from 11.08% in July to 11.02% in August 2019 almost compelled the MPC to tighten the rates. However, the Committee was of the view that doing so in the midst of a fragile growth outlook would increase the cost of credit, and further contract investment and constrain output growth.
On loosening, the Committee felt that this would result in increased system liquidity and hence, heighten inflationary tendencies in the economy.
In particular, the MPC was of the view that loosening would drive growth in consumer credit but without a corresponding adjustment in real sector output.
Hence, the Committee was also of the opinion that retaining the current position of policy offers pathways to appraising the effects of the suit of heterodox monetary policy to encourage credit delivery to the real sector, especially in the light of the subsisting implementation of the Loan to-Deposit Ratio policy.
The disclosure by the CBN Governor slightly contradicts some experts' opinions who see the CBN altering the rates before the year ends.
According to some experts, the CBN would mull cutting the rates at the next MPC meeting having observed how inflation responds to the recent border closures and other policy measures on importation.
[READ ALSO: CBN advises government to adopt "Big Bang approach" to fixing economy]
What MPR, CRR and Liquidity ratios mean: MPR is the interest rate at which CBN lends to commercial banks. The MPR is the benchmark against which other lending rates in the economy are pegged and is usually used as an instrument to moderate inflation in the economy.
On the other hand, CRR simply refers to the ratio of customers' deposits (i.e. your money in the bank) which banks are expected to hold as cash or keep with the CBN.
Liquidity ratio refers to the amount of highly liquid assets that banks should hold in order to meet their financial obligations to customers.
How digital wallets have boosted financial inclusion in Nigeria   
Digital wallets are being projected to become the future of mobile payment.
Nigeria's payment space has taken giant strides towards becoming cashless. This is largely due to the pandemic which redefined the payment experience for a growing number of people and also made various payment services easily accessible.
With the adoption of digital payment methods such as internet banking, mobile banking, Unstructured Supplementary Service Data (USSD), banking cards, etc., mobile payment in Nigeria has been growing steadily over the years.
The advent of digital wallets has further helped to bring Nigeria closer to becoming a cashless society and deepen financial inclusion in the country. Recently, we have seen the emergence of different digital wallets that have been created to bridge the financial exclusion gap, while making financial transactions easier.  According to a report by Statista, as at 2020, about 10 percent of digital payments in Nigeria were transacted through e-wallets.
What is a digital wallet?
Imagine your normal physical wallet in your pocket; you keep money in it, and whenever you need to buy something or pay for a service, you take it out, remove cash, and make your payment.
A digital wallet, or e-wallet, serves the same purpose as your physical wallet but in an electronic form. Digital wallets allow users to make cashless transactions when shopping online, making in-store purchases, paying bills, sending or receiving money, etc. with their smartphones.
What they are saying?
In a telephone chat with Toyosi Yusuff, a Marketing & Communication expert in one of the leading tech companies in Nigeria, he stated that there had been increased adoption by upwardly mobile, tech-savvy Nigerians—especially those between the ages of 18 and 26 years.
He emphasized that e-wallets had helped tremendously to manage online spending. While speaking on the challenges, Yusuff stated that trust was still one of the biggest challenges to the adoption of e-wallets in Nigeria. "Young Nigerians are still unwilling to risk their funds with 'unstructured' fintech companies," he said.
Digital wallets in Nigeria
Here are a few digital wallets available in Nigeria:
Paga: Paga is a mobile payment company that enables people to digitally send and receive money by creating simple financial access for everyone. Founded in 2009 by Tayo Oviosu, Paga acts as a mobile wallet where any user equipped with a mobile device can conduct transactional activities using their device. With Paga, customers are able to deposit and save money, purchase prepaid phone credit, pay utility and cable bills, and make payments to retailers. Paga dominates the Nigerian e-wallet platform with over 17 million customers. It also offers basic banking services such as savings accounts, wire transfers, and merchant services.
Wallets Africa:  Wallets Africa lets users send and receive money, and make payments through their phones. Users can pay directly into bank accounts and pay utility bills in Nigeria from the app or website.
Founded in 2016 by John Oke, Wallets Africa also lets you create a virtual dollar card on their platform. These dollar cards can be used elsewhere for various kinds of payments, mostly international payments that may not be possible with local cards. It gives users a unique transaction experience and makes financial services more accessible to the under-banked.
GetBarter: GetBarter helps users to easily send and receive money instantly at no cost. Users can carry out bills payments directly on the app. It also allows users to create a virtual dollar card and a gift card for international transactions. GetBarter is owned by Flutterwave, a payment platform.
Chipper Cash:  Chipper Cash enables cross-border payments and money transfers within and between different African countries. Besides money transfer, it can also be used to pay bills (cable TV, internet, and electricity) and purchase airtime. Launched in 2018, the company offers mobile-based, no fee, P2P payment services in seven countries: Ghana, Uganda, Nigeria, Tanzania, Rwanda, South Africa, and Kenya. Chipper Cash has over 3 million users on its platform and processes an average of 80,000 transactions daily.
Why this matters
E-wallets are inherently more secure than physical wallets containing cash and debit cards that could get stolen or misplaced, thereby causing great distress to the owner. Also, your phone has security measures like passwords and fingerprint scanning to prevent other people from accessing it. Furthermore, the financial data carried in your digital wallet is itself encrypted.
The emergence of COVID-19 has made digital wallets the best way to go cashless in today's world, as they are easier to use than traditional payment methods.  One can easily perform transactions from anywhere by using a smartphone, tablet, desktop, laptop, or other similar devices.
Though mobile payment is still an emerging market, the future of financial transaction is mobile, and more people are rapidly adopting this trend. With digital wallets international transactions could be made less cumbersome, currency conversion during the transaction will be easier, and it is less prone to fraud.
COVID-19 Update in Nigeria
On the 8th of March 2021, 371 new confirmed cases and 13 deaths were recorded in Nigeria
The spread of novel Corona Virus Disease (COVID-19) in Nigeria continues to record significant increases as the latest statistics provided by the Nigeria Centre for Disease Control reveal Nigeria now has 158,906 confirmed cases.
On the 8th of March 2021, 371 new confirmed cases and 13 deaths were recorded in Nigeria.
To date, 158,906 cases have been confirmed, 138,502 cases have been discharged and 1,982 deaths have been recorded in 36 states and the Federal Capital Territory
A total of 1.6 million tests have been carried out as of March 8th, 2021 compared to 1.54 million tests a day earlier.
COVID-19 Case Updates- 8th March 2021,
Total Number of Cases – 158,906
Total Number Discharged – 138,502
Total Deaths – 1,982
Total Tests Carried out – 1,601,396
According to the NCDC, the 371 new cases are reported from 17 states- Lagos (102), Enugu (65), Edo (56), FCT (23), Ogun (20), Osun (18), Bayelsa (18), Rivers (15), Kaduna (14), Plateau (10), Oyo (8), Bauchi (7), Kano (5), Delta (4), Nasarawa (3), Niger(2) and Ekiti (1)
Meanwhile, the latest numbers bring Lagos state total confirmed cases to 56,444, followed by Abuja (19,350), Plateau (8,944), Kaduna (8,658),  Oyo (6,766), Rivers (6,680), Edo (4,670), Ogun (4,437), Kano (3,844), Ondo (3,066), Kwara (2,962), Delta (2,582), Osun (2,457), Nasarawa (2,251), Enugu (2,156), Katsina (2,060), Gombe (2,010), Ebonyi (1,951), Anambra (1,813), Akwa Ibom (1,610), and Abia (1,588).
Imo State has recorded 1,569 cases, Borno (1,308), Bauchi (1,274), Benue (1,188), Adamawa (942), Niger (919), Taraba (863), Ekiti (834), Bayelsa (779), Sokoto (769), Jigawa (496), Kebbi (412), Cross River (334), Yobe (293), Zamfara (222), while Kogi state has recorded 5 cases only.
READ ALSO: COVID-19: Western diplomats warn of disease explosion, poor handling by government
Lock Down and Curfew
In a move to combat the spread of the pandemic disease, President Muhammadu Buhari directed the cessation of all movements in Lagos and the FCT for an initial period of 14 days, which took effect from 11 pm on Monday, 30th March 2020.
The movement restriction, which was extended by another two weeks period, has been partially put on hold with some businesses commencing operations from May 4. On April 27th, 2020, Nigeria's President, Muhammadu Buhari declared an overnight curfew from 8 pm to 6 am across the country, as part of new measures to contain the spread of the COVID-19. This comes along with the phased and gradual easing of lockdown measures in FCT, Lagos, and Ogun States, which took effect from Saturday, 2nd May 2020, at 9 am.
On Monday, 29th June 2020 the federal government extended the second phase of the eased lockdown by 4 weeks and approved interstate movement outside curfew hours with effect from July 1, 2020. Also, on Monday 27th July 2020, the federal government extended the second phase of eased lockdown by an additional one week.
On Thursday, 6th August 2020 the federal government through the secretary to the Government of the Federation (SGF) and Chairman of the Presidential Task Force (PTF) on COVID-19 announced the extension of the second phase of eased lockdown by another four (4) weeks.
Governor Babajide Sanwo-Olu of Lagos State announced the closed down of the Eti-Osa Isolation Centre, with effect from Friday, 31st July 2020. He also mentioned that the Agidingbi Isolation Centre would also be closed and the patients relocated to a large capacity centre.
Due to the increased number of covid-19 cases in Nigeria, the Nigerian government ordered the reopening of Isolation and treatment centres in the country on Thursday, 10th December 2020.
On 26th January 2021, the Federal Government announced the extension of the guidelines of phase 3 of the eased lockdown by one month following the rising cases of the coronavirus disease in the country and the expiration of phase 3 of the eased lockdown.
On 28th February 2021, the federal government confirmed that the first tranche of Covid-19 vaccines will arrive in Nigeria on Tuesday, March 2nd, 2021.
On Tuesday, 2nd March 2021, the National Primary health Care Development Agency announced the arrival of the expected COVX Astrazeneca/Oxford covid-19 vaccines.
On Saturday, 6th March 2021, President Muhammadu Buhari and his vice, Yemi Osinbajo received vaccination against the covid-19 as the State House in Abuja.
READ ALSO: Bill Gates says Trump's WHO funding suspension is dangerous
Nairametrics | Company Earnings
Access our Live Feed portal for the latest company earnings as they drop.