Vodacom loses Chief Strategist, Yolanda Cuba, to MTN, as Fintech war intensifies
The battle to lead financial technology market among telecommunications companies just got more intense after @Vodacom's big-shot, @Yolandacuba, left the company to join @MTNGroup. Cuba's exit came as a shock, as she's one of the top executives being tipped to takeover Vodacom Africa's top job in coming years.
The battle to lead financial technology market among telecommunications companies just got more intense after Vodacom's big shot, Yolanda Cuba, left the company to join MTN. Cuba's exit came as a shock, as she's one of the top executives being tipped to takeover Vodacom Africa's top job in coming years.
Cuba was previously Vodacom's Chief Officer of Strategy and Merger & Acquisition before her move to MTN, where she is expected to act in the capacity of Group Chief Digital and Fintech Officer.
[READ ALSO: Airtel and MTN Nigeria are sending bad signals from NSE to Glo, 9mobile]
Why her appointment matters: Cuba's appointment came at a time MTN is restrategising its focus with plans to reduce revenue dependence on its voice business. MTN is gradually cutting down on its exposure to voice business, as mobile users preference has changed from traditional voice calls to social apps like Whatsapp, Facetime and Skype.
The Chief Executive Officer of MTN, Rob Shuter, had stated that the company is working on making digital and fintech to account for 15% of MTN's revenues over the next few years. Currently, the company makes about 59% of its revenue from voice. This number, according to MTN, is projected to continue dropping by about 2% a year.
MTN wants financial, digital, wholesale and business-to-business services to own 90% of its revenue, and the company seems hell-bent in achieving its goal for digital and Fintech business with the appointment of Cuba. The company, in a statement seen by Nairametrics, said,
"Under Yolanda's leadership, MTN will continue to progressively grow the Fintech and digital opportunities in Africa as we see these areas as major drivers of our BRIGHT growth strategy. Yolanda's start date will be communicated in due course."
[READ MORE: MTN's CEO accuses Malami of "playing games" with tax case]
For Cuba, joining MTN is a challenge she can't wait to take-on.
"This role gives me the opportunity to drive digital innovation and financial inclusion across the Group's vast footprint. I'm really looking forward to the new challenge and being part of the MTN leadership team."
The yellow company has already shown interest in Nigeria's financial market, applying for mobile money service which it will begin in the second half of 2019. It has already started providing this service in Cameroon, Ghana and Uganda.
Why losing Cuba is worrisome for Vodacom: Within five years in Vodacom, Cuba became the CEO of Vodafone Ghana (Vodacom subsidiary). During her time as CEO, she led the acquisition of 4G spectrum and maintained the company's second position in Ghana. Consequently, she was awarded Telecom CEO of the Year in 2018.
She later became the Chief Officer responsible for Strategy, M&A and Business Development for Vodacom. She was one of the top executives being tipped to takeover Vodacom's top job some day.
[READ FURTHER: 46-years after, Mr. Bigg's is not so big anymore]
Cuba served as the CEO of the defunct JSE-listed behemoth, Mvelaphanda Group, and Chief Strategist of SABMiller unit in South Africa.
Speaking on Cuba's exit, Byron Kennedy, the spokesperson for Vodacom, in a statement, said, "Vodacom can confirm that Yolanda Cuba has decided to leave the group to pursue an external opportunity.
"During a two-year stint as CEO of Vodafone Ghana, Yolanda led the acquisition of 4G spectrum and maintained Ghana's position as number two mobile operator.
"We would like to thank Yolanda for her contribution and wish her all the best in her future endeavours. Vodacom will announce a successor in due course."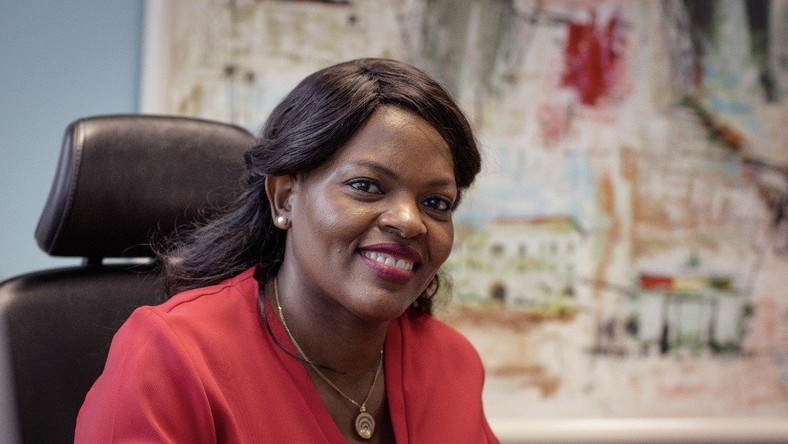 Meanwhile, MTN's Shuter has this to say about her value, "We are very pleased to bring an executive of Yolanda's calibre into MTN Group. Yolanda is a highly qualified and experienced executive, with a unique combination of operational telecommunications experience as well as finance, financial services and digital skills.
"I am confident that Yolanda's leadership will place us in good stead, as we intensify our efforts to build a digital ecosystem and scale our fintech offering across our markets."
[READ ALSO: See the best Nigerian mobile banking apps in H1 2019]
What you need to know: Vodacom is leaving Nigeria. The company sold its Vodacom Business Africa unit to Synergy Communications, but will operate as a Pan-African telecommunications networks provider through local relationships like the one with Synergy Communications.
Trump to return to social media with his own platform in 2 months
Over 2 months after he was banned from Twitter, Facebook, others, Donald Trump is working on making a return.
Former US President, Donald Trump, will be back on social media in the near future, over 2 months after he was banned from Twitter, Facebook, and others.
This follows plans by the former President to launch his own social media platform within the next 2 or 3 months.
This disclosure was made by Trump's Senior Adviser, Jason Miller, on Sunday, March 22, 2021, during a chat with Fox News' #MediaBuzz.
READ: President Biden revokes Trump's ban for green card applicants in US
What Donald Trump's Senior Adviser is saying
Jason Miller, who was a spokesman for Trump's 2020 campaign, told the media network that the former President would soon get back to social media space with a new platform of his own that would completely redefine the game.
Miller, while talking to Fox News, said, "I do think that we're going to see President Trump returning to social media in probably about two or three months here, with his own platform. And this is something that I think will be the hottest ticket in social media; it's going to completely redefine the game, and everybody is going to be waiting and watching to see what exactly President Trump does."
Although he did not provide more in terms of details, Miller revealed that Trump had been having high-powered meetings at his Florida resort, Mar-a-Lago, with various teams regarding the venture, and that numerous companies had approached Trump.
Miller said the new platform was going to be big, while also predicting that Trump would draw tens of millions of people.
In case you missed it
It can be recalled that former President Trump was banned from Twitter after the January 6, attack on the Capitol by his supporters. He was accused of inciting his supporters after he rejected the US Presidential election result which he claimed was a fraud.
Twitter last week said it would seek public input on when and how it should ban world leaders, saying it was reviewing its policy and considering whether leaders should be held to the same rules as other users.
Tesla investor sues Elon Musk for causing problems with his tweets
An investor in the US electric car maker, Tesla, has sued the company's founder, Elon Musk over alleged erratic tweets.
Elon Musk, the controversial multi-billionaire is being sued by an investor in his company. Musk is being accused by the investor of unsettling the markets and exposing his investors to high risk with his "erratic tweets".
Chase Garrity an investor in the US electric car maker, Tesla, has sued the founder of the company for his erratic Twitter messaging which according to him, has exposed the company to high legal risks and billions in price losses.
The 105-page lawsuit was published in the US court of Delaware and it accuses Musk of violating the settlement negotiated with the US Securities and Exchange Commission in 2018.
READ: Battle of Titans: Elon Musk, Jeff Bezos share world's richest title
The lawsuit also includes the entire Tesla board and its supervisory body for not calling Musk to order.
In May 2020 Musk caused a 14 billion dollar loss in market value on a single trading day with a series of unguarded tweets. He tweeted about Tesla's market value being too high and how he was going to dispose of all physical assets.
The lawsuit stated that any further unbridled tweet from Musk would have dire consequences for Tesla's future funding opportunities.
READ: Elon Musk gains $25 billion in a day, as Tesla surges by 20%
What you should know 
Remember Nairametrics posted a story on how Musk tweets once again caused a serious ripple effect in the crypto world. His tweet helped Bitcoin gain $6000. He later invested heavily in Bitcoin.
Manager Magazine stated that analysts are not comfortable with such a move and view it as some kind of manipulation.
Musk in April last year posted a joke photo of Tesla going bankrupt. This once again unsettled investors.
Tesla Management has not released a statement on this fresh lawsuit.
Nairametrics | Company Earnings
Access our Live Feed portal for the latest company earnings as they drop.