Difference Between Coupon And Yield
Here is all you need to be capable of distinguishing between these two investing terminologies. This is essential as they are two common words you will hear when people talk about bonds, shares or any fixed income security.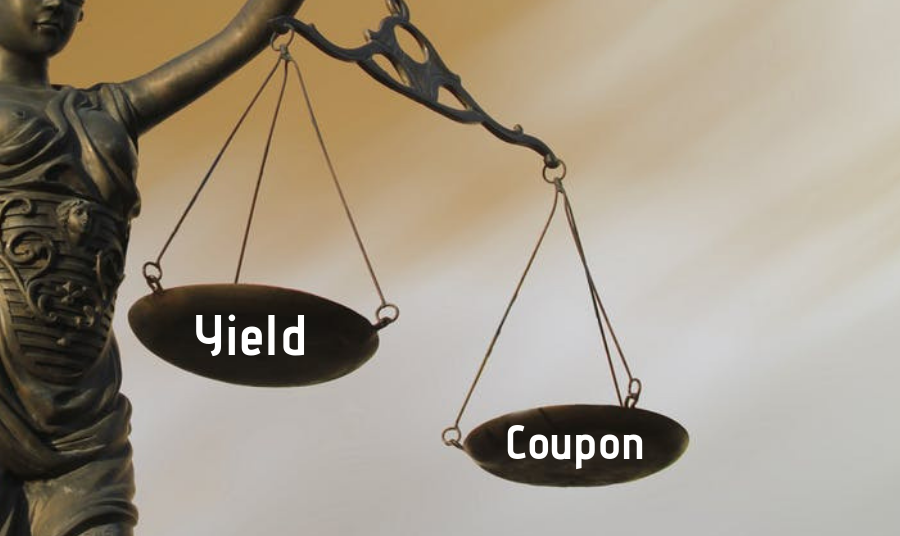 Some experts are uncertain of what to expect from money markets in H2 2020
In the meantime, liquidity in the Nigerian banking system is said to be below N100 billion
Money market experts are uncertain over what to expect as the second half of the year takes off. This uncertainty is specifically hovering over the treasury bills and OMO (Open Market Operations) side of the market, according to Constance Onyia, a Fixed Income Dealer with Access Bank Plc.
Speaking to CBN Africa, yesterday, about what is happening in the money markets and what to expect during the second half of the year, Onyia said the CBN's changing strategy has made it difficult to be predictive.
"Actually, we are expecting OMO auction tomorrow. But being that CBN's strategy has changed (in the last two months they've not been rolling over all the maturities and sometimes they don't even come for OMO), we don't know what to expect; if there will be OMO auction tomorrow or not. And even if there's an auction, they might no rollover everything on offer. So, we see that the strategy has changed a bit and we don't know what to expect for the month or for the second quarter," she said.
READ ALSO: African Development Bank to launch African Economic Outlook 2020 Supplement
Meanwhile, when the Head of Fixed Income Trading at United Bank for Africa (UBA) Plc, Bankole Odusanya, was asked the same question, he said "the Debt Management Office has a calendar and what is on play is simply that the exact amount that is maturing is what they plan to offer. If we saw that they increased the amount they wanted to offer, then you could be tinkering with your pricing. So, the amount that is maturing by-weekly (on Thursdays) is what they plan to raise."
In the meantime, liquidity in the Nigerian banking system is said to be below N100 billion. And because this liquidity level is not excessive, experts do not expect the CBN to come in heavily with OMO maturities. As Odusanya pointed out, the amount of OMO bills by the CBN has reduced significantly over the last few weeks, even as the apex bank now relies more on Cash Reserve Ratio (CRR) to control liquidity.
READ MORE: Nigerian Treasury Bills fall to 3.84% per annum
You may watch both interviews with Onyia and Odusanya by clicking here and here.
Nigerian Treasury Bills plunge to 3.39% per annum
The CBN sells T-bills on a bi-weekly basis to investors and it is one of the safest investments available.
The latest data from the Treasury bill auctions concluded recently shows that Nigeria's 364-day tenor fell to 3.39%. On the other hand, Stop rates printed lower for the 91-day tenor at 1.789% and 182-day tenor, which went for 1.91%.
At the Treasury bill auction, the Debt Management Office sold N10 billion on the 91-day paper, N20 billion on the 182-day, and N58.857 billion on the 364-day bills.
Ladi Belo a treasury analyst at a Nigerian tier-1 bank told Nairametrics in a phone chat interview, commenting on the latest treasury bill auction. He said;
READ ALSO: CBN's N154.38 billion T-bills auction over subscribed by 46% as rates fall marginally  
"At the NTB auction that was conducted yesterday, we witnessed significant demand, especially on the new 1-Yr bill. This is still because of the exclusion of local corporates and retail investors from investing in Omo bills. As a result, the stop rates across board closed lower than the preceding auction at 1.789%, 1.91%, and 3.39% on the short, medium, and long-tenures papers, respectively. I expect these rates to go down further in the secondary market as market players try and fill their unmet demand."
Quick facts: The massive disparity between the subscriptions and the offers recorded suggests investors are willing to earn a negative real return, compared to the higher risk in other assets such as stocks and real estate.
Basically, the CBN sells T-bills on a bi-weekly basis to investors and it is one of the safest investments available. Interests are paid upfront, with the principal paid in full upon maturity.
READ MORE: Official: Nigerian Treasury bills calendar for Q3 2020
Understanding Treasury Bills: Basically, when the government goes to the financial market to raise money, it can do it by issuing two types of debt instruments – treasury bills and government bonds.
Treasury bills are issued when the government needs money for a short period, while bonds are issued when it needs debt for more than, say five years. The issuance of treasury bills is also used as a mechanism to control the circulation of funds in the economy.
Treasury bills have a face value of a certain amount, which is what they are actually worth. However, they are sold for less. For example, a bill may be worth N10,000, but you would buy it for N9,600. Every bill has a specified maturity date, which is when you receive the money back.
Download the Nairametrics News App
The government then pays you the full price of the bill (in this case N10,000), giving you the opportunity to earn N400 from your investment. The amount that you earn is considered as the interest, or your payment for lending your money to the government. The difference between the value of the bill and the amount you pay for it is called the discount rate and is set as a percentage.
Telegram agrees to settle with SEC over $1.7 billion 'unlawful' digital coins 
 Telegram now has 30 days to pay SEC's penalty and up to four years to pay back investors.
The world's top social messaging app, Telegram has agreed to settle with the U.S. Securities and Exchange Commission (SEC) amounting to $18.5 million over its $1.7 billion "unlawful" token sale.
As part of the agreement, Telegram must also inform the SEC should it choose to issue another digital coin within the next three years. 
READ MORE: Facebook to pay $550 million over privacy violations lawsuit 
 The settlement between Telegram and the U.S. SEC effectively ends the months-long legal battle between the two parties, which began when the SEC sued Telegram back in Oct. 2019  
 Telegram now has "30 days to pay SEC's penalty and up to four years to pay back investors." 
READ ALSO: CBN warns SMEs not to pay any fee to access its N50 billion stimulus package
 Why it matters: Telegram has already stopped the TON project. Therefore, the settlement will not have an immediate effect on Telegram's futuristic projects. While the official TON chain is inactive, community developers and validators launched a fork of TON (called Free TON) last month. 
As we've previously covered, this case and settlement could have more significant implications for other SAFT raises, especially for those projects that have yet to launch. 
Explore advanced financial calculators on Nairametrics