Evidence that Sanusi is right about Nigeria 'going bankrupt'
Earlier this week while delivering a speech during the 3rd National Treasury Workshop organised by the Office of the Accountant General of the Federation, former CBN Governor, Sanusi Lamido, declared that Nigeria is "bankrupt and the country is heading to bankruptcy".
Earlier this week while delivering a speech during the 3rd National Treasury Workshop organised by the Office of the Accountant General of the Federation, former CBN Governor, Sanusi Lamido, declared that Nigeria is "bankrupt and the country is heading to bankruptcy".
As expected, the media space was set agog by Sanusi's utterance, even as Nigerians reacted with the respective biases.
To say the least, the question on everyone's lips is if Nigeria is indeed bankrupt or broke? Here are some insights into Sanusi's claims that may further affirm that Nigeria is on the threshold of bankruptcy.
Nigeria's rising Debt and Cost: Data obtained from Nigeria's Debt Management Office (DMO) as at the end of 2018 shows that the country's public debt (domestic and external) stood at a whopping N24.3 trillion. This is about 19% of the country's Gross Domestic Product.
Nigeria's rising debt has attracted wide criticisms both locally and internationally. For example, earlier this year the International Monetary Fund (IMF) questioned Nigeria's ability to repay its N24.39 trillion debt.
The IMF also expressed concern about the rollover risks

, arguing Nigeria's capacity to refinance debt might drop in the future. Meanwhile, the Federal Government has since rebuffed such claims, stating that the nation's debt burden is sustainable.
[Also Read: IMF questions Nigeria's capacity to repay N24.3 trillion debt]
However, the cost of servicing such debts has become worrisome in recent years. Analysis of data obtained from the budget office and DMO reveals the following:
Nigeria spent the sum of N2.16 trillion for service debts in 2018
The cost of debt service rose by 2.16% between 2017 and 2018
In the last four years (2015-2018), Nigeria spent a whopping N6.46 trillion to service debt.
Some recent claims: Recently, the African Development Bank (AfBD) revealed that Nigeria spends more than 50% of its revenue on debt servicing. The president of the AfDB, Akinwunmi Adesina, revealed this while speaking at the annual general meeting of AfDB in Malabo, Equatorial Guinea.
[Also Read: Nigeria spends 50% of its revenue on debt servicing]
While the Accountant General of the Federation, Ahmed Idris recently admitted that Nigeria's debt servicing is worrisome, he was quick to dismiss the report that servicing the country's debt at the rate of over 50% of the total national income will destabilize the economy.
Fact check: According to the report from AfDB, the debt service rate of over 50% of Nigeria's revenue is indeed damaging. A cursory look at Nigeria's debt and revenue becomes quite fundamental.
Nigeria's debt service in 2018 was N2.16 trillion, while Government revenue stood at N3.96 trillion
Total debt service in four years stood at N6.46 trillion, while the country's revenue for the same period was estimated at N12.32 trillion.
Hence, in 2018, Nigeria's debt service is 54% of the total revenue.
In the last four years, Nigeria's debt service gulps 52% of the total country's revenue.
Based on the foregoing, it is crystal clear that in order to fund Nigeria's N8.83 trillion budget, the country will have to borrow a lot of money. This only affirms Sanusi's claims. Just recently, the Former Minister of Budget and National Planning, Senator Udo Udoma, stated that the Federal Government of Nigeria will borrow N1.6 trillion this year to fund the budget.
[Read Also: Nigeria to borrow N1.6 trillion to fund the 2019 budget]
Subsidy gulps Trillions: Again, the Emir Sanusi was critical of the Buhari Government's continued payment for fuel subsidy which is gulping trillions of naira. Interestingly, the Buhari camp moved against a similar subsidy payment during the former administration of Goodluck Jonathan.
"What is more life-threatening than the subsidy that we have to sacrifice education, health sector and infrastructure for us to have cheap petroleum? If truly President Buhari is fighting poverty, he should remove the risk on the national financial sector and stop the subsidy regime which is fraudulent." – Emir Sanusi
To establish Sanusi's claims, it has been revealed that Nigeria spent N11 trillion on outstanding subsidy claims in the last six years. Recently, the committee headed by Senator Kabir Marafa approved the payment of N129 billion as outstanding subsidy claims to 67 petroleum marketers. It can only get worse if urgent action is not taken.
To say the least, the banking sector is also bearing the brunt. Much has been said of non-performing loans threatening the Nigeria banking sector. However, a look into bank loan data obtained from the Nigeria Bureau of Statistics (NBS) shows that Nigeria government loan portfolio from banks is estimated at a whopping N1.36 trillion as of April 2019. On the chart, the Government loan portfolio ranks third, just after Oil and Gas and Manufacturing sectors.
But is Nigeria Bankrupt? By definition, being bankrupt is a state of being legally unable to pay once debt as and when due. While bankruptcy is the legal process of declaring this debt and how creditors will be paid. Nigeria is nowhere near bankruptcy by this definition.
However, Sanusi is right after all: Without gainsaying the fact, Nigeria is on the verge of bankruptcy if it continues on this economic pathway.  The government has not done enough to demonstrate how it intends to grow its revenues enough to cover for its rising debt service. Whilst it focusses on dishing out government handouts, bailouts, and subsidies, it hasn't presented cogent plant of boosting its revenues.
Breaking: CBN includes sugar, wheat on FX restriction list
The CBN is set to include sugar and wheat in the forex restriction list.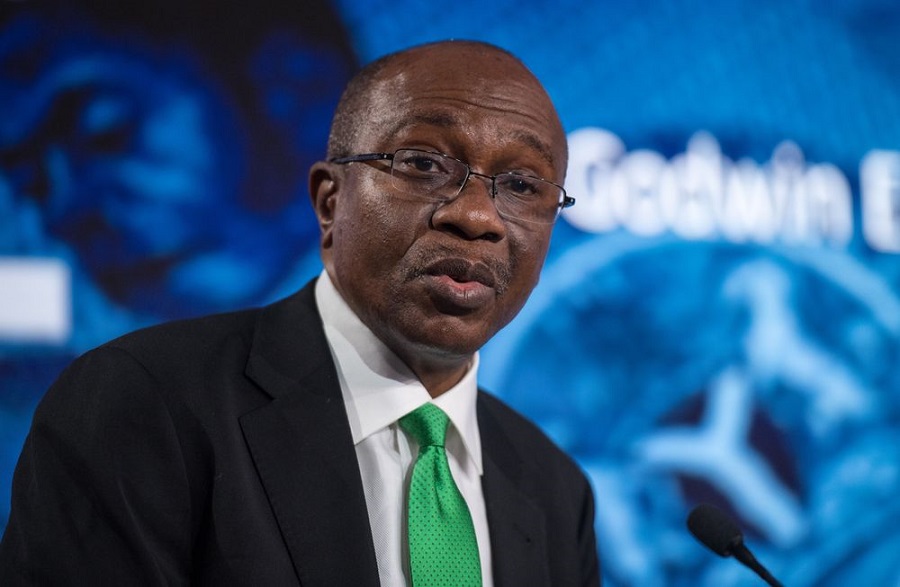 The Central Bank of Nigeria has announced plans to place sugar and wheat on its FX restriction list.
The plan was disclosed by the apex bank via its verified Twitter handle in a statement credited to the CBN governor, Godwin Emefiele.
The tweet stated: "Sugar and Wheat to go into our FX restriction list. We must work together to produce these items in Nigeria rather than import them. #Emefiele."
Sugar and Wheat to go into our FX restriction list. We must work together to produce these items in Nigeria rather than import them . #Emefiele

— Central Bank of Nigeria (@cenbank) April 16, 2021
What you should know
The CBN governor, Mr Godwin Emefiele, had earlier (on Thursday) given this hint while on an inspection visit to the proposed $500 million sugar processing facility in Nasarawa state, belonging to Dangote Sugar.
In 2015, the CBN listed 41 items that had been placed on its FX restriction list citing that the move was necessary to conserve the nation's foreign reserve and boost local production of the items on the restriction list.
Some of the items which made the 2015 list are margarine, poultry and eggs, rice, and cement.
In 2020, the apex bank included maize in its FX restriction list.
Atsu Davoh is building ways for Africans to easily acquire and spend cryptocurrency
Atsu Davoh has gone from failed projects to running one of Ghana's most innovative startups.
In recent times, the tech space in Africa has experienced immense growth, with the introduction of several key players and disruptors across various sectors. One sector that is also rising is the cryptocurrency space with Africa experiencing greater crypto ownership and trade volume.
The number of Bitcoins processed on a single day reached its highest value at the beginning of 2021, as more people displayed interest in the cryptocurrency. Due to its fast adoption, more fintech players have created platforms that have made trading with cryptocurrency easier. One of such players is Atsu Davoh who calls himself the "product guy."
Atsu Davoh dropped out of college (Carleton College) in the United States and moved back to Ghana to help innovate on Africa's financial infrastructure. Atsu first discovered Bitcoin in 2017 during the first boom when it became mainstream. Before then, he and his co-founder Samuel Baohen had been involved in many failed projects.
He developed a USSD system where people could buy bitcoin through their phone numbers, like tying crypto to phone numbers in a native way. This was one of the first iterations of Bitsika.
Atsu was invited to Join Binance Labs Incubator by Yele Bademosi where he got $150,000 after graduating from the incubator. Bitsika went on to raise around $900,000 from investors. This brought the total seed raised to $1,050,000.
This USSD system worked in Ghana but didn't work in Nigeria. Atsu and his team then pivoted the platform to a donation crowdfunding platform, which allowed people living in other countries to send donations to African nationals in need of the funds before finally building it into a cross-border crypto remittance platform.
Bitsika users can deposit and remit money across multiple currencies using the app, with all monies deposited in Bitsika stored in USD credits or stable-coin.
Bitsika has over 50,000+ downloads on Playstore and processed nearly $40 million in 2020 with $18,872,474 in deposits, $17,890,807 in payouts (withdrawals), and $3,189,834 in internal peer-to-peer transfers.
Despite a few unfavourable regulations surrounding cryptocurrency in Africa, the market has shown no signs of slowing down as more people are building products that will make trading seamless.
Nairametrics | Company Earnings
Access our Live Feed portal for the latest company earnings as they drop.