Forte Oil's new CEO speaks on "next moves" following acquisition
In this interview session, the new CEO of @ForteOilNg, Olumide Adeosun, gives detailed information about the company's future plans following the acquisition. He also has a message for minority shareholders.
In the past few days, Forte Oil Plc has been a major subject of discussion among Nigerian business stakeholders and investors. This is due to the company's recent acquisition by Prudent Energy Services Ltd.
In view of this development, Nairametrics, alongside some other selected media outlets, were invited for an interactive session with the company's newly-appointed Chief Executive Officer, Olumide Adeosun.
In the course of the session, Adeosun gave detailed information about the company's future plans. He also used the occasion to allay the fears of the company's minority shareholders who may be wondering what is in store for them following the acquisition.
Note that this is Adeosun's first media briefing since he assumed his current position as the Chief Executive Officer of Forte Oil Plc.
Interview Excerpts:
Can you describe the company's mode of operation since its establishment? 
It is purely a downstream company. If you get back to its formation in December 1964, that was precisely what it was. Over the past decades, the company has built on that heritage through various stages and phases of our products, and I believe that the company. It has been an interesting journey for the company, in its asset base, people, culture, systems, and structure.
So, its been there, it does exactly what you will expect it to do. The company supplies, and trades in multiple streams; including lubricants.
In terms of corporate values, the values are exactly what you would expect from a company of this large size. We are committed to our customers, the people, and in knowing the system.
Why was Forte Oil acquired?
It is important to understand that this company was built for over 65 years. We have looked at what it will take to grow a business like this from scratch. Prudent has something mentioned and we looked at what it will take to move to 430 stations, e.t.c. And then we realised that it will take another leap of time; the market price, the share price, plus the premium that was loaded on it.
I'm sure if you speak to the co-investor, he will tell you that it's a pretty good value, around 64 billion. This is because if you try to organically assemble this today, it will be quite the task. So, I think we did well.
[READ MORE: What next for Forte Oil Plc following Prudent Energy's takeover?]
What are your plans for the minority shareholders?
Our message for the minority shareholders of Forte Oil Plc is that we are growing a sustainable business here. We would like everyone who holds a share as a shareholder in this company to retain his or her shares; the shares are not going anywhere. The company hasn't gone anywhere in over 65 years and we do not think it's going anywhere in the next 65 years. 
Our desire is that people who are shareholders in this company continue to be stockholders in this company, and bear from the dividend we hope to disburse over time. 
In order to make this commitment sustainable, we have put together a strong board. The board is blessed with seasoned industry professionals. Amongst those that seat on the company's board are people who are not just in our core purpose but also in related business along the value chain. 
What do you plan to do with the existing brand?
As you know, the name Forte Oil is actually personal to an individual and that individual was the co-investor that has sold his shares. It is likely he won't hold it against us to rebrand.
It is very likely to rebrand somewhere down the line in terms of priority, and how we will like to run things. Although, it's not a day's activity, it's something that is being considered in a strategic way. 
What does the acquisition represent?
At this particular point in time, I believe that this particular co-investor is one of the best and most important things to happen to this company because there is this very symbiotic marriage between two companies that have very complimentary processes. 
Forte Oil's upstream has massive exposure to the international trading market, and also has deep funds for its bankers as trading partners. So if you bring in the products. Forte oil easily has the third largest chain of retail outlet, so what that does is that it gives us at Prudent, the opportunity to provide Forte Oil with a much more simplified supply of valued chain and now we're not buying through intermediaries, we are buying directly. 
In view of this, we are enjoying the benefits of credit or credit lines that Prudent itself is giving and you're also getting the benefit of the diversity of assets that Prudent brings to the party. 
Forte Oil has assets, and Prudent has complementary assets. We have a large terminal in Apapa, and a large terminal in the South-South. What that does is that it creates the means for us to move faster to the north and to the south.
What is the new phase of the company's business after this acquisition?
With the pre-divestment that happened, the management of Forte Oil will have assets to some retain. This will conduct working capital and we will do some of the things which were not possible in the past, due to some constraints. But the divestments of all the other businesses are stripping this down to its core. 
Secondly, Prudent means business by one thing, it's an industry of margins, narrow margins. We have figured out how to pump products from a source in the most efficient way possible. In this regard, a lot of learning will flow down in terms of increasing the operations and efficiency of the company.
What's your strategic focus for the next phase? We are going to focus on significant things, which are giving our people the right talent, giving them access to other opportunities like synergies.
As we will look to diversify products, there's an opportunity for people to move across Prudent.
We also want to prioritise our customers. We get our people happy first, then we focus on our customers. Interestingly, our ambition for our customers is that we want to make sure that every interaction a customer has with Forte Oil is the most positive one, at least one of the most positive interactions he will have that day.
We also want to focus on our shareholders; we have the co-investors and we have the minority shareholders. For us, we don't really see the difference between them, we are going to try using some of the focus to reduce our operating margin
In this phase, I also want to make sure that the business is sustainable. We are going to make sure that we run a business that adapts to changes. As we know, there are very important things happening in the two energy mix right now, where people are talking about renewables, people are open-minded and looking at all of the technology that comes from the space. We want to make sure that we are on top of it and we're not left behind in any way. 
[READ FURTHER: Forte Oil Plc declares a special interim dividend to shareholders]
More so, on corporate governance, for us, it is significant. Forte Oil is a leader and we don't want to change that. We intend to consolidate our report ahead of time and get them across to our regulators, and investors as at when due.
In this new phase of the company, transparency is also one of our key focuses. We will create an open platform, such that everyone will see how we intend to wait around. With this, we believe we can create a truly representative business that sends across Nigeria.
CBN includes sugar, wheat on FX restriction list
The CBN is set to include sugar and wheat in the forex restriction list.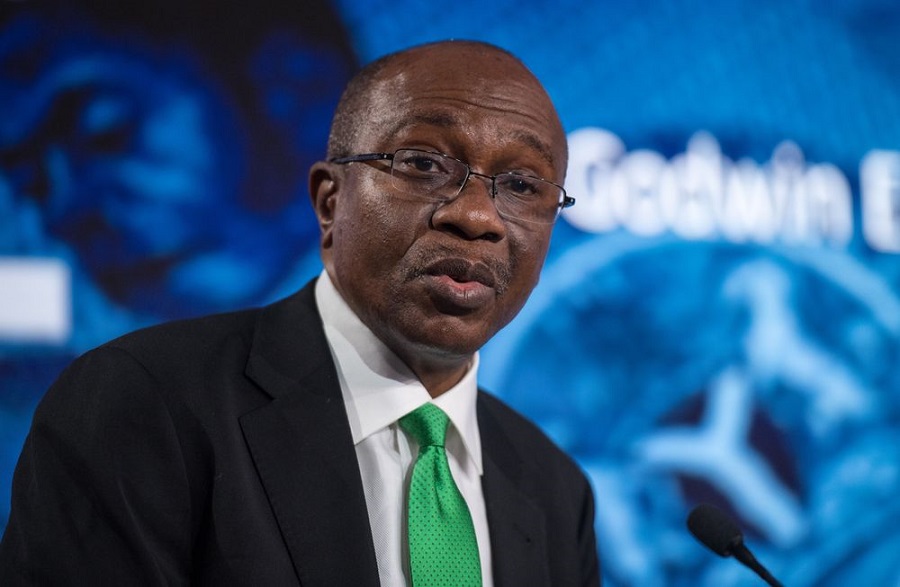 The Central Bank of Nigeria has announced plans to place sugar and wheat on its FX restriction list.
The plan was disclosed by the apex bank via its verified Twitter handle in a statement credited to the CBN governor, Godwin Emefiele.
The tweet stated: "Sugar and Wheat to go into our FX restriction list. We must work together to produce these items in Nigeria rather than import them. #Emefiele."
Sugar and Wheat to go into our FX restriction list. We must work together to produce these items in Nigeria rather than import them . #Emefiele

— Central Bank of Nigeria (@cenbank) April 16, 2021
It would be recalled that over the years, the CBN has been reviewing its list of restricted food items to include more items, with the most recent being the addition of maize, a widely-consumed staple food in the country.
What you should know
The CBN governor, Mr Godwin Emefiele, had earlier (on Thursday) given this hint while on an inspection visit to the proposed $500 million sugar processing facility in Nasarawa state, belonging to Dangote Sugar.
In 2015, the CBN listed 41 items that had been placed on its FX restriction list citing that the move was necessary to conserve the nation's foreign reserve and boost local production of the items on the restriction list.
Some of the items which made the 2015 list are margarine, poultry and eggs, rice, and cement.
In 2020, the apex bank included maize in its FX restriction list as it directed all authorised dealers to immediately discontinue the processing of Forms M for maize/corn importation into the country.
Nairametrics had also earlier explained in its publication following the new policy shift, that the government's premise for deciding to restrict FOREX on food is faulty, especially since Nigeria has not attained full food security and the agricultural sector is still struggling.
Atsu Davoh is building ways for Africans to easily acquire and spend cryptocurrency
Atsu Davoh has gone from failed projects to running one of Ghana's most innovative startups.
In recent times, the tech space in Africa has experienced immense growth, with the introduction of several key players and disruptors across various sectors. One sector that is also rising is the cryptocurrency space with Africa experiencing greater crypto ownership and trade volume.
The number of Bitcoins processed on a single day reached its highest value at the beginning of 2021, as more people displayed interest in the cryptocurrency. Due to its fast adoption, more fintech players have created platforms that have made trading with cryptocurrency easier. One of such players is Atsu Davoh who calls himself the "product guy."
Atsu Davoh dropped out of college (Carleton College) in the United States and moved back to Ghana to help innovate on Africa's financial infrastructure. Atsu first discovered Bitcoin in 2017 during the first boom when it became mainstream. Before then, he and his co-founder Samuel Baohen had been involved in many failed projects.
He developed a USSD system where people could buy bitcoin through their phone numbers, like tying crypto to phone numbers in a native way. This was one of the first iterations of Bitsika.
Atsu was invited to Join Binance Labs Incubator by Yele Bademosi where he got $150,000 after graduating from the incubator. Bitsika went on to raise around $900,000 from investors. This brought the total seed raised to $1,050,000.
This USSD system worked in Ghana but didn't work in Nigeria. Atsu and his team then pivoted the platform to a donation crowdfunding platform, which allowed people living in other countries to send donations to African nationals in need of the funds before finally building it into a cross-border crypto remittance platform.
Bitsika users can deposit and remit money across multiple currencies using the app, with all monies deposited in Bitsika stored in USD credits or stable-coin.
Bitsika has over 50,000+ downloads on Playstore and processed nearly $40 million in 2020 with $18,872,474 in deposits, $17,890,807 in payouts (withdrawals), and $3,189,834 in internal peer-to-peer transfers.
Despite a few unfavourable regulations surrounding cryptocurrency in Africa, the market has shown no signs of slowing down as more people are building products that will make trading seamless.
Nairametrics | Company Earnings
Access our Live Feed portal for the latest company earnings as they drop.