Rubies Bank – The Future is here
Rubies is a fully digital banking platform, offering zero fee banking targeted at millennials, young professionals, SMEs, quasi-financial institutions and FINTECH companies.
One of the largest industries currently undergoing a seismic shift is financial services. The stark contrast from traditional financial institutions to new age (digital) financial services is tremendous, ranging from business efficiency, cost savings, increased accuracy, improved competitiveness, greater agility and most importantly enhanced security. The slick experience and transparency offered by challengers' bring a great shift in customer loyalty.
Nowhere is that belief more embedded than in retail banking, a sector that has been the focus of consumer dissatisfaction and mistrust. Nevertheless, over 80% of Nigeria current account holders still use one of the 'big six high street banks. If FINTECH really is going to make an outsized impact in this market, it needs to attract a more radical movement of customers and capital. And that means it needs a digital bank which can break out of the niche market of early adopters and into the mainstream.
We believe that bank is going to be Rubies, and we're excited to have invested a $2M investment round to power the Technology driving it.
Rubies is a fully digital banking platform, offering zero fee banking targeted at millennials, young professionals, SMEs, quasi-financial institutions and FINTECH companies. Rubies brings new concepts to Banking Technology, Marketing and Engagements powered by Cloud Technology, AI and analytics.
Rubies Unique features and offerings:
Rubies ensures that every feature has something to offer to make the experience highly personalized. The following are some of its features:
Account number can be personalised (some use their phone numbers)
Free debit cards having your preferred name e.g. a nickname. It is also delivered to you at no cost
Money Request – for those who keep on giving excuses of not having your account number or even those that owe you money. This feature allows a customer to request money and instantly get credited from someone's account number or even phone number. You request money from people, they only approve and you get credited. That simple!
Proximity Transfer – Sending money using location (The new Bluetooth for money transfer)
How Rubies allows customers earn money
With the aim of empowering people, Rubies brings to the market a unique feature, which allows anyone, become an Independent banker. What does it mean to be an independent banker you might ask?
If you are willing to run your own mini bank, Rubies serves as the platform for you to do that freely. You simply on-board your own "banking customers" using your unique link and every time your customer does a transaction, you earn money. Rubies wants everyone to take a piece of the pie.
The possibilities are endless.
What makes Rubies different from other banks?
Starting with the most sensitive topic these past couple of months, which is bank charges. Typically, traditional banks incur a lot of avoidable expenses – such as monstrous Technology cost, huge marketing cost, branch operations cost, big bankers' salaries and so on. Rubies is entirely powered by Technology, home-grown software, Artificial Intelligence and analytics.
The cost is driven down to near zero. This makes it possible to waive charges and avoid all the "hidden" charges that traditional banks levy their customers. For interbank transactions, Rubies charges N21 (instead of N52 that traditional banks charge), this being the cost of the transaction payable to the switches, while Rubies earns nothing.
The technology invested in building Rubies is unparalleled, with the fast pace world of ever-growing technology, the use of artificial intelligence, data analytics and recommender systems aid to personalize each individual's banking experience. In addition, for scalability, cloud computing allows scale, seamless customer growth as well as ensuring top-notch security.
Rubies has taken the disruptive and unorthodox approach to marketing using advocacy based techniques such as Independent Banker, freelance Brand Ambassadors and direct data-driven marketing.
Rubies is a Banking app on steroids. It provides banking functions much like any other banking solutions but it offers much more than most banking app. Here are some of the things that make it so much better:
Social Appeal – you interact with other users on Rubies and get alerted when your buddies join Rubies, Proximity feature allows you to see people around you. The look and feel is sleek, neat and appealing.
Money Market – this is where you make money either by investing or providing money to those who need it on loan. Rubies Credit score is growing in popularity as a standard.
Open Banking – API-based architecture of Rubies will give it the scale it yearns. Open banking architecture allows smooth integration with FINTECH companies, SMEs and other quasi-financial institutions while Rubies serves a layer-2 Clearing function.
Bank-as-a-service – Rubies Technology is available for use by any other financial institutions playing in Banking, Finance, Technology and FINTECH industries, thus offering bank as a service.
Rubies is here to disrupt and give every individual control of their banking experience as well as financial freedom.
Nigeria's tier-1 banks earn N18.4 billion from account maintenance charges in Q1 2020
Banks' earnings from account maintenance charges, though low when compared to other revenue streams, still make up a significant portion of their non-interest income.
Nigeria's tier-1 banks — comprised of First Bank, UBA, GTBank, Access Bank, and Zenith Bank (FUGAZ) — generated a total of N18.4 billion from bank maintenance charges in Q1 2020. The sum is 17.12% more than N15.6 billion that was generated by the five banks during the comparable period in 2019.
This is according to recent checks by Nairametrics Research, a breakdown of which revealed that Zenith Bank generated the most income from account maintenance fees, followed by Access Bank and then, GTBank.
See the breakdown below.
Zenith Bank Plc: N5.7 billion
Access Bank Plc: N3.9 billion
Guaranty Trust Bank Plc: N3.3 billion
First Bank Plc: N3.1 billion
United Bank for Africa Plc: N2.3 billion
What you should know about account maintenance charges
Banks' earnings from account maintenance charges, though low when compared to other revenue streams, still make up a significant portion of their non-interest income.
According to the latest directive by the Central Bank of Nigeria on bank charges, Nigerian banks are allowed to charge their customers a "negotiable" N1 per mille. What this means is that banks can charge N1 per N1000 debit transactions on current accounts. Banks' account maintenance charges come in the form of COT (i.e., Commission on Turnover) which is a charge levied on customer withdrawals by their banks. In Nigeria, these charges are mainly applicable to current accounts.
"Current Account Maintenance Fee (CAMF): Applicable to current accounts ONLY in respect of customer-induced debit transactions to third parties and debit transfers/lodgments to the customer's account in another bank. Note that CAMF is not applicable to Savings Accounts," said part of the CBN directive.
(READ THIS: You must know these terms if you want to own a bank account in Nigeria)
Customers don't like account maintenance charges
Interestingly, a lot of Nigerian bank customers are not keen on bank maintenance charges. After all, nobody likes to get debit alerts, especially so when such is coming from their banks. Perhaps, the main reason some customers dislike bank maintenance charges is because they tend to be higher than the interest capitalised entitled to such customers. Professor Ayobami Ojebode of the Department of  Communications and Language Arts, University of Ibadan, recently complained about this, saying:
"Dear bank, I see o! Don't think I don't see you! You credit me N50 interest on my savings and debit N150 for account maintenance & card fee etc! Come here, what do you really think you are doing?"
MTN, Dangote Cement, Nestle, others top best dividend stocks in 2019
MTN Nigeria, Dangote Cement, Nestle Nigeria, Stanbic IBTC, GT bank and Zenith bank were the highest paying dividend stocks on the floor of the NSE in 2019. 
Dividend payment is one of the very few ways available for investors to earn a constant stream of income. It is also the main reason shareholders hold unto their shares in a company. Therefore, it brings great satisfaction to investors when these companies declare dividends to their shareholders.
According to data gathered by Nairalytics, the research arm of Nairametrics, MTN Nigeria, Dangote Cement, Nestle Nigeria, Stanbic IBTC, GTBank, and Zenith bank were the highest paying dividend stocks on the floor of the Nigerian Stock Exchange in 2019.
With a combined value of N691.23 billion, these six companies make up a diverse list that includes the telecommunication, food and beverage, industrial manufacturing, and banking sectors.
Here's a breakdown
MTN Nigeria Communications Plc posted a total dividend per share of N7.92k (interim – N2.95k, Final – N4.97k), summing up to N161.21 billion. A dividend payment was made on May 19, 2020, to shareholders whose names appeared on the Register of Members as at April 17, 2020.
(READ MORE: Why these companies remain on NSE's delisting radar)
The telco giant's revenue of N1.17 trillion in 2019 against N1.04 trillion in 2018 represents a 12.6% increase. Profit after tax (PAT) also increased significantly by 38.7% from N145.7 billion in 2018 to N202.1 billion in 2019.
Dangote Cement Plc declared a total dividend payout of N272.65 billion. This breaks down to every shareholder of the company earning N16 on every share held. A payment expected to be made after the company's annual general meeting is scheduled for June 16, 2020, with a qualification date of May 25, 2020.
It is worth noting that the cement manufacturing giant posted a profit after tax of N200.52 billion, a 48.6% decline when compared to a profit of N390.33 billion recorded  in 2018.
Nestle Nigeria Plc declared a total dividend of N70 per share to its shareholders, indicating a total payment of N55.49 billion. The leading consumer goods maker generated N284.04 billion in revenue for the year ended December 2019.
The multinational's profit after tax stood at N45.68 billion, a 6.22% increase compared to N43.01 billion posted in 2018.
(READ MORE: List of Dividends announced so far in 2020 (May))
The management of Stanbic IBTC Holdings Plc proposed a total dividend per share of N3 (interim – N1 and final – N2) per ordinary share of 50 kobos each, which summed up to N31.57 billion. The interim dividends (N10.47 billion) was paid on October 3, 2019, while the final dividend of N21.01 billion is expected to be paid by June 18, 2020.
The bank's full-year result shows that the group's gross earnings increased by 5.2% from N222.36 billion in 2018 to N233.81 billion in 2019.
Stanbic IBTC's profit after tax for the period  recorded a marginal increase of 0.8% to N75.04 billion compared to N74.44 billion in 2018.
Guaranty Trust Bank Plc declared a total of N82.41 billion to shareholders on March 30, 2020 as dividends for the year ended 2019. This indicates a total dividend payment of N2.8 per 50 kobo ordinary shares to shareholders. Final dividend was paid on March 30, 2020 to shareholders whose names were registered in the company's register of members as at March 18, 2020 which was the qualification date.
GTBank, which is Nigeria's most capitalized bank, posted a profit after tax of N196.85 billion, showing a 6.5% increase compared to N184.71 billion recorded in the preceding year.
Zenith Bank Plc also paid N2.8 dividends per ordinary share to its shareholders, summing up to N87.91 billion (interim – N9.42 billion, Final – N78.49 billion) for the year ended 2019. The bank posted profit after tax (PAT) of N208.84 billion in the year under review.
(READ MORE: CFOs of FUGAZ and their 3-year performance record)
The final dividends were paid to Shareholder in March 2020 whose names appeared in the Register of Members as at close of business on 9th March 2020.
What is dividend?
A dividend is a payment by a company to its shareholders, which is paid at the end of a quarter or year. Note that dividends are usually cash payments, although they can sometimes be paid out in company stock.
(READ MORE: NSE Set to Host Sustainable Capital Markets Forum to Promote Green Finance in West Africa)
What to look out for in dividend stocks
The following are what you should look out for in dividend stocks:
Payout Ratio: The dividend payout ratio is the percentage of a company's earnings it uses in paying out dividends. This is an important metric to use when digging into dividend stocks you are considering to buy.
Dividend History: This is simple. All a potential investor needs to do is to check the track record of the company. Many of the companies mentioned above have trackable and impressive track records, including long records of paying annual and interim dividends.
Industry Strength: Here, it is better to own shares in a decent company in a great and lucrative sector than owning shares of a great firm in a tough industry.
IMF advises banks to suspend dividend payment
However, halting dividend payments may not go down well for many retail and institutional investors, who rely on bank dividends for regular income.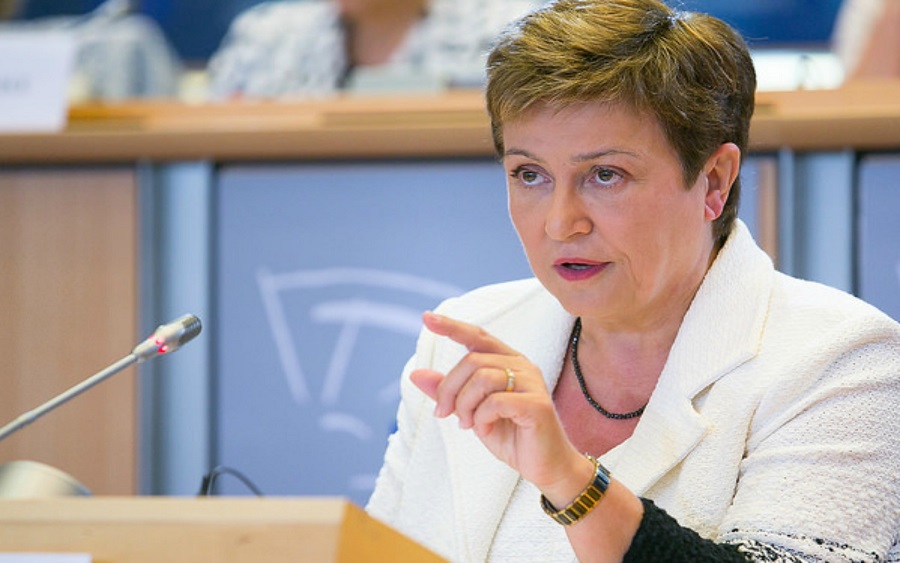 In an article published on its website, International Monetary Fund (IMF) Managing Director, Kristalina Georgieva, advised banks to halt dividend payment for now. According to her, with the expectation of a deep recession in 2020 and partial recovery in 2021, banks' resilience will be tested. Therefore, having in place strong capital and liquidity positions to support fresh credit will be essential.
According to the article, one of the steps needed to reinforce bank buffers is retaining earnings from ongoing operations which are not insignificant.
IMF staff calculate that the 30 global systemically important banks distributed about US$250bn in dividends and share buybacks last year.
READ MORE: State Governments: Another cycle of non-payment of salaries to begin soon
In a circular dated January 31, 2018, the Central Bank of Nigeria (CBN) stipulated new conditions for eligibility of Nigerian banks to pay dividend and the quantum of dividend to be paid out by banks who are eligible. Prior to the release of the circular, dividend payout policy for Nigerian banks had been spelt out in Section 16(1) of BOFIA 2004 (as amended) and Prudential Guidelines for DMBs of 2010. The circular provided guidelines and restrictions around divdidend payout for banks based on NPL ratio, CRR levels, and Capital Adequacy Ratio (CAR).
However, there were no regulatory restriction on dividend payout for banks that meet the minimum capital adequacy ratio, have a CRR of "low" or "moderate" and an NPL ratio of not more than 5%. However, it is expected that the Board of such institutions will recommend payouts based on effective risk assessment and economic realities. Indeed, current economic realities demand caution.
Current economic realities mean that banks face asset quality threats, further devaluation threat which may impact capital in some cases, and lower profits which in turn affects the quantum of capital retained. Ideally, these should reflect in NPL ratio and CAR ratio and should immediately restrict banks' ability to pay dividend. However, there is usually a time lag before these ratios begin to reflect the new economic realities. Therefore, IMF's advise may come in handy for many banks.
(READ MORE: Software security limitations cited as major reason for Covid-19 bank rush)
That said, halting dividend payments may not go down well for many retail and institutional investors, who rely on bank dividends for regular income. Banks like Zenith and Guaranty Trust have a good history of consistent dividend payment with attractive yields which is a major attraction for many shareholders.
---
CSL STOCKBROKERS LIMITED CSL Stockbrokers,
Member of the Nigerian Stock Exchange,
First City Plaza, 44 Marina,
PO Box 9117,
Lagos State,
NIGERIA.