Applications for Canadian Permanent Residency hit 35,100 in 5-months
The total number of Invitations to Apply (ITAs) issued so far to Express Entry Candidates who applied for the Canadian Permanent Residency in 2019 has hit 35,100.
The total number of Invitations to Apply (ITAs) issued so far to Express Entry Candidates who applied for the Canadian Permanent Residency in 2019 has hit 35,100. This is contained in the Canadian Immigration Newsletter which was recently published for May 2019.
According to the newsletter, Canada has issued a total of 35,100 ITAs to Express Entry candidates so far in 2019.
Recall that Nairametrics earlier reported that ITAs candidates rose to 31,250 in April, implying that ITAs issued to Express Entry Candidates increased by 12.3% in just one month.
In recent weeks, Express Entry Candidates received invitations to apply for a provincial nomination through Express Entry-aligned immigration streams in British Columbia, Alberta, Saskatchewan, Manitoba and Ontario.
Admission targets for 2019: Canada has increased its 2019 admissions target for the three Federal Skilled programs managed by the Express Entry system and is slated to raise them again in 2020 and 2021.
Note that Canada plans to welcome 350,000 new permanent residents by the year 2021. The admissions target for 2019 is 81,400 new permanent residents, which is an increase of 6,500 admissions compared to 2018's target of 74,900.
How to Improve Your Chances: Express Entry candidates can improve their CRS score in a number of ways, with a nomination through Canada's Provincial Nominee Program being the most viable in terms of points.
Express Entry Candidates with a provincial nomination for permanent residence receive an additional 600 points toward their CRS score, which effectively guarantees an invitation to apply for Canadian Permanent Residency.
Some Recent Events: The total invitations issued to skilled worker candidates in 2019 hit 4,320 in May 2019. Manitoba invited 196 immigration candidates to apply for a provincial nomination for Canadian permanent residence in an Expression of Interest draw held May 23.
Out of the 196 Letters of Advice to Apply (LAAs) issued, 119 went to candidates in the Skilled Workers in Manitoba Stream, 60 went to Skilled Workers Overseas candidates, and 17 were issued through the International Education Stream to international graduates of Manitoba post-secondary institutions.
Also, Ontario and Alberta issued new 557 invitations to apply for a provincial nomination for Canadian permanent residence to Express Entry candidates draws held May 15 and 22 respectively with Comprehensive Ranking System scores as low as 301.
Applying on your own: Nairametrics has explained how you can apply for Canadian Permanent Residency on your own. We live in a world where we have many more opportunities today than we did yesterday. So many people can move, travel and build a life in a totally different place from where they were born. Some countries, like Canada, have impressive policies that allow skilled people to earn permits to live and work in Canada.
Read further: [How to Apply for Canadian Permanent Residency from Nigeria on Your Own]
America announces modified guidelines for foreign students returning to its schools
As a student already enrolled in a US university or about to be enrolled, you should read this carefully.
The U.S Immigration and Customs Enforcement (ICE), on Monday announced a much-needed update regarding the guidelines for foreign students hoping to return to campuses for the autumn semester.
A statement published on ICE's website clearly spelled out the guidelines. Unfortunately, for some of the foreign students, these guidelines might as well come across as confusing instead of straightforward/explanatory.
Before we proceed to ICE's modified guidelines, it is important to first note that some American universities have announced various modalities for class attendance amid the ravaging pandemic. For instance, while some schools said their classes can only be attended online, for now, others said they are committed to regular classroom settings, even as some others have plans to combine both face-to-face lecturing and online classes.
As a foreign student planning to return to school in the USA this autumn, the modality adopted by your school will simply determine how ICE's new guidelines will affect you. Let us now examine the guidelines.
Modifications to ICE's Student and Exchange Visitor Programme (SEVP)
Guidelines on online classes: ICE said that foreign students enrolled in American universities offering only online classes, will not be granted student's visas to return to the country. Now, this is tricky because even though such students are permitted by the U.S Customs and Border Protection to enter the country, they will not just be granted their student visas by American consulates anywhere in the world. The implication of this, therefore, is that no foreign student is allowed to be in the USA while undertaking online classes offered by an American university.
Foreign students who wish to return/remain in the USA during the autumn semester must ensure that their classes will not be taught online. If it so happens that a foreign student is enrolled in a school offering only online classes, such a student has the option of transferring to another school that is conducting face-to-face lecturing. Otherwise, the student should stay back in their home country and take the full course online.
Foreign students who are already in the country but enrolled in schools offering only online courses must also ensure that either switch to a different school with the face-to-face lecture option, or leave the country willing. Otherwise, such foreign students risk being deported.
"Nonimmigrant F-1 and M-1 students attending schools operating entirely online may not take a full online course load and remain in the United States. The U.S. Department of State will not issue visas to students enrolled in schools and/or programs that are fully online for the fall semester nor will U.S. Customs and Border Protection permit these students to enter the United States. Active students currently in the United States enrolled in such programs must depart the country or take other measures, such as transferring to a school with in-person instruction to remain in lawful status. If not, they may face immigration consequences including, but not limited to, the initiation of removal proceedings," part of the guideline said.
 Guidelines on regular classes: The revised guideline specified that foreign students enrolled in American schools where classes are still taught face-to-face are required to be available on campus to attend classes during the autumn semester. Upon return to campus, such students are allowed to decide whether to combine both physical class attendance and online classes.
Other guidelines: Foreign students attending US schools that are combining online classes with physical lectures will not be allowed to only attend online lectures while on campus. Instead, they must attend both the online classes and face-to-face classes.
Some issues to consider
-It is obvious that ICE is trying to stop some foreign students from trooping to the USA when they can remotely receive lectures online. After all, this will help prevent further trans-border spread of COVID-19. However, online classes come special challenges, especially for students in foreign countries. The time difference is one of such challenges; what happens when an online class is holding by 12 noon at Harvard when a student somewhere in South East Asia supposed to be sleeping?
-For now, American consulates around the world have suspended visa issuance. This poses a serious challenge to foreign students who were just freshly admitted into American universities and will student visas before they can be on campus for the autumn semester. Now, the saddest part is that any student who does not resume along with the other students, will not be allowed to resume later.
-Meanwhile, Nigerian students hoping to return to the US for their studies would have to grapple with immigration uncertainties mentioned above, along with foreign exchange troubles. Recall that even though the Central Bank of Nigeria announced that it has resumed the sale of dollars to Nigerian students studying abroad, the exchange rate for naira against the dollar remains high. And this is a major challenge to any student who will need to pay the high tuition fees of American universities.
Africa's richest woman agrees to cooperate in corruption probe
Isabel dos Santos was accused of misappropriating billions of dollars in Angolan State-owned assets.
Africa's richest woman, Isabel dos Santos, has agreed to cooperate with Angolan authorities who are probing her after corruption allegations were leveled against her last year. As Nairametrics had earlier reported, dos Santos was accused of misappropriating billions of dollars in Angolan State-owned assets during the 38-year rule of her father.
Earlier on, dos Santos had denied any wrongdoing and accused the Angolan Government of witch-hunting her. In other words, she categorised the allegations against her as politically motivated. Now, she has changed her stance.
READ MORE: Dangote had to withdraw $10m to confirm he was wealthy
Bloomberg quoted her to have said,"What I want to resolve as quickly as possible are the attacks on my reputation and my good name. I'm available, as I always have been, to cooperate with justice and to provide all the necessary clarifications so that the truth prevails."
Recall that last week Thursday, the Portuguese Government seized shares she owns in the electrical equipment company – Efacec Power Solutions SGPS SA. Interested bidders are now being sought after to take up the 72% owned by Isabel dos Santos. Portugal also froze her bank accounts in February.
READ MORE: Portugal blocks Africa's richest woman, Isabel dos Santos' bank accounts
Isabel dos Santos, worth $2.4 Billion, is accused by the Angolan courts of misappropriating over $5 billion during her father's, Jose Eduardo do Santos rule. In May, she claimed the probe against her was based on a fake passport. She denies any wrongdoing and claims the Angolan government has been aware of her location and should be able to contact her.
FRC orders the Big Four to separate auditing from consulting services
The Big Four firms now reportedly generate the largest portions of their revenues from consultancy services.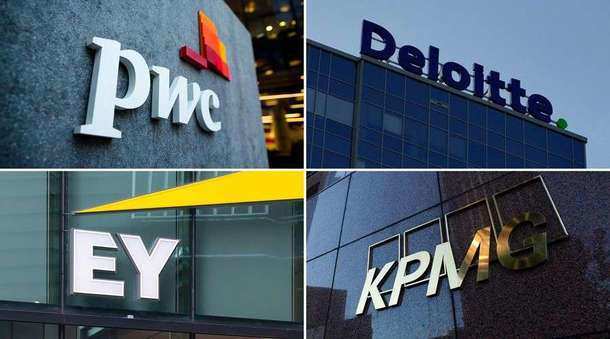 The world's four biggest audit firms —KPMG, PwC, Ernst & Young, and Deloitte — have been directed by the Financial Reporting Council (FRC) to plan towards separating their audit services from their consulting services.
The deadline for compliance with this directive is June 2024.
A statement that was published on the FRC website said this directive is 'world-leading'. The statement also explained why it became imperative to separate the firms' operations towards ensuring that they deliver the uttermost quality audit services for the good of public interest.
By the time the operational separation officially takes effect starting from June 2024, FRC said it would be expecting the following outcomes:
That audit practice governance would prioritise audit quality and protect auditors from influences from the rest of the firm that may try to divert their focus away from audit quality.
That the total amount of profits distributed to the partners in the audit practice does not persistently exceed the contribution to profits of the audit practice.
The culture of the audit practice prioritises high-quality audit by encouraging ethical behaviour, openness, teamwork, challenge and professional scepticism/judgement.
Auditors act in the public interest and work for the benefit of shareholders of audited entities and wider society.
While commenting on this development, FRC's Chief Executive Officer, Sir Jon Thompson, said the FRC is committed to reforms on how corporate finances are reported. Further aspects of the reform package will be introduced over time, he said.
"Operational separation of audit practices is one element of the FRC's strategy to improve the quality and effectiveness of corporate reporting and audit in the United Kingdom following the Kingman, CMA and Brydon reviews. Today the FRC has delivered a major step in the reform of the audit sector by setting principles for operational separation of audit practices from the rest of the firm. The FRC remains fully committed to the broad suite of reform measures on corporate reporting and audit reform and will introduce further aspects of the reform package over time," Thompson stated.
Do note that the FRC reached this decision after engaging in extensive discussions with the Big Four. It was also agreed that the audit firms will submit an implementation plan to the FRC latest by October 23rd, 2020.
Recall that it was just last week when Nairametrics reported how the Big Four earned the sum of N7.53 billion as audit fees from Nigeria's most capitalized firms in 2019. Interestingly, these firms now reportedly generate the largest portions of their revenues from consultancy services. As a matter of fact, only about 20% of their revenues now come from auditing fees.