Kachikwu advocates refineries repair as petrol landing cost reaches N180 per litre
The Minister of State for Petroleum Resources, @IbeKachikwu, on Tuesday, said the landing cost of Premium Motor Spirit, also known as petrol, is now higher than the pump price of N145 per litre.
The Minister of State for Petroleum Resources, Ibe Kachikwu, on Tuesday, said the landing cost of Premium Motor Spirit, PMS,  is higher than the pump price of N145 per litre.
This, according to him, explains why it is now most important to repair Nigeria's  refineries.
While discussing why the subsidy was reintroduced, Kachikwu said the landing cost of Premium Motor Spirit is N35 higher than the pump price. He added that the rise in global crude oil prices after the 2016 hike in petrol price, brought back the subsidy.
READ MORE: FG replies International Monetary Fund's fuel subsidy removal request
The minister said the following during an interview on NTA:
"You have very positive argument that says, 'Why is this happening; let's get it out.' Once you do it, the streets get flooded by protesters. You have five or six or 10 days of no activity in the country. So, any attempt to remove the subsidy must be very well-managed.

"Even when there was a consensus on how we were going to do it, we still had an issue at the very tail end of the moment; NUPENG and PENGASSAN supported but, of course, the other members of the trade unions pulled out.

"Eventually, thankfully, Nigerians saw through what we were trying to do and let it happen. And thank God that happened at the time because when you look at the gap today, the landing cost is about N180 per litre and sale price is N145. Imagine if it (pump price) was N90-something; we will literally be a bankrupt country."

"The point I am making is that anything you are going to do on subsidy requires a very efficient management of information – getting everybody who are stakeholders to tie into it.

"Should we deal with the removal of subsidy? I was gung-ho when I assumed this position that there was no way I was going to tolerate a subsidy regime at the time in 2015 of about N1.2tn-N1.3tn. There was just no way; we didn't have the capacity to continue to pay."

"So, I convinced the President that this needed to happen; thankfully, he listened, he agreed and we did. Now, we then had over-recovery period for quite a while and then we went into this upswing in prices that has now taken us again into under-recovery."
READ MORE: FG to pay ₦39.9 billion monthly Subsidy as Petroleum Import declines
Fixing refineries is the solution to subsidy
Kachikwu said its necessary for the country to fix the refineries before proposing the removal of subsidy. He said though the government can fund the repair, he advised that it should be private-funded instead.
"I think, first and foremost, we need to find a way of fixing refineries quickly, whether it is government-funded or whatever – my preference is always private sector funding.

"I think the labour union has never really said they would not be supportive of an attempt to take away this subsidy element; the union has always said, 'If you are doing it, show me what you [will] do with those new receipts of income. Two, what do you do with the refineries?' Therefore, we need to address those to even get their buy-in.

"Secondly, we need to segregate between those who need subsidy and those who don't; you will find that 80 per cent or more of those who get subsidy today do not need it. There is nothing necessarily bad with some element of subsidy if it is well-managed and is very little, and if the private sector can take it away completely; that is fantastic. That is the most ideal situation."
READ MORE: Banks to lose interest on petrol subsidy-induced loans
Recall that Nairametrics had earlier reported that the International Monetary Fund (IMF) chief, Christine Lagarde, recommended that Nigeria removes its subsidy.
The Government had increased petrol price to N145 per litre from N86.5 in 2016 after months of scarcity.
Buhari sheds light on why Magu was suspended
Shehu's statement sheds more light on Magu's suspension.
Following the suspension of the Acting Chairman of the Economic and Financial Crimes Commission (EFFC), the Presidency has revealed the grounds for his suspension through the Senior Special Assistant on Media and Publicity to the President, Garba Shehu in a statement on Saturday evening.
He revealed that a preliminary review was conducted on allegations leveled against Magu and other EFFC staff that justified reasons for an investigation on his activities, and a panel was constituted "in compliance with the extant laws governing the convening of such a body," adding that in cases of allegations against the head of the EFCC, it was proper procedure for the Chair to step down to enable a fair investigation.
"As is the proper procedure, when allegations are made against the Chief Executive of an institution, and in this case an institution that ought to be seen as beyond reproach, the Chief Executive has to step down from his post and allow for a transparent & unhindered investigation" he said.
"The EFCC does not revolve around the personality of an individual, and as such cannot be seen through the prism of any individual.
"Therefore, the suspension of Mr. Ibrahim Magu, allows the institution to continue carrying out its mandate without the cloud of investigation hanging over its head."
He added that the EFCC is committed to fighting economic and financial crimes in Nigeria, and Magu would have the opportunity to defend himself against allegations leveled against him as stipulated by the Nigerian constitution where "every citizen is presumed and remains innocent until proven guilty."
He said the war against corruption was not a static event, but a continuous process that required transparency and accountability, where people must be held to account for their activities so as to improve Nigeria's democratic institutions.
"Those who see Mr. Magu's investigation, as a signal that the fight against corruption is failing, have unfortunately, missed the boat.
"There is no better indication that the fight is real and active than the will to investigate allegations in an open and transparent manner against those who have been charged to be custodians of this very system," he said.
"Under this President and Government, this is our mantra and guiding principle. There are no sacred cows, and for those who think they have a halo over their heads, their days are also numbered," Shehu said.
He also said Magu was not immune to investigations regardless of the "obvious embarrassment that potential acts of wrongdoing by him" may have caused the Nigerian Government, however, the government maintains its fight against corruption.
Ibrahim Magu was suspended as EFCC Acting Chairman this week after facing a preliminary panel at the Aso Villa and was replaced by Mohammed Umar.
Therefore, the suspension of Mr. Ibrahim Magu, allows the institution to continue carrying out its mandate without the cloud of investigation hanging over its head.

— Garba Shehu (@GarShehu) July 11, 2020
Magu probe: New facts suggest case is about re-looting of previously stolen funds
The report exposed acts of corruption and money laundering against some EFCC officials, including Magu.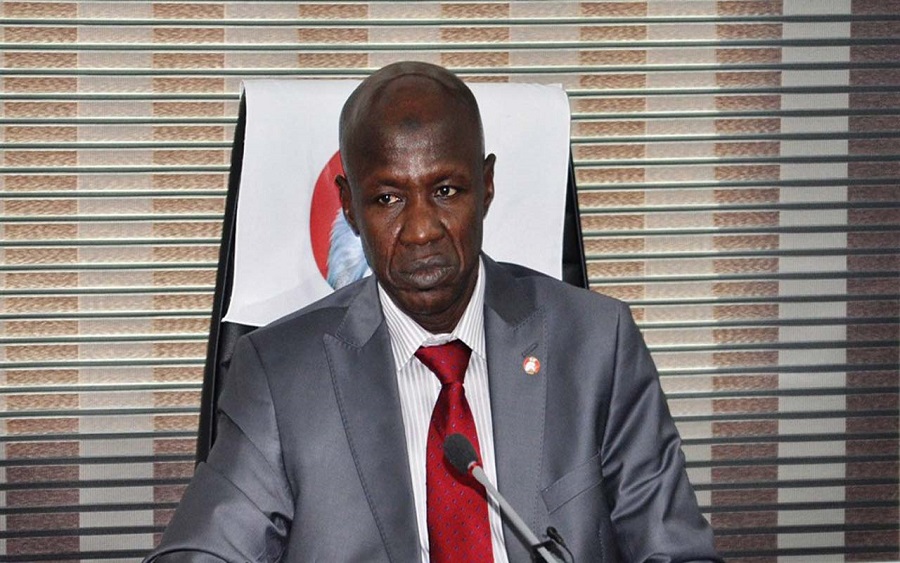 There appear to be more troubles for the suspended acting Chairman of the Economic and Financial Crimes Commission (EFCC), Ibrahim Magu, as some new cases bordering on alleged re-looting of recovered funds and bribery may be lined up against him.
Some new facts also emerged on how accumulated interest rates on the recovered N550 billion by the EFCC in the period under review were allegedly re-looted. The suspended EFCC boss is expected to disclose the whereabouts of the missing interest funds running into millions of naira.
READ MORE: Safest, regulated Cryptocurrency, Arcoin backed by U.S. Treasury securities
The final report of the Presidential Committee on Audit of Recovered Assets (PCARA) that covered the period of May 29, 2015, to November 22, 2018, had also confirmed the concerns of the public about the contradiction in the recovered funds by Magu. These contradictions include;
"For Foreign currency recoveries, EFCC reported a total naira equivalent of N46,038,882,509.87, while the naira equivalent of the foreign currency lodgments was N37,533,764,195.66, representing a shortfall of N8,505,118,314.21.''
"These inconsistencies cast serious doubt on the accuracy of figures submitted by the EFCC. It is the committee's view that the EFCC cannot be said to have fully accounted for cash recoveries made by it.''
"While EFCC reported total Naira recoveries of N504,154,184,744.04, the actual bank lodgments were N543,511,792,863.47. These discrepancies mean that EFCC's actual lodgment exceeded its reported recoveries by N39,357,608,119.43.''
READ ALSO: Gold down over increased investor confidence in economic recovery
It should be noted that the about N39 billion discrepancy excludes the missing accrued interest.
With all these, the report suggests that there is an apparent case of manipulation of data in a very brazen and unprofessional manner and has greatly eroded public confidence in the anti-corruption efforts.
The PCARA revealed how the investigative reports on EFCC's activities by the Nigeria Financial Intelligence Unit (NFIU) exposed acts of corruption and money laundering against some EFCC officials, including Magu.
The NFIU report shows that the Acting Chairman has been using different sources to siphon money from the EFCC, and in some cases collecting bribes from suspects.
The report has shown that a particular Bureau de Change, owned by Ahmed Ibrahim Shanono linked to the Acting Chairman based in Kaduna has more than 158 accounts and has been receiving huge sums of money.
The PCARA report also said that Magu was linked to a N28m payment to Falana who is alleged to be his close associate and ally.
READ ALSO: Air Peace's Onyema saga: EFCC seizes passport, as Northern Youths plan rally at US embassy
Background
According to reports from the News Agency of Nigeria (NAN), the former EFCC boss is being interrogated by the Rtd, Justice Ayo Salami led Presidential Probe Panel over allegations bordering on mismanagement and lack of transparency in managing recovered assets by EFCC.
A final report of the Presidential Investigation Committee on the Federal Government Recovered Assets and Finances by EFCC from May 2015 to May 2020 had seriously indicted and implicated Magu on various allegations levelled against him.
The terms of reference for the investigative committee were
''Investigate, verify and review the recommendations of the Presidential Committee on Audit of Recovered Assets as it relates to the EFCC, with a view to ascertaining the complicity or otherwise of the Ag. Chairman, Ibrahim Magu, in the mismanagement of the assets recovered by the Commission.''
''Identify Avenues through which the recovered assets are dissipated and seized, recovered, forfeited (Interim and Final) assets are valued, managed, disposed and/or mismanaged with a view to ascertaining compliance or otherwise with extant laws, regulations, processes and procedures.''
''Review the existing procedures on the Management of the seized, recovered and Forfeited assets (interim and final) and proffer Standard Operational Procedures for the management of seized, recovered and forfeited assets.''
''Determine whether assets recovered during his tenure, whether locally in Nigeria or abroad, are being kept safely in a manner as to preserve their original value and determine: –
Whether all the assets could be properly accounted for by the Ag. Chairman.
To confirm if any of the assets have been diverted to the benefit of the Ag. Chairman, his family, relation, friends or favoured staff.
To recover any such diverted assets and return back to the EFCC or appropriate government agency.
READ MORE: Nigeria's external reserves up by 7% in 21 days, currency speculators to lose over N10 billion 
The committee was also to probe and report on corruption and money laundering allegations based on petitions and intelligence reports, involving Magu and Bureau De Change operators as well as some of his associates.
It was to audit the Assets and Finances of the EFCC as a legal entity from 2015-2020, with a view to establishing compliance or otherwise with procurement procedures of the EFCC in line with the provisions of the Procurement Act.
Tax on rents and Certificate of Occupancy is valid – Akabueze
FIRS had announced that stamp duty will be paid on house rent and C of O.
The Director-General of the Budget Office of the Federation, Ben Akabueze, announced that the recent FIRS taxes on Certificate of Occupancy and rents is not new and has been around since the 1980s.
He disclosed this in the 2021-2023 Medium Term Expenditure Framework and Fiscal Strategy Paper (MTEF&FSP) on Friday, adding that ever since the 80s, his landlord had always given him a postage stamp on his rent receipts, and that the law was not just recognized for a long time.
"Over time, because the culture of postage has dropped off and that was not being implemented. What FIRS has done now is to make that into electronic stamp that you can still use to comply with the existing law," Akabueze said.
Explore Research Data From Nairametrics on Nairalytics    
Last week, the Federal Inland Revenue Service (FIRS) announced that stamp duty will be paid on house rent and Certificate of Occupancy (C of O), in line with its new adhesive duty. The new duty was inaugurated in Abuja at the official inauguration of the Inter-Ministerial Committee on Audit and Recovery of Back Years Stamp Duties.
FIRS Director for Communication and Liaison Department, Mr Abdullahi Ahmad, said the new policy was necessary so as to give the instruments the legal backing required and make them legally binding on all parties involved in such transactions.
READ MORE: FIRS to deploy new technology in tax collection, as MDAs refuse to pay 7.5% tax
Consequently, Ahmad asked Nigerians to ensure that documents that related to rent and lease agreements for homes or offices, C of O, and other common business-related transaction instruments were authenticated with the new FIRS Adhesive Stamp Duty.
He also advised Nigerians to make sure that any document related to leasing agreements and rents related to offices and homes, including C of O and other transaction instruments used in these seals were authenticated with the new FIRS Adhesive Stamp Duty.