IMF tells Nigeria to remove fuel subsidy, gives reasons why
The Federal Government has been urged to remove the fuel subsidy, a move the International Monetary Fund (@IMFNews) said could positively improve Nigeria's slow economic growth.
The Federal Government has been urged to remove the fuel subsidy, a move the International Monetary Fund (IMF) said could positively improve the country's  slow economic growth.
The Managing Director of IMF, Christine Lagarde, made the recommendation during a  press conference on Thursday at the on-going joint annual spring meetings with the World Bank in Washington DC, United States.
Why IMF want fuel subsidy removed: Lagarde said fuel subsidy removal is important due to the low contribution of tax revenue to Gross Domestic Product (GDP). She added that if fuel subsidy is removed, the funds could be diverted to the health, education, and infrastructure.
IMF Executive Board had suggested in its 2019 Article IV Consultation with Nigeria that phasing out implicit fuel subsidies while strengthening social safety nets to mitigate the impact on the most vulnerable would help reduce the poverty gap.
"I will give you the general principle. For various reasons and as a general principle, we believe that removing fossil fuel subsidies is the right way to go. If you look at our numbers from 2015, it is no less than about $5.2tn that is spent on fuel subsidies and the consequences thereof.

"And the Fiscal Affairs Department has actually identified how much would have been saved fiscally but also in terms of human lives, if there had been the right price on carbon emission as of 2015. Numbers are quite staggering.

"I would add as a footnote as far as Nigeria is concerned that, with the low revenue mobilisation that exists in the country in terms of tax to GDP, Nigeria is amongst the lowest.

"A real effort has to be done in order to maintain a good public finance situation for the country. And in order to direct investment towards health, education, and infrastructure."

"If that was to happen, then there would be more public spending available to build hospitals, to build roads, to build schools, and to support education and health for the people.

"Now, how this is done is the more complicated path because there has to be a social protection safety net that is in place, so that the most exposed in the population do not take the brunt of the removal of subsidies principle. So that is the position we take."
Removal of fuel subsidy is a sensitive issue in Nigeria. It often draws widespread condemnation in the country when the government mulls the decision.
COVID-19: WHO warns there may never be an immediate solution to the virus
WHO urged governments and citizens to focus on known basic steps to contain the pandemic.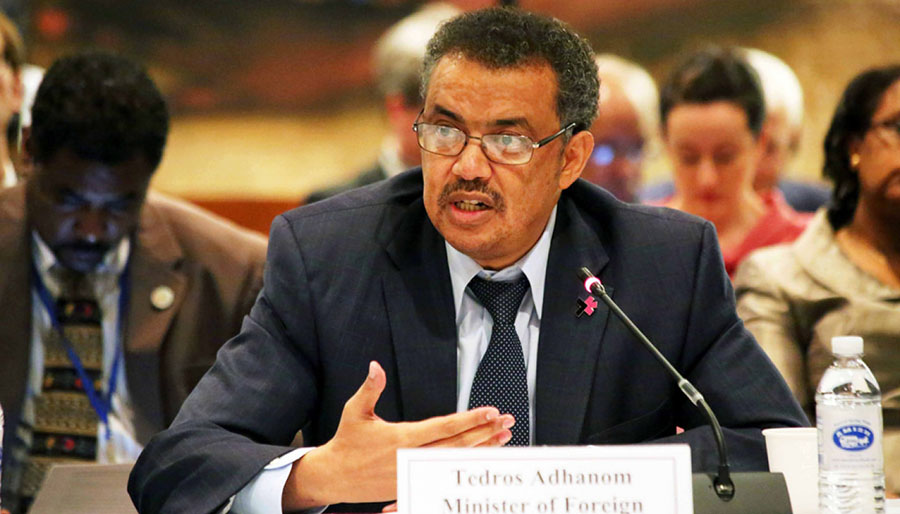 The World Health Organization (WHO) has warned that there might not be an immediate solution or cure to the COVID-19 pandemic despite the positive outcomes at the different levels of trials of vaccines for the virus.
The WHO said that despite strong hopes for a vaccine, there might never be a silver bullet for COVID-19, and the road to normality would be long.
According to the latest data, the coronavirus pandemic has infected over 18.1 million people with more than 690,000 fatalities globally since late January, when the virus was first reported. This is just as some countries that thought they worst was over for them started experiencing a second wave of outbreak.
The Director-General of the WHO, Tedros Adhanom Ghebreyesus, and Mike Ryan, WHO head of emergencies, urged governments and citizens to focus on known basic steps to contain the pandemic such as testing, contact tracing, maintaining physical distance and putting on a mask.
Tedros in a virtual news briefing in Geneva, said, ''The message to people and governments is clear, Do it all. He said face masks should become a symbol of solidarity around the world. A number of vaccines are now in phase three clinical trials and we all hope to have a number of effective vaccines that can help prevent people from infection. However, there's no silver bullet at the moment, and there might never be.'' 
Chinese Investigation
The WHO officials revealed that an advanced investigation team that was sent to China where the virus started, are not yet back. The UN health agency sent an epidemiologist and an animal health specialist to China on July 10 to lay the groundwork for a probe aimed at identifying how the virus entered the human species.
Tedros said WHO and Chinese experts had agreed on the terms of reference and a programme of work for a WHO-led international team of scientists and researchers from around the world. They are to study the origins of the virus in the city of Wuhan.
The WHO boss encouraged mothers to continue breastfeeding even if they had COVID-19, as the benefits outweigh the risks associated with infection.
Tedros also said the international hunt for a vaccine has been historic against the backdrop of the coronavirus disease being the biggest global health emergency since the early 20th century.
Tedros said, ''There are many vaccines under trial, a couple in the final stage of clinical trials – and there is hope. It does not mean that we will have the vaccine, but at least the speed with which we reached the level we reached now is unprecedented."
"There are concerns that we may not have a vaccine that may work or its protection could be for just a few months, not more. But until we finish the clinical trials, we will not know."
Shoprite Nigeria is worth at least N25 billion
N25.6 billion price tag is only reflective of what Shoprite Nigeria's operations is worth on paper.
Africa's largest retail chain, Shoprite, announced on Monday that it is has decided to divest from its Nigerian retail entity, Retail Supermarkets Nigeria, the owners of Shoprite Supermarket Nigeria.
Going by several media reports and social media accounts, the sale is close to being consummated and a buyer is already in line to purchase the company. Getting information on the purchase consideration for this deal can be difficult especially if there are non-disclosure clauses.
For example, then Zinnox purchased Konga from Naspers (another South African firm) and AB Kinnevik two years ago, though the purchase consideration was not disclosed.  However, we do not know what Shoprite Nigeria is worth on paper.
What is it worth on paper? Going by the company's most recent annual report published in June 2019, Shoprite values its equity in its Nigerian subsidiary, Retail Supermarkets Nigeria Ltd at R 1.164 billion (1.1 billion rands). This translates to about N25.6 billion using the official exchange rate. This is also an equivalent of $67.7 million. The exchange rates are modest and will certainly be higher if the transaction was to be at this valuation.
However, the N25.6 billion price tag is only reflective of what Shoprite Nigeria's operations is worth on paper, what accountant's callbook value. It could be more or even less depending on how the negotiation goes.
Shoprite Nigeria business is also its second-largest, based on book value and next only to Angola.
How will it be funded? The potential investors will likely fund this transaction via debt or equity or a combination of both. Deals like this also take time to be completed even if an agreement is announced and will also be approved by the Securities and Exchange Commission of Nigeria and possibly South Africa.
We will keep you updated as we get more information.
Social clubs, recreational centres to reopen August 14
The closure of all spas, bars, lounges, night clubs, cinemas, and game arcades remains in place.
The Lagos State Government has announced that social clubs and recreational centres will be allowed to reopen operations starting from Friday 14 August 2020.
Earlier today, the government released a statement via its official Twitter handle, in which Governor Babajide Sanwo-Olu was quoted to have said that the reopening would be subject to clearance and possession of the Provisional Safety Compliance Certificate. This clearance certification can be gotten right here.
The Governor also added that at the moment, the safety clearance certificates are only being issued to social clubs with registered trustees.
READ MORE: Update: Lagos to reopen worship centres on August 7
*COVID-19* : Measures announced by the Lagos State Government to further relax the lockdown. @jidesanwoolu @drobafemihamzat #LASG #LagosAgainstCovid19 #CovidLASG #ForAGreaterLagos pic.twitter.com/3Mqz1o9dC7

— The Lagos State Govt (@followlasg) August 3, 2020
READ: EPL clubs to be fined £37 million each over suspension of matches
In the meantime, however, the closure of all spas, bars, lounges, night clubs, cinemas, and game arcades remains in place. Any of the listed businesses that reopen prior to the set date and without meeting the set guidelines will be shut down. A monitoring and enforcement team will be at work to ensure that the "guidelines and directives are complied with to the letter".
The Backstory
As part of moves towards a complete easing up of the lockdown, the Lagos State recently announced the reopening of schools. The government also announced that the reopening of religious houses and places of worship would take effect from August 7.
However, this is subject to strict adherence to standard precautions that have been put in place. All schools are expected to provide hand-washing facilities and ensure physical distancing within their premises. The Lagos State government will make available face mask 200 schools to which this reopening exemption applies for the duration of the reopening.
Relevant agencies have been directed to carry out spot checks and random inspections of schools and defaulters will be sanctioned appropriately.