Accessing Alternative Investment Opportunities in Nigeria for Better Returns
If you are like most other people in the world, you probably like things money can buy. You want to make a lot, and very quickly. Maybe you are one of those who sends DMs to financial institutions looking for products with a 25% return in one month – we're not judging you but, really? The truth is that money-making opportunities are becoming increasingly available, more easily accessible and less conventional in today's world; you need to know where to look.
Moving from the known to the unknown
For instance, you have probably heard of fixed deposits you can facilitate with your bank where you get a discretionary interest rate based on your 'capacity'. Uninspiring right? We think so too. Mutual funds, Treasury Bills, Government and Corporate Bonds, and Stocks are also quite popular, offering returns many times in double digits but are often shrouded in technicalities, conditions, and quite a bit of risk. However, have you heard of real estate investing, private equity investing, or peer-to-peer lending?
These newer and more productive investments are alternative investments. They are designed in such a way that you can earn a decent profit on investments that are typically less regulated than the more conventional stocks and bonds. However, these are not to be mistaken for get-rich-quick or Ponzi schemes because alternative investments are backed by real, verifiable assets and are provided by licensed investment managers.
So, where do you begin? We'll focus on three alternative investment opportunities that will give you a considerable level of control in the amount and the way you invest: owning your own business, equity crowdfunding, and peer-to-peer lending. Let us paint you a scenario.
Adebola works as a Human Resources Officer in a consulting firm in Lagos. Like many of us, one of her goals in 2019 is to find ways to earn more money. She sets aside N20,000 as savings in her bank account every month, but for every month she has successfully saved, she has dipped into the funds the very next. She currently invests another N10,000 monthly in a popular money market fund, but when she considers what her returns will be by the end of the year, she is not impressed. Adebola has some other reliable options.
She can invest in her very own part-time side business perhaps buying and selling online, providing HR consulting or training services, or maybe even recording voice-overs for radio and TV adverts. Any of these businesses will cost her some money and a great deal of time but will likely deliver the highest return on investment out there. Case in point – the richest men and women in the world are all business owners.
If she does not want to shoulder the risk of failure or the responsibilities of an entrepreneur but wants to enjoy the benefits, she can invest in other people's businesses; that's equity crowdfunding. Here, she becomes a part owner of the prospective company and reaps the attendant rewards once the profits start rolling in – of course after thorough due diligence and fervent prayers. The downside here is that failure for the business almost always means failure for her.
Again, if she wants to bear even less of the risk associated with being a part owner of a business, she can adopt a quick in and out approach in what is called peer-to-peer lending (P2P lending). Here, she plays the role of a bank to individuals who need short-term loans to take care of projects. She reviews a borrower's profile, the duration and the interest rate, and she determines if she is willing to lend; at the end of the period, she gets her money back plus x.
Certainly, P2P lending comes with its risks, especially when you consider the poor credit structure in Nigeria. Yet, it beats lending out money to family or friends who may or may not raise your blood pressure when it's time to pay back, if at all they do. Although it is in its infancy stages in Nigeria, it enjoys increasing attention and is now properly organized and managed through formal institutions reducing the risk significantly.
Get in on the action
Now that you know, what do you do? Suppose Adebola has decided to start a part-time business buying and selling shoes online. While she may have a free platform on Instagram or Twitter, she must incur costs on purchasing the items to be sold; packaging; delivery or logistics; and marketing at the very least. Her N20,000 may not do much for her in this regard; enter P2P lending.
An excellent way for her to raise the money she needs is to get on a platform like FINT and apply for a loan. All Adebola needs to do is:
Take a risk assessment test to determine what she is eligible for
Choose the term of the credit she is applying for
Upload the necessary documents and get verified
Her request is live.
Lenders can then go ahead to review her profile and lend to her. She has the money she needs to start and can factor in her interest rate when pricing her goods, so she makes a good profit: no hassle, no collateral, no endlessly frustrating visits to the bank.
On the flip side, she can equally go on FINT, and lend her N20,000 to someone else who wants to start some other business at the given interest rate and go back to focusing on her HR duties knowing that the loan is insured, and she is guaranteed her money back. Furthermore, she can lend N20,000 to different people every month and earn interest rates on up to 39% across various investments.
If you're looking for the catch, the biggest you are likely to see here is the illiquidity of such investments. Whereas Adebola can sell down on a stock or terminate a mutual fund investment whenever she pleases to get her money back, she must fulfill the full term of the loan she has advanced to do same. This is, however, softened by the fact that she does not have to worry about fluctuating market conditions that can affect her interest rate or a complete loss of her principal investment that conventional investment options are plagued by.
Fortunately, there is increasingly more information out there on leveraging alternative investments. FINT has identified a market demand and has set the stage to slowly but surely meet the financial needs of Nigeria's teeming population. All you need to do is be willing to embrace the new.
Magu probe: New facts suggest case is about re-looting of previously stolen funds
The report exposed acts of corruption and money laundering against some EFCC officials, including Magu.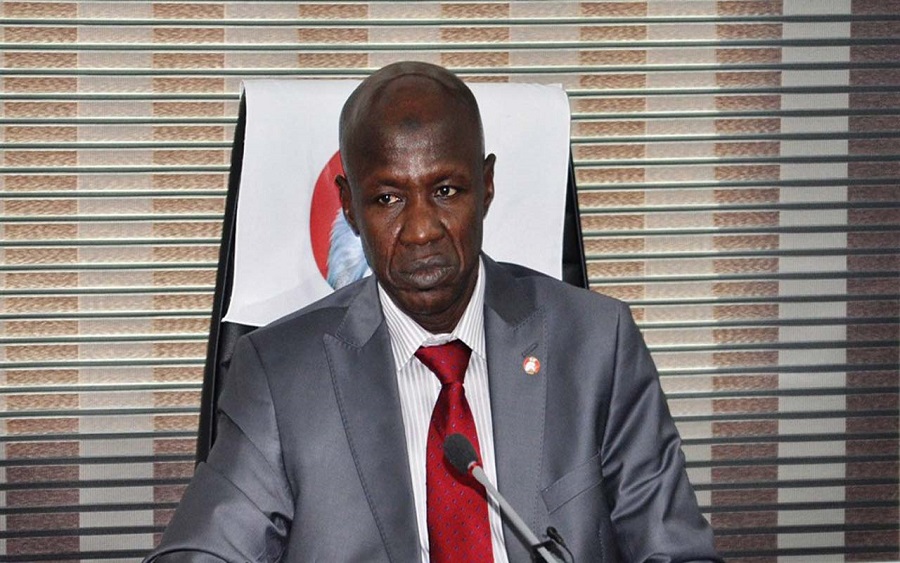 There appear to be more troubles for the suspended acting Chairman of the Economic and Financial Crimes Commission (EFCC), Ibrahim Magu, as some new cases bordering on alleged re-looting of recovered funds and bribery may be lined up against him.
Some new facts also emerged on how accumulated interest rates on the recovered N550 billion by the EFCC in the period under review were allegedly re-looted. The suspended EFCC boss is expected to disclose the whereabouts of the missing interest funds running into millions of naira.
The final report of the Presidential Committee on Audit of Recovered Assets (PCARA) that covered the period of May 29, 2015, to November 22, 2018, had also confirmed the concerns of the public about the contradiction in the recovered funds by Magu. These contradictions include;
"For Foreign currency recoveries, EFCC reported a total naira equivalent of N46,038,882,509.87, while the naira equivalent of the foreign currency lodgments was N37,533,764,195.66, representing a shortfall of N8,505,118,314.21.''
"These inconsistencies cast serious doubt on the accuracy of figures submitted by the EFCC. It is the committee's view that the EFCC cannot be said to have fully accounted for cash recoveries made by it.''
"While EFCC reported total Naira recoveries of N504,154,184,744.04, the actual bank lodgments were N543,511,792,863.47. These discrepancies mean that EFCC's actual lodgment exceeded its reported recoveries by N39,357,608,119.43.''
It should be noted that the about N39 billion discrepancy excludes the missing accrued interest.
With all these, the report suggests that there is an apparent case of manipulation of data in a very brazen and unprofessional manner and has greatly eroded public confidence in the anti-corruption efforts.
The PCARA revealed how the investigative reports on EFCC's activities by the Nigeria Financial Intelligence Unit (NFIU) exposed acts of corruption and money laundering against some EFCC officials, including Magu.
The NFIU report shows that the Acting Chairman has been using different sources to siphon money from the EFCC, and in some cases collecting bribes from suspects.
The report has shown that a particular Bureau de Change, owned by Ahmed Ibrahim Shanono linked to the Acting Chairman based in Kaduna has more than 158 accounts and has been receiving huge sums of money.
The PCARA report also said that Magu was linked to a N28m payment to Falana who is alleged to be his close associate and ally.
Background
According to reports from the News Agency of Nigeria (NAN), the former EFCC boss is being interrogated by the Rtd, Justice Ayo Salami led Presidential Probe Panel over allegations bordering on mismanagement and lack of transparency in managing recovered assets by EFCC.
A final report of the Presidential Investigation Committee on the Federal Government Recovered Assets and Finances by EFCC from May 2015 to May 2020 had seriously indicted and implicated Magu on various allegations levelled against him.
The terms of reference for the investigative committee were
''Investigate, verify and review the recommendations of the Presidential Committee on Audit of Recovered Assets as it relates to the EFCC, with a view to ascertaining the complicity or otherwise of the Ag. Chairman, Ibrahim Magu, in the mismanagement of the assets recovered by the Commission.''
''Identify Avenues through which the recovered assets are dissipated and seized, recovered, forfeited (Interim and Final) assets are valued, managed, disposed and/or mismanaged with a view to ascertaining compliance or otherwise with extant laws, regulations, processes and procedures.''
''Review the existing procedures on the Management of the seized, recovered and Forfeited assets (interim and final) and proffer Standard Operational Procedures for the management of seized, recovered and forfeited assets.''
''Determine whether assets recovered during his tenure, whether locally in Nigeria or abroad, are being kept safely in a manner as to preserve their original value and determine: –
Whether all the assets could be properly accounted for by the Ag. Chairman.
To confirm if any of the assets have been diverted to the benefit of the Ag. Chairman, his family, relation, friends or favoured staff.
To recover any such diverted assets and return back to the EFCC or appropriate government agency.
The committee was also to probe and report on corruption and money laundering allegations based on petitions and intelligence reports, involving Magu and Bureau De Change operators as well as some of his associates.
It was to audit the Assets and Finances of the EFCC as a legal entity from 2015-2020, with a view to establishing compliance or otherwise with procurement procedures of the EFCC in line with the provisions of the Procurement Act.
Tax on rents and Certificate of Occupancy is valid – Akabueze
FIRS had announced that stamp duty will be paid on house rent and C of O.
The Director-General of the Budget Office of the Federation, Ben Akabueze, announced that the recent FIRS taxes on Certificate of Occupancy and rents is not new and has been around since the 1980s.
He disclosed this in the 2021-2023 Medium Term Expenditure Framework and Fiscal Strategy Paper (MTEF&FSP) on Friday, adding that ever since the 80s, his landlord had always given him a postage stamp on his rent receipts, and that the law was not just recognized for a long time.
"Over time, because the culture of postage has dropped off and that was not being implemented. What FIRS has done now is to make that into electronic stamp that you can still use to comply with the existing law," Akabueze said.
Last week, the Federal Inland Revenue Service (FIRS) announced that stamp duty will be paid on house rent and Certificate of Occupancy (C of O), in line with its new adhesive duty. The new duty was inaugurated in Abuja at the official inauguration of the Inter-Ministerial Committee on Audit and Recovery of Back Years Stamp Duties.
FIRS Director for Communication and Liaison Department, Mr Abdullahi Ahmad, said the new policy was necessary so as to give the instruments the legal backing required and make them legally binding on all parties involved in such transactions.
Consequently, Ahmad asked Nigerians to ensure that documents that related to rent and lease agreements for homes or offices, C of O, and other common business-related transaction instruments were authenticated with the new FIRS Adhesive Stamp Duty.
He also advised Nigerians to make sure that any document related to leasing agreements and rents related to offices and homes, including C of O and other transaction instruments used in these seals were authenticated with the new FIRS Adhesive Stamp Duty.
Port-Harcourt International airport resumes flight operations
The first flight to Port Harcourt was conducted by Air Peace 5N EUV from Lagos.
The Port Harcourt International Airport formally resumed flight operations on Saturday, July 11, with the Federal Airports Authority of Nigeria (FAAN), restating its commitment towards a zero coronavirus transmission.
This was disclosed by the Regional Manager South-South and South-East of FAAN, Abayomi Akinbinu, on Saturday, July 11, during the arrival of the first flight after 3 months of shutdown due to the coronavirus outbreak.
The first flight, which was conducted by Air Peace 5N EUV from Lagos, arrived Port-Harcourt International Airport terminal at 7.50 am.
He said the Port-Harcourt airport management was ready to ensure zero chances of the coronavirus transmission with the management giving no room for default of the COVID-19 safety guidelines by regulatory authorities as flight operations resume at the airport.
He frowned at the non-adherence to physical distancing rule, while also commending safety compliance level by service providers and passengers at the airport.
According to Abayomi, "Our markings of 1.5 metres apart are visibly on the floor, but maybe because of excitement it's not being properly followed; so we need to make quick enforcement in that regard."
He said although there was low turnout of passengers, he expected a gradual increase in the coming days.
He said, "On the departure section, we are gradually getting more passengers and I believe that going forward passengers' turnout is going to increase. My message to prospective passengers is that the Port Harcourt International Airport terminal is safe."
On his own part, the Head of Aviation Medical Clinic of the airport, Dr Nuhu Mwabi, said that the Port Health is seriously conducting mandatory temperature checks on both service providers and passengers before allowing them into the airport terminal building.
Nuhu said, "This is because we want to fish out persons with a temperature of 38 degrees Celsius and above, so that we can isolate such individual. Our cardinal objective is to ensure that we contain the spread of COVID-19 as well as other communicable diseases within the airport."
He added that the World Health Organization and the various medical teams were ready to professionally handle any suspected case, should the need arise.
It can be recalled that the Minister of Aviation, Hadi Sirika, had last week announced the resumption schedule for flight operations for the various airports across the country. The Murtala Muhammed Airport Lagos and the Nnamdi Azikiwe International airport resumed flight operations on July 8.