List of successful applicants for TEF 2019 announced
See the complete list of the shortlisted applicants for the 2019 Tony Elumelu Entrepreneurship Programme.
After so much anticipation, the shortlisted applicants for the 2019 Tony Elumelu Entrepreneurship Programme were finally announced today in Lagos.
Mr Elumelu took to his various social media platforms to share the news about the newest entrepreneurs who were found befitting enough to participate in this year's programme.
A live-streamed video of the event showed that Mr Tony Elumelu was present at the event, as were many dignitaries who represented some African countries.
MEET THE 2019 TONY ELUMELU ENTREPRENEURS #TEF2019 https://t.co/yYTBASHRM7

— Tony O. Elumelu, CON (@TonyOElumelu) March 22, 2019
How the winners were selected – According to the TEF Panelist, the candidates were selected through different parameters which are:
1. Feasibility ‬
‪2. Market opportunity ‬
‪3. Scalability ‬
‪4. Leadership skill‬
‪5. The viability of the idea
About the foundation – The Tony Elumelu Foundation (TEF) is an African non-profit organisation which was founded in 2010 by Mr Tony Elumelu. It is headquartered in Lagos, Nigeria. The Foundation believes that with the right support, entrepreneurs can be empowered to contribute meaningfully to Africa's prosperity and socioeconomic development.
The Foundation is intent on charting a new course for African philanthropy and does not operate merely as a grant-awarding organisation. It is a pioneer member of the Global Impact Investment Rating System (GIIRS).
Why it matters – Tony Elumelu has, through his foundation, empowered thousands of Africa's future business leaders. More so, he has built networks and developed the right framework necessary for enhancing the competitiveness of African economies.
The Foundation has also set itself apart from grant-making organisations by operationalising various integrated programmes to support entrepreneurship in Africa.
The foundation has also improved areas like Policy development, research, and advocacy through its Africapitalism Institute, same as leadership development and recognition of excellence which the Tony & Awele Elumelu Prize (TAEP) honors.
Happy birthday to Mr Elumelu – Today also happens to be Mr Elumelu's birthday. He is 56 years old. This makes it an absolutely great day for both the winners of TEF 2019 and Tony Elumelu himself.
Click here to download the complete list of successful applicants for TEF 2019.
FAAN releases new guidelines for post COVID-19 flight operations
The new set of procedural guidelines for air travelers and other airport users is aimed at protecting all.
The Federal Airports Authority of Nigerian (FAAN), has released a new set of procedural guidelines for air travelers and other airport users. This follows the announcement of the Federal Government, the gradual commencement of domestic flight operations at the nation's airports with effect from July 8, 2020.
This new Standard Operating Procedure (SOP) is aimed at protecting all stakeholders and preventing further spread of the coronavirus disease, especially through our airports.
This was disclosed in a press statement by FAAN on Friday, July 3, 2020, and signed by the agency's General Manager Corporate Affairs, Henrietta Yakubu.
According to the procedures that have been outlined by FAAN in the "New Normal", departing passengers must comply with the following guidelines;
All passengers must arrive at the airport properly kitted with their face masks on.
They must also ensure a minimum of one point five meters (1.5m) physical distancing, Aviation Medical/Port Health personnel would screen each passenger and ensure the use of face masks, those traveling with pets must get necessary clearance from Nigerian Agricultural Quarantine Services.
All passengers' luggage would be disinfected before entry into the departure halls.
Passengers are required to wash their hands as often as possible, hand sanitizer would be provided for passengers before entrance, at the waiting halls/lounges and pre-boarding gates.
All footwear would be disinfected/sanitized by foot mats placed at all entrances to the terminal building, amongst others.
(READ MORE: FG acquires profiling robots for airport)
For arriving passengers, the following guidelines must be adhered to;
On disembarking from the aircraft, passengers would observe physical distancing as they board the Co-Buses (Hand Sanitizer would be provided in the buses).
Physical distancing protocols must be observed at the baggage claim area, where hand sanitizer is also provided, disinfected trolleys would be made available for passengers.
All Covid-19 protocols must be observed while undergoing customs check, Passengers would exit the halls and head straight to the car park for pick up.
If you must speak to anyone around, please speak to a properly tagged Aviation Security (AVSEC) officer, physical distancing would be maintained while waiting to be screened by personnel of port health services, amongst others.
In addition to the above guidelines, passengers are required to observe social distancing and make use of the floor markings at the security screening area. They must also comply with all other security guidelines as laid down by officials of the Aviation Security (AVSEC) department.
FAAN asked all passengers and stakeholders to observe these new protocols that have been put in place for their protection.
Propertymart boosts affordable housing, allocates plots at Fairmont Hilltop Estate  
Allottees were full of commendations for the Company as they took possession of their plots.
Leading real estate company, Propertymart Real Estate Investment Limited, has intensified its effort to provide affordable housing to Nigerians with the allocation of plots of land to subscribers at Scheme Two of its Fairmont Hilltop Estate, Alagbado, Lagos.
Subscribers to the residential scheme, an affordable housing initiative, were full of commendations for the Company as they took possession of their plots at the weekend.
The subscribers, who praised both the scenic hilltop estate and infrastructure already provided by the Company, also hailed the speedy and transparent allocation process.
One of the allottees, Gibson Eze, praised the Company, saying "I'm impressed with Propertymart. I like their customer service in particular and I will be recommending this Estate to others because my experience so far has been excellent. Every one of their activities is documented, and since it's documented, it gives you the room to have trust. Once there is documentation, trust can easily flow."
Another allottee, Biodun Koleosho, also praised Propertymart for the excellent layout of the Estate and not using the COVID-19 lockdown to delay allocation of plots.
He said, "They have done an excellent job of following up on keeping to their word and that is being able to deliver plots to customers. In terms of documentation, despite the COVID-19 lockdown, they got in touch with me and sent me an e-copy of the contract pending when I could come to the office and sign the hard copy. So, despite the challenges of COVID-19, they are still able to deliver as promised."
An elated Mrs Abiola Oni also said, "I like the speedy nature of the sale and documentation process. We paid around early February, and here we are in June with our plot. The environment is nice and cool. I am impressed with Propertymart."
Mrs Lynda Esohe Ugbesi, who stood in for her brother, Lucky Anthony, couldn't contain her excitement with the serene Estate. She explained that "The environment is conducive and accessible. The terrain is excellent. I can see flooding won't be an issue. The allocation process is transparent. I'm happy with the way everything has been done. I was even asking if they have more plots available so that I can tell others about the Estate."
While commending the beautiful location, another allottee, Timothy Oyeniyi, said he had been on the lookout for a beautiful estate to invest in and that Fairmont Hilltop fit the bill perfectly.
He said, "It is secure from the hustle and bustle of the main Ota; it is close to Lagos. You can jump in and out without having to go through the potholes that many people experience in Ota. It's a serene environment. That's what I like about the location itself. And the fact that it's a border town between Ogun and Lagos States."
Speaking about the Estate and Propertymart's resolve to provide affordable housing to Nigerians, General Manager, Sales and Marketing, Propertymart, Oluwasegun Damiro said, "We are committed to helping many Nigerians own their homes in a safe and secure environment and at pocket-friendly prices."
He said, "we are for the grassroots and what we want to sell to people, particularly first-time homeowners, is affordability. Inside this Estate, we have some two-bedroom bungalows that we are constructing for people who won't have time to build and want to save themselves the hassles of buying land and clearing. This is apart from the common land grabbers issue."
Damiro added that though plots in Schemes One and Two in the Estate have been fully taken, prospective homeowners can take up the exciting promo offers in Scheme Three which run till the end of June.
"Ordinarily, our plot size is 500 Sqm, but we have 400 Sqm, 324 Sqm and 240 Sqm so that you could pay as low as N5 million. It's all to encourage people. The promo price for 500sqm in Scheme Three is N7.8 million. That's a discount of about N2 million from what you have in Schemes One and Two," he said.
Damiro further added that Propertymart, which has been in the real estate business for over 12 years doesn't just sell land, but a lifestyle to its customer.
He said, "We have allocated over 6,000 homes and serviced plots since inception and we are glad that our customers have faith in us. We don't just sell land. What we sell is a lifestyle. Before people move in, infrastructure is ready. Street light, roads, electrification, which means that even before you start building, you have a planned Estate where you can start dreaming of where to keep a home—your children, where they are going to play. Where you can get your groceries. What we sell every day is a lifestyle, not just the normal Omo Onile."
Fairmont Hilltop Estate, Alagbado, is part of the 'The Fairmont' serviced plots strategically located in Arepo and Lekki-Ajah. They are not only affordable but also allow clients to live in safe, beautiful environments with well-defined perimeters.
U.S dollar remains neutral as strong economic macros weaken its demand
The U.S. Dollar Index was slightly down at 0.02% to 97.040 at 1.30 pm Nigerian time.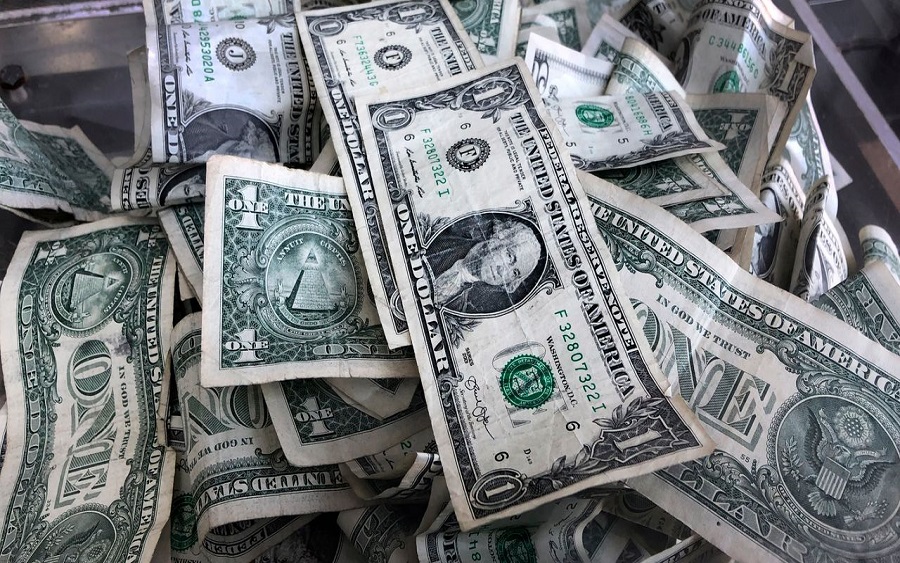 U.S dollar pulled back sessions high on Friday as Economic data released earlier showed the second-largest economy service sector printing impressive results, with the (Chinese) Caixin Services Purchasing Managers Index coming in at 58.4 in June, the highest reading in two months.
The U.S. Dollar Index that monitors the American dollar against a group of other major currencies was slightly down at 0.02% to 97.040 at 1.30 pm Nigerian time.
Consequently about 24 hours ago the world largest economy recorded an addition of 4.8 million jobs in June and manufacturing activity printing a better economic result than expected, this further suggests that the economic stimulus by the U.S Fed Reserve seems to be working.
In addition, Currency analysts at ING, in a research note spoke about the U.S Federal Reserve stimulus package in relation to the strength of the dollar.
"Fed money printing has now secured what seems to be a stable negative correlation between risk assets and the dollar,"
"As long as the Fed is still buying assets and prepared to do more, we expect this negative correlation, Risk On, Dollar Off, to dominate financial markets over the coming quarters. Economies slowly getting back on their feet should mean a backdrop of a benign dollar bear trend in the second half of the year."
(READ MORE: U.S dollar stays flat as America's Federal Reserve becomes "extraordinarily uncertain")
Why this matters; The U.S. Dollar Index that tracks the American dollar against a basket of other major currencies (like the Japanese yen, British pound sterling, Swedish Krona, Euro), Individuals hoping to meet foreign exchange payment obligations, via dollar transactions to countries like Europe, and Japan, would need to pay more dollars in fulfilling such transactions