Corporate Actions: N184 billion and Double Rs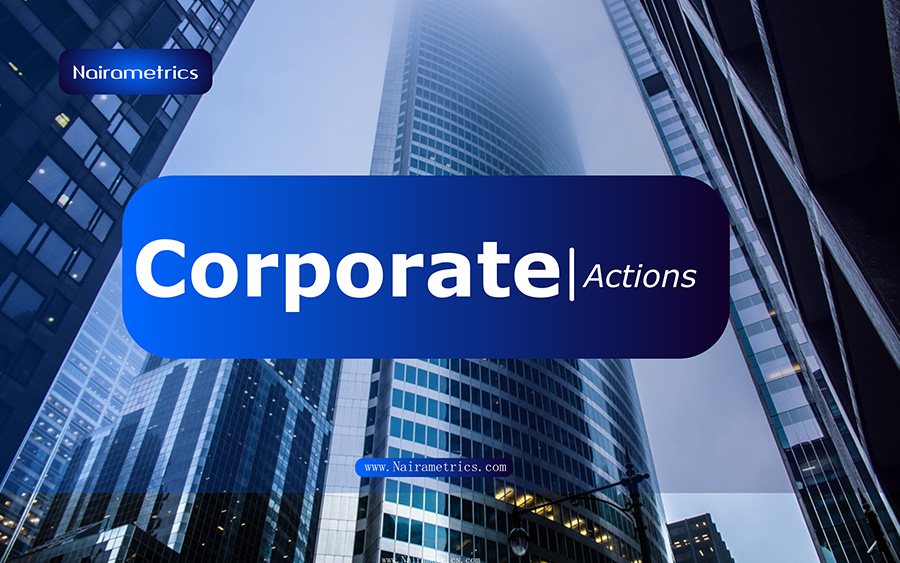 Corporate actions are decisions taken by companies' boards of directors or management teams, that could have an impact on the firms themselves or shareholders. 
Examples of corporate actions include the payment of dividends, closing of shareholders' registers, announcing qualification dates and Annual General Meeting (AGM) dates. 
Here is a review of corporate actions that took place last week and those expected this week. 
Corporate actions that held last week
Sliding profit  
Seplat Petroleum Development Company (commonly known as Seplat) released its results for the 2018 financial year. Profit after tax fell sharply due to the absence of a tax credit.  
 The company paid a final dividend of $0.05 per share, and held an investor call the same day the result was released.  
N184 billion
Guaranty Trust Bank released its audited results for the 2018 financial year. The tier one lender made a profit after tax of N184 billion and will be paying a final dividend of N2.45 per share. 
Stanbic IBTC Holdings 
Stanbic IBTC Holdings released its full year 2018 results this week. The group made a profit after tax of N74.4 billion, up 54% from the prior year. A final dividend of N1.50 was declared, bringing total dividend pay out for 2018 to N2.50.  
A conference call was held last Friday where management discussed several issues, including how the bank intends to grow its loan book.  
N43 billion
Nestle Nigeria Plc released its full year 2018 results. Profit after tax jumped by 27.5% to N43 billion in 2018. The company declared a final dividend of N38.50
Fifty
 kobo
GSK Consumer Nigeria released its FY 2018 results. The company has declared a final dividend of N0.50 per share, but has not uploaded the results to the NSE website as at the time of writing this.  
Thomas Red
Thomas Wyatt released a backlog of results, the most recent being the nine months ended December, 2018. The firm made a loss after tax of N36.6 million.
100%
Lafarge Africa released a breakdown of its right issue, which was 100% subscribed.  
Continental Re provides update
Continental Reinsurance has provided an update on its scheme of arrangement. The company expects to receive final approval from the SEC in the coming weeks and will thereafter approach the Federal High Court for approval of the scheme.  
Under the scheme, CRE Africa will acquire all issued shares of CRE Nigeria for cash or shares.  
Green Light
Shareholders of Access Bank Plc and Diamond Bank Plc gave approval for the merger of the two lenders. They did so at Extraordinary General Meetings held on the 5th of March, 2019.  
A new CFO 
UAC of Nigeria Plc has announced the appointment of Ibikunle Oriola as its new Chief Financial Officer (CFO). Oriola has over 17 years experience, and has worked with several firms including Transcorp Plc, ARM and Kakawa Discount House.  
A 
revival
 plan 
Multi–trex Integrated Foods Plc gave an update of its discussions with the Asset Management Company of Nigeria (AMCON), as well as revival of its operations.  
NEM Insurance Plc
NEM Insurance Plc held a board meeting on the 5th of March, 2018, to consider the company's full year audited 2018 financial statements.  
UPDC Plc
The board of UACN Property Development Company Plc met last week, to consider the company's 2018 audited results.  
Prestige
 Assurance Plc
Prestige Assurance Plc held a board meeting on March 5, 2019 to consider the company's full year 2018 audited financial statements and a proposed dividend payment.  
11 Plc
The board of 11 Plc ( formerly known as Mobil Oil Nigeria Plc) met on March 7, 2019 to consider the company's 2018 audited financial statements. The statements were approved, and will be released on March 22, 2019.  
Late filings
Law Union and Rock Insurance, Universal Insurance, Royal Exchange Plc and Cornerstone Insurance all sent notices of late filings of their 2018 audited financial statements.  
They blamed the delays on the need to adopt IFRS 9 in the preparation of the statements. 
Double Rs
STACO Insurance Plc is considering reconstruction of the company's share capital and raising additional capital. The company's board will hold a meeting on Wednesday March 20, to discuss this. 
Refreshed 
African Alliance Insurance Plc last Friday unveiled a new logo. The move is part of the company's new corporate strategy and direction.
Corporate Actions taking place next week 
AIICO Insurance Plc
AIICO Insurance Plc will be holding a board meeting on March 12, 2019 to consider the company's full year 2018 results and a possible dividend payment. Hence its having a place on this week's watchlist.  
C 
&
 I Leasing Plc
C & I Leasing Plc will hold a board meeting on March 14, 2019. The board will consider the company's full year 2018 audited results, and a CBN supervisory letter and examination report.  
Custodian Investment Plc
Custodian Investment Plc will be holding a board meeting on March 14, 2019 to consider the company's audited financial statements and a proposal for dividends.  
Transcorp Hotels and Transcorp Plc
The two firms they will be holding their AGMs on March 15, 2019.  
Just in: Lagos approves resumption of full services for churches, mosques
Resumption of full services in churches and mosques has been approved by the Lagos State Government.
The Lagos State Government has announced the approval of churches and mosques to resume full services in the state. This disclosure was made by the Lagos State Governor, Babajide Sanwo-Olu, during a press briefing on Saturday, September 19, 2020, in Lagos.
According to a monitored media report, the government said mosques can hold their prayers 5 times daily, while churches can also resume weekly services. This is against the initial announcement, where worship centres were restricted to just one gathering weekly, after they were allowed to reopen on August 7, 2020, following the lockdown to contain the spread of the coronavirus disease.
Sanwo-Olu, however, warned that all safety protocols that had been announced by the government must be strictly adhered to.
Details later….
COVID-19: Transcorp Hotel loses about N1 billion every month – CEO
Transcorp Hotels has seen its revenues ravaged by COVID-19 induced lockdowns and implementing measures to save itself from further losses.
Transcorp Hotels, owners of one of Nigeria's largest hotel Transcorp Hilton reports it loses about N1 billion every month due to the Covid-19 pandemic.
This was disclosed by the Managing Director/CEO of Transcorp Hotel Plc, Dupe Olusola, during an interactive session on Thursday. According to her, the management of the hotel met and decided to ensure that it kept costs down by restructuring its business strategy, diversifying into asset-light business models, and reducing the workforce, among others.
Olusola further disclosed that the company had suspended further commitment to buy fixed assets and operating equipment, as well as reduced its energy consumption and maintenance costs. She also confirmed Transcorp will be cutting back on all capital investments this year and in the foreseeable future until the outlook for the economy improves.
READ: Nigerian hotels count revenue losses due to pandemic-induced plunge
The hospitality sector has been one of the hardest-hit since the Covid-19 broke in late February. Data from the National Bureau of Statistics also reveal the sector contracted by as much as 40% in the second quarter of 2020, officially falling into recession.
Nairametrics participated in the stakeholder's session and noted a few critical remarks from the interview.
Below is the excerpt of the interview session:
How much has COVID-19 eaten into the fabric of Transcorp Hotels?
We had a drastic decline of over N9 billion. In March alone, we witnessed a N456 million loss. We have to remember that in March, there was a partial lockdown when everyone was trying to figure out what was happening. We were at N1.03 billion loss in April alone and this has continued to be the story every month. In June, we dropped by about N840 million.
READ: As Hotels resume operations, how prepared are they?
How will this development (loss) affect your staff strength?
We struggled to ensure that we would not ask people to go initially, that was our priority. We paid staff that did not work during lockdown 50% of their salaries and the ones that worked then were paid full salary. To keep the business running, we definitely have to let go of at least 40% now.
We engaged the staff Unions, both the Junior and Senior staff, before the implementation of that. We will ensure that employees are properly taken care of. The occupancies we have now are below 30% and with that, it's impossible to have everyone around.
What is important to us is that we must ensure we are able to keep the hotel running as a national asset, because it has been in existence for over 30 years.
Explore the Nairametrics Research Website for Economic and Financial Data
We have ensured that we keep as many jobs as we can within this time frame, so this is an opportunity for us to engage the media and carry you along before such exercise. We have engaged actively with our employees and other key stakeholders. At the occupancy level that we are seeing, it is impossible for us to sustain the employees that we have to keep our doors open.
Precisely, how many will you lay off?
It is definitely a great burden to even consider a lay-off but we don't have a choice but to keep the business afloat. We have over 1,000 staff and it appears we will not need more than 400 staff to ensure we keep the hotel running. What is happening is beyond everybody and it is just a situation we have found ourselves in.
What is your outlook for 2020, any hope of returning to the pre-COVID era?
We expect to get to the pre-COVID era by 2024 globally, because it requires the gathering of the people in preparing for events, etc. The new normal is real. We expect things to go back to what they used to be in Nigeria by 2024 also. We are not expected to do more than 30% of our occupancy this year and that is significantly low, and by this time next year, we don't expect to see anything more than that. So, this is our trying time.
Strategy to sustain Balance Sheet before the end of 2020
We are a hotel business, the food, room and the events we hold are our sustainers. We are definitely going to end at a loss in 2020. As I said, COVID will still be around in 2024. We will try as a business to be innovative, to look at different ways. We are reporting losses of almost N1 billion on a monthly basis and this is significant to us. We hope they can come up with some vaccination to help reduce the impact of the pandemic so that businesses can begin to pick up.
READ: Transcorp Hotels Plc Retains Positive A- (NG) GCR Rating
Any palliatives from the government to hotels?
Governments across the world have given palliatives to hotels, but here there is no such package for big hotels in Nigeria. We have engaged at all levels of government on payroll support, tax rebate, support for employees, actively and widely as possible. Yet, these have not yielded any support, unfortunately. This is really why we have gotten to the point of disengaging our own staff. We have not seen any support from the government to actually help us.
How do you aim to restructure your loans and are there plans to raise funds?
This year is really just about losses. We have met with our stakeholders and lenders to work out how we can restructure our loans, considering some palliatives CBN brought on board like interest rate of 5%. We met the Bank of Industry (BOI) to get interest rates on our loan reduction. Some of these got a couple of positive responses. We are also considering raising funds through the right issues. We are raising N10 billion in order to pay off some of our existing obligations.
How will virtual tools affect your business model and future plans?
We are working round the clock to bring in solutions in line with the new normal to our guests and customers. How do we provide what they are looking for? How do we provide physical and virtual conferencing? We have also come up with Drive-in Movie Cinema, among others. We are going to ensure we run asset-light strategies to bring in new initiatives that can continue to help us remain standing in the business.
On our future plans, we have suspended our expansion plans. For instance, we initially planned to set up hotels in Port-Harcourt, Rivers State, which has been suspended for now. Also, we suspended further commitment to buy fixed assets and operating equipment as well as reduced our energy consumption and maintenance costs.
Bottom Line: The hotel faces a tipping point and as things stand survival is what is its priority.
To do so the hotel will have to make tough decisions some of which as job cuts, reduction in overheads, and suspension of capex related activities.
This will be a very painful restructuring process for the hotel group but it appears this is the only way it can survive.
Emirates Airlines banned from operating in Nigeria
UAE's Emirate Airline has been banned from operating in Nigeria.
Emirates Airline has been added to the list of airlines which have been banned from operating in  Nigeria. The ban will take effect from the 21st of September.
This was announced by the Minister of Aviation, Hadi Sirika in a social media statement on Friday.
READ: Nigeria's Innovate 1 Pay expands into Dubai's tech market 
The PTF sub committee met today with EU Ambassadors to discuss Lufthansa, Air France/KLM ban. The meeting progressed well. Emirates Airlines's situation was reviewed & they are consequently included in the list of those not approved, with effect from Monday the 21st Sept. 2020🇳🇬

— Hadi Sirika (@hadisirika) September 18, 2020
"The PTF subcommittee met today with EU Ambassadors to discuss Lufthansa, Air France/KLM ban. The meeting progressed well. Emirates Airlines's situation was reviewed & they are consequently included in the list of those not approved, with effect from Monday the 21st Sept 2020." Sirika stated.
This comes as the UAE government has been accused of not renewing visas of Nigerians in Dubai and also rumours of a VISA ban for Nigerians applying for visas.
READ: Analysis: CBN bans maize importers from accessing FX
Last month, the UAE embassy in Nigeria denied there is a VISA ban on Nigerians entering the Middle Eastern country. They said: "At the onset of the COVlD-19 pandemic, the UAE took a number of precautionary measures to combat the virus' spread, including the temporary suspension on issuing UAE visas for all nationalities as of March 17, 2020.
After entering the recovery phase of the pandemic, the UAE eased some measures on July 7, permitting visitors from various countries to adhere to the necessary precautionary measures, including by showing negative PCR test results within 92 hours of travelling to the UAE. This includes those visiting from Nigeria."