OPEC Cuts: Nigeria defies quota, increases crude production
Nigeria has defaulted in the agreement reached by the Organization Petroleum Exporting Country (OPEC) to cut crude oil production.
Nigeria has once again defaulted in the agreement reached by the Organisation of Petroleum Exporting Countries (OPEC) to cut crude production through the first half of 2019.
A survey by S & P Global Platts revealed that Nigeria, which is Africa's biggest oil producer,  pumped 1.88 million barrels of crude per day in February 2019. This is a contrast compared to the 1.87 million barrels per day the country produced in January.
The latest increase in crude production represents a 0.01 million barrels per day increase for the 4th consecutive month.
Recall that last year, some of the world's largest crude producers (under the auspices of OPEC and its allies) reached a deal to cut oil production in the first half of 2019 in a bid to help shore up oil prices and stabilise the market. The terms of the deal reached by OPEC with other allied oil-producing countries (Russia inclusive) was to cut 1.2 million barrels per day (bpd) off the market.
Therefore, crude oil production quota was given to all OPEC and non-OPEC Countries in terms of volume of oil to be produced monthly. Contrary to 1.685 bpd that Nigeria was expected to produce in February, the country produced 1.88 bpd.
Also, the OPEC deal entails that the 15-member OPEC cartel reduces its output by 800,000 bpd, while Russia and other allied producers reduce production by 400,000 bpd. The decision reached by OPEC became necessary when the oil market found itself near the bottom of its worst price fall since the global financial crisis of 2008. In recent months, the crashes in the prices of crude oil have been piling up pressure on the budgets of oil-producing states.
Some Key Metrics 
OPEC cartel produced 0.17 bpb crude oil higher than the February allocation. Specifically, OPEC set 25.937 million bpb target for the month, however, it produced 26.11 million bpb.
Despite the non-compliance of five (5) countries, 11 countries achieved 79% of committed cuts in February. That is, OPEC could not cut 170,000 bpd.
Saudi Arabia continues to cut crude oil production. In February 2019, the country was given an allocation of 10.311 bpb, it, however, produced lower with 10.15 bpb.
Venezuela's struggles under US sanctions led OPEC's crude oil production in February modestly lower to 30.80 million bpd
Iran and Venezuela were exempted from the quota due to U.S sanctions, while Libya was also exempted due to instability affecting the country's output.
Nigeria, Ecuador, Equatorial Guinea, Gabon, Iraq and Nigeria all produced higher output than the February monthly allocation of OPEC.
Saudi Arabia leads the coalition
According to the S&P Global Platts' survey, Saudi Arabia has made good on its pledge to lead by example, slashing its output to 10.15 million bpd in February 2019. This figure shows that the country produced 160,000 bpd below its quota of 10.31 million bpd, representing the country's lowest output level since May 2018.
Also, Iran managed to keep production steady in February, at 2.72 million bpd. It was revealed that several buyers in the month took advantage of sanctions' waivers the US granted to eight countries to purchase Iranian crude. However, the waivers will expire in May, and it is yet unsure whether the US will extend them or not.
Some competing forces
From the collapse of Venezuela's oil industry to U.S. sanction on Iran's crude exports, some countries like Nigeria are either reneging or reluctantly keeping the OPEC's agreement. And this does not look good on the oil market.
Previously, Nigeria was exempted from OPEC's cuts.  It, however, agreed to a quota under the current accord. But the country has already failed to produce within the committed output, pumping an 190,000 bpd above its cap and producing 1.88 million bpd in February.
According to Plat's survey data, at the end of February, Venezuela had 10.8 million barrels of crude sitting dockside without a buyer. The country's output is down 910,000 bpd in two years and the lowest since an industry strike in late 2002 and early 2003.
With US sanctions imposed on the country, Venezuela's oil production has been declining for years due to under investment, technical problems and labour issues. The country produced 1.10 million bpb in February, down by 60,000 bpd month on month, as it has struggled to sell its crude.
Despite Trump's sanctions, oil Prices likely to rise
The United States' President, Donald Trump, has repeatedly criticised OPEC on its decision making, claiming prices should be lower. In his latest tweet on the matter, he told OPEC that the world cannot handle a hike. But many people interpreted his "world" to mean his "America" which is one of the world's biggest consumers of petroleum.
Oil prices getting too high. OPEC, please relax and take it easy. World cannot take a price hike – fragile!

— Donald J. Trump (@realDonaldTrump) February 25, 2019
But despite Trump's rant, OPEC is committed to maintaining its crude cuts. Saudi Arabia's energy minister, Khalid al-Falih, recently said in an interview granted by CNBC, that he's positive OPEC and partnered nations will meet their production cut commitments to balance oil markets in 2019, despite what he described as a slower than anticipated pace by some countries.
President Biden conducts first military airstrike against Iran-backed militia in Syria
The US has carried out military action in an approved airstrike against Iran-backed militia in eastern Syria.
U.S President, Joe Biden conducted his first military action in an approved airstrike against Iran-backed militia in eastern Syria, in a response to rocket attacks against American interests in Iraq.
This was disclosed in a report by Reuters on Friday morning, which revealed that the airstrikes were "limited in scope, potentially lowering the risk of escalation."
Pentagon spokesman John Kirby said: "At President (Joe) Biden's direction, U.S. military forces earlier this evening conducted airstrikes against infrastructure utilized by Iranian-backed militant groups in eastern Syria."
"President Biden will act to protect American and Coalition personnel. At the same time, we have acted in a deliberate manner that aims to de-escalate the overall situation in both eastern Syria and Iraq," he added.
The Pentagon revealed that the airstrikes were targeted at multiple facilities used by Iranian-backed militant groups, including Kata'ib Hezbollah (KH) and Kata'ib Sayyid al-Shuhada (KSS) at a Border Control point.
What you should know 
President Biden revokes Trump's ban for green card applicants in US
Joe Biden has revoked Donald Trump's order that blocked many green card applicants from entering the US.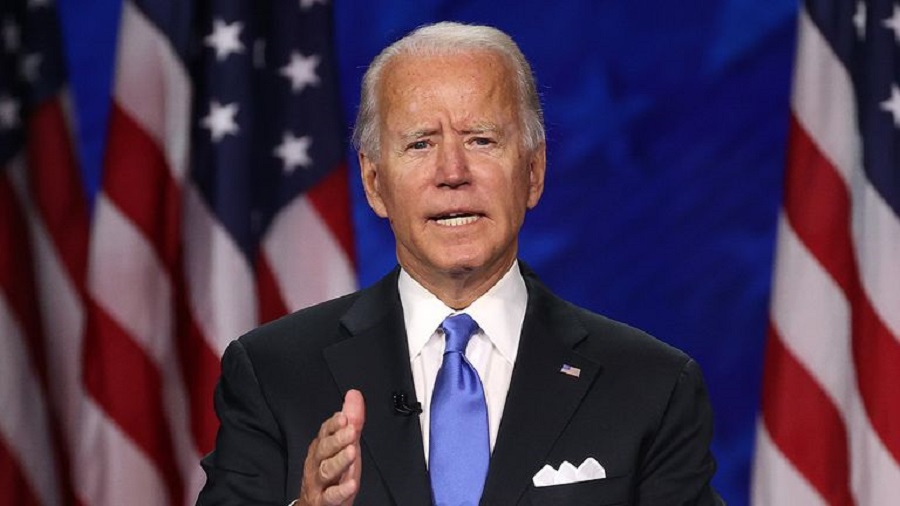 The United States President, Joe Biden, on Wednesday, revoked former President Donald Trump's order that blocked many green card applicants from entering the United States.
Biden rescinded Trump's proclamation limiting the number of new work visas for temporary foreign workers in the US amid the coronavirus pandemic.
According to a report from Reuters, the order by President Biden was provided by a communication from the White House on Wednesday, February 25, 2021.
READ: China becomes European Union's biggest trading partner, as it overtakes US
Former President Donald Trump had in June 2020, signed the proclamation that suspended certain categories of non-immigrant work visas as part of the effort to revive the US economy and the need to protect US workers amid high unemployment due to the coronavirus pandemic.
However, President Biden rejected that reasoning in a proclamation while rescinding the visa ban and said it had prevented families from reuniting in the United States and harmed US businesses.
He pointed out that the suspension of entry imposed in Proclamation 10014, does not advance the interest of the United States.
What you should know
The newly sworn US President had pledged to reverse many of Trump's hardline immigration policies with immigrant advocates recently asking him to lift the visa ban, which was set to expire on March 31.
The suspension order by former President Donald Trump for a certain category of non-immigrant work visas includes H-1B visas for work in high-tech industries and a range of others for low-skill workers, interns, teachers, and company transfers
In October, a federal judge in California blocked Trump's ban on those foreign guest workers as it affected hundreds of thousands of US businesses that fought the policy in court.
Nairametrics | Company Earnings