FOCUS: These companies aren't generating wealth for shareholders
There are more than a hundred companies whose securities are listed on the Nigerian Stock Exchange. But not all of them generate wealth for investors.
There are more than a hundred companies whose securities are listed on the Nigerian Stock Exchange (NSE). As you may well know, the whole essence for listing securities on any bourse is so that they could be traded. This is very important, because it is only when stocks are consistently bought and sold by the investing public, that wealth is created for both companies and their shareholders.
However, in the case of some companies on the NSE, this hasn't quite been the case. As a matter of fact, little or no wealth is being created for the people that own shares in these companies. And the reason for this is simple – not all these securities are traded; at least not in the real sense of it.
Conversely, two things are bound to happen when companies' listed securities experience little or no trading activities over a period of time. According to a well-known capital market source, trade inactivity leads to share price depreciation which ultimately results in zero wealth being created for shareholders. Therefore, shareholders of NSE companies with low share prices need to be worried for their investment.
"First, we need to understand how a company's value is created. When a stock's price increases, it does so because there are more people willing to buy the stock (demand it) than people willing to sell it (supply it). This high demand in relation to supply creates value for the stock because buyers must compete against one another for it. And the more they want the stock for themselves, the more they are willing to pay for it.

"The opposite occurs when a stock price decreases, which simply results from a low demand in relation to supply. Just as a high number of buyers create value, a high number of buyers erodes value."
On that note, welcome to Nairametrics' company focus for this week. Today, we are doing it a little differently – focusing on a number of companies whose share prices have consistently been low on the NSE. We decided to look into this matter because a growing number of readers have emailed recently to enquire about their shareholdings and why they haven't been earning dividends since they acquired said shares.
If you have a similar complaint, just know that the reason you haven't been earning any dividends is because the overall value of the company you co-own is low. That said, below are the companies with the lowest share prices, according to reliable information.
Tantalisers Plc
This company's share price has, over time, hovered around N0.20. This explains why its market capitalisation is valued at just N642,325,581.40, even as shares outstanding is 3,211,627,907.
Financially, Tantalisers Plc hasn't been performing very well. It consecutively ran at a loss between 2013 and 2016, until 2017 when it reported a profit after tax of N443.3 million. In 2018, however, it returned to loss-making. This is because the company's unaudited third quarter result for the year shows that it ran at a loss of N213.5 million. We reported that this could be a pointer to a possible overall loss for the fiscal year ended December 31st, 2018.
Tantalisers Plc is the NSE's only listed Fast Food Company. It has been in existence for more than twenty-two years, following its 1997 incorporation. Its business model entails the cooking and selling of staple Nigerian and foreign dishes such as jollof/fried rice, pastries, Chinese cuisines, etc.
Tripple Gee and Company Plc
Incorporated in 1980, Tripple Gee and Company Plc is a Nigerian company whose business model entails the printing of sensitive financial instruments and other security documents for financial institutions and government agencies.
But investors are disinterested in the company's stock; hence, the reason why the share price has remained at N0.77 for a long time. Market capitalisation is N381,114,580.00, while shares outstanding is 494,954,000.
In recent years, Tripple Gee and Company Plc has struggled to achieve profitability. It did, however, record a profit after tax of N12.7 million for Q3 2018.
Rak Unity petroleum Company Plc
This company has a share price of N0.40, which has remained unchanged over a long period of time. Its market capitalisation stands at N22,649,813.20, and shares outstanding totals 56,624,533.
Incorporated in 1982 and listed on the NSE in 1989, the company is specialised in the merchandising of petroleum products such as premium motor spirit, automotive gas oil, kerosene, gas, etc.
Rak Unity Petroleum Company Plc generated a loss after tax of N2.6 million in Q3 2018, which makes it one of the worst performing companies in its sector.
Neimeth International Pharmaceuticals Plc
The company specialises in the manufacturing and merchandising of pharmaceutical products for both humans and animals. It has been operating this same business model for 61 years since it was first established in Nigeria back in 1957.
It has, however, struggled to be profitable recently. Its share price is a mere N0.67. However, the company's market capitalisation is N1,272,435,262.36. Also, shares outstanding totals 1,899,157,108.
McNichols Plc
This company has a share price of N0.51, a market capitalisation of N166,617,000.00, and shares outstanding totalling 326,700.000.
It is a relatively new player in the fast moving consumer goods sector, having just been incorporated in 2004. It was listed on the Nigerian Stock Exchange on December 18, 2009. It recorded a total revenue of N640.9 million in Q3 2018, with a profit after tax of N27.8 million.
Japaul oil & Maritime Services Plc
This company's shareholders already have a lot of reasons to regret their investment, and a low share price is one of them. This is because it has a share price of N0.23, a total shares outstanding of 6,262,701,716, and an overall market capitalisation of N1,440,421,394.68.
The Nigerian company operates in the oil and gas sector, offering a range of services such as maritime, logistics, drilling/installations, and dredging services. But despite its many potential sources of income streams, the company reported a loss after tax of N5.5 billion in Q3 2018.
It was incorporated in 1994 and listed on the Nigerian bourse in 2005.
Other notable mentions
First Aluminium Nigeria Plc: This company's share price is within the range of N0.29.
Evans Medical Plc: N0.50
DAAR Communications Plc: N0.40
Courteville Business Solutions Plc: N0.20
Afromedia Plc: N0.50
Academy Press Plc: N0.40
If you own shares in any of the companies mentioned above and others like them, you should know that you co-own companies that are no longer perceived to be very valuable by other investors. Already, the initial price at which you acquired the shareholding have depreciated. If you should choose to continue holding on to the shares (in hopes of better days to come), you should also bear in mind that the chances of further depreciation abounds. However, a decision to sell would mean that you would be selling for far less than the amount you spent to acquire them in the first place.
It can be an uneasy decision to make. But no matter how you decide, ensure to consult your stockbroker.
Tripple Gee: How a small company outlived its founder, 40 years and still counting
Tripple Gee must have driven home the message that it is here to stay.
Chief Gani Gbadebo Giwa founded Tripple Gee & Company Plc in 1980 (the name is obviously taken from his initials GGG). The company was set up to provide printing and manufacturing services for a selected market.
His B2B model might have been considered risky, but the company has remained through four decades, waxing stronger even after the death of its founder.
Though not a household name, Tripple Gee & Company Plc has continued to show a gradual but steady increase in its yearly sales and revenue. After dealing with its wobbling finances and operations up till 2015, the company appeared to stabilise afterwards and started recording a steady rise in income in 2017.
READ ALSO: Covid-19: Unilever Nigeria suffers 40% revenue loss
About the company and its business model
Incorporated as a private limited company since April 1980, Tripple Gee & Company Plc was not listed on the main board of the Nigerian Stock Exchange until 1991 when it converted to a public limited liability company.
At its listing, the company has 10 million authorised shares of which 5 million were issued and fully paid for. After 29 years, the company has now expanded operations and increased its shares to almost half a billion units, worth N247.48 million at its current market price of N0.50 per share.
The company specialises in manufacturing financial instruments (MICR encoded and personalised cheques, dividend warrants, share certificates), and other secure and commercial documents. Labels and flexible packaging materials are also part of its products.
Among its customers are firms in need of and labelling products like pharmaceutical labels, anti-counterfeit labels and packaging labels such as printed nylon, BOPP, PVC and shrink packaging products.
READ MORE: Okomu Oil Palm 's profit declines by 43.22% as at Q3 2019  
As the company progressed over the years, it has also incorporated into its operations the production of ballot papers and election stationery as well as licenses and permits, customs revenue collection forms and receipts, statement of accounts, utility bills and pension contributions, personalised letters to shareholders and brochures collation, to meet the needs of its expanding clientele.
The market
Every business only survives because of the market it services, and for a name that is relatively unknown, TrippleGee is holding its own in the space producing sensitive documents like licenses, receipts, and ballot papers.
The company provides secure financial instruments such as cheques, and certificates for financial institutions like the Central Bank of Nigeria (CBN), Guaranty Trust Bank Plc, Zenith Bank Plc, Ecobank Nigeria Plc, Union Bank Plc, Bank of Industry (BOI), EDC Registrars Limited, and First Registrars, among others.
Tripple Gee also produces Self-Adhesive Labels used by companies in the Manufacturing, and Oil and Gas sectors. Conoil Plc, Capital Oil Plc, A – Z Petroleum, Oando Petroleum Plc, Tecno Oil & Gas Ltd, Ascon Oil & Gas Ltd and Grand Petroleum Ltd are some of their patrons in the space.
READ ALSO: Top 10 highest earning CEO's in Nigeria
They also service institutions such as the Joint Admissions and Matriculation Board (JAMB), West African Examination Council (WAEC), Nigerian Ports Authority (NPA), Nigerian Maritime Administration and Safety Agency (NIMASA), Independent National Electoral Commission (INEC), Institute of Chartered Accountants (ICAN), and some higher institutions.
The company produces vehicle licenses and permits for state governments across all regions including Lagos, Delta, Rivers, Anambra, Osun, Oyo, Kogi, Enugu, Abia, Cross River, Kebbi Niger Plateau, Imo, Adamawa, Kaduna and Sokoto States.
Major brands like the Dangote Group, Flour Mills of Nigeria Plc, Berger Paints of Nigeria Plc also have Tripple Gee producing their secured documents.
A look at the financials
The company's activities are broken down into manufacturing of packaging products and printing services, with the former making for 53% of its activities, and the latter making up the rest.
Results in recent years show that the manufacturing of packaging products make up the largest part of its revenue, followed closely by printing services, other printing services, and other packaging services.
In 2018, packaging made up 37.8% of its N742.56 million revenue in sales, while printing services brought in 26.1% of the revenue, other printing services brought in 22% and other packaging services, 13.1%.
READ MORE: Fines: NSE makes over N154 million from banks, others
In 2019, N784.4 million was raked in from sales made in Nigeria. There was a little reshuffling and this time, the input from packaging dropped to 32.6%, printing services dropped to 25.2%, other printing services also dropped to 21.3%, while revenue from other services increased significantly to account for 20.8%.
Unaudited financials for the year ended March 2020 shows an annual turnover of N1.32 billion, a 68.3% jump from the previous period. Part of the reason could be the additional income accruing from financing and investing activities, as well as the change in management.
Clearly, every aspect of the company's operations is just as important as the other, and they each account for a reasonable portion of the company's sales and total revenue.
READ: Opay shuts down other business arms to focus mainly on fintech
The management and board of directors
The company's Board of Directors is made up of 6 members – Alhaji Ali Safiyanu Madugu Mni (Chairman), Mr Samuel Idowu Ayininuola, Mrs Adebimpe Giwa, Senator (Chief) Felix Kolawole Bajomo, Chief (Mrs) Christy Nkem Okoye, and Mr Olusegun Olusanya.
Mrs Adebimpe Giwa rejoined the company in 2018 as Executive Director, after the death of her husband, Chief Gani Gbadebo Giwa who was also the founder.
Subsequently, she was announced as Managing Director of the company at the AGM in 2019. She had initially served as the company's general manager (packaging) between 2007 and 2014 before she left to manage AN-BOS Nigeria Limited, a trading company specialised in the supply of raw materials.
The company said Giwa returned to the Tripple Gee as an executive director after the demise of the founder in 2018. The company's record shows that within the first six months of her return, the company's turnover increased by 149%, and this made her most qualified for the position of MD.
She has since justified her position as MD, increasing the company's revenue to N1.32 billion for the financial year ended March 2020, a major leap from the N784 million recorded the previous year in 2019.
Download the Nairametrics News App
Looking at another 40 years?
In 29 years of being listed and 40 years of existence, the company continues to reward shareholders for their trust and investments, delivering returns to them yearly, although its share price has been on a decline in recent years.
Having outlived its founder, Tripple Gee must have driven home the message that it is here to stay. As the world goes digital, the company continues to expand its services to stay in business and stay relevant to the community.
There is a lesson or two for young entrepreneurs to pick from this company, especially at this time when surveys have shown that most businesses hardly last beyond five years.
Access Bank Plc reports profit of N40.9 billion for Q1 2020
Access Bank Plc recorded a profit after tax of N40.9 billion in the first quarter period ended March 31st, 2020, according to the company's latest earnings report which was released earlier this afternoon.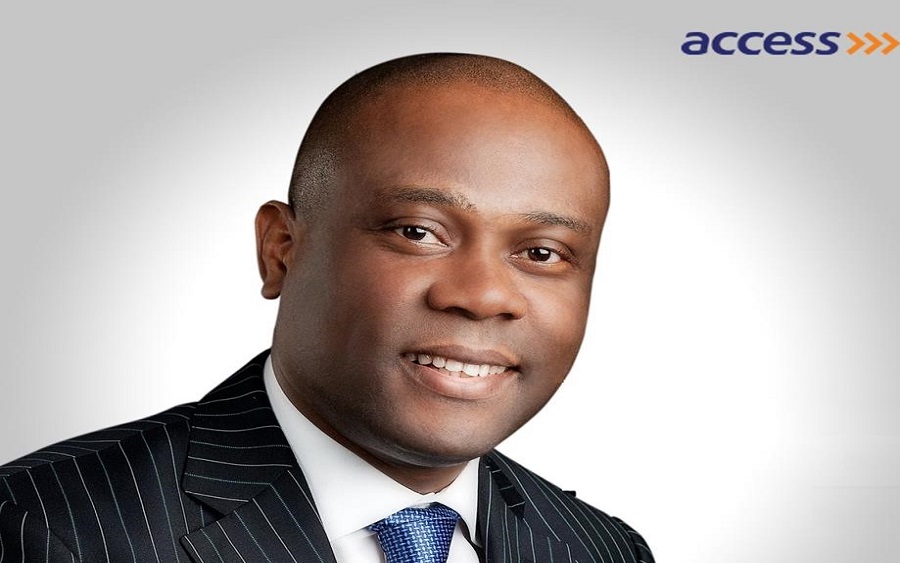 Access Bank Plc recorded a profit after tax of N40.9 billion in the first quarter period ended March 31st, 2020. This is according to the company's financial statement for Q1 2020, which was released earlier this afternoon. Other key details about the company's Q1 financial performance can be seen below.
Net Interest Income: Access Bank's net interest income for the period under review stood at N72.2 billion. This indicates a 27% increase compared to N56.8 billion that was recorded in Q1 2019.
Personnel and Operating Expenses: In Q1 2020, the tier-1 bank incurred a total cost of N19.6 billion in personnel expenses. This shows a 53.5% jump compared to N12.8 billion in Q1 2019. In the same vein, other operating expenses also jumped sharply to N63.5 billion, marking a 69.8% increase when compared to N37.4 in Q1 2019.
READ ALSO: Sterling Bank attempted to 'scam' its customers; but it's a drill
Profit before tax & profit after tax: Access Bank's profit before tax for Q1 2020 stood at N46.2 billion. This is 2.6% more than N45.1 billion reported in Q1 2019. On the other hand, profit after tax decreased slightly by 0.53% to N40.9, down from N41.1 billion.
Note that Access Bank's earnings per share (basic) for the period decreased to 121 kobo as against 139 kobo. Diluted earnings per share also decreased to 119 kobo in Q1 2020 as against 137 kobo in Q1 2019.
READ ALSO: World Bank says remittances to Nigeria, other LMICs will drop by 20% in 2020
You may download the full report right here.
SumoBank rebrands to SumoTrust, introduces bank account numbers
An online savings platform, SumoBank has rebranded as it metamorphosed to SumoTrust to continue the race of digital savings App in Nigeria.
The firm, launched its operation as a digital savings and investment platform, has grown from 0 to serving about 4000 customers.
An online savings platform, SumoBank has rebranded as it metamorphosed to SumoTrust to continue the race of digital savings App in Nigeria.
The firm launched its operation as digital savings and investment platform, and has grown from 0 to serving about 4000 customers.
The development was announced on the Sumobank blog on the 27th of December 2019 by the Chief Executive Officer, Igwe Chrisent.
[READ ALSO: Budget: FG completes only 31.7% of constituency projects(Opens in a new browser tab)]
"In 6 months, we have grown from 0 to serving almost 4000 customers and to serve you better; we decided to carry out a product-service survey which will help us to do more.
"Based on the feedback we got from our 'Esteemed users' on our Product and service survey; we're happy to announce that our vision just got bigger and we've set out to give you the very best of platform for Savings, Investment, learning and more.
"Because our vision got broader and clearer, it is important to know that having 'Bank' attached to our name will not serve the product updates which will be effected in the coming months/years, so we decided to pick a new name."
[READ MORE: Mr Biggs rebrands, launches new model restaurants across Nigeria)
Highlights of rebranding: The Change of name from SumoBank to SumoTrust also came with some updates on the SumoTrust savings App which include:
Addition of NUBAN ACCOUNT numbers which allow users to have their unique bank account numbers for transactions (deposits) in their SumoTrust account.
Group Saving feature which allows users to go on a savings mission with a group of friends, family, associations, challenges, etc to reach a savings goal. See image below:
The article also mentioned that their Learn feature (Motute) which will enable you to teach or learn anything from anywhere in the world will be ready and announced in a few months and will be released on Entrepreneur Platform. This means the Sumotrust's partnership with Entrepreneur Platform will enable you to access the company's course for free and get third party course at a discounted rate.
From this, it is clear Sumobank (SumoTrust) is preparing to become another big company to come out of Nigeria or there's something else we don't know yet, whichever it is, Both names sound alike and non will be forgotten easily since they are all 'Sumo'.