Corporate Actions: Dividends declared and a Revival Plan
Corporate actions are decisions taken by companies' boards of directors or management teams, that could have impacts on the firms themselves or shareholders. 
Examples of corporate actions include the release of quarterly and full year results,  payment of dividends, closing of shareholders' registers, announcing qualification dates and Annual General Meeting (AGM) dates. 
Here is a review of corporate actions that took place last week 
Results released 
Nigerian Breweries FY 2018 
Nigerian Breweries released its audited results for the 2018 financial year after closing hours. Nairametrics had earlier placed the stock on its watchlist last week. While revenue dipped slightly, profit before tax and profit after tax fell by over 30%.  
The company attributed the poor results to the increase in excise duties and a challenging operating environment.  
The company declared a final dividend of N1.83 per share. March 6, 2019 has been fixed as qualification date, while shareholders' register will be closed from March 7 to March 13, 2019. Payment date has been fixed for the March 20, 2019, and AGM Date is scheduled for Friday, May 17.  
Transcorp Hotels FY 2018 
Transcorp Hotels Plc released its results for the 2018 financial year. They reflected increases in both topline and bottom-line, with revenue increasing by 26% and profit after tax rising by about the same margin.  
The firm has declared a dividend of N0.15 per share.  
Transcorp Plc
Parent company, Transcorp Plc released its results on Friday, a few days after. The results were quite positive with revenue up by 30%, and profit after tax up by nearly 100%.  
The company has declared a final dividend of N0.03 per share. Qualification date is February 28, 2019. The shareholders' register will be closed from March 1 to March 5, 2019. Payment date has been set for March 19, 2019.  
AXA Mansard Halts Hospital Project
AXA Mansard released resolutions from its board meeting held on the 13th of February, 2019. The board approved its results for the 2018 financial year and gave an update on its hospital project.  
The project announced in 2017 has been put on hold due to unforeseen circumstances. The board of directors directed management to embark on further studies, in order to determine an appropriate structure of intervention within the Nigerian Healthcare delivery system. 
A Valentine's gift
Newrest ASL Nigeria Plc released its results for the 2018 financial year on Valentine's Day. Revenue was up by 38%, while profit after tax rose by a whopping 247%.  
The company has declared a final dividend of N0.20 per share. Qualification date is April 26, 2019 while the shareholders' register will be closed from April 29 to May 3, 2019. Payment date has been fixed for May 17, 2019, and AGM is fixed for May 16, 2019.  
A late filing
Standard Alliance Insurance Plc notified the Nigerian Stock Exchange of its inability to submit its 2018 Audited Financial Statements (2018 AFS) within the regulatory timeline of March 30, 2019 as required by the Exchange's rules. 
The late filing is because of National Insurance Commission's (NAICOM) directive to reconstitute its board. The company has commenced the reconstitution exercise as directed, and hopes to complete it soon. It also expects to submit its results on or before the 30th of June, 2019. 
Backlog released
Goldink Insurance Plc released a backlog of results. The most recent for the nine months ended September 30, 2018 show that the firm made a loss after tax of N149 million, and has negative retained earnings of over N11 billion.  
Afromedia bounces back
Afromedia Plc released its results for the 2017 financial year. The company bounced back from a N1.7 billion loss. This was largely due to  a write back of a N2.2 billion provision no longer required.  
Golden Guinea Insurance Plc
Golden Guinea Breweries Plc has also released long over due results. However, the firm gave no timeline for its resumption of operations.  
Revival plans 
In a notice sent to the Nigerian Stock Exchange last week, DN Tyre and Rubber Plc (formerly known as Dunlop Nigeria Plc), gave an update on its restructuring plans. 
According to the firm, it had recorded significant results with the Federal Government, pertaining to the conclusion of a new automotive policy, which had taken into account some policies that had adverse effects on the company. The policy is in the process of being forwarded to the National Assembly for legislation. 
In addition, DN Tyre had also developed a 10-year strategic business plan, to enable it to return to local manufacturing, which it was marketing to potential investors, after which it would seek technical partners. 
The firm was also in serious discussions with a state government which was setting up an industrial park, with provision for an automobile cluster and tyre manufacturing plant. 
 An emergency meeting 
Financial services firm Royal Exchange Plc held an emergency board meeting on February 14, 2019. The firm was to discuss an update on a proposed investment in the firm. No word yet on the outcome reached.  
A board meeting
United Capital Plc held a board meeting on the 15th of February, 2019. Items that were on the agenda include the company's 2018 full year results and management letter.
World's biggest sovereign wealth fund now owns cryptos
Norwegian Government Pension Fund owns almost 600 Bitcoin through its investment holdings.
The world's largest sovereign hedge fund, the Norwegian Government Pension Fund, also known as the Oil Fund, in a report credited to Arcane Research disclosed that the fund owns almost 600 Bitcoin (BTC) through its investment holdings.
Arcane Research analysis data revealed the Oil Fund had 577.6 BTC through its investment in business intelligence firm MicroStrategy.
This puts the company's portfolio in BTC at around $6.3 million. The Norwegian Government Pension Fund owns a 1.51% stake in MicroStrategy.
READ: BTC bounty: 69,000 Bitcoins worth $700 million waiting for you
What we know: The Norwegian Government Pension Fund, has over $1 trillion in assets, including 1.4% of all global stocks, making it the world's biggest sovereign wealth fund. It is not unlikely that the fund has garnered indirect BTC exposure via other investments, in addition to it's exposure to BTC via MicroStrategy.
In an explanatory note to Nairametrics, Ekene Ojieh, Head of Public Relations and Corporate Strategy at Buffalo Chase, a crypto-asset trading firm, gave vital insights on why BTC is now regarded as a treasury asset. She said:
"In the past few months, gold saw a new all-time high of $2072, which is about 42.6% in the last decade. Bitcoin has gained about 8.9 million percentages over the last decade. Security and scarcity are the topmost reasons why traders have trust in safe-haven assets like gold and bitcoin. Bitcoin would outperform gold in a foreseeable future because it's easily accessible for anyone with internet and of course a more profitable asset than gold."
READ: Flying Doctors to raise $1 billion to invest in African Healthcare
She spoke about the initial skepticism that traditional banks, companies, and global financial regulators had on bitcoin, which looks to be changing now, saying:
"The last decade has been quite challenging for bitcoin and the crypto space despite the enormous price increase. Regulators, investors, and mainstream traders were skeptical about bitcoin because of its volatility and how bitcoin works. In recent times, we have seen growth in the adoption of bitcoin and other cryptocurrencies in general; regulators, banks, are finding an entry point into the crypto space.
"In addition, the market cap of both gold and bitcoin, 9 trillion dollars, and 117.81 billion dollars respectively, shows that bitcoin still has a lot of potentials. Going by this trajectory, bitcoin is expected to gain more grounds, increase in value, and also be widely used/accepted."
READ: This Nigerian ETF is one of the best performing investments in the country
Bitcoin's primary advantage: BTC holds a maximum supply of about 21 million digital coins of which there are about 18.5 million in circulation, while over 4 million BTCs have already been lost forever. These show that its definite supply protects the asset against value dilution
U.S dollar drops, low U.S interest rates expected to persist for long
The Fed's message is that policy will remain accommodative, but there is no real appetite for adding to the easing.
The U.S dollar was trading lower in the latter part of Asia's trading session on Monday.
The slump was triggered on growing concerns about whether the safe-haven currency had found its footing after five straight months of declines, with low-interest rates expected to persist in the long term.
What we know: The U.S. Dollar Index, which tracks the greenback against a list of other major currencies, is down by 0.18% to trade at 92.787 at the time of this report.
READ: OECD reduces global economic decline to 4.5% from earlier forecast of 6% 
The latest speech by Federal Reserve Chair, Jerome Powell, revealed an accommodative shift in the central bank's approach to inflation, increasing pressure on the U.S dollar, as global investors interpreted it that U.S interest rates could stay lower for a longer period of time.
Quick fact: The U.S. Dollar Index tracks the greenback against a basket of major global currencies such as the Japanese yen, British pound sterling, Swedish Krona, Euro, etc. Individuals hoping to meet foreign exchange payment obligations via dollar transactions to countries like Europe, and Japan, would need to pay more dollars in fulfilling such payment obligations.
READ: Why currency traders are now buying U.S dollars
Stephen Innes, Chief Global Market Strategist at AxiCorp, in a note, gave insights on the prevailing macro, happening at the currency market, saying:
"The G-10 forex markets may give gold investors a more precise direction. The Fed's message is that policy will remain accommodative, but there is no real appetite for adding to the easing. By contrast, the European Central Bank's (ECB) rhetoric continues to leave the door more open to further action this year.
The ECB's Pablo Hernandez de Cos noted Friday that the recovery pace had decelerated in August and that the need for additional stimulus cannot be ruled out.
"If more accommodation is on the way from the ECB, while the Fed stays status quo, and the EUR-USD weakens, gold's US dollar unpinning could be seriously undercut." He said.
Naira falls at black market as dollar scarcity hits the forex market
The Naira depreciated against the dollar to close at N465/$1 on Friday.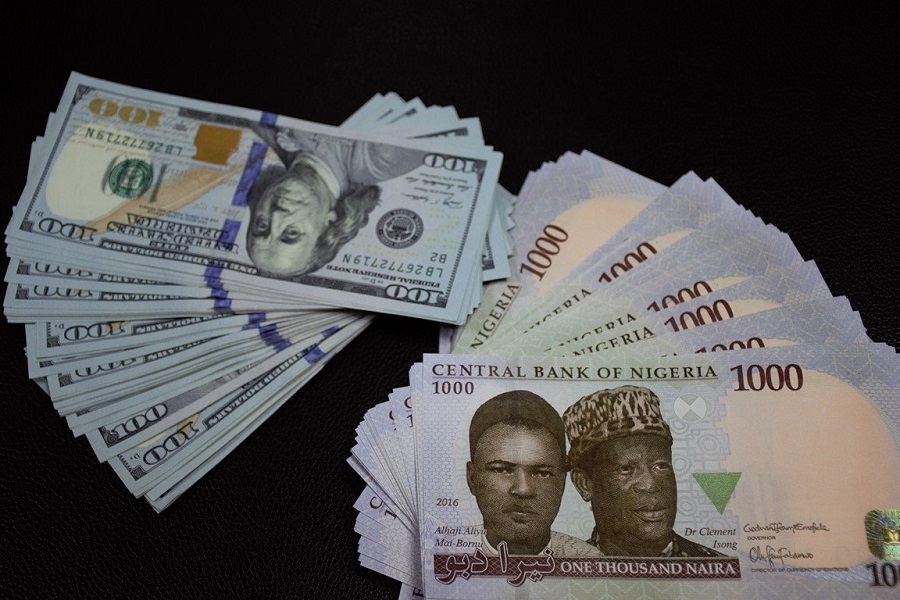 Nigeria's exchange rate at the NAFEX window remained stable for the fifth consecutive trading day to still close at N386/$1 during intraday trading on Thursday, September 18.
Also, the naira depreciated closing at N465/$1 at the parallel market as BDC operators expect another round of forex allocation. The drop could be attributed to increased demand and dollar scarcity as forex traders appear to hoard the foreign exchange.
READ: Exchange rate stabilizes across forex markets as CBN moves against abuse by dealers
Parallel Market: At the black market where forex is traded unofficially, the Naira depreciated against the dollar to close at N465/$1 on Friday, according to information from Abokifx, a prominent FX tracking website. This represents a N3 drop when compared with the N462/$1 that it exchanged on Thursday, September 17.
Currency Developments
The local currency has strengthened by about 7.8% within the last one week at the black market, as the Central Bank of Nigeria introduced some measures targeted at exporters and importers in order to try to boost the supply of dollars in the foreign exchange market and reduce the high demand for forex by traders.
The CBN has sold over $150 million to BDCs since the resumed forex sales on Monday, September 7, 2020. This was expected to inject more liquidity to the retail end of the foreign exchange market and discourage hoarding and speculation.
However, the exchange rate against the dollar has failed to sustain the initial gains made after the CBN announced plans to provide liquidity.
BDC operators have urged the apex bank to reconsider the margin allowed for the currency traders as it was inadequate to meet their expenses.
We also noted that forex traders monitored during the previous week appear to hoard forex as they anticipated further depreciation in the market.
There has been a sharp drop in speculative buying of foreign exchange, although demand backlog by manufacturers and foreign investors still puts pressure and creates a volatile situation in the foreign exchange market.
READ: Foreign investment inflow into banking sector falls by 95% in Q2 2020
NAFEX: The Naira still remained stable against the dollar at the Investors and Exporters (I&E) window on Friday, closing at N386/$1.
This was exactly the same rate that it exchanged for on Thursday, September 17.
The opening indicative rate was N386.37 to a dollar on Friday. This represents a 32 kobo drop when compared to the N386.05 to a dollar that was recorded on Thursday.
The N392.62 to a dollar is the highest rate during intraday trading before closing at the rate of N386/$1. It also sold for as low as N383/$1 during intraday trading.
READ: Nigeria will keep taking infrastructure loans to attract investments – Buhari
Forex Turnover: Forex turnover at the Investor and Exporters (I&E) window declined by 5.04% on Friday, September 18, 2020.
According to the data tracked by Nairametrics from FMDQ, forex turnover dropped from $87.78 million on Thursday, September 17, 2020, to $83.35 million on Friday, September 18, 2020.
The slightly higher forex supplies at the NAFEX window CBN's move to clear the huge backlog of foreign exchange demand, especially by foreign investors wishing to repatriate back their funds.
The drop in forex supply reinforces the volatility of the foreign exchange market. The supply of dollars has been on a decline for months due to low oil prices and the absence of foreign capital inflow into the country.
The average daily forex sale for last week was about $34.5 million which represents a drop from the $58.52 million that was recorded the previous week.
Total forex trading at the NAFEX window in the month of August was about $857 million compared to $937 million in July.