FOCUS: Could this little-known oil service firm be the next big deal?
Many Nigerian oil companies and service firms have reported good results this year.
As you may already know, there has been a recent uptick in global oil prices which has, as expected, influenced growth in many oil companies around the world. In Nigeria, for instance, many of the leading explorers and oil services firms have been reporting positive financial performances every quarter since the beginning of the year. One of such companies is Global Spectrum Energy Services Plc, a relatively new and little-known company that is positioning itself to snatch up market share.
This week's Nairametrics company focus will let you in on everything there is to know about Global Spectrum Energy Services Plc. Get to know about the company's various services, market opportunities, ownership structure, board of directors, competitors, and every other useful information you need in order to make informed investment decisions.
Corporate overview of Global Spectrum Energy Services Plc
Established in 2006, Global Spectrum Energy Services Plc operates in some of West Africa's key oil and gas industries, especially Nigeria's. Its business model entails the provision of integrated offshore support services such as maritime security, logistics, engineering services and more.
A special resolution dated July 2013 ensured that the company, which was initially incorporated as a limited liability, was later converted to a public company. As we reported, this conversion happened on November 27th, 2017 when some eight hundred million ordinary shares belonging to the company were listed on the main board of the Nigerian Stock Exchange (NSE). It currently has a market capitalisation of N4.6 million, according to the NSE.
Information available on the company's website claims that "we are pioneering some of the leading-edge technologies and innovations" in Africa's oil and gas sector. While this claim could best be seen as a marketing strategy, the truth remains that this company is indeed gradually becoming a force to reckon with in the market.
A closer look at the company's services
Global Spectrum Energy Services Plc aims to become a pre-eminent player in Africa's offshore and onshore support services sector. Interestingly, the company is already making moves to this effect by operating not just in Nigeria, but also in other key West African oil and gas sectors such as Ivory Coast, Ghana, Equatorial Guinea, etc.
Listed below are some of the services that the company offers:
Offshore Support and Port Services   
Maritime Security and Protection Services  
Integrated Logistics Management  
Towage & Pilotage Services  
Supply of Vessels, Patrol Boats and Anchor Handling Tug  
Supply of Maritime Machinery, Equipment, Spare Parts and Consumables  
Ocean Towing, Barge Conveyance and other Marine Transportation Services  
Maritime Crew Management, Recruitment, Training and Consulting Services  
Diving Services, ROV Operations and Associated Sub Sea Services 
Major Construction Services – Installation and Upgrade of Onshore/Offshore Production Facilities and Platforms
The company's target market
As an integrated offshore support provider, Global Spectrum Energy Services Plc targets oil companies, especially those ones that are engaged in offshore crude exploration activities such as Exxon Mobil and Total. It also targets oil companies which generally need support in the areas of vessel rental, security services, logistics, etc.
A brief look at the company's board of directors
Engineer Godwin Eyarubere Omene: He is the Chairman of Global Spectrum Energy Services Plc. He graduated with a First Class degree in Mining Engineering from the Imperial College of Science and Technology, London. He is also an experienced business executive, having spent years at Shell Petroleum Development Company (SPDC) of Nigeria where he headed many key executive positions including Deputy General Manager and later General Manager. He was also the pioneer General Manager of the Niger Delta Development Commission, NDDC.
Asides his current position as the Chairman of Global Spectrum, Engineer Omene also sits on the boards of other numerous organisations, including Neimeth International Pharmaceuticals Plc where he has been serving in the capacity of a Non-Executive Director since 2008.
Mr. Colm Doyle is the Chief Executive Officer of Global Spectrum Energy Services Plc, a position he has held for more than six months. He is a seasoned business leader with some thirty years' experience in the global oil and gas industry; Europe, Middle East, and Africa.
Other notable members of the company's board of directors include the following:
Mr. Patrick Etim: A Non-Executive Director
Mr. Babatunde Osmond Ibitoye: A Non-Executive Director
Major Stanley Dika: A Non-Executive Director
Mr. Ohanu Eugene Ijeoma: A Non-Executive Director
Mr. Shuaibu Mustapha: A Non-Executive Director
An overview of the company's ownership structure
The majority shareholding structure at Global Spectrum Energy Services Plc is in the order enumerated below:
Aspiral Sun Limited owns a total of 440,000 units of shares in the company, which translates to 55% majority shareholding.
Ocean 99 Limited owns 123,900 units of shares which represents 15.49%.
Criterion Nigeria Limited owns 120,000 units of shares, representing 15.00%.
Citizen and Corporate Bodies owns 116,100 units of shares, which makes up 14.51%.
Here are the company's competitors
The company operates in a highly competitive industry. Although market opportunities abound thanks to the favourable global oil prices, the company still faces competition posed by the likes of C & I Leasing Plc, Japaul Plc, Caverton Offshore Support Group Plc, and Ladol. Other competitors include: Fenog Offshore Vessels, Blue Seas Maritime Services Plc, Zircon Marine, etc.
The company's recent financial performance
As noted earlier, the company has been recording impressive financial performance in the past three quarters of 2018. This development is due mainly to the favourable global oil prices. Note that any increase in the global prices of crude oil is good for oil companies. This is because when prices increase, oil companies earn more money and by so doing are able to pay for offshore and other support services.
This explains the positive performances so far recorded by the company in 2018. According to the third quarter financial report which was published last week, the company's revenue grew from N934.6 million in the third quarter of 2017 to N1.2 billion in the third quarter of 2018. The company's profit after tax for the period also increased from N147.7 million in Q3 2017 to N167.6 million in Q3 2018.
In Conclusion  
Global Spectrum Energy Services Plc is gradually establishing its presence in the oil and gas support sector as a major player. Recall that the company announced in September that it intends to raise capital through the issuance of preference shares and ordinary shares. The capital raise is part of the company's efforts to raise capital for expansion purposes.
In the words of the Chairman, Engineer Omene, who spoke during the company's 11th Annual General Meeting:
"We intend to take advantage of the projected growth the Nigerian economy will offer and deliver value to our shareholders."
If the company can continuously maintain its current growth rate, it might just become a force to reckon with in the industry.
Access Bank Plc reports profit of N40.9 billion for Q1 2020
Access Bank Plc recorded a profit after tax of N40.9 billion in the first quarter period ended March 31st, 2020, according to the company's latest earnings report which was released earlier this afternoon.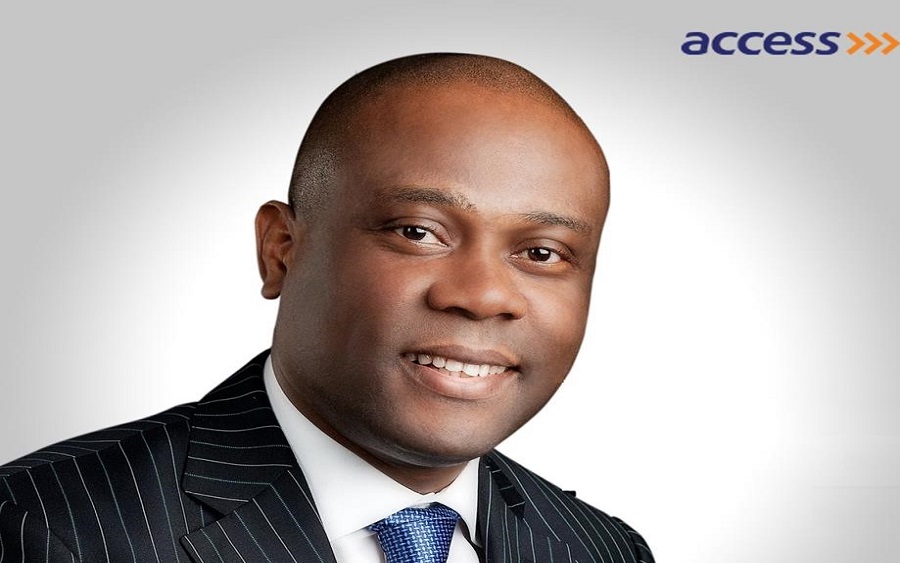 Access Bank Plc recorded a profit after tax of N40.9 billion in the first quarter period ended March 31st, 2020. This is according to the company's financial statement for Q1 2020, which was released earlier this afternoon. Other key details about the company's Q1 financial performance can be seen below.
Net Interest Income: Access Bank's net interest income for the period under review stood at N72.2 billion. This indicates a 27% increase compared to N56.8 billion that was recorded in Q1 2019.
Personnel and Operating Expenses: In Q1 2020, the tier-1 bank incurred a total cost of N19.6 billion in personnel expenses. This shows a 53.5% jump compared to N12.8 billion in Q1 2019. In the same vein, other operating expenses also jumped sharply to N63.5 billion, marking a 69.8% increase when compared to N37.4 in Q1 2019.
READ ALSO: Sterling Bank attempted to 'scam' its customers; but it's a drill
Profit before tax & profit after tax: Access Bank's profit before tax for Q1 2020 stood at N46.2 billion. This is 2.6% more than N45.1 billion reported in Q1 2019. On the other hand, profit after tax decreased slightly by 0.53% to N40.9, down from N41.1 billion.
Note that Access Bank's earnings per share (basic) for the period decreased to 121 kobo as against 139 kobo. Diluted earnings per share also decreased to 119 kobo in Q1 2020 as against 137 kobo in Q1 2019.
READ ALSO: World Bank says remittances to Nigeria, other LMICs will drop by 20% in 2020
You may download the full report right here.
SumoBank rebrands to SumoTrust, introduces bank account numbers
An online savings platform, SumoBank has rebranded as it metamorphosed to SumoTrust to continue the race of digital savings App in Nigeria.
The firm, launched its operation as a digital savings and investment platform, has grown from 0 to serving about 4000 customers.
An online savings platform, SumoBank has rebranded as it metamorphosed to SumoTrust to continue the race of digital savings App in Nigeria.
The firm launched its operation as digital savings and investment platform, and has grown from 0 to serving about 4000 customers.
The development was announced on the Sumobank blog on the 27th of December 2019 by the Chief Executive Officer, Igwe Chrisent.
[READ ALSO: Budget: FG completes only 31.7% of constituency projects(Opens in a new browser tab)]
"In 6 months, we have grown from 0 to serving almost 4000 customers and to serve you better; we decided to carry out a product-service survey which will help us to do more.
"Based on the feedback we got from our 'Esteemed users' on our Product and service survey; we're happy to announce that our vision just got bigger and we've set out to give you the very best of platform for Savings, Investment, learning and more.
"Because our vision got broader and clearer, it is important to know that having 'Bank' attached to our name will not serve the product updates which will be effected in the coming months/years, so we decided to pick a new name."
[READ MORE: Mr Biggs rebrands, launches new model restaurants across Nigeria)
Highlights of rebranding: The Change of name from SumoBank to SumoTrust also came with some updates on the SumoTrust savings App which include:
Addition of NUBAN ACCOUNT numbers which allow users to have their unique bank account numbers for transactions (deposits) in their SumoTrust account.
Group Saving feature which allows users to go on a savings mission with a group of friends, family, associations, challenges, etc to reach a savings goal. See image below:
The article also mentioned that their Learn feature (Motute) which will enable you to teach or learn anything from anywhere in the world will be ready and announced in a few months and will be released on Entrepreneur Platform. This means the Sumotrust's partnership with Entrepreneur Platform will enable you to access the company's course for free and get third party course at a discounted rate.
From this, it is clear Sumobank (SumoTrust) is preparing to become another big company to come out of Nigeria or there's something else we don't know yet, whichever it is, Both names sound alike and non will be forgotten easily since they are all 'Sumo'.
Cornerstone Insurance in consolidation talk with two underwriting firms
Cornerstone Insurance Plc is planning to consolidate with some insurance companies ahead of the recapitalization deadline set by NAICOM. 
Cornerstone Insurance Plc is in merger talks with some insurance companies ahead of the recapitalization deadline set by the National Insurance Commission (NAICOM) for the insurance sector.
The move is to strengthen its capital base. The Group Managing director of the company, Ganiyu Musa, said consolidation with other market players was more efficient compared to just seeking fundraising.
Although Musa didn't reveal the names of the insurance companies negotiating with Cornerstone Insurance, he said consolidation would place the firm in a stronger position, boost expertise, improve technical capacity and even strengthen the capital base of Cornerstone Insurance.
While the consolidation is expected to aid the company's recapitalization process, Musa said the Cornerstone Insurance had already met the recapitalization request by NAICOM.
According to him, the company has exceeded the N18 billion new minimum capital required by the insurance market regulator. Musa said the sale of its property and head office boosted the liquidity of the company, placing its finances in a better footing.
"The sale of our new property along Lekki axis has further increased the liquidity of the company to meet and surpass expectations. The company would have loved to keep the property for the long run, but we were challenged with the fact that real estate investment is not admissible in the ongoing recapitalisation.
"This necessitated the sale of the building for a handsome amount that covers the cost of the building project and still left with profit. At present, we are in a stronger financial position to scale through the exercise as our balance sheet is stronger and healthy," he said. 
[READ MORE: NAICOM boss makes case for recapitalisation, insists exercise will build a stronger insurance sector)
He added that, "The company came out from its loss position of N1.7 billion in 2017 to N1.8 billion profit in 2018, even as the 2019 profit outlook is showing sign of higher profit from that of the previous year, judging from its 2019 third-quarter report."
While the insurance companies don't have a choice but meet the deadline through fundraising and consolidation, the chairman of Mutual Benefit Assurance, Akin Ogunbiyi, said the company was against the planned recapitalisation scheme by NAICOM.
The company has said it could survive the wave of the recapitalisation, it said its concern was for other players who might become victims to the plan. Mutual Benefit also condemned the handling of foreign acquisitions in the Nigerian market.