For SET Plc, failure in lottery shifts focus to online gaming
Nigeria's gaming industry has continued to thrive, thanks to Nigerians' love for sports.
Secure Electronic Technology Plc, also known as SET Plc, initially started out as a gaming/lottery company. It has since diversified, yet online gaming remains of its main focus. 
It is a well-known fact that Nigeria has many sports lovers. For many years, millions of citizens have demonstrated their undying love and insatiable demand for all kinds of sports/games. As a result, the country's gaming industry has continued to thrive, with many companies springing up ever so often to take advantage of the opportunities that abound.
One of such companies is Secure Electronic Technology Plc, which today claims to be the foremost and leading provider of online gaming experience in Nigeria. For over a decade, this company has grown and expanded, changed its corporate identity (albeit for good reasons), and floated its equities on the Nigerian Stock Exchange.
But how much of this company's story do Nigerians know about? How many people are even familiar with the services it provides? And come to think of it, is SET Plc really a force to reckon with in the Nigerian gaming industry? Let's find out together, shall we?
Secure Electronic Technology Plc: A Corporate Overview
The corporate story of SET Plc began in 2001 when it was incorporated. It then received a three-decade-long lottery license from the Nigerian Government to conduct national lotteries in the country, backed by the National Lottery Act. It was the first ever company to receive such a license in the history of Nigeria.
Asides lottery and gaming, SET Plc has over the years gone on to explore other business opportunities; all within the ambit of technology and data management.  Today, it is involved in the vending of airtime, provision of card payment solutions, trivia promo syndication, provision of central database and information processing services, and treasury/asset management services.
Meanwhile, online gaming remains a major business venture for SET Plc; from that it provides a considerable percentage of its income. Below are some of the gaming products provided by the company:
60F49: This is the company's newest jackpot game in which lucky players could win an average of N24,000.
2SURE: Playing this game successfully could guaranty you a whooping N250,000 payout
50F90: Virtually all the lottery enthusiasts should be familiar with this game as it is quite a popular one.
BETWAZOBIA: This mobile and online 24/7 game is said to be a revolution in the industry.
Please note that all the information on how to play and win these games can be found on the company's website.
On the company's name change and listing of stocks on the Nigerian Stock Exchange 
On December 14, 2012, SET Plc became listed on the Nigerian Stock Exchange.  This happened precisely two years after its original name National Sports Lottery Plc was changed to the current one. The company later explained in a statement that one of the reasons for the name change was to "reflect the new business model of the company which, as the name connotes, is the provision of secured electronic platform for lottery and financial and other transactions."
Recall that as mentioned earlier, SET Plc had by this time transcended the lottery and gaming venture, while exploring the opportunities that abounded in the country's growing financial technology ecosystem.
A quick look at the company's Board of Directors
Dr Odulami Kola-Daisi serves as SET Plc's Chief Executive Officer. He is a trained Medical Doctor, having graduated from the University of Jos in 1989 and completed his residency at the University College Hospital (UCH), Ibadan. He is also an alumnus of the prestigious Harvard University.
Instead of pursuing a career in medicine, Dr Kola-Daisi chose to become a financial service professional, working as both a banker and a stockbroker. His first banking gig was at First City Monument Bank (FCMB) and later the now-defunct Spring Bank Plc where he rose to become an Executive Director.
Note that asides his position as the Chief Executive Officer, Dr Kola-Daisi also serves as the Chairman of Payment Technology Limited, a subsidiary of SET Plc.
Mr Akin Areola is a Member of SET Plc's board of directors, serving in the capacity of an Executive Director. He has a B.Sc. Political Science from the University of Benin, and later graduated from the same university with a Master's in Public Administration.
He is an experienced business executive who has worked in different notable corporations, including ABEX Express, DHL International, Trans-Nationwide Express Plc, and Red Star Express.
The company's target market
Lagos-based SET Plc has a wide target audience. First and foremost, it targets gamers and lottery enthusiasts in Nigeria, providing the platform for them to play and win. The company also targets organisations in need of database and information processing/management. In the same vein, it targets all those in need of trivia promo syndication, providing the infrastructure and technical know-how.
Which companies are in competition with SET Plc?
While SET Plc operates in markets where endless opportunities exist, it also has to contend with other companies that pose as stiff competitors. In the area of gaming and lotto, some of its competition includes the likes of Gamsole, Kuluya, Bestman Games, SUREBET, BETNAIJA, Baba Ijebu Lotto, etc.
The company is also in competition with data management and electronic payment companies such as CHAMS Plc, Courteville Business Solutions Plc, CWG Plc, eTranzact, Cellulant, etc.
The company's accomplishment over the years
Over the past 17 years since it was incorporated, SET Plc has recorded some interesting accomplishments. Today, it has some of the largest Point-Of-Sales (POS) machines in Nigeria and the entire Sub-Saharan region. Using this wide POS platform, the company has been able to create a convergence of gaming, electronic payments and transaction processes.
How the company has performed financially
By the first quarter of 2018, the company's revenue plummeted by 11.66%, down by N6.60 billion compared to N7.47 billion year on year. The company also recorded a loss in the period under review. In the same vein, its stock has had the most difficult year yet, having fallen by 54% year to date. It ended last week on the NSE' losers' list, having closed at N0.23 even though it started the week with N0.29.
Flour Mills moves to diversify funding sources with N29.8 billion bond listing
Flour Mills Nigeria Plc lists N29.8 billion bonds to diversify funding sources from the Nigerian capital market.
Flour Mills Nigeria Plc's fresh N29.8 bond listing will help the nation's leading food business company to explore diversified funding sources from the Nigerian capital market, with the hope of enhancing growth and the development of the company.
This statement was made by the Group Managing Director of FMN, Mr. Omoboyede Olusanya, at the listing of the Tranche A and Tranche B bonds valued at N29.8 billion on the Nigerian Stock Exchange (NSE).
The food and the agro-allied company which has remained Nigeria's largest and oldest integrated agro-allied business with a broad profile and robust Pan-Africa distribution issued these bonds under its N70 billion Bond Issuance Programme.
Olusanya said that the company would continue to explore funding opportunities inherent in the capital market to ensure business growth and continuity.
While speaking about the Credit Rating of the Programme, he disclosed that FMN's credit rating, as well as the operational financing of the Group, have improved considerably.
According to him, the bonds floated by Flour Mill will help to strengthen the company's capital base and provide the needed working capital required by the Company. He added that Flour Mills Group will continue to deleverage and replace short term financing with longer-tenured and lower price funding to optimize capital structure and reduce financing cost.
He noted that Flour Mills will continue to explore opportunities to raise fundings via the capital market as this enables the company to diversify its funding sources and continue to play a role in the capital market as a significant player in it.
What they are saying
The Group Managing Director of FMN, Mr. Omoboyede Olusanya, at the virtual event, said;
"We are delighted with the response from the market, we are happy to be listed.
"We are introducing an N29.9 billion listing under an N70 billion bond issuance cover; we will continue to raise funding to diversify our funding sources.
"The company remains passionate about feeding the nation to improve the quality of living for Nigerians through increased production and investments in backward integration."
What you should know
With the successful issuance of the new N29.8bn Tranche A and Bonds, FMN has utilized its bond issuance program registered in 2018.
It is important to note that the Senior Unsecured bond listing includes an N4.89bn under Series 4 Tranche A of the bond issuance programme, at a 5.5% rate for 5 years, due by 2025, and a 25bn under Series 4 Tranche B of the same program at a 6.25% rate for a tenure of 7 years, due by 2027.
The bond proceeds will be used to refinance existing debt obligations. It will also help the company take collaborative actions to diversify the company's financing options beyond expensive short term debt.
Lafarge moves to divest 35% shareholding in CBI Ghana
Lafarge Africa Plc has resolved to sell off its 35% shareholding in Continental Blue Investment Ghana Limited.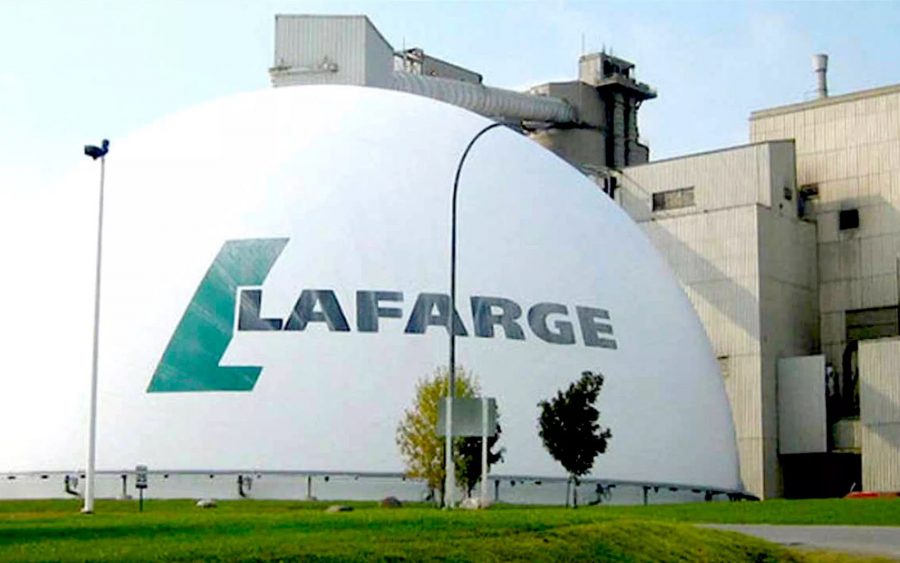 The Board of Lafarge Africa Plc has resolved to sell off its 35% shareholding in Continental Blue Investment Ghana Limited, in order to cut down on costs impacting the Group's profit.
This disclosure was made in a notification tagged- "Notice of Divestment in Continental Blue Investment Ghana Limited", which was issued by the Company Secretary, Mrs. Adewunmi Alode.
According to the statement, the Board of Directors of the Group made the decision to divest its 35% shareholding in Continental Blue Investment Ghana Limited ("CBI Ghana"), in line with the resolutions made at the emergency board meeting which held yesterday 20th, January 2020.
This move was made to set off the cement manufacturer on the path of sustainable growth and profitability, as Lafarge's investment in CBI Ghana has depleted significantly over the years.
What you should know
This is not the first time the company has had to sell off an unproductive investment in an effort to cut down on deadweight cost, as key players in the Cement industry like BUA and Dangote Cement continue to show strength and resilience through their effective cost minimization strategy which worked well in 2020.
Recall that in August 2019, Lafarge Africa sold off all its stakes in Lafarge South Africa Holdings (LSAH). This move helped the company to cut down costs coming from its South African subsidiary, which had been making billions of naira worth of losses for years.
Multiverse forecasts N39.5 million profit in Q1 2021
The management of Multiverse Plc has projected a revenue of N76 million and a profit of N39.5 million in Q1 2021.
Multiverse Mining and Exploration Plc has projected that in the first quarter of 2021, the mining and exploration company will generate N76 million in revenue, and post a profit of N39.5 million.
These projections were made by the company in a recent earnings forecast issued by the Management, and signed by the Corporate Secretaries of the company.
Key highlights of the earnings forecast for Q1 2021
Total revenue is projected at N76 million.
Turnover from agency sale is projected at N1 million.
Agency cost is s projected at N850 thousand.
Total expenses are projected at N7.8 million.
Operating Profit is projected at N67.3 million.
EBIT (Earnings Before Interest and Taxation) is projected at N67.3 million.
Interest Expense is projected at N27.8 million.
Profit after tax is projected at N39.5 million.
Key assumptions made to support the earnings forecast and projection of the company
The earnings forecast was made on the ground that there won't be any significant change in the economic policies of the Federal Government, while the monetary policies of the CBN would not be altered significantly.
The company also maintained that there would not be any industrial unrest that would affect its production and sales volume, while the profit of the company would not be pressured by rising costs of inputs, as prices of materials used in production shall be stable in the period under review.