Meet FINT, the FinTech Company that wants to change micro-lending in Nigeria
FINT.ng is a loan marketplace that connects borrowers to lenders. Borrowers get access to credit at affordable rates and lenders get their money back with interest. It is probably one of the more necessary innovations in Nigeria's Fintech space at the moment because it solves two problems. The first is that it makes it easier to get a loan to do literally anything and the second is that it simplifies wealth creation, but more about that later.
---
The guys behind FINT
FINT.ng is run by a team of 4; Chiwete John-Njokanma is the company's Chief Executive Officer, Nnamdi Okeke is the Chief Technology Officer, Eskor Toyo is the Chief Operating Officer while Reva Attah is Chief Strategy Officer.
Who is it for?
Its services are open to everyone, especially to people who have mostly been excluded from financial services that they should have had access to in the first place. It is for those with steady streams of income who lack the money they need to fund their dreams and also for those who are consciously seeking means for more financial freedom, who would like to see their money grow faster than the rate of inflation.
The only restriction so far is that everyone who uses the platform must have a bank account that is linked to a BVN.  Users can borrow anything between N60,000 and N2 million at rates as low as 8% for 3 – 12  months, which in Nigeria is remarkable because in the current environment, a loan from a formal financial institution with 20% interest would be a good deal.
Also, loans on the platform do not need collaterals. For lenders, your money grows at 26-39% for one-year loan tenures, which is at least 16% better than a fantastic fixed term deposit and 11% better than T-bills and average money market funds.
---
Pros for Borrowers:
Easy to open: When I did it for research purposes as both a lender and a borrower, it took less than 5 minutes.

Collateral: There's no collateral required to get a loan.

Solely online based: You don't have to go to anyone's office. Everything's taken care of online so it reduces the hassle.

The website: It's one of the more straightforward ones out there.

It works: Loans get disbursed rather quickly. How quickly depends on how quickly borrowers upload the necessary documents.

Automated deductions: Deductions are made automatically when due.

Insurance: Borrowers are required to take insurance on their loans which cover for

loss of life, permanent disability, and loss of job.

Cheap: The loans are among the cheapest you will find in the market, they charge as low as 2% monthly while competitors charge 5-12%.

Transparent: All charges for their services are disclosed upfront.

---
Cons for Borrowers:
You have to pay N3,000 for the risk assessment.

You have to pay 8% of the loan as your commitment fee once the loan is paid out in full.

There is a chance that lenders won't feel comfortable with your risk score and what you want to use the money for, thereby leaving your loan to go unfunded.

For loans that last a year, you can pay as much as 39% in interest. This may seem a little high but it is still cheaper than the market rate.

As the FINT.ng risk algorithm is proprietary, borrowers have no real idea how their interest rates are calculated.

You need a steady stream of income to get a loan.

There is a late repayment fee and if you don't pay back, you'll probably be subjected to a couple of calls from their debt collectors and a number of other measures.
---
Pros for Lenders:
Attractive rates: At rates of 26-39% for one-year tenure loans, you will be hard-pressed to find better fixed-income returns.

Transparency: Each borrower is given a risk score, so you know what you're getting into before you lend.

Portfolio Diversification: FINT.ng is a new asset class for your investment portfolio. This allows you to maximise your returns while mitigating portfolio concentration risks in stocks and the like.

Risk Sharing: You can spread your risk by lending in small amounts across different borrowers.

Automated payments: Repayments are made automatically.

It is online: You don't have to go to anyone's office to fill forms or pay homage. Everything is taken care of online so you can manage your loan portfolio from anywhere.

The website: If the website's good for the borrower, then it is certainly just as easy to navigate for the lender.

Management services: If you want to lend a fairly significant sum on the service, then the FINT.ng team will help you manage your money. This way, you don't have to worry about the administration of your investment selections.

Insurance: Loans on FINT.ng are insured against loss of work, permanent disability or death. So if you lend to someone who passes away, you don't need to follow them to the great beyond to get your money back.

Debt Collectors: They are necessary for anyone in the loan business. If a borrower doesn't pay back, then FINT.ng will deploy its team of professionals to get those repayments coming in.
---
Cons for Lenders:
You can only lend in multiples of N20,000.

They are Nigeria's first loan marketplace, and they started in the year that  MMM went bust. Lenders may not be too keen to lend to anyone just yet.

As the FINT.ng risk algorithm is proprietary, lenders have no real way of knowing how they are calculated.
---
How does FINT.ng make money?
They fund their operations through the charges borrowers and lenders pay when they're getting loans and repayments respectively. Operating online means that they don't have massive running costs, so it is easier to turn a profit.
Alternatives or Competition
FINT.ng doesn't appear to be the sole operator in this space. kiakia.co appears to do almost exactly the same thing. I would tell you more about them if I could but the company hasn't deemed it fit to put its interest rate information out there.
Paylater is similar in that it's a Fintech that disburses loans but the debt marketplace aspect that FINT.ng has is completely absent.
Can FINT.ng scale?
Yes, it can.  In 2015, the CBN published data revealing that only 5m Nigerians had taken out personal loans worth $7bn. With roughly 50 million in employment (per the NBS), there is an estimated market size of $71 bn in personal loans annually.
Furthermore, according to a recent report by the IFC and the CBN, less than a third of MSMEs have successfully obtained loans from financial institutions, and that is not for a lack of trying. Nigeria has over 35 million MSMEs and if approximately only 10 million MSMEs have been able to get loans from financial institutions, then there is a credit gap of about 25 million MSMEs. This means that there is demand for the service.
In terms of the lenders, with FINT.ng offering better rates than all saving accounts, fixed deposits and even the Nigerian fixed income market, savvy investors are likely to start looking at loans listed on the company's platform as an attractive means of wealth creation. The only instruments Nigeria's capital market offers that could be more lucrative would be its equities market, but that looks to be less of a sure thing than FINT.ng if everything goes according to plan.
The company will need to keep its insurance partners on the side if they are to grow the business further. FINT.ng will also need to get round to developing an app lest it loses customers to the first peer to peer lending platform that does.
By Afam Odiachi
Forex turnover drops by 28.3% as naira depreciates against the dollar at I&E window
Naira improved against the dollar by N1.35, closing at N386.33 to a dollar, as against the indicative rate of N387.68 to a dollar that it opened with.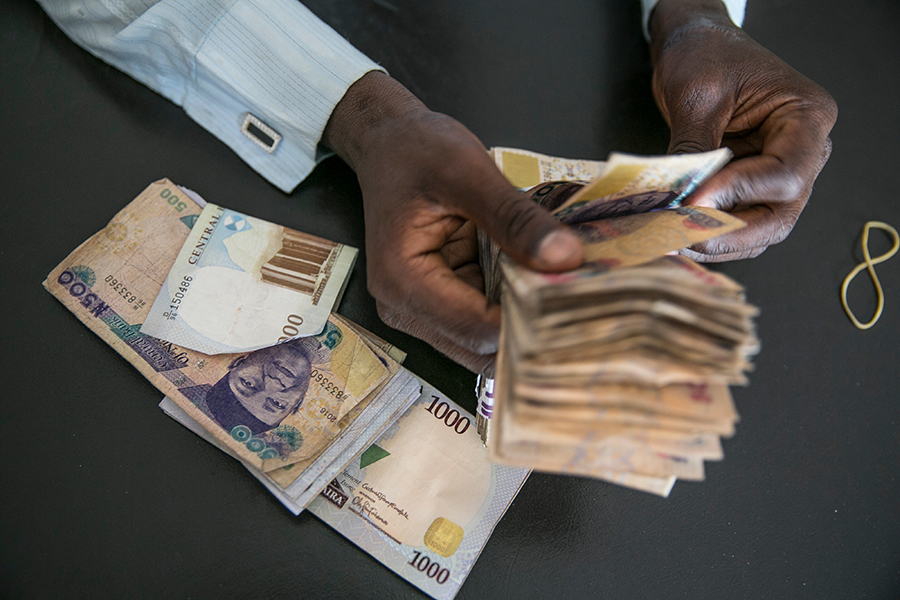 The naira has depreciated to N386.33 to a dollar at the Investors and Exporters (I&E) window, as the volatility of the foreign exchange market continues. The local currency was weakened by N0.83 against the dollar, when compared to the N385.50 to a dollar that it traded on Tuesday, June 2, 2020.
The exchange rate at the I&E window is different from the Central Bank of Nigeria's published exchange rate, which currently stands at N360/$1. This is also different from the exchange rate at the parallel market, which is still stable at N445/$1, according to information on AbokiFX as of Wednesday, June 3, 2020.
Available information from the daily trading at FMDQ (where FX is traded by importers and investors) shows that the naira improved against the dollar by N1.35, closing at N386.33 to a dollar, as against the indicative rate of N387.68 to a dollar that it opened with on Wednesday.
Further analysis of the information from the FMDQ shows that the turnover for the day declined by about 28.3% at $24.64 million. This is against the $34.35 million turnovers that was recorded the previous day.
(READ MORE:Naira appreciates at parallel market)
The foreign exchange market seems to have stabilized at the parallel market, following the reduction in demand for dollars especially by currency speculators, and improved liquidity. The rebound of crude oil prices appears to have eased the concerns of investors over possible devaluation of the naira.
The gap between the CBN official rate and the parallel market rate, also known as the black market, has been greatly reduced as the naira appreciated to N445 to a dollar from N460 to a dollar last week, following CBN's intervention.
READ ALSO: UPDATED: Nigeria's inflation rate rises to 12.34% as COVID effects bite harder
According to data compiled by Bloomberg, the Naira spot market rate is overvalued by 10% when measured by its current real effective exchange rate relative to the 5-year average.
Manufacturing PMI slide into recession territory
This is the first clear data-driven sign that Nigeria is in a recession.
The much-awaited Purchasers Managers Index (PMI) was released on May 29th by the Central Bank of Nigeria. According to the latest data, Manufacturing PMI in the month of May stood at 42.4 index points, indicating contraction in the manufacturing sector for the first time after recording expansion for thirty-six consecutive months.
The figure compares to 51.1 and 49.2 index points in March 2020.
The latest number now falls squarely within recession numbers and this is a clear sign that Nigeria is closer to recording a major contraction in the second quarter of the year.
Meanwhile, the nation's PMI's number hit a year low in April 2016 of 43.7, before plummeting further to 41.9 in June 2016. Nigeria subsequently fell into a recession by the end of the second quarter of 2016 and remained in recession throughout the course of the year.
The nation's non-manufacturing PMI fell for a consecutive month to an all-time low of 25.3. The decline in manufacturing PMI was significant following thirty-six consecutive months of expansion, while the non-Manufacturing PMI contracted for the second consecutive month.
A further look into the report shows that the manufacturing sector employment level index stood at 24.5 points in May, a decline compared to 47.1 points recorded in March and 56.4 points in February 2020.
This downturn is mostly attributed to the halt in economic activity as businesses in Nigeria result in layoffs and pay cuts in order to survive the effect of the lockdown.
READ ALSO: What I'll do if I was CBN Governor – Experts
Also, all 14 subsectors of the manufacturing sector, reported lower raw material inventories, consequently contracting the inventories index to 37.4 points in May 2020. An effect of the supply chain bottleneck associated with the lockdown measures implemented in most countries of the world.
Specifically, this figure translates the effect of lockdown procedures and trade restrictions implemented by Nigeria's major trade partners in response to the COVID-19 pandemic. Note that Nigeria's major trade partners; China, USA, Spain, and the Netherlands account for about 45% of the nation's import.
What you need to know:  PMI is a survey that is conducted by the Statistics Department of the Central Bank of Nigeria. The respondents are purchasing and supply executives of manufacturing and non-manufacturing organizations in all 36 states in Nigeria and the Federal Capital Territory (FCT).
In his reaction to the data, the Central Bank Governor, Godwin Emefiele, in the Monetary Policy Communique, highlighted how dire the situation.
READ MORE: Insufficient electricity, unfavourable economy are among challenges hindering companies –CBN
He said, "The contraction in the manufacturing and non-manufacturing PMIs was attributed to slower growth in production, new orders, employment level, raw materials, and input prices.
"The employment level index for the manufacturing and non-manufacturing PMIs also contracted further to 25.5 and 32.0 index points, respectively, in May 2020 compared with 47.1 and 47.3 index points in March 2020.
"Generally, the purchasing managers' activities in May 2020, were largely affected by the lockdown of the global economy to curtail the spread of the COVID-19 pandemic."
The CBN thereafter reduced its monetary policy rate from 13.5% to 12.5% for the first time since March 2019.
READ ALSO: CBN projects macroeconomy confidence to rise by 118.3% in November
What this means: This survey is a bellwether for economic growth in Nigeria and helps the central bank gauge the mood of businesses in the economy.
PMI above 50 typically indicates a positive mood for the manufacturing and non-manufacturing sectors. Two major causes for concern in the data are the new orders and employment levels.
At 42.8 points, the new orders index declined after thirty-sixth consecutive months of growth, indicating declines in new orders in May 2020. Three subsectors reported growth, 2 remained unchanged while 9 recorded declines in the review month.
Covid-19 Update in Nigeria
On the 3rd of June 2020, 348 new confirmed cases and 1 death were recorded in Nigeria bringing the total confirmed cases recorded in the country to 11,166.
The spread of novel Corona Virus Disease (COVID-19) in Nigeria continues to rise as the latest statistics provided by the Nigeria Centre for Disease Control reveal Nigeria now has 11,166 confirmed cases.
On the 3rd of June 2020, 348 new confirmed cases and 1 death were recorded in Nigeria.
To date, 11166 cases have been confirmed, 3329 cases have been discharged and 315 deaths have been recorded in 35 states and the Federal Capital Territory having carried out 69,801 tests.
Covid-19 Case Updates- 3rd June 2020
Total Number of Cases – 11,166
Total Number Discharged – 3,329
Total Deaths – 315
Total Tests Carried out – 69,801
The 348 new cases are reported from 19 states- Lagos (163), FCT (76), Ebonyi (23), Rivers (21), Delta (8), Nasarawa (8), Niger (8), Enugu(6), Bauchi (5), Edo(5), Ekiti (5), Ondo (5), Gombe (5), Benue(4), Ogun (2), Osun (1), Plateau (1), Kogi (1), Anambra (1).
READ ALSO: COVID-19: Western diplomats warn of disease explosion, poor handling by government
The latest numbers bring Lagos state total confirmed cases to 5440, followed by Kano (970), Abuja at 763, Katsina (371), Edo (341), Oyo (317), Kaduna (297), Borno (296), Ogun (282), Jigawa (274), Rivers (269), Bauchi (246),  Gombe (169), Sokoto (115).
Kwara State has recorded 111 cases, Plateau (109), Delta (106), Nasarawa (88), Zamfara (76), Ebonyi (63), Yobe (52), Osun (47), Akwa Ibom (45), Adamawa (42), Niger (41), Imo (39), Kebbi and Ondo (33), Ekiti (25), Enugu (24), Bayelsa (21), Taraba (18), Abia (15), Benue (13), Anambra (12), while Kogi state has recorded only 3 cases.
Lock Down and Curfew
In a move to combat the spread of the pandemic disease, President Muhammadu Buhari directed the cessation of all movements in Lagos and the FCT for an initial period of 14 days, which took effect from 11 pm on Monday, 30th March 2020.
The movement restriction, which was extended by another two-weeks period, has been partially put on hold with some businesses commencing operations from May 4. On April 27th, 2020, President Muhammadu Buhari declared an overnight curfew from 8 pm to 6 am across the country, as part of new measures to contain the spread of the COVID-19. This comes along with the phased and gradual easing of lockdown measures in FCT, Lagos, and Ogun States, which took effect from Saturday, 2nd May 2020, at 9 am.
READ ALSO: Bill Gates says Trump's WHO funding suspension is dangerous
| Date | Confirmed case | New cases | Total deaths | New deaths | Total recovery | Active cases | Critical cases |
| --- | --- | --- | --- | --- | --- | --- | --- |
| June 3, 2020 | 11166 | 348 | 315 | 1 | 3329 | 7522 | 7 |
| June 2, 2020 | 10819 | 241 | 314 | 15 | 3239 | 7266 | 7 |
| June 1, 2020 | 10578 | 416 | 299 | 12 | 3122 | 7157 | 9 |
| May 31, 2020 | 10162 | 307 | 287 | 14 | 3007 | 6868 | 7 |
| May 30, 2020 | 9855 | 553 | 273 | 12 | 2856 | 6726 | 7 |
| May 29, 2020 | 9302 | 387 | 261 | 2 | 2697 | 6344 | 7 |
| May 28, 2020 | 8915 | 182 | 259 | 5 | 2592 | 6064 | 7 |
| May 27, 2020 | 8733 | 389 | 254 | 5 | 2501 | 5978 | 7 |
| May 26, 2020 | 8344 | 276 | 249 | 16 | 2385 | 5710 | 7 |
| May 25, 2020 | 8068 | 229 | 233 | 7 | 2311 | 5524 | 7 |
| May 24, 2020 | 7839 | 313 | 226 | 5 | 2263 | 5360 | 7 |
| May 23, 2020 | 7526 | 265 | 221 | 0 | 2174 | 5131 | 7 |
| May 22, 2020 | 7261 | 245 | 221 | 10 | 2007 | 5033 | 7 |
| May 21, 2020 | 7016 | 339 | 211 | 11 | 1907 | 4898 | 7 |
| May 20, 2020 | 6677 | 284 | 200 | 8 | 1840 | 4637 | 7 |
| May 19, 2020 | 6401 | 226 | 192 | 1 | 1734 | 4475 | 7 |
| May 18, 2020 | 6175 | 216 | 191 | 9 | 1644 | 4340 | 7 |
| May 17, 2020 | 5959 | 388 | 182 | 6 | 1594 | 4183 | 7 |
| May 16, 2020 | 5621 | 176 | 176 | 5 | 1472 | 3973 | 7 |
| May 15, 2020 | 5445 | 288 | 171 | 3 | 1320 | 3954 | 4 |
| May 14, 2020 | 5162 | 193 | 168 | 3 | 1180 | 3815 | 4 |
| May 13, 2020 | 4971 | 184 | 164 | 6 | 1070 | 3737 | 4 |
| May 12, 2020 | 4787 | 146 | 158 | 6 | 959 | 3670 | 4 |
| May 11, 2020 | 4641 | 242 | 152 | 10 | 902 | 3589 | 4 |
| May 10, 2020 | 4399 | 248 | 142 | 17 | 778 | 3479 | 4 |
| May 9, 2020 | 4151 | 239 | 127 | 11 | 745 | 3278 | 4 |
| May 8, 2020 | 3912 | 386 | 118 | 10 | 679 | 3115 | 4 |
| May 7, 2020 | 3526 | 381 | 108 | 4 | 601 | 2818 | 4 |
| May 6, 2020 | 3145 | 195 | 104 | 5 | 534 | 2507 | 1 |
| May 5, 2020 | 2950 | 148 | 99 | 5 | 481 | 2370 | 4 |
| May 4, 2020 | 2802 | 245 | 94 | 6 | 417 | 2291 | 2 |
| May 3, 2020 | 2558 | 170 | 88 | 2 | 400 | 2070 | 2 |
| May 2, 2020 | 2388 | 220 | 86 | 17 | 351 | 1952 | 2 |
| May 1, 2020 | 2170 | 238 | 69 | 10 | 351 | 1751 | 2 |
| April 30, 2020 | 1932 | 204 | 59 | 7 | 317 | 1556 | 2 |
| April 29, 2020 | 1728 | 196 | 52 | 7 | 307 | 1369 | 2 |
| April 28, 2020 | 1532 | 195 | 45 | 4 | 255 | 1232 | 2 |
| April 27, 2020 | 1337 | 64 | 41 | 0 | 255 | 994 | 2 |
| April 26, 2020 | 1273 | 91 | 41 | 5 | 239 | 994 | 2 |
| April 25, 2020 | 1182 | 87 | 36 | 3 | 222 | 925 | 2 |
| April 24, 2020 | 1095 | 114 | 33 | 1 | 208 | 855 | 2 |
| April 23, 2020 | 981 | 108 | 32 | 3 | 197 | 753 | 2 |
| April 22, 2020 | 873 | 91 | 29 | 3 | 197 | 648 | 2 |
| April 21, 2020 | 782 | 117 | 26 | 3 | 197 | 560 | 2 |
| April 20, 2020 | 665 | 38 | 23 | 1 | 188 | 466 | 2 |
| April 19, 2020 | 627 | 86 | 22 | 2 | 170 | 436 | 2 |
| April 18, 2020 | 541 | 48 | 20 | 2 | 166 | 356 | 2 |
| April 17, 2020 | 493 | 51 | 18 | 4 | 159 | 317 | 2 |
| April 16, 2020 | 442 | 35 | 13 | 1 | 152 | 277 | 2 |
| April 15, 2020 | 407 | 34 | 12 | 1 | 128 | 267 | 2 |
| April 14, 2020 | 373 | 30 | 11 | 1 | 99 | 263 | 2 |
| April 13, 2020 | 343 | 20 | 10 | 0 | 91 | 242 | 2 |
| April 12, 2020 | 323 | 5 | 10 | 0 | 85 | 228 | 2 |
| April 11, 2020 | 318 | 13 | 10 | 3 | 70 | 238 | 2 |
| April 10, 2020 | 305 | 17 | 7 | 0 | 58 | 240 | 2 |
| April 9, 2020 | 288 | 14 | 7 | 1 | 51 | 230 | 2 |
| April 8, 2020 | 274 | 22 | 6 | 0 | 44 | 226 | 2 |
| April 7, 2020 | 254 | 16 | 6 | 1 | 44 | 204 | 2 |
| April 6, 2020 | 238 | 6 | 5 | 0 | 35 | 198 | 2 |
| April 5, 2020 | 232 | 18 | 5 | 1 | 33 | 194 | 2 |
| April 4, 2020 | 214 | 5 | 4 | 0 | 25 | 185 | 0 |
| April 3, 2020 | 209 | 25 | 4 | 2 | 25 | 180 | 0 |
| April 2, 2020 | 184 | 10 | 2 | 0 | 20 | 162 | 0 |
| April 1, 2020 | 174 | 35 | 2 | 0 | 9 | 163 | 0 |
| March 31, 2020 | 139 | 8 | 2 | 0 | 9 | 128 | 0 |
| March 30, 2020 | 131 | 20 | 2 | 1 | 8 | 121 | 0 |
| March 29, 2020 | 111 | 22 | 1 | 0 | 3 | 107 | 0 |
| March 28, 2020 | 89 | 19 | 1 | 0 | 3 | 85 | 0 |
| March 27, 2020 | 70 | 5 | 1 | 0 | 3 | 66 | 0 |
| March 26, 2020 | 65 | 14 | 1 | 0 | 2 | 62 | 0 |
| March 25, 2020 | 51 | 7 | 1 | 0 | 2 | 48 | 0 |
| March 24, 2020 | 44 | 4 | 1 | 0 | 2 | 41 | 0 |
| March 23, 2020 | 40 | 10 | 1 | 1 | 2 | 37 | 0 |
| March 22, 2020 | 30 | 8 | 0 | 0 | 2 | 28 | 0 |
| March 21, 2020 | 22 | 10 | 0 | 0 | 1 | 21 | 0 |
| March 20, 2020 | 12 | 4 | 0 | 0 | 1 | 11 | 0 |
| March 19, 2020 | 8 | 0 | 0 | 0 | 1 | 7 | 0 |
| March 18, 2020 | 8 | 5 | 0 | 0 | 1 | 7 | 0 |
| March 17, 2020 | 3 | 1 | 0 | 0 | 0 | 3 | 0 |
| March 16, 2020 | 2 | 0 | 0 | 0 | 0 | 2 | 0 |
| March 15, 2020 | 2 | 0 | 0 | 0 | 0 | 2 | 0 |
| March 14, 2020 | 2 | 0 | 0 | 0 | 0 | 2 | 0 |
| March 13, 2020 | 2 | 0 | 0 | 0 | 0 | 2 | 0 |
| March 12, 2020 | 2 | 0 | 0 | 0 | 0 | 2 | 0 |
| March 11, 2020 | 2 | 0 | 0 | 0 | 0 | 2 | 0 |
| March 10, 2020 | 2 | 0 | 0 | 0 | 0 | 2 | 0 |
| March 9, 2020 | 2 | 1 | 0 | 0 | 0 | 2 | 0 |
| March 8, 2020 | 1 | 0 | 0 | 0 | 0 | 1 | 0 |
| March 7, 2020 | 1 | 0 | 0 | 0 | 0 | 1 | 0 |
| March 6, 2020 | 1 | 0 | 0 | 0 | 0 | 1 | 0 |
| March 5, 2020 | 1 | 0 | 0 | 0 | 0 | 1 | 0 |
| March 4, 2020 | 1 | 0 | 0 | 0 | 0 | 1 | 0 |
| March 3, 2020 | 1 | 0 | 0 | 0 | 0 | 1 | 0 |
| March 2, 2020 | 1 | 0 | 0 | 0 | 0 | 1 | 0 |
| March 1, 2020 | 1 | 0 | 0 | 0 | 0 | 1 | 0 |
| February 29, 2020 | 1 | 0 | 0 | 0 | 0 | 1 | 0 |
| February 28, 2020 | 1 | 1 | 0 | 0 | 0 | 1 | 0 |