Recycling: How these small businesses make millions selling aluminium monthly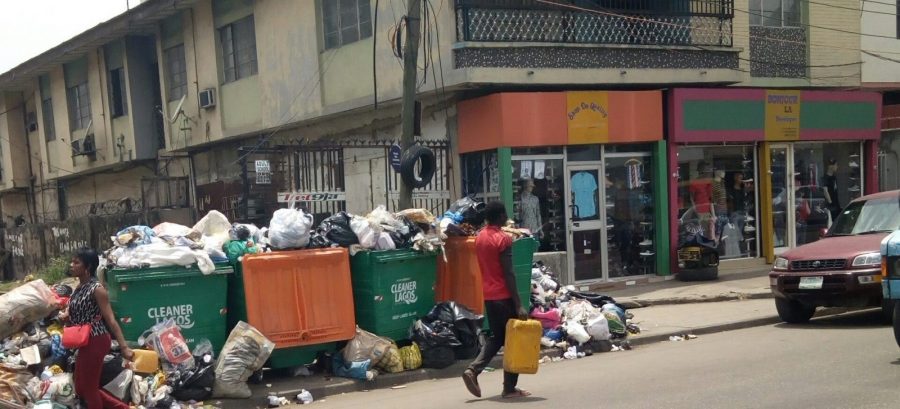 As an emerging economy with a population of nearly two hundred million people, Nigeria generates quite a lot of waste. The Waste Management Society of Nigeria (WAMASON) estimates that nearly sixty-five million metric tonnes of waste is generated in the country per annum. This has often caused a waste management crisis, especially in most urban centres where municipal authorities struggle to efficiently dispose of trash. Meanwhile, despite the fact that most Nigerians typically regard waste as completely useless, there exist some business-savvy entrepreneurs who have recognised the immense potentials in waste management and have taken steps towards harnessing it.
What is recycling?
Simply put, recycling entails the conversion of waste materials into new, useful products. The essence is to reduce over-dependence on raw materials for the production of new products. It is also one of the most effective ways to managing waste; preventing pollution, ensuring a clean and healthy environment and creating wealth.
In Nigeria, the recycling industry is still in its infancy compared to what obtains elsewhere in the world. BioEnergy Consult estimates that out of the millions of metric tonnes of waste generated every year in the country, only a fragment of it is being managed/recycled. What this means is that the business potentials of recycling are currently being under-utilised. There is need for more investment in the sector.
The recycling business in Lagos: an insight
To understand more about the recycling industry in Nigeria, we visited the Igando Dump Site in Lagos. Located along both sides of the Igando-LASU road, it is one of the many dump sites that abound in Lagos, and indeed one of the biggest in Nigeria and the world at large. From afar off, one can perceive the pungent smell of rot that emanates from the place. Here, solid waste from such Lagos environs as Iyana-Ipaja, Egbeda, Ikotun, Isheri, etc. are brought and literarily dumped. It is also in dump sites like this one that most of the recycling efforts take place.
Recycling involves a long chain of business command, beginning from the dump sites. For instance, the Igando dump site is privately owned and managed; just like most of the other sites in the city. Scavengers are charged the sum of  ₦200 daily before they can come in and pick valuable recyclables ranging from metals, plastics, etc. Several hundreds of labourers work here daily, and the materials that they recover from the waste dump site is then purchased either by middlemen who sell them to recycling companies or by representatives of the recycling companies.
One of the people we met at the dumpsite is a woman who works in the procurement department of a recycling company. Although she chose anonymity and refused to disclose the name of her organisation, she did reveal that hers is one of the biggest recycling plants in Lagos and that they specialise in metal recycling.
"We basically recycle aluminium/metals and use them to produce new things such as pots, plates, spoons, etc. I work in the procurement department of my company. So it is my work source for production materials. This is one of the places I come to source for materials" the woman said.
How lucrative is recycling as a business?
Today, the recycling industry is estimated to be worth several billions of Naira. But this is nothing compared to the revenues it has the potential to generate should the right investments be made. In the meantime, however, it was important for us to find how this much money is generated from waste materials, and who gets what. So we began by asking the procurement woman how much it costs to purchase the materials, she said that it depends on the type, quantity and quality that someone is buying.
"Measurement is also very important in this business. We weigh everything in weight" she said. "I pay between  ₦40,000 to  ₦45,000 for just one ton of metal. So depending on the quantity of metal I am buying, I can sometimes spend nearly half a million naira in a single day. Today alone, I've transferred  ₦400,000 to that man over there."
She also revealed that aluminium is more expensive than scrap metal, noting that while the price of a ton of metal is around the  ₦40,000 mark, one tonne of aluminium can cost more than one hundred thousand Naira (₦100, 000).  She went further to state that metals and aluminium are the most expensive recyclables in Nigeria due to the unavailability of iron ore for steel-related productions.
"All the other materials are equally just as important. Some specialise in recycling plastics, polythene bags, PET bottles and even paper. All of these are important materials used to produce some of the important household items that are very expensive in the market. However, the other recyclables are not as expensive as aluminium and metal. Take, for instance, rubber is easily accessible as a raw material, unlike ore which is scarce."
Who gets the money?
Fortunately or unfortunately, a bulk of the money goes to the middlemen instead of the labourers who do the dirty, most intense job of scavenging the materials from the waste dump site. According to our source, some of the labourers earn between ₦30, 000 to ₦50, 000 per month. And in all fairness, this is absolutely nothing compared to the serious work they put in, as well as the many health dangers they could be exposed to in the course of doing their job.
The challenges/opportunities for investment
Indeed, recycling is a lucrative business in Nigeria today. Yet, there exist such endless opportunities that are yet untapped. There is there need for investors to come and industrialise the sector in order make more money from it. Investing in proper waste management processes is one of one way to start. In Lagos State today, much of the 13,000 metric tonnes of waste generated daily is left unmanaged. Investing in the technology that would ensure an effective management of waste, which will inevitably aid the recycling process.
How MSMEs can get easy access to finance
MSMEs must take the following steps for loan readiness.
MSMEs are considered the backbone of the Nigerian economy. In 2019, they made up 90% of all registered businesses, contributed more than 50% of the country's nominal GDP, and employ 84% of its labour force. Despite this, MSMEs were the recipients of less than 5% of all credit granted by the banking industry.
One reason for this is self-selection by MSME owners. Many MSMEs refuse to apply for loans from banks due to a fear of rejection and a belief that banks charge exorbitant fees and request hefty collateral before giving loans to MSMEs. Now more than ever, in this era of cashflow-based lending and low-interest rates, this harmful myth is costing businesses access to finance that they need to scale.
Another reason is the MSMEs' lack of loan readiness. Unlike large companies, small business owners do not prepare themselves before applying for loans. This causes them to make many mistakes that discourage banks from lending to them due to a fear of non-repayment.
In order to overcome this hurdle and join large businesses in taking advantage of the low-interest climate, MSMEs must take the following steps for loan readiness:
1. Maintain financial records – Research shows that 69% of MSMEs in Nigeria do not keep detailed financial records. As a business owner, you must ensure that funds pass through your business account. Your business's financial records as reflected in your bank statement will help your bank determine your repayment capacity. This is important, whether you want a collateral-free or collateral-based loan.
2. Use narrations for transfer into personal accounts – Again, always use your business account for business funds. However, if funds must be paid into your personal account for any reason, then ensure that those payments have a narration that reflects the purpose of the payment. For example, Two shirts purchased. This helps isolate business funds from personal when computing your turnover in order to determine your loan amount and repayment capacity.
3. Know what you want – Always know exactly how much you want and what you want it for. If your account officer asks you how much you want and you say "any amount you can give me", they automatically assume you have no plan for the money or a plan for repayment. Before approaching your bank, determine how much you need and how much you can repay per month, using your monthly income.
4. Have a repayment plan – Always have a plan for repayment. Know how much you can afford to part with per month. Note however that your repayment plan might not align with that of the bank. Banks prefer not to take more than 33% of your monthly income in loan repayments, so your loan repayment period will probably be dependent on how much you can pay per month. Regardless, a well-thought-out repayment plan will build confidence in your repayment ability.
5. Engage your account officer– It is important to have an engagement with your account officer before applying for the loan. Instead of just writing a loan application letter to the bank and waiting for a response. Armed with your financial statement and your knowledge of how much you need and for how long, visit your account officer and have them work with you in getting your loan.
---
Ese Atakpu is a writer and banker.
AFEX raises $50 million to Finance Agri-SMEs in Nigeria
The $50 million Agri-SMEs fund is expected to bridge the funding gap between lenders and borrowers in the agric sector.
AFEX Commodities Exchange Limited (AFEX), a private commodities exchange company, has announced the first Warehouse Receipt Backed Commercial Paper in Africa. The paper has tech-enabled operations and a 24-hour fast cash turnaround for borrowers.
This was disclosed by AFEX in a statement issued and seen by Nairametrics on Thursday.
The $50 million Agri-SMEs fund is expected to bridge the funding gap between lenders and borrowers in the Nigerian agricultural sector with a commodity-backed instrument – for the first time.
READ: AFEX partners FMDQ, Dubai Commodities Exchange to deepen markets opportunities
Ayodeji Balogun, CEO, AFEX, stated, "The AFEX financing deal will help eradicate the high cost of procurement incurred by processors by deploying a discounted value of a warehouse receipt distributed among five leading players in the Food and Beverage, Trading Poultry and Animal Feed segments in Nigeria.
"The receiving companies are top 10 players in their respective segments. They have now been enabled access to a tool for managing price volatility, enabling up to 30% direct savings on prices.
"With our vision to reach a cumulative total of over $5 Billion in investment to the agriculture sector over the next five years, this financing deal is right on track to achieve this goal.''
He added that as AFEX move towards building a derivatives market in Africa, "we want to be able to reduce exposure to price risk for stakeholders, by enabling them to hedge their positions and trade in commodity derivatives."
READ: CBN to increase loans to agricultural sector to 10% of total bank credit
Why it matters
The warehouse receipts, which can then be transferred from commodities to a financial asset and listed under the borrower's portfolio on the AFEX trading platform, will create a sustainable funding structure and address underfunding in the Nigerian agricultural sector.
With the warehouse receipt system linked to financiers, the system allows financiers value and marks the commodities' price to market on a real-time basis.
What you should know
AFEX's mission is to provide low-risk working capital facility for stakeholders in the Agro sector, in a way that is transparent and has a very high viable investment return.
As a licensed commodities exchange and warehouse receipt system operator, it deploys a warehouse receipt system and collateral management infrastructure to increase market confidence for both lenders and borrower.
Nairametrics | Company Earnings