The Nigerian Economy Today 4/5/2017
Summary of the top business, economic and political news in Nigeria.
NAIRAMETRICS BUSINESS & ECONOMY
Nigeria's total debt now N17.5tn –NBS – The National Bureau of Statistics has said that the country's foreign and domestic debts stood at $11.41bn (N3.49tn) and N14.02tn as of December 2016. Source Punch Read More
FG appoints transaction advisers for national carrier, airports – The Federal Government has approved the appointment of transaction advisers for the proposed national carrier and concession of the nation's airports. Source Punch Read More
Govt. Approves $250m multilateral loans and will be used as follows – Nairametrics| The Federal Executive Council (FEC) yesterday approved a $150 million soft loan from African Development Bank (AfDB) and $100 million from African Development Finance (ADF) to finance some basic services. According to a memo presented to the Council by the Minister of Finance, Mrs Kemi Adeosun, the funds will be used for the following Source Nairametrics Read More
CBN Reverses Ban On 48 Items – Nairametrics| In yet another step towards a deregulation of the foreign exchange market, the Central Bank of Nigeria (CBN), has removed the 48 items from the banned list. Source Nairametrics Read More
Customs revenue fell by N216.5bn in 2016 – Ali – The revenue target of the Nigeria Customs Service for 2016 fell by N216.5bn, the Comptroller-General of Customs, Col. Hameed Ali (retd), told the House of Representatives on Wednesday in Abuja. Source Punch Read More
[email protected]: Ambode commissions 10 roads, three bridges, other projects – The Lagos @ 50 celebrations took a new dimension this week as the State Governor, Mr. Akinwunmi Ambode embarked on commissioning of several infrastructural projects across the State. Source The Nation Read More
Nigeria lifts FX ban for imports of up to $20,000 per quarter – Central bank – Nigeria's central bank has lifted a ban on currency allocation for importers bringing in goods worth up to $20,000 per quarter, the bank said in a circular seen by Reuters on Thursday. Source Reuters Read More
CBN Readmits These 3 Previously 'Banned' Banks Into The Forex Market – Nairametrics| The Central bank of Nigeria (CBN) has readmitted three of the previously banned banks into the into the spot and wholesale forwards segment of the foreign exchange market after the banks provided 'proof' of selling forex to Small and Medium Scale Enterprises (SMEs) since the introduction of the special window for small businesses. Source Nairametrics Read More
$13.5bn Zabazaba project to continue despite Malabu scandal – Kachikwu – The federal government and its joint venture partners will proceed with the $13.5 billion Zabazaba Deepwater project located in Oil Prospecting Lease (OPL) 245 despite the controversies that have rocked the oil block. Source Daily Trust Read More
Nigeria's Balance of Trade Projected to Hit $3.8bn Next Year – Nigeria's balance of trade is expected to improve from -$0.5 billion to $3.8 billion before the end of next year, the Chief Executive Officer of the Financial Derivatives Company Limited, Mr. Bismarck Rewane, has said. Source Thisday Read More
FRC set to release template on MDAs operating surplus to curb fraud – To enforce compliance of financial discipline and curb corruption in public life, the Fiscal Responsibility Commission has concluded plans to set template and timelines for all revenue generating agencies on the payment of operating surpluses to the Federation Account of the Nigerian Federation. Source Guardian Read More
Buhari approves $186million to combat criminalities on waterways – President Muhammadu Buhari has approved $186million to combat and stem the cycle of criminalities on the Nigerian waters. Source The Nation Read More
Lagos ranks world's second cheapest city to live in  – Lagos, Nigeria's largest commercial city is the world's second cheapest city to live in while Almaty, a city in Kazakhstan is the cheapest to live in, a new survey by the Economist Intelligence Unit (EIU) reveals. Source BUSINESSDAY Read More
Domestic gas supply increases to 40%, says DPR – Domestic Gas Supply Obligation (DSO), an initiative of the Federal Government to meet national demand, is achieving the desired result with the level of compliance by oil producing firms rising to 40 per cent this year. Source The Nation Read More
Port efficiency: NPA inaugurates four tugboats worth over N9.16b – The Nigerian Ports Authority (NPA) has acquired four tugboats at the cost of over N9.16 billion to improve port efficiency. Source The Nation Read More
'Illegal miners 'll not benefit from $150m fund' – The Federal Government has said illegal mining firms  will not benefit from the $150 million grant given by the World Bank to support the Ministry of Mines and Steel Development. Source The Nation Read More
CBN documents expose diversion of $141m for PMS importation – The House of Representatives' Adhoc Committee investigating the review of price of Premium Motor Spirit (PMS) on Wednesday uncovered the diversion of $141 million special intervention forex allocation and 50,000 Metric Tonnes of premium motor spirit (PMS). Source BUSINESSDAY Read More
Power Generation Hits One-month Daily Peak of 4,553.9MW – After several weeks of low power supply in the country, power generation finally hit a daily peak of 4,553.90 megawatts, the highest since March 23 when the daily peak generation was put at 4,452 megawatts, according to yesterday's operational report by the Nigerian Electricity System Operator, an arm of the Transmission Company of Nigeria (TCN). Source Thisday Read More
CBN directs banks to diversify portfolios, fund MSMEs – The Central Bank of Nigeria has advised commercial banks and other financial institutions to diversify their portfolios and provide more funding for the Micro, Small and Medium Enterprises in order to enhance economic growth. Source Punch Read More
NAIRAMETRICS COMPANY
NNPC wants to raise $16.5b for these projects – The Group Managing Director of NNPC, Dr Maikanti Baru has disclosed that it will be shopping for about $16.5 billion to embark on several oil and gas projects lined up for execution. He said the corporation was seeking to raise about $13 billion to $16.5 billion over the next five years for the following projects. Source Nairametrics Read More
$6bn needed to fix refineries, says NNPC – About $6bn worth of investment is needed to adequately rehabilitate and revamp the country's refineries, the Nigerian National Petroleum Corporation has said. Source Punch Read More
PayPal's SME lending tops $3bn, launches new tools – Paypal's small-business financing unit has announced that it has topped $3 billion in financing more than 115,000 businesses worldwide. Source Vanguard Read More
Dangote Group Partners GAC Motor, Buys Company's Vehicles for Its Operations – With an eye on its expansion drive in the Nigerian economy, GAC Motor, one of the brands under the Choice International Group (CIG) in Nigeria, recently marked a milestone when it signed a new business partnership deal with the largest conglomerate not only in Nigeria but in Africa, the Dangote Group, to supply vehicles to the Nigerian conglomerate. Source Thisday Read More
Govt completes 22MW Ajaokuta power plant – Towards the rehabilitation of the Ajaokuta Steel Complex, the Federal Government has completed the first phase of the ACSL thermal power plant. Source Punch Read More
NNPC shops for $16b to grow upstream, refining sectors – The Nigerian National Petroleum Corporation (NNPC) said it is looking for $16 billion to grow its upstream operations and increase oil refining from 445,000 barrels per day (bpd)  to 700,000 bpd within the next few years. Source The Nation Read More
ExxonMobil workers begin warning strike – Workers of Mobil Producing Nigeria Limited, a subsidiary of ExxonMobil Corporation, yesterday commenced a 3-day warning strike over the company's incessant sack of Nigerians and replacement with foreign expatriates. Source Daily Trust Read More
Shell profit rise by $2.2bn, to invest $25bn in Nigeria, others – The net profit of Royal Dutch Shell more than doubled in the first three months of 2017, surpassing predictions by analyst as rebounding oil prices and refining gains helped to boost the company's revenue. Source Daily Trust Read More
Ashaka Cement Announces Resignation of Chairman – The Board of Directors hereby announce the resignation of Mallam Suleiman Yahyah, OON as the Chairman of the Board of Directors of the Company with effect from May 2, 2017. Source NSE Read More
Nigerian Breweries Announces Resignation of MD – Nigerian Breweries Plc announces that its Managing Director/CEO, Nicolaas Vervelde will complete his assignment with the Company on June 16, 2017 to  take up new role within heineken group outside Nigeria. Source NSE Read More
NAIRAMETRICS POLITICS
Alleged false asset declaration: Prosecution closes case in Saraki's trial – The prosecution on Thursday closed its case in the ongoing trial of the Senate President, Bukola Saraki. Mr. Saraki is facing 18 counts of false asset declaration-related charges. He is being tried at the Code of Conduct Tribunal, Abuja. Source Premium Times Read More
N'Assembly Increases Its Budget to N150bn, Lays 2017 Appropriation Bill Thursday – Owing to rising inflation and the depreciation of the naira, the National Assembly, which for years has faced criticism over the lack of transparency and accountability over its budget, has increased its 2017 budget in this year's Appropriation Bill to N150 billion from the initial proposal of N120 billion. Source Thisday Read More
Nigerian stocks on steroids, investors on hat trick
Market breadth closed positive as NESTLE led 41 Gainers as against 5 Losers topped by ROYALEX.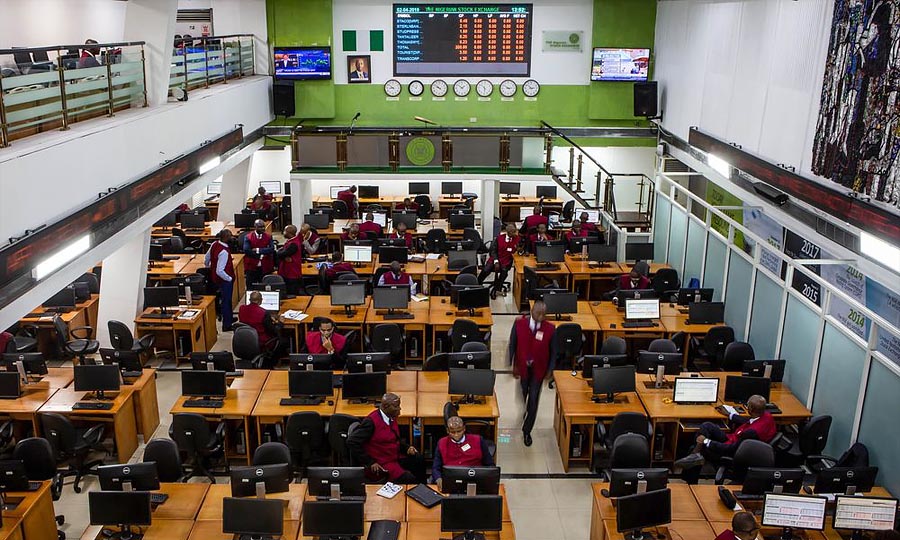 Nigerian bourse continued its impressive run for 3 days amid many odds weighing other financial markets.
The All Share Index gained by +1.58% to close at 29,437.60 points, as against +0.70% appreciation recorded on Tuesday. Nigerian Stock Exchange market capitalization now stands at N15.4 trillion.
Its Year-to-Date (YTD) returns currently stands at +9.67%.
That said, Nigerian bourse trading turnover dropped by 2.68%, as against the 13.14% gain recorded on Tuesday. ZENITHBANK , FIDELITYBK, and ETI were the most active to boost market turnover.
Market breadth closed positive as NESTLE led 41 Gainers, as against 5 Losers topped by ROYALEX at the end of today's session – an unimproved performance when compared with the previous outlook.
Top gainers
NESTLE up 10.00% to close at N1292.5
CONOIL up 9.80% to close at N19.05
FLOURMILL up 6.42% to close at N28.2
TOTAL up 5.97% to close at N118.9
DANGCEM up 2.17% to close at N155.3
Top Losers
ROYALEX down 8.00% to close at N0.23
CUTIX down 6.84% to close at N1.77
HONYFLOUR down 1.03% to close at N0.96
AFRIPRUD down 0.85% to close at N5.85
MAYBAKER down 0.33% to close at N3.05
Outlook
Nigerian Stocks got fired up amid falling oil prices and the U.S dollar gained strongly at the mid-week trading session.
Buying pressure was significantly seen across leading NSE 30 Stocks like Dangote Cement, Nestle, and not forgetting Total which recently declared a profit after tax of N500million in Q3 thereby beating market analysts forecasts.
Nairametrics, however, envisages cautious buying as the COVID-19 crisis seems to be getting out of hand in Nigeria's key international markets that include Western Europe and the United States.
Togo, Niger, Benin remit N2.04 billion to Nigeria for power supply
Nigerian Electricity Regulatory Commission says international electricity customers remitted the sum of N2.04billion to Nigeria in three months.
Nigeria's international electricity customers – Togo, Niger, and Benin, remitted the sum of N2.04billion in the first quarter of 2020, as their outstanding electricity bill to the Market Operator (MO) of the sector in Nigeria.
This was found in the Nigerian Electricity Regulatory Commission 2020 first quarter report, which was released recently.
According to the report, a total of N4.05billion ($13.22million) invoices were issued by the MO to international customers including Societe Nigerienne d'electricite or NIGELEC; Societe Beninoise d'Energie Electrique (SBEE); and Compagnie Energie Electrique du Togo (CEET).
The commission stated that during the quarter, NIGELEC made a payment of ₦1.61billion ($5.27million) as part of its outstanding bills for the energy received from NBET and services rendered by the MO.
It stated, "Similarly, SBEE paid ₦0.43billion ($1.39million) in respect of services received from MO.
"It was noteworthy that tariff shortfall (represented by the difference between actual end-user tariffs payable by consumers and the cost-reflective rates approved by NERC) had partly contributed to liquidity challenges being experienced in the industry.
"The settlement ratio to the expected Minimum Remittance Thresholds, having adjusted for tariff shortfall, indicated that power distribution companies needed to improve on their performance."
But …
Special customers like Ajaokuta Steel Co. Ltd and others in its environs did not make any payment in respect of the N0.27billion and N0.05billion invoices issued to them by the Nigerian Bulk Electricity Trading Plc and the MO respectively, during the period under view.
Meanwhile, the power distributors failed to remit N119.88billion to the sector within the same period.
"Whereas Discos were expected to make a market remittance of 46.09% during 2020/Q1, only 32.53% settlement rate was achieved within the timeframe provided for market settlement in the Market Rules," it added.
What it means: The Discos' remittance level, regardless of the prevailing tariff shortfall, was still below the expected MRT and they are expected to improve on their performances.
BREAKING: Currency traders seek refuge in U.S dollar, up 0.5%
The dollar has gained traction of late on the bias that the COVID-19 virus seems to be going out of hand.
Currency traders at mid-week trading session increased their buying pressure on the safe-haven currency greenback, as they turned away in masses from riskier fiat currencies. This is so, given the prevailing geopolitical uncertainty surrounding the COVID-19 pandemic – particularly in Europe, and coupled with sentiments surrounding the very close U.S presidential election.
What you should know
At the time of writing, the U.S. Dollar Index, which tracks the greenback against a basket of six global currencies, gained 0.5%.
Also at the time of writing EUR/USD was down 0.4% at 1.1749, falling for the third consecutive trading day.
The dollar has gained traction of late on the bias that the COVID-19 virus seems to be going out of hand; thereby, leading traders to increase their long bets on the U.S dollar – as the virus spreads in key markets, in places like Europe and the United States. This has fanned concerns that pre- COVID-19 economic growth is not happening anytime soon.