Nigerian stock bulls & bears battle ends in a near stalemate
The market breadth closed positive as WAPIC led 12 Gainers as against 11 Losers topped by NCR at the end of today's session.
Nigerian stocks ended the third trading session of the week on a slightly bearish note. The All Share Index drifted lower slightly 0.04% to close at 38,706.13 index points as against the +0.41% appreciation recorded previously. Its Year-to-Date (YTD) returns currently stand at -3.89%.
Nigerian Stock Exchange market value currently stands at N20.251 trillion.
Nigerian bourse trading turnover also printed negative as volume dipped by -19.68% as against +19.69% uptick recorded on Tuesday. GUARANTY, ZENITHBANK, and UBA were the most active to boost market turnover.
The market breadth closed positive as WAPIC led 12 Gainers as against 11 Losers topped by NCR at the end of today's session – an improved performance when compared with the previous outlook.
Top gainers
WAPIC up 10.00% to close at N0.55
SFSREIT up 9.94% to close at N68.6
OANDO up 9.67% to close at N3.29
UNITYBNK up 9.09% to close at N0.72
LIVESTOCK up 2.63% to close at N1.95
Top losers
NCR down 9.71% to close at N2.79
NEIMETH down 9.09% to close at N1.9
VITAFOAM down 5.16% to close at N7.35
MANSARD down 5.05% to close at N0.94
NEM down 4.57% to close at N2.09
Outlook
Nigerian Stocks ended the mid-week trading session on a slightly bearish note, amid falling oil prices prevailing at the U.S trading session.
That said, significant gains from decent capitalized Stocks that include Oando, Unity Bank, Livestock Feeds couldn't stop Nigerian stocks from closing slightly red, as sell-offs intensified among a significant number of insurance stocks except for WAPIC.
Nairametrics envisages cautious buying, on the sentiments that recent price action shows further market correction in the near term.
Chad's President Deby dies of injuries suffered on the frontlines
The President had visited the frontlines to share his election victory with the soldiers before the unfortunate incident.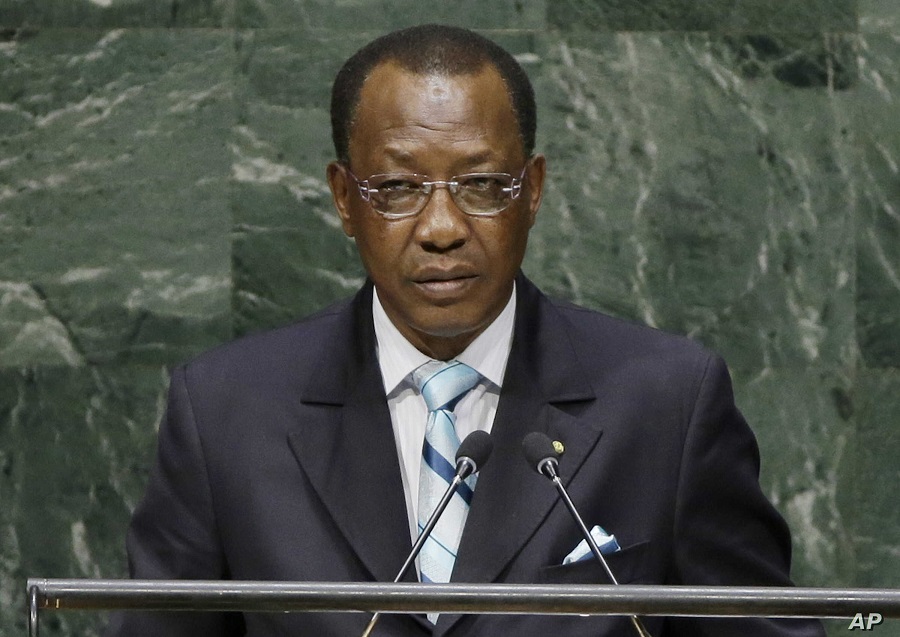 President Idriss Deby of Chad has died of injuries suffered on the frontlines when some terrorists attacked the army. The President had visited the frontlines to share his election victory with the soldiers before the unfortunate incident.
The departure of the newly re-elected President was disclosed by the AFP News Agency on Tuesday through its Twitter handle.
It tweeted, "#UPDATE Chad's newly re-elected President Idriss Deby Itno, in power for three decades, died Tuesday of injuries while fighting rebels in the north of the Sahel country, the army says."
Meanwhile, a four-star general who is a son of Chad's slain president Idriss Deby Itno will replace him at the head of a military council, the army announced Tuesday.
"A military council has been set up headed by his son, General Mahamat Idriss Deby Itno," the army's spokesman, General Azem Bermandoa Agouna, said on state radio, shortly after the announcement that the newly re-elected president had died of wounds while fighting rebels in the north of Chad.
Airbnb and two other companies that could follow Twitter's Ghanaian playbook
After Twitter, these companies might be moving to Africa next.
On the back of Twitter's monumental announcement to situate its regional headquarters in Ghana, Germany announced that it was choosing the Gold-Coast as the location for its German-West African Centre for Global Health and Pandemic Prevention – another critical blow for Africa's most populous country and self-acclaimed 'giant of Africa.'
Despite Nigeria's burgeoning reputation in technology, its propensity for government and regulatory interference, rising insecurity, inflation, poor capital repatriation policies, and infringement on free speech have been identified as reasons why foreign organizations are increasingly overlooking the country. So, we examine 3 organizations ripe for African expansion that could follow in Twitter's footsteps.
READ: TikTok to relocate headquarters to London following approval by UK ministers
Airbnb
The $75bn online vacation rental marketplace has quietly made inroads into Africa over the last couple of years allowing listings from Kenya, Nigeria, Ghana, South Africa, and other African countries as part of the 220+ countries and regions it operates.
Over the past few years, destinations across Africa have emerged to become some of the fastest-growing Airbnb markets in the world.
However, the rental giant continues to operate a remote presence in Africa as none of its 23 offices is situated on the continent. But that may soon change as Africans increasingly adopt the service.
READ: Why investing in Airbnb might be worth it
Apple
Despite iPhone sales largely growing year on year, Apple doesn't have a physical office in Africa. In 2015, it was rumoured that Apple was looking to establish a South African office in an effort to grow its presence in the continent's local market but not much has been heard about this.
In countries where the tech giant doesn't have a physical office, Apple works with the local resellers to service its numerous customers.
The African market is driven more by the demand for Apple products like mobile phones, tablets, and laptops. With this high demand, it is highly probable that the company will consider a physical location in Africa in the near future.
READ: Apple to start producing cars by 2024
Shopify
Another company that is likely to have a physical presence in Africa in the near future is Shopify. The multinational e-commerce platform that allows you to host your store online already has an online presence in Africa and has partnered with leading payment providers on the continent to allow users pay for services in their local currency. Shopify powers over 1.7 million businesses in more than 175 countries.
What this means
Africa currently has the youngest and second-largest population in the world. Massive population growth and a rising middle class have created millions of new consumers hungry for products and services. This is a large market for tech companies that are already operational in other countries to tap into. Currently, Twitter, Google, Microsoft, and several others are already exploring this opportunity.
Nairametrics | Company Earnings
Access our Live Feed portal for the latest company earnings as they drop.