Secret Bay offers low-risk, high-reward investment opportunity as Dominica remains one of the top COVID-19 recovery countries 
The Residences at Secret Bay is the only government-approved real estate project in Dominica offering purchase options to both vacation home buyers and citizenship investors.
The Residences at Secret Bay, Dominica's crown jewel development and only six-star, award-winning, all-villa resort, has generated immense interest as astute investors seek low-risk and high-reward opportunities. During these uncertain times, The Residences provides resounding stability, offering a ready product that has steady guest occupancy, individually built new villas and investment in one of the top COVID-19 recovery countries in the world. 
"During a time that feels unpredictable, investing in The Residences offers security and stability," said Gregor Nassief, proprietor of Secret Bay and The Residences at Secret Bay, and Chairman and CEO of GEMS Holdings Limited. "Despite the challenging landscape, we're continuing to see strong demand for an offering like The Residences, which provides investors with a government-approved, ready product in a project that has a strong track record." 
In a recent webinar about Dominica's CBI Programme, the Prime Minister and Minister for Finance, Honourable Dr. Roosevelt Skerrit, emphasized "…that investing in Secret Bay, you can be assured of your investment. You can be assured of a return on your investment. It is a project that cannot be compared to any other in the Caribbean." 
Prime Minister Skerrit, who personally invited Secret Bay to join its CBI Programme, went on to say, "When investing in Secret Bay, you're putting your investment into the hands of a gentleman, Gregor Nassief, who has the highest level of integrity and the project itself is a sustainable project and you can be assured of a proper investment with the project. My stamp of recommendation is you could sign a deal with Secret Bay with your eyes closed. Having an existing hotel, [Nassief] started it on his own, with his own money." 
The Residences Phase 1, which garnered buyers from North America, Middle East, Africa and Asia especially, has just a few shares remaining and sales for Phase 2 are underway. With four new villas completed in November 2020, investors are investing in an already built and operating product that is consistently accommodating guests and generating rental income. The four Hillside Ti-Fèy Villas comprise 1,686-1,836 square feet of indoor-outdoor space and a 250-400 square-foot pool deck, each outfitted with a gourmet kitchen, private plunge pool, hammocks and day beds positioned to make the most of the views, and every modern amenity imaginable. The tropical-modern architectural masterpieces are sustainably built with Guyanese Greenheart hardwood and feature indoor furniture hand-crafted from Dominican Red Cedar by local artisans. Designed to complement, not compromise, the land, they are the newest phase of owner Gregor Nassief's vision to create a first-of-its-kind boutique and six-star serviced vacation home experience in the Caribbean. 
Gregor Nassief, proprietor of Secret Bay and The Residences at Secret Bay, and Chairman and CEO of GEMS Holdings Limited, discusses the new villas
The Residences at Secret Bay is the only government-approved real estate project in Dominica offering purchase options to both vacation home buyers and citizenship investors. Dominica's CBI Programme distinguishes itself as leader amongst Citizenship by Investment programmes earning the title of the "World's Best Country for Second Citizenship" for the fourth consecutive year by Professional Wealth Management magazine — a publication from the respected Financial Times. 
The Residences were recently spotlighted on Robb Report, one of the world's prememint luxury lifestyle publications. Secret Bay has also received significant press: the awarding-winning Green Globe certified resort and residences was recently named the #1 Resort Hotel in the Caribbean, Bermuda and the Bahamas and #6 Hotel in the World in Travel + Leisure's 2020 World's Best Awards, and has been consistently recognised for its exceptional design, service and experience by such global travel and lifestyle publications as Architectural Digest, CNN, Fortune, National Geographic, Outside, the cover of Travel + Leisure, and The Telegraph. The property is the first and only property in Dominica to be affiliated with the elite brand, Relais & Châteaux. 
Secret Bay continues to welcome guests and has implemented a StayWell Program — a series of holistic wellness, health and safety protocols that go beyond WHO, PAHO, CDC and local health authorities' mandates and guidelines to mitigate the spread of COVID-19. Additionally, Dominica launched a "Safe in Nature" campaign, which provides a "managed experience" within a so-called "tourism bubble" comprising accommodation, transport, attractions, spas, restaurants and water-based activities that have all been certified for safety by the government. 
Later this year, Secret Bay will unveil additional villas and new amenities, including a saltwater infinity pool, beachfront bar and restaurant, and welcome center.

Dominica is recognized as among the top 15 COVID-19 recovering countries in the world, achieved by maintaining low confirmed case numbers and zero deaths. 
To learn more about Citizenship by Investment in The Residences at Secret Bay, visit: https://secretbay.dm/cbi/. For a consultation, please email [email protected].
Review of the V bank version 3.0: Nigeria's first intelligent digital banking app
V Bank has upgraded its application to offer new services to its users and improve operational efficiency.
Nigeria's fully digital bank, V Bank, a product of VFD microfinance bank Launched March 8, 2020, has upgraded its application to offer new services to its users and improve operational efficiency.
The new VBank app will enable users to securely access their accounts to automate recurring bills, manage multiple cards from different banks, send and receive funds using a unique QR code, track spending, generate virtual cards for online payments, buy airtime and data, fix deposits and make free transfers, all within a sleek, responsive and easy-to-use interface.
This review explains how to download and use the new V bank version 3.0 app. During the review, we took into consideration the design, user experience, usability, new features of the App, and how it functions well.
The device used for the review: Apple iPhone Xsmax
Getting started with V bank
These are the following information required for successfully registering as a user on the V bank app:
Sign Up by downloading the V bank app and creating your account
Input your BVN-linked phone number on the app and date of birth
Take a photo with a white background to Validate your identity
Verify your identity by inputting your BVN number on the app or use your existing bank account.
Finally, a signature for validation and a four-digit pin password.
What's New on the V bank App?
The new app, version 3.0 comes with some new cool features that are rather unique. Let's talk about all the new features and our experience while setting up and performing different transactions.
New V bank Interface
After you log in or sign up, the first thing you see is the V bank dashboard and it is pretty cool. The UI and interactions are super neat. The use of colours and components under the analytics section is simple and clean. This is perfect!!
New V bank interface
Send and receive money using Proximity payments and QR payment features
V bank users can now send or receive money easily through the proximity or QR payment features. You can pay or receive money from a nearby V bank app user using the proximity payment feature. Click on the proximity payment icon and start searching for a nearby user to pay while receiving payment wait for the user to start searching.
Recipients using the proximity payment feature must have their phones at close range.
Another interesting way you can make a transfer easily is by scanning the QR code of the user receiving the payment.
To receive a payment, each user must generate a QR code which will be used to scan while making a transfer.
The QR payment feature is actually unique as it enables users to make or receive payments from near and far locations. The only requirement is to have the QR code to scan for payment.
QR Code
Intelligent Mobile Top-up feature
We always want to send airtime or data to people as a surprise and most times we have the mobile number but don't know the network provider. The new V bank app comes with an intelligent mobile top-up feature that detects each network provider automatically with just the phone number. You don't need to call the recipient asking for his network provider, the app does that for you.
Airtime top-up
Cardless Withdrawal
It is not always convenient and secure to carry a wallet or purse with ATM cards. You can make a careless withdrawal without your ATM cards using the V bank app by generating a code. The app also helps you in locating the nearest ATM locations for your careless withdrawal. This feature is convenient and more secure.
Transfer funds to multiple recipients at once
Imagine how tired Don Jazzy will feel after paying each follower that won his giveaway separately. It actually is exhausting but the V bank eliminates that stress with the new multiple beneficiary feature. You can send money with just one transaction to up to 5 people.
Multiple transfer feature
Track your spending
The Analytics dashboard shows a beautiful interface with total inflow (payment made) and total outflow (Amount withdraw or debited). This gives you a clear pictorial overview of your income and expenses.
Under categories, users can track their spending such as online/POS, utility, mobile, family. work, lifestyle, food, utility, transport, and more on a monthly basis. This feature enables you to Identify bad spending habits and make adjustments to improve your finances.
Overview of income flow, expenses, and budget
Manage Multiple cards from different accounts
One of the App's latest features is managing multiple cards from different accounts.
We requested a new virtual card which cost 500 Naira ($1) for a new one and it expires in three years. You can also request and activate V bank physical card using the app. The new feature enables users to add ATM cards from different bank accounts on the app and all the debit cards can be managed using the V bank app under the cards section.
Managing your cards section
Automate Recurring Transactions
The new feature allows users to automate recurring transactions weekly, monthly, or on a yearly basis depending on the type of service requested. You can easily schedule payment for your DSTV bill on a monthly basis.
Other features you would be interested in
Make free transfers i.e there are no hidden transfer/ transaction fees.
You can open a target savings account, fixed deposit account, or a joint account using the V bank App.
Request a loan
Chat with a customer care representative using the app
Earn money when you invite your friends
Become a Veelager and earn profit
Final thoughts
The new version of V bank is well designed for both new and existing users of digital banking. The app enables users to easily navigate and perform seamless transactions. The design interface and user experience make it a great option for anyone looking for a perfect digital bank.
With the rise of technology, everything is possible with just a few clicks on the mobile phone. In the next version, we expect to see a voice-activated virtual assistant feature on the app.
The new V bank 3.0 app comes with innovative and sophisticated digital banking features which will help V bank users manage their money effectively, spend wisely and perform transactions easily with guaranteed security.
VBank 3.0 is available as V by VFD on the Play Store and Apple store. For more information, visit vbank.ng
CBN includes sugar, wheat on FX restriction list
The CBN is set to include sugar and wheat in the forex restriction list.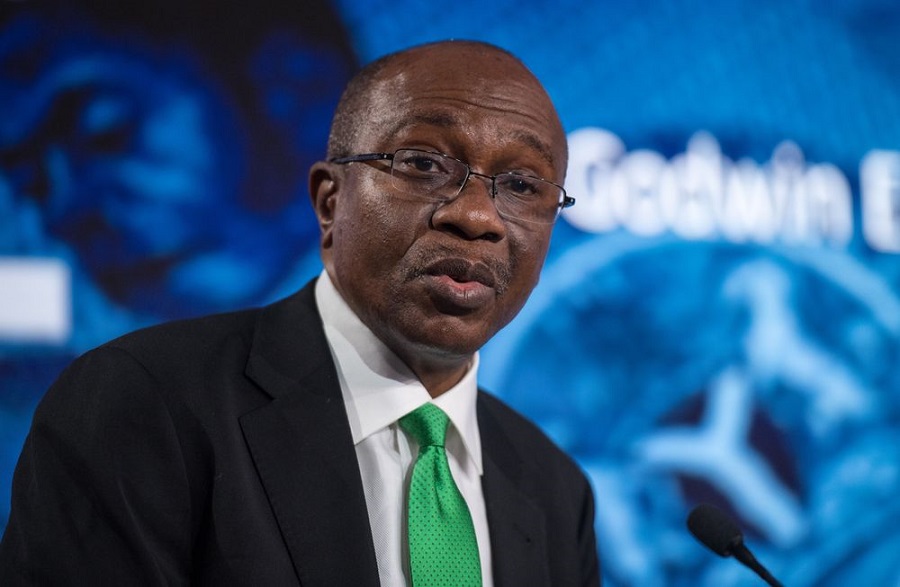 The Central Bank of Nigeria has announced plans to place sugar and wheat on its FX restriction list.
The plan was disclosed by the apex bank via its verified Twitter handle in a statement credited to the CBN governor, Godwin Emefiele.
The tweet stated: "Sugar and Wheat to go into our FX restriction list. We must work together to produce these items in Nigeria rather than import them. #Emefiele."
Sugar and Wheat to go into our FX restriction list. We must work together to produce these items in Nigeria rather than import them . #Emefiele

— Central Bank of Nigeria (@cenbank) April 16, 2021
It would be recalled that over the years, the CBN has been reviewing its list of restricted food items to include more items, with the most recent being the addition of maize, a widely-consumed staple food in the country.
What you should know
The CBN governor, Mr Godwin Emefiele, had earlier (on Thursday) given this hint while on an inspection visit to the proposed $500 million sugar processing facility in Nasarawa state, belonging to Dangote Sugar.
In 2015, the CBN listed 41 items that had been placed on its FX restriction list citing that the move was necessary to conserve the nation's foreign reserve and boost local production of the items on the restriction list.
Some of the items which made the 2015 list are margarine, poultry and eggs, rice, and cement.
In 2020, the apex bank included maize in its FX restriction list as it directed all authorised dealers to immediately discontinue the processing of Forms M for maize/corn importation into the country.
Nairametrics had also earlier explained in its publication following the new policy shift, that the government's premise for deciding to restrict FOREX on food is faulty, especially since Nigeria has not attained full food security and the agricultural sector is still struggling.
Nairametrics | Company Earnings
Access our Live Feed portal for the latest company earnings as they drop.