Nigerian Stock Exchange unveils e-filing portal
The NSE has announced the launching of an e-filing portal, X-Filing on its platform.
The Nigerian Stock Exchange has today announced the launching of an e-filing portal, X-Filing on its platform.
This is according to a notification available on The Exchange's website and seen by Nairametrics.
According to the disclosure, X-Filing is a fully integrated, secure web interface designed to facilitate the submission and processing of securities listing applications online. It provides Dealing Members Firms (DMFs) and other accredited sponsors with a simple, efficient and convenient means to submit securities listing on behalf of issuers, conserving time and resources.
In lieu of this, it is understandable to infer that the recent development is part of concerted efforts by The Exchange to leverage on technology to drive an effective and efficient market. A testament to this is the recent upgrade to the NSE Issuers' Portal, X-Issuer, the launching of Africa's first end-to-end public offering subscription platform, X-PO among others.
What you should know
X-Filing is equipped with features that enable submission, review and approval of securities listing applications.
The portal can also be used to generate listing and application reports, easily track application status, check estimated listing, application fees and make payment online.
The web interface is accessible via: https://efiling.nse.com.ng​
What they are saying
Commenting on the recent development, NSE Executive Director, Regulation, Ms. Tinuade Awe remarked that: "The launch of X-Filing accords with The Exchange's commitment to leverage technology to drive regulatory objectives and ease compliance for stakeholders. Automating the securities listing process of the NSE is, therefore, a major milestone for us in our quest to ease the burden of listing for applicants and to attract new listings.
"As an agile Exchange, we continue to review our processes to ensure quick time to market as required by all our stakeholders. We have adopted an integrated approach to ensure a seamless end-to-end process that will allow Issuers to manage their securities listings and other applications from anywhere they choose at any time.
"The Portal has been designed to enhance our securities listing application processes, thereby improving Issuers' experience. We are, therefore, confident that the features we have incorporated will enhance the competitiveness of the Nigerian capital market as a global listing destination."
Wall Street upsurges as unemployment and treasury yields fall
The S&P 500 increased by (+1.11%). The Dow also made a gain of (+0.90%).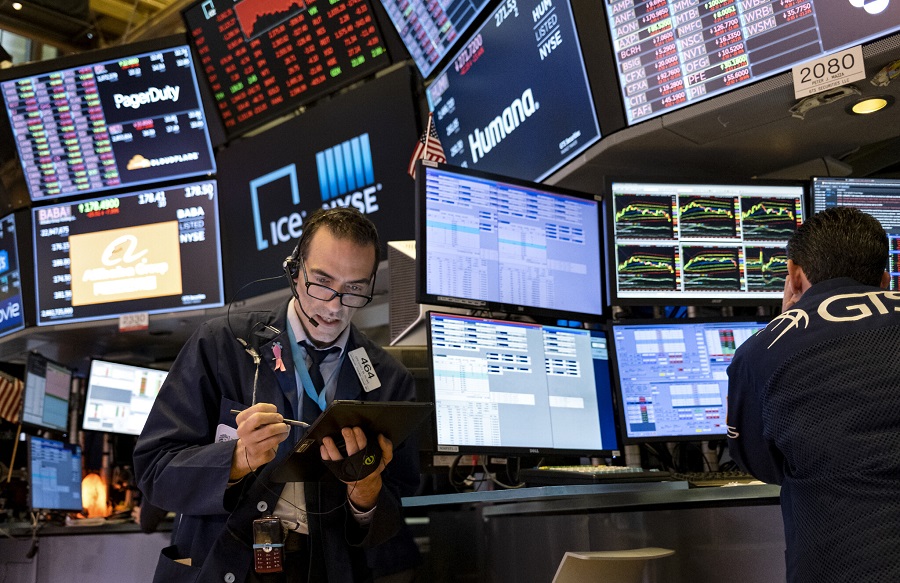 Stocks soared to new highs on Thursday, as investors awaited a far stronger-than-expected reading on consumer spending and a dramatic drop in the number of new jobless claims.
Retail revenues increased by 9.8%, with stimulus checks and lowered social distancing expectations contributing to the increase. Nasdaq surged (+1.31%) at the end of the trading session. The S&P 500 increased by (+1.11%). The Dow also made a gain of (+0.90%).
Treasury Yields fell. Retail sales increased to their highest level since May 2020, in March.
The yield on 10-year Treasuries was at 1.58%, after falling six base points.
The volume on U.S. exchanges was 9.3 billion shares, versus the 11.4 billion average for the last 20 trading days.
Unemployment claims fell to 576,000, the lowest level since the Covid-19 pandemic began, adding to the good economic news.
READ: Walls Street upsurges as unemployment declines
Top gainers  
AMD up 5.68% to close at $83
NVIDIA up 5.63% to close at $645.49
Coty Inc up 5.55% to close at $9.13
Xilinx Goldcorp up 5.25% to close at $130.10
Newmont Goldcorp up 4.74% to close at $64.78
Top losers
Trust Financial Corp -4.14% to close at $57.22
MGM down -3.81% to close at $39.69
Nordstom down -3.21% to close at $35.94
Norwegian Cruise Line down -3.18% to close at $28.28
Charles Schwab down -2.88% to close at $65.50
READ: Bitcoin ETF in North America has reached $1 billion in assets
Outlook
Among the best ETFs, the Innovator IBD 50 ETF (FFTY) climbed 0.8%, while the Innovator IBD Breakout Opportunities ETF (BOUT) was up 0.7%. The iShares Expanded Tech-Software Sector ETF (IGV) gained 1.85%, with Microsoft and ADBE stock major components.
Nvidia (NVDA), Adobe (ADBE), and Facebook (FB) were among the first to make bullish movements around entry points. Apple (AAPL), Microsoft (MSFT), Amazon.com (AMZN), and Alphabet (GOOGL), the parent company of Google, have made significant gains.
Nairametrics, however, advises cautious buying in this era of growing uncertainties.
Jaiz Bank and EcoBank survive the plunge of the NSE Banking Index
Market sentiments trend strongly bearish as the losers outweighed the gainers substantially.
The NSE Banking Index traded bearish at the end of the trading session yesterday as two banks posted gains as opposed to two stalemates and six losses. The NSE Banking Index finished in the red with a loss of -0.97% to put the index point at 344.83. Market sentiments trend strongly bearish as the losers outweighed the gainers substantially.
Jaiz Bank continued with its outstanding performance to post profit of +6.67% pushing the price to N0.61 from its N0.60 held on the previous day. EcoBank was also saved from a sudden dip of the NSE Banking Index with gains of +2.08% putting the price at N4.90. Fidelity Bank posted zero profit, to put the price at N2.47. Access Bank also saw a stalemate holding the price at N8.10 once again.
Union Bank topped the losers with a loss of 7.14% putting the price at N4.75 from its previous N4.90. Wema Bank declined from its previous day gains pushing the price downwards from N0.60 to N0.55 showing a -6.67% loss. UBA was 3rd among the losers with a loss of -2.16% pushing the price downwards to N6.80.
Zenith Bank also saw a loss of 0.91% pushing the price from N22.00 to N21.80 technical analysis shows major consolidations with a downward pressure felt during midday. Zenith Bank shares saw recovery during the late hours of the trading session but it was not substantial enough to put it above the opening price.
Sterling Bank was not left out of the claws of the bears with losses of -0.61% pushing the price downwards to N1.70. GT Bank also posted a loss of -0.17% moving the price from N28.95 to 28.75.
Outlook
Market sentiment trended bearish as 6 companies made losses as opposed to 2 stalemates and 2 gains at the end of the trading session yesterday.
Nairametrics counsels cautious participation in the market amid growing uncertainties in Nigeria.
Nairametrics | Company Earnings
Access our Live Feed portal for the latest company earnings as they drop.