President Joe Biden appoints Nigerian-born lawyer as USTDA Acting Director
Joe Biden has appointed Nigerian-born Lawyer, Enoh T. Ebong as the Acting Director of the U.S. Trade and Development Agency.
The United States President Joe Biden, on Tuesday, appointed Nigerian-born lawyer, Enoh T. Ebong as the Acting Director of the U.S. Trade and Development Agency (USTDA).
The appointment meant a return to USTDA by Ms Ebong, where she served in different roles from 2004 to 2019, most recently as the Agency's General Counsel, and Deputy Director and Chief Operating Officer.
This disclosure is contained in a statement which was issued by USTDA on Tuesday and seen on its website by Nairametrics.
The statement says that as Acting Director, Ms Ebong is expected to lead an agency that partners with the US private sector to develop sustainable infrastructure and foster economic growth in emerging economies while supporting US jobs through the export of US goods and services.
What the newly appointed USTDA Acting Director is saying
Ebong in a statement during her swearing-in ceremony, said, "It is an honour to return to USTDA. The opportunity to lead the Agency comes at a critical moment when the world is turning to the United States for leadership on clean energy and climate-smart infrastructure, as well as safe and secure ICT solutions.
"The Agency is one of the most effective, targeted and proven tools within the U.S. government. I've long believed in USTDA's mission and program, which are fully aligned with the President's vision of strengthening our economy and addressing climate as an essential component of American foreign policy and national security,'' she said.
What you should know about Enoh Ebong
Ms Ebong earned a Juris Doctor from the University of Michigan Law School, a Master of Arts in Communication from the Annenberg School for Communication at the University of Pennsylvania, and a Master of Arts in History, with Honors, from The University of Edinburgh, Scotland. She is a member of the Commonwealth of Massachusetts Bar.
Before making a return to USTDA, Ms Ebong served as the Head of Strategic Partnerships at the Milken Center for Advancing the American Dream, where she drove the development of strategic partnerships to expand access to education, health, financial empowerment and entrepreneurship.
She had practised law at the Boston office of Mintz, Levin, Cohn, Ferris and Popeo, P.C., representing public and private companies in public offerings, financing transactions, mergers and acquisitions, and corporate governance issues before moving to USTDA IN 2004.
What you should know about USTDA
The U.S. Trade and Development Agency helps companies create U.S. jobs through the export of U.S. goods and services for priority development projects in emerging economies.  USTDA links U.S. businesses to export opportunities by funding project preparation and partnership building activities that develop sustainable infrastructure and foster economic growth in partner countries.
In case if you missed it
It can be recalled that since his election to office as US President, Joe Biden had appointed Nigerian Americans, Funmi Olorunnipa Badejo and Osaremen Okolo as member of the office of White House Counsel and Covid-19 Policy Advisor respectively.
The US President had also last month selected a Nigerian-born attorney, Adewale Adeyemo, as the Deputy Treasury Secretary.
President Biden revokes Trump's ban for green card applicants in US
Joe Biden has revoked Donald Trump's order that blocked many green card applicants from entering the US.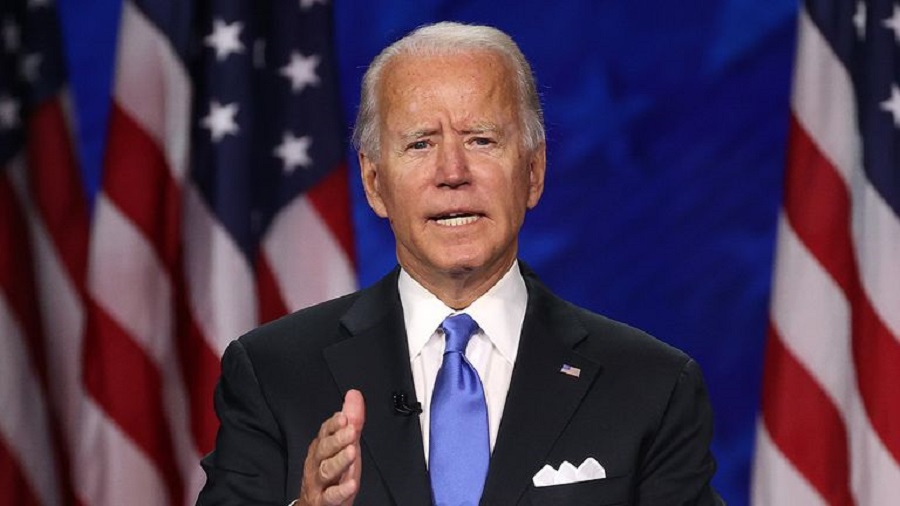 The United States President, Joe Biden, on Wednesday, revoked former President Donald Trump's order that blocked many green card applicants from entering the United States.
Biden rescinded Trump's proclamation limiting the number of new work visas for temporary foreign workers in the US amid the coronavirus pandemic.
According to a report from Reuters, the order by President Biden was provided by a communication from the White House on Wednesday, February 25, 2021.
READ: China becomes European Union's biggest trading partner, as it overtakes US
Former President Donald Trump had in June 2020, signed the proclamation that suspended certain categories of non-immigrant work visas as part of the effort to revive the US economy and the need to protect US workers amid high unemployment due to the coronavirus pandemic.
However, President Biden rejected that reasoning in a proclamation while rescinding the visa ban and said it had prevented families from reuniting in the United States and harmed US businesses.
He pointed out that the suspension of entry imposed in Proclamation 10014, does not advance the interest of the United States.
What you should know
The newly sworn US President had pledged to reverse many of Trump's hardline immigration policies with immigrant advocates recently asking him to lift the visa ban, which was set to expire on March 31.
The suspension order by former President Donald Trump for a certain category of non-immigrant work visas includes H-1B visas for work in high-tech industries and a range of others for low-skill workers, interns, teachers, and company transfers
In October, a federal judge in California blocked Trump's ban on those foreign guest workers as it affected hundreds of thousands of US businesses that fought the policy in court.
UK's Supreme Court rules that Uber drivers are workers not self employed
UK's Supreme Court has ruled that Uber drivers be classified as workers rather than self-employed.
The UK's Supreme Court has ruled that the ride-hailing app firm Uber must classify its drivers as workers rather than self-employed.
Delivering his judgment, Lord Leggatt said that the Supreme Court unanimously dismissed Uber's appeal that it was an intermediary party and stated that drivers should be considered to be working not only when driving a passenger, but whenever logged in to the app.
By this pronouncement and ruling by the Supreme Court, the ride-hailing app firm, Uber must classify its drivers as workers rather than self-employed, BBC reports.
What they are saying
The former Uber drivers, James Farrar and Yaseen Aslam, who originally won an employment tribunal against the ride-hailing giant in October 2016, told the BBC they were "thrilled and relieved" by the ruling.
Aslam, president of the App Drivers & Couriers Union (ADCU) said,
"I think it's a massive achievement in a way that we were able to stand up against a giant.
"We didn't give up and we were consistent – no matter what we went through emotionally or physically or financially, we stood our ground.
"This is a win-win-win for drivers, passengers and cities. It means Uber now has the correct economic incentives not to oversupply the market with too many vehicles and too many drivers"
Aslam claims that Uber's practices forced him to leave the trade as he couldn't make ends meet is reconsidering his decision as he returns to driving for the app again, though the process is taking too long.
"It took us six years to establish what we should have got in 2015. Someone somewhere, in the government or the regulator, massively let down these workers, many of whom are in a precarious position"
Farrar, on his own part, highlighted that with fares down 80% due to the pandemic, many drivers have been struggling financially and feel trapped in Uber's system.
"We're seeing many of our members earning £30 gross a day right now. The self-employment grants issued by the government only cover 80% of a driver's profits, which isn't even enough to pay for their costs.
"If we had these rights today, those drivers could at least earn a minimum wage to live on."
What you should know
By this decision, tens of thousands of Uber drivers are set to be entitled to minimum wage and holiday pay.
The proximate implication of this ruling is that Uber could be facing a hefty compensation bill and have wider consequences for the gig economy.
The gig economy is based on flexible, temporary, or freelance jobs, often involving connecting with clients or customers through an online platform.
In a long-running legal battle, Uber had appealed to the Supreme Court after losing three earlier rounds.
The Supreme Court's ruling that Uber has to consider its drivers "workers" from the time they log on to the app, until they log off is seen as a key point.
Uber drivers typically spend time waiting for people to book rides on the app. Previously, the firm had said that if drivers were found to be workers, then it would only count the time during journeys when a passenger is in the car.
Nairametrics | Company Earnings