Nestle, Access Bank, Vitafoam plunge, investors lose N29 billion
The All-share index dropped d by 0.13% to close at 42,357.90 index points as against the 0.58% gain recorded last Friday.
Nigerian stock market ended its first trading session of the week on a bearish note.
The All-share index dropped d by 0.13% to close at 42,357.90 index points as against the 0.58% gain recorded last Friday. Nigerian Stock Exchange market capitalization currently stands at N22.16 trillion. Investors lost N28.65 billion.
Its Year-to-Date (YTD) returns currently stands at +5.18%.
Nigerian Stock markets trading turnover on Monday also ended negative as volume dipped by 12.40% as against the 20.63% surge recorded last Friday
UBN, TRANSCORP, and UBA were the most active to boost market turnover.
Market breadth closed positive as HONYFLOUR led 33 Gainers as against 28 Losers topped by ROYALEX at the end of today's session – an improved performance when compared with the previous outlook.
Top gainers
MRS up 8.94% to close at N13.4
UACN up 7.19% to close at N8.95
INTBREW up 6.67% to close at N6.4
DANGSUGAR up 2.12% to close at N21.7
SEPLAT up 1.02% to close at N495
Top Losers
JBERGER down 7.28% to close at N21
NESTLE down 3.65% to close at N1450
VITAFOAM down 3.48% to close at N9.7
FLOURMILL down 3.17% to close at N33.6
ACCESS down 1.61% to close at N9.15
Outlook
Nigerian bourse at Monday's trading session was negatively impacted by losses recorded in large and medium capitalized stocks, amongst which are Access Bank, Nestle, Flour mills, Vitafoam.
Nairametrics envisages cautious buying amid renewed profit-making seen across the market spectrum.
How Nigeria can make more money from Oil?
A hedged economy might create additional revenue needed for the country to rebalance its reserves.
Crude oil still remains a major source of revenue for Nigeria despite a tumultuous 2020 for oil prices. The commodity contributes 90% of our export earnings and will still be a major revenue generator for the foreseeable future.
With this in mind, it is high time Nigeria explores other forms of revenues that can be derived from oil. 200 million Nigerians cannot be catered for with the proceeds of a country that has a production capacity of 1.4 – 1.9 million barrels per day (depending on the quota with OPEC). In contrast, Saudi Arabia has a production capacity of 11 million barrels per day and a population of 30 million.
This article does not only relate to the issue of macroeconomic stabilization, but highlights if the Nigerian government can make use of financial instruments 'hedging' to diversify and provide the government with added flexibility and additional tools to make more revenue.
Most countries who do not partake in this hedging programme, either have lower costs of production like Saudi Arabia and Russia, or do not want to take the risks associated with the programme.
Case Study: Mexico
Last year, when oil prices crashed and entered negative digits, Countries dependent on oil were adversely affected by the crash. But somehow, Mexico for the fourth time, cashed about $2.5 billion from its oil hedge program.
For over two decades, Mexico has guaranteed oil revenue via options contracts purchased from oil companies and Wall Street investment banks. Mexico's hedging experiences of its oil exports is often used as an example for other countries to follow.
In 2009, after the financial global crisis, Mexico made $5.089 billion from it's hedging position. In 2014, when oil prices plummeted and countries reliant on high oil prices were affected, Mexico was "unbothered". The Ministry of Finance had purchased put options with one year maturity to hedge 228 million barrels of oil, about 28 percent of production, at a strike price of US$ 76.4 per barrel — US$ 31.1 above the actual average oil price in 2015. Mexico earned $6.4 billion from that hedge. In 2016, Mexico earned $2.7 billion from its hedging.
Since Mexico began running the hedge program in 2001, it has made a profit of $2.4 billion — payouts brought in $14.1 billion while the costs of running the programme cost $11.7 billion in fees to banks and brokers.
Last year, people argued that Mexico's hard stance during the OPEC+ talks in April is directly related to the fact that it had a hedging programme in place. I must add that hedging gives you an edge in the markets but It's far more technical, risky and in a few cases profitable. Sources within the NNPC say that the Nigerian government has not executed a hedging program yet.
So how does this programme work?
Mexico, a big exporter of oil and a member of OPEC, hedge their oil against declines that may occur in the market. Take for example, last year as a result of the pandemic and an unsuccessful OPEC meeting due to Russia and Saudi Arabia's oil supply war, oil prices dropped to negative digits.
A government like Mexico, who hedges their oil with trading schemes would have been benefited from the drop. In this case, for every drop below the "strike price" (A strike price is the set price at which an oil derivative contract can be bought or sold when it is exercised) revenue is being made.
Hedging works both ways. It depends on who the hedger is. In the case above, Mexico is an exporter of oil, so it hedges against drop in prices. However, a country like Egypt, which announced it had executed its own hedging programme last year is a net importer of oil. Primarily, it hedges against the rise in prices. As oil prices rise, Egypt generates money despite naturally preferring low prices as an importer.
Additionally, the downstream sector needs to improve. This is another avenue Nigeria can take to make more money from Oil. The Nigerian downstream sector which involves petroleum product refining, storing, marketing and distribution has much room for development and can improve the fortunes of the millions of Nigerians. Oil accounts for 9% of Nigeria's GDP and if we look at that, it's very minimal if we take into context how important Oil is to our economy.
Conclusion
As I wrote in the earlier premise, this is not as straightforward as it sounds. There are insurance premiums to consider (the cost of the hedging programme), timing of the execution and general oil market outlook to examine.
For example, it appears that investors are going long on oil. All commodity analysts and banks are also favouring high oil prices as a result of vaccine availability and global supply cuts. Goldman Sachs forecasts oil to be $70 by Q2 2021 and Morgan Stanley also sees Oil at $70 by the third quarter. It would be highly risky to hedge against declining prices in this environment. (Recall prices going in the opposite direction doesn't favor the hedger).
A hedged economy might create additional revenue needed for the country to rebalance its reserves.
PS. I am willing to discuss further with interested stakeholders on the possibility of carrying hedging operations for Nigeria.
---
Dapo-Thomas Opeoluwa is an Investment Banker and Energy analyst. He holds a degree in MSc. International Business, Banking and Finance from the University of Dundee and also holds a B.Sc in Economics from Redeemers University. As an Oil Analyst at Nairametrics, he focuses mostly on the energy sector, fundamentals for oil prices and analysis behind every market move. Opeoluwa is also experienced in the areas of politics, business consultancy, and investments. You may contact him via his email- [email protected]
GDP Report: PwC Chief Economist hails resilience of the Nigerian economy
Andrew Nevin has expressed his optimism about the Nigerian economy.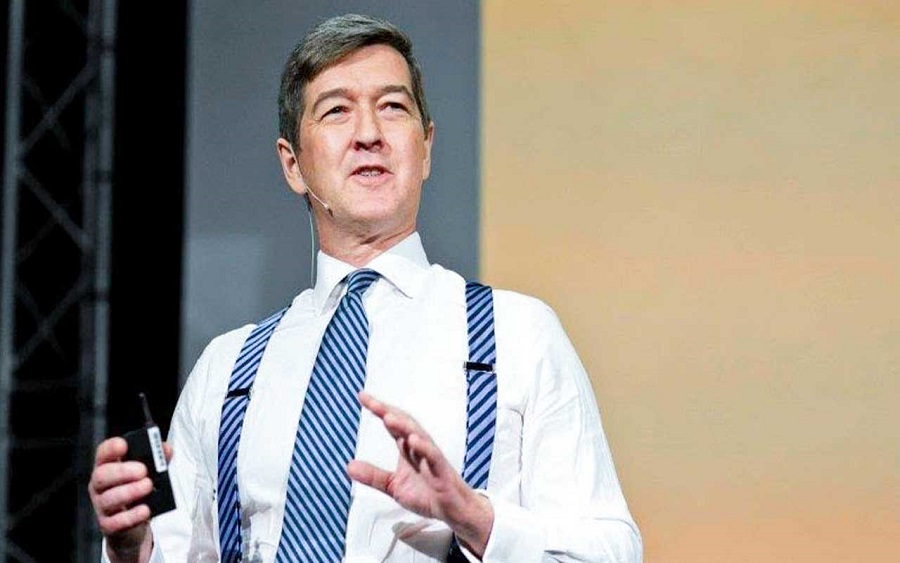 PwC Nigeria's Chief economist, Andrew Nevin has shared his opinion on the recent Nigerian GDP report figures released by the National Bureau of Statistics.
Speaking to TVC Business News anchor via Skype, the foremost economist stated that he remains optimistic about the Nigerian economy following the positive GDP report released.
In his reaction to the latest GDP report, Nevin expressed optimism and called on Nigerian citizens to go easy on the government. He stated that the COVID-19 pandemic has wrecked other economies and has presented countries with very challenging times.
"Let's put this in perspective, it is easy to be hard on ourselves and Nigeria, but around the world, this has been the greatest health and economic challenges in our lifetime.
"In the UK, the economy shrank in 2020 by almost 10%. The year 2019 to 2020 in Nigeria is about minus 1 percent. Then from the first quarter of 2019 to the first quarter of 2020, it increased a little bit. These are the few signs of positive happenings in the Nigerian economy. So, I am not surprised," Nevin said.
On the Information and Communication sector and also the Agriculture sector which were key sectors responsible for the positive GDP growth, Nevin said he was elated with the success of the ICT sector which he attributed to the fact that people were working from homes. He also believed the Agriculture sector could be a lot better than it is.
Nevin also highlighted the emerging growth away from Oil-dependency portrayed by the latest GDP report.
"I mean it's very good news. There has been a lot of emphasis on ICT. It enables other sectors to do well. It is not a big surprise because people have been working remotely.
"In terms of Agriculture, we will like to see faster growth, but there has been so much emphasis on it paying dividends. When I talk to farmers or people in the agricultural space, they tell me the crops are doing very well. I mean it's good news and it also shows us that the rotation away from oil is real," he said.
On the 19.76% plunge of the oil sector, the PWC chief economist highlighted the fall in oil production in the fourth quarter of 2020. He brushed aside the heavy emphasis on Oil prices reminding the audience that Oil production is equally important while analyzing the Oil sector.
"People always tend to think about the oil price but probably as important or more important in the context is the production. The production in the fourth quarter of 2020 was only 1.6m barrels a day. It is a big contraction there. So, the fact that we can grow the Nigerian economy in these very challenging health and economic times shows you the resilience of the Nigerian economy. It shows why people like me are optimistic in the medium term about the Nigerian economy," he said.
The Recent GDP report confirms that Nigeria has exited the pandemic-induced recession. Andrew Nevin was quizzed on how the Nigerian Government can sustain the positive growth reflected by the latest GDP report.
In response, he highlighted the encouraging partnership between the private and the public sector depicted in the recent Lagos economic summit as one of the key ways to maintain positive growth in the Nigerian economy.
Nairametrics | Company Earnings