Zenith USSD banking transaction value rises by 30.8% Y-o-Y to hit N497.29 billion
Zenith Bank has recorded 30.8% and 76.4% YoY rise in its USSD banking transaction value and volume respectively.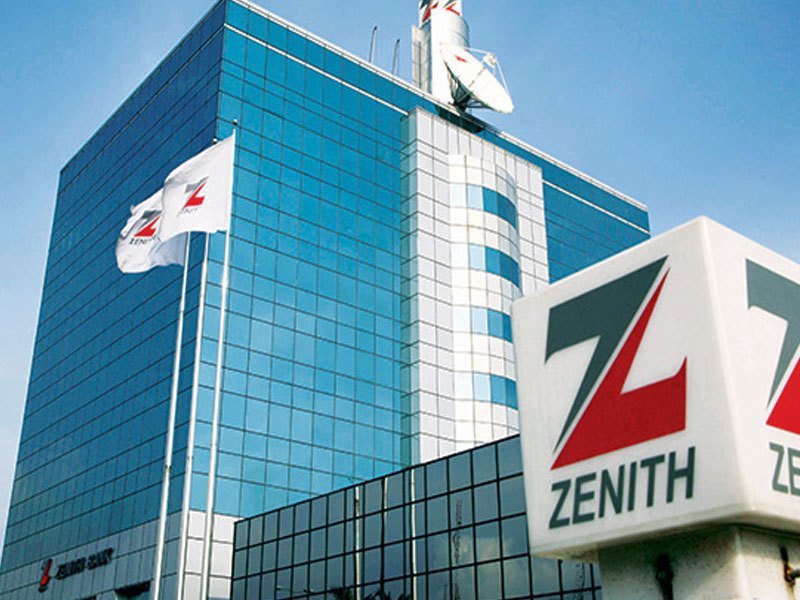 Zenith Bank Nigeria Plc has recorded an impressive 30.8% and 76.4% YoY rise in its USSD banking transaction value and volume respectively, for the year ended 2019.
This is according to the bank's recent report tagged "Zenith Bank Plc – 2019 Sustainability Report," made available on the Nigerian Stock Exchange platform.
Based on the report, the bank's USSD transaction value grew from N380.25 billion in 2018 to N497.29 billion, indicating a 30.8% rise.
Also, its USSD transaction volume rose from 29.65 million in 2018 to 52.30 million in 2019, indicating an increase of 76.4% Y-o-Y.
Other financial inclusion highlights
The bank deployed additional 118 Automated Teller Machines (ATMs) from 1,817 in 2018 to 1,935 in 2019.
The bank increased its physical branches by 76, from 529 branches in 2018 to 605 branches in 2019.
It also increased its POS terminals by 95% from 16,425 in 2018 to 32,027 in 2019.
The bank increased the number of its branches accessible to physically challenged persons from 30 in 2018 to 35 in 2019.
In 2019, the bank facilitated financial literacy workshops in 35 schools across the country, impacting 13,418 students which comprises of 6,601 boys and 6,817 girls.
Between 2018 and 2019, the bank recorded a positive growth in its retail accounts product by an additional 1,457,581 indicating an increase of 144.4% Y-o-Y.
What this means
The growth in the bank's USSD transaction value and volume is a positive indicator of a surge in mobile banking and financial inclusion, especially for under-banked and unbanked individuals.
Corroborating this assertion is a part of the report which explicitly stated that the bank recorded a 36.87% increase in the number of unbanked individuals who received financial services from Zenith Bank in 2019. From 538,910 individuals in 2018 to 737, 628 in 2019, indicating a growth of 36.87% Y-o-Y.
What you should know
Unstructured Supplementary Service Data (USSD) allows users without a smartphone or data/internet connection to use mobile banking at a cost-effective rate.
It is similar to SMS (Short Messaging Service) – but unlike SMS, USSD transactions are effective when a particular code is dialed on the phone and instructions are promptly followed.
COVID-19, VAT, FX scarcity adversely impacted our operations in 2020 – Nigerian Breweries boss says
NB Plc's operations in 2020 were adversely impacted by the COVID-19 pandemic, VAT increase and FX devaluation.
The management of Nigeria's leading brewer, Nigerian Breweries Plc has revealed that its operations in 2020 were adversely impacted by the COVID-19 pandemic, VAT increase, FX devaluation and scarcity of foreign exchange.
This statement was made by the Managing Director of Nigerian Breweries, Mr Jordi Borrut Bel, at the company's pre-AGM media briefing for the financial year-end 2020, which held in Lagos this week.
He noted that the increase in the brewer's cost in 2020 was due to the COVID-19 pandemic which disrupted the company's operations, as well as the increase in VAT, devaluation and FX scarcity which has put pressure on input cost.
READ: Alcoholic beverage makers on NSE lose a total N27.7 billion in a single day
The Nigerian Breweries boss explained further that the increase in cost could not be fully attributed to currency devaluation and foreign exchange scarcity.
He explained that the increase in costs of goods sold, as reported in its audited financial results, could also be linked to the increase in the volume of goods sold, as the company's sales volume in 2020 increased by almost the same percentage as the cost of goods sold.
To deal with this challenge going forward, he revealed that the company is focused on the supply chain, and will continue to seek out ways to mitigate any of the price increases coming from FX scarcity.
READ: Brewery sector: A quarter to forget
The company's profitability in question?
An analysis of the company's result revealed that despite the 4.3% increase in net revenue from N323.00 billion recorded in 2019, to a total of N337.01 billion in 2020, the company's profit declined significantly by 53.3% to N7.53 billion.
Speaking on this, Jordi Borrut in his statement at the press briefing noted that the brewer's business performance in 2020 was quite impressive especially in the face of the COVID-19 pandemic and economic recession. Despite these challenges, the company maintained a strong and healthy balance sheet.
"There was a slight reduction in profitability but compared to the previous year, the business witnessed an improved growth in revenue. The significance of this is that the business became more stable and healthier," he said.
READ: Nigeria's triangular beer war on the rise with the arrival of Budweiser
What you should know
Nigerian breweries, being the largest brewer in the country, maintained its stance in terms of generating profits year-on-year. The company emerged as the only brewer to record a profit of N7.37 billion from its operations in 2020, 54.3% lower than 2019 figures (N16.1 billion).
From this, the leading brewer was able to pay shareholders a total dividend of N7.5 billion, translating to a dividend of 94 kobos per share – a dividend payout in which exceeds 100%.
While Guinness and International Breweries made a loss of N12.6 billion and N24.9 billion respectively, this reality impacted their ability to pay their shareholders dividends in 2020.
Highest paid Nigerian bank MD/CEOs of 2020
Bank MD/CEOs in Nigeria earned a combined N1.5 billion in salaries in 2020.
The banking sector, especially commercial banks, is one of the most profitable sectors of the Nigerian Economy churning out profits of close to a trillion in 2020 alone. They are also one of the highest employers of labours in the country employing over 93,000 Nigerians.
Sitting at the helm of affairs is the Chief Executive/Managing Director, the highest-ranking executive in the organization saddled with the responsibility of making the best corporate decisions, oversight of the execution of the organisation's corporate strategies and most importantly increasing the shareholders' return. The buck basically stops on their table.
Thus, these enormous responsibilities also come with a considerable executive compensation for their service making them ostensibly the highest-ranking staff of the bank.
READ: Jim Ovia: From a clerk to founder of Nigeria's most profitable bank
In typical Nairametrics fashion, we bring to you a list of the highest-ranking bank CEOs for 2020 based on their executive compensation (exec comps). The bank MD/CEOs under our review earned over N1.5 billion in salaries in 2020.
The data was sourced from the published audited accounts of the bank and verified by Nairametrics Research.
---
Nairametrics | Company Earnings
Access our Live Feed portal for the latest company earnings as they drop.